image not
available
anymore
Artist:
BACHI DA PIETRA
(@)
Title:
Tornare nella terra
Format:
CD
Label:
Wallace
(@)
Distributor:
Audioglobe
Rated:
A wonder duo here...Batman and Robin?...nee...Bruno Dorella from Ovo/Ronin/Bar la Muerte fame and Giambeppe Succi from Madrigali Magri. Madrigali were a sort of depressed-blues/desertic-skeletal-rock combo both melodic and dissonant (if you wonna give a try I suggest "Negarville"), for all of you who can read italian language there's a nice surprise since Giambeppe definitely knows how to write lirycs. Bachi da Pietra could be the final "d-evolution" of Giambeppe Succi solo performances as Madrigali Magri with Bruno playing a minimal drumset and giving the most of the songs an extra "weight" with his death-blues-Swans alike way of drumming. This two guys have received a lot of attention by the italian alternative magazines and you can bet they deserved it: good recording, ghostly ballads, visceral songwriting, deserted landscapes...this release speaks in terms of "mud and blood". You can compare them to Nick Cave "depressed-Birthday Party-era" meets Songs Ohia's "Ghost Tropic" meets Faust'o (a.k.a. Fausto Rossi) gone bad (as if he could have been even worse) meets the the devil himself. The recording is ok and titles like "Verme" (Warm), "Primavera di sangue" (Spring of blood), "Prostituisciti" (Prostitute yourself) can give you an hint of "the air you're gonna breath" while listening these "murder ballads". This' the soundtrack of a car break-down in the middle of the nowhere therefore take it or leave it. Anyhow if you never heard anything with Giambeppe I think you'd better start from Madrigali Magri...if you're a fan instead: just go for it!.
Experimental / Avantgarde / Weird & Wired / Glitch / Noise / Field Recording
Edit (2021)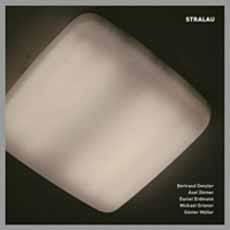 Artist:
DENZLER/DÖRNER/ERDMANN/GRIENER/MÜLLER
Title:
Stralau
Format:
CD
Label:
Creative Sources
Rated:
Recorded in 2003 at Stralau 68 (Berlin), this 54-minute single-track cd is a remarkable recording of an improvised session by Bertrand Denzler (tenor saxophone), Axel Dörner (trumpet, computer), Daniel Erdmann (baritone and soprano saxophones), Michael Griener (drums) and Günter Müller (ipod, md, selected percussions, electronics). As austere as the cover photos, "Stralau" gradually shifts from the initial low-end blows to more frantic passages of screeching reeds and metallic percussions, then settles, in the second half, to a nebula of crackling electronics. I guess no major editing has occurred, so let's say this was a particularly tight and inspired performance, where all musicians did know how to self-distribute their own spaces. As with many recordings of Müller's, the electronic element adds a sort of spiderweb cohesiveness even to the most rarefied moments.
Experimental / Avantgarde / Weird & Wired / Glitch / Noise / Field Recording
Edit (2020)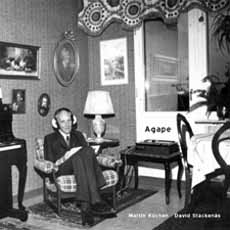 Artist:
MARTIN KÜCHEN/DAVID STACKENÄS
Title:
Agape
Format:
CD
Label:
Creative Sources
Rated:
Recorded in May 2004 by Andreas Berthling, "Agape" features five improvised tracks by Küchen (prepared and non prepared alto sax) and Stackenäs (guitar, low-budget electronics). I suppose both artists are Swedish; I only know that the latter released a solo cd of acoustic guitar pieces on Häpna some years ago. Don't be mislead by the title, as "Agape" is quite a fierce and obsessive cd. Instruments melt and stratify in a droning mass, and even in its many subdued passages this is a very "full" and powerful work. The feedback(?)-driven drones (tracks 1, 3, 5) are almost minimalist in a Lucier-like way, but with the subtlety of ever-changing details coming from a live improvisation.
Experimental / Avantgarde / Weird & Wired / Glitch / Noise / Field Recording
Edit (2018)
image not
available
anymore
Artist:
ALESSANDRO BOSETTI-ANTJE VOWINCKE
(@)
Title:
Charlemagne, la vue attachèe...
Format:
CD
Label:
Bowindo
(@)
Distributor:
Frnges
Rated:
Here we have three long takes: a couple of big suites and a shorter closing track. Field-recording (even if "microphoned-live-performance" could be more appropriated), "concrete music" and electronics melted together with a really "personal touch" by the hyperactive musician Alessandro Bosetti and by Antje Vowinckel. The period of recording ranges from Y2k and 2003, funny, because after two years it all still sounds "fresh", above all if compared to a lot of similar releases without a sparkle of its "inspiration". As you can imagine it's hard to express an aesthetical opinion about a record like that (yes, it's "unconventional" music as you can guess) and its fruition remains really subjective, some of you will complain about the fact "every fruition, be it a book/records/painting/whatever is subjective" and you're right, but it becomes a bigger problem when the work is so unconventional that standard categorizations fall. Subjective or not, if you listen to "Charlemagne, la vue attachèe..." with your beloved headphones, I'm sure you'll live this experience of "music where something is happening" and let me also add the second "song" (Kitchen place) has some really "musical moments", both during the "confidential" "home-performance" and during the high frequencies' blast. An homogeneous cd without any doubt, despite the big lapses of time passed between the different takes it all could have been performed during the same session. To be listened silently with loads of patience (the way it SHOULD always be) and keeping in mind Mr. Bosetti is "different" musician according to the specific project to which he's working (visit his personal website, please).

Experimental / Avantgarde / Weird & Wired / Glitch / Noise / Field Recording
Edit (2014)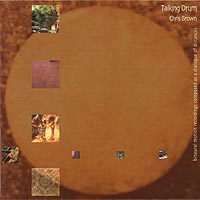 Artist:
CHRIS BROWN
(@)
Title:
Talking drum
Format:
CD
Label:
Pogus
(@)
Rated:
If some days ago you've read the review of "Rogue wave" just forget it, this release is completely different. If you go to the Pogus' home page you'll read that the label's releases are: "uncompromising, non-commercial, and definitely not for everyone (unfortunately), these releases are geared towards discerning listeners" and an original composer/musician like Chris Brown couldn't miss from a catalogue of label like that. This record could be a 72 minute long trip around the world, "field recordings" through a binaural microphone from Philippines, Turkey, Europe, Cuba and America, technically I beg you to read what Pogus and Chris Brown wrote about the making of this work/performance (http://www.pogus.com/21034.html) because it's really complicated to be described in the short space of a review. Anyhow I'll try to cut it short by saying this composer not only recorded the music and the sound of different "environments" but he managed to "play" it via a computer ensemble, a sort of interactive installation where computers play "polyrhythmic music" (but please go and read what he says about the work and you'll understand it much better). The most of the songs at the beginning of this long release remind me (and obviously not by chance) Afro rhythms and Balinese/Gamelan music, somebody could say it's a reinterpretation of "world music", but if this term brings to your mind Peter Gabriel's "Real World": you're totally out of place. Too bad this cd can't be listened with the support of a "documentary", I think it would be a great experience. Music and environment filtered through computers programmed "ad hoc" to interact with the original players during the installation, the release is the result of the different performances plus the original "field recordings", it all is a continuous conversation between different places, environments and people. I've had a split sensation while listening: it somehow sounds traditional, but the work is for sure fresh and innovative and the fact itself it's quite interesting. The only possible remark is the length of the release (it takes a lot of attention) but if you like great ideas you'll love the concept behind this cd.