Experimental / Avantgarde / Weird & Wired / Glitch / Noise / Field Recording
Edit (2014)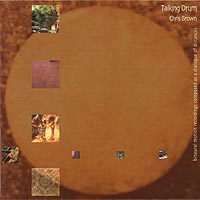 Artist:
CHRIS BROWN
(@)
Title:
Talking drum
Format:
CD
Label:
Pogus
(@)
Rated:
If some days ago you've read the review of "Rogue wave" just forget it, this release is completely different. If you go to the Pogus' home page you'll read that the label's releases are: "uncompromising, non-commercial, and definitely not for everyone (unfortunately), these releases are geared towards discerning listeners" and an original composer/musician like Chris Brown couldn't miss from a catalogue of label like that. This record could be a 72 minute long trip around the world, "field recordings" through a binaural microphone from Philippines, Turkey, Europe, Cuba and America, technically I beg you to read what Pogus and Chris Brown wrote about the making of this work/performance (http://www.pogus.com/21034.html) because it's really complicated to be described in the short space of a review. Anyhow I'll try to cut it short by saying this composer not only recorded the music and the sound of different "environments" but he managed to "play" it via a computer ensemble, a sort of interactive installation where computers play "polyrhythmic music" (but please go and read what he says about the work and you'll understand it much better). The most of the songs at the beginning of this long release remind me (and obviously not by chance) Afro rhythms and Balinese/Gamelan music, somebody could say it's a reinterpretation of "world music", but if this term brings to your mind Peter Gabriel's "Real World": you're totally out of place. Too bad this cd can't be listened with the support of a "documentary", I think it would be a great experience. Music and environment filtered through computers programmed "ad hoc" to interact with the original players during the installation, the release is the result of the different performances plus the original "field recordings", it all is a continuous conversation between different places, environments and people. I've had a split sensation while listening: it somehow sounds traditional, but the work is for sure fresh and innovative and the fact itself it's quite interesting. The only possible remark is the length of the release (it takes a lot of attention) but if you like great ideas you'll love the concept behind this cd.



Experimental / Avantgarde / Weird & Wired / Glitch / Noise / Field Recording
Edit (2013)
image not
available
anymore
Artist:
BARBERÁN/GARCÍA/COSTA MONTEIRO/FAGES
Title:
Octante
Format:
CD
Label:
L'Innomable
Rated:
Coming in a cardboard cover exquisitely designed by Jani Peternelj, "Octante" documents an improvised session recorded in Barcelona in July 2003, with Ruth Barberán at trumpet, Margardida García at electric double bass, Ferran Fages at feedback mixing board and pick ups, and Afredo Costa Monteiro at accordion. Those who know other projects involving some of the musicians, like Cremaster (Fages and Costa Monteiro) or I Treni Inerti (featuring Barberán and Costa Monteiro), or their solo or ensemble recordings on Creative Resources and Rossbin, can probably imagine what this sounds like. As for the others, to sum it up, this is pure scorched earth policy improvisation: all instruments are scraped and misused as side arms, with Fages' input+output electricity washing everything away in white noise. There are times where the physical stress of the improvisers (especially Barberán's compressed breathing) is almost unbearable. A harsh and vexatious performance, giving the perverse satisfaction of seeing everything collapse and crush.
Experimental / Avantgarde / Weird & Wired / Glitch / Noise / Field Recording
Edit (2003)
Artist:
PETER REHBERG
Title:
Fremdkoerper
Format:
CD
Label:
Mosz
Rated:
I'm not really a die-hard fan of Rehberg's releases as Pita, but this work, featuring a series of pieces for dance performances, shows a different, and much more interesting, approach to music/sound. Only "Scream" reminds of Pita's ear-piercing digital noise, while the other tracks are consistently "quieter", though surely not "serene". Skillfully using a limited palette of drones and concrete sounds from who knows which sources, Rehberg weaves mysterious soundscapes which in their minimalism do suggest a lot to the listener. Unsurprisingly, the dance works they are meant to accompany are, according to the press sheet, "about alienation, alienated bodies". The elegant, yet elusive layout suggests a choreography of difficult, contracted movements, and Rehberg's subterrean, insect-like sounds are indeed a perfect soundtrack to them.
Experimental / Avantgarde / Weird & Wired / Glitch / Noise / Field Recording
Edit (1998)
Artist:
CHRIS BROWN
(@)
Title:
Rogue wave
Format:
CD
Label:
Tzadik
(@)
Rated:
It's always great to review a record on Tzadik, you never know what to expect, obviously something "not so ordinary" and Chris Brown is exactly that: "not so ordinary". This composer comes from the West Coast like Terry Railey and James Tenney and like them can be considered an innovator in the composing process as you can easily hear from this release. Chris Brown sound is different because he uses "different means, different tools and different approaches", that's a cheap explanation, but now you know why it all sounds a bit "weird". If I say besides being a composer and a pianist he's an electronic musician it can make you think to the latest Afx Twin (Draqs), or on the other side you'll think to something in the vein of John Zorn's "Songs from the hermetic theater", but "Rogue wave" is not like the most of the things you may have heard before. This collection of six works/compositions from 1984 to 2004 is a complex portrait of a composer striving to find his own particular way of expression. "Transmission tenderloin" could be a patchwork of radio transmission played/de-composed by two computers, in "Retroscan" a piano work gets processed live by an interactive computer program (it reminded me of the swiss electronic musician RM74). The title-track erupts into a sort of magma made out of electronics, scratching and percussion (nothing in comparison to "Cloudstreams/Bellwethers" in which the "Orchestra" is represented by a "five piece computer ensemble"). In "Flies" the atmosphere returns to what could be defined "the bastard son of chamber music and live-electronics". Probably the most "traditional" track (if you consider Railey and friends "traditional") is the last one "Alternating current", it has been composed around 1984 but as you can hear the mind of the "young Brown" was already incredibly fertile. It took me three or four listening to "catch this Wave" but with some patience I did it, well, that's the point: the music of Chris Brown is not "weird" but simply "personal" and innovative, it puts Chris Brown at the forefront of electronic composition while coming from a "classical" background (you can still hear it here and there). "Rogue wave" it's outstanding and you'll discover a new detail after every listening.
Experimental / Avantgarde / Weird & Wired / Glitch / Noise / Field Recording
Edit (1995)
image not
available
anymore
Artist:
JIM FOX
Title:
Descansos, past
Format:
CD EP
Label:
Cold Blue
Rated:
Written in memory of composer and friend John Kuhlman, "Descansos, past" sounds like the sweetest dirge ever, where the pain for loss seems to be diluted in serene recollections. Written by Fox in May 2004 and performed by Barry Newton (double bass) and a cello quartet formed by Erika Duke-Kirkpatrick, Jessica Catron, Aniela Perry and Rachel Arnold, the 15-minute composition developes around the dialogue of solemn, repetitive bass picking, and the driving power of the strings, literally lifting the piece to the sky. As with the previous ep, "The city the wind swept away", Fox has written some painfully emotional music, and I envy the sage outlook on living its suggests.