Experimental / Avantgarde / Weird & Wired / Glitch / Noise / Field Recording
Edit (2037)
image not
available
anymore
Artist:
MICHAEL RENKEL/LUCA VENITUCCI
Title:
Still
Format:
CD
Label:
L'Innomable
Rated:
Recorded in Berlin in late 2002, "Still" features Renkel at acoustic guitar, zither and "preparations" (whatever they are) and Luca Venitucci (also in Ossatura, here at accordion, flight-case and objects). Starting with a rather sparse playing, the interaction between the two musicians soon gets more, ahem, cohesive, though it could apparently sound like a paradox with this kind of radical improvisation. But Renkel and Venitucci are skillfully able to make their instruments/objects talk to the listener; proving faithful to the title, silence and rather quiet pauses give much needed breath to their dialogues.
Experimental / Avantgarde / Weird & Wired / Glitch / Noise / Field Recording
Edit (2034)

Artist:
DAVID BEHRMAN
Title:
My Dear Siegfried
Format:
2 x CD (double CD)
Label:
XI Records
Rated:
A double cd release from this US composer, who has been active in minimalist and computer music since the 1960s, as a member, among other things, of the Sonic Arts Union with artists like Alvin Lucier, Gordon Mumma and Robert Ashley. The first disc, "My Dear Sigfried", is based on the long-running friendship and correspondence between the renown English "soldier-poet" Siegfried Sassoon, and The New York Times journalist and writer Sam Behrman (possibly David's father, but I could easily be wrong). It opens with Sassoon's 1917 "Statement against the war" to go on with letters, memories and poems, and it is obviously a (filtered) spoken-words based work, with vocalists Thomas Buckner, Eric Barsness and Maria Ludovici accompanied, but also electronically arranged, by Behrman himself at keyboards and electronics, Ralph Samuelson at shakuhachi, Peter Zummo at trombone and Tom Hamilton at engineering and effects. The exception is the last track, "Everyone sang", where Sassoon's poem is turned in an almost lithurgical chant. I admit I'm generally not a fan of vocal-based works, but, that said, this is an important release in times of war - and, unsurprisingly, it was recorded "in the dark days of 2003". Disc 2, titled "QSRL: 5 pieces", collects five tracks, composed between 1969 and 2002, of minimal drone music mostly based on hand-made synthesizers and pioneer computer-performer interaction. A very worthwhile document of early computer music, with fresh and remarkable pieces like 1969 "A New Team Takes Over" (with press conferences by the 1968 Nixon administration drowned in amazingly pre-glitch electronics, sounding like Mika Vainio at his harshest!) and the static drone of "Pools of Phase Locked Loops".
Experimental / Avantgarde / Weird & Wired / Glitch / Noise / Field Recording
Edit (2027)
Artist:
Kris Tiner/Mike Baggeta
Title:
There, Just As You Look For It
Format:
CD
Label:
pfMENTUM
Rated:
Trumpet and acoustic guitar duet Tiner and Baggeta serve up a dozen tracks of their own original compositions. Spare, ultra-modern and nonlinear, the musical pieces are all founded on improvisation, with little or no symmetry. That does not mean they don't make sense, in and of themselves--they do; but instead of melody lines and rhythm, you hear mostly grunting bursts of horn over jumbled, jangly, atonal guitar scuffle. In track number ten, "One More Chance," these lapses into madness are broken by islands of melodic calm. At other times the guitar becomes a percussion instrument (with knuckle tapping) and is bowed into raspy scree with a violin bow (by Baggeta, in this case a guitarist obviously not trying to be Jimmy Page).

While this well-made yet spartan recording brings plenty of atmosphere with it, I have a hard time picturing its context. Is it romantic or existential? Urban or pastoral? Lyrical or elegaic? Jazzy or more classical? Does it take after Stravinsky or Coltrane more? It could be that its many ambiguities are what's good about There, Just As You Look For It, in the first place. It depends on how impressed one is by musicians who are able to get as many different varieties of sound out of their instruments in a non-rock-and-roll or non-electronic-music setting, without smashing them to bits. If this were a live recording, then perhaps it might be more convincing. I can't decide, so therefore you must.
Experimental / Avantgarde / Weird & Wired / Glitch / Noise / Field Recording
Edit (2025)

Artist:
ALESSANDRO FOGAR
Title:
Surface Studies # 1 - # 2
Format:
CD
Label:
AFE Records
Rated:
A visual artist, composer and multimedia/software designer, Alessandro Fogar has previously released works on labels like S'Agita and AUA, and here presents two lengthy works in the ongoing series "focused on the study of surfaces". "Sand" and "Streams" are both based on field recordings (from a small island near his native Grado and from river Torre respectively) and digital synthesis/manipulation tecniques, plus a filtered melodica on the former track. Water, sand, pebbles are, as expected, the main sounds, both kept recognizable and manipulated via (my guess) reverses, time-stretching, eq, etc. Both tracks, the second one in particular, are very quiet and fairly repetitive, but in a positive sense. I've used a lot of water-based field recordings myself and I think I've had a similar input: rather than looking for any dramatic development, which would probably even sound jarring, one is tempted to let everything - literally! - flow, and focus on microscopic details. Fogar writes he's inspired, among other, by Bernhard Günther and John Duncan, but also, and I think it shows beneath the surface (whoops), by Morton Feldman.
Experimental / Avantgarde / Weird & Wired / Glitch / Noise / Field Recording
Edit (2024)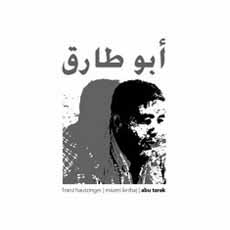 Artist:
FRANZ HAUTZINGER/MAZEN KERBAJ
Title:
Abu Tarek
Format:
CD
Label:
Creative Sources
Rated:
"Abu Tarek" was recorded in August 2003 in Lebanon; "no cuts no overdubbing" states the laconic liner notes: not a surprise since it's the Creative Sources standard, but still one wonders where these sounds could possibly come from. Both Hautzinger and Kerbaj play trumpet, but, except for the elegiac sparkles of "Hermel", no conventional trumpet playing is to be recognized here (again, nothing new for the Lisbon label). Water running through rusty pipes, green logs burning, natural gas emissions, bat signals... everything comes to mind but a "regular" trumpet. While obviously harsh and confrontational, this improvised session has many beautiful moments, thanks to the variety of inventions of the two performers, really melting into each other's sound. A bumpy path, but also one that the listener will want to walk several times.