Experimental / Avantgarde / Weird & Wired / Glitch / Noise / Field Recording
Edit (2319)
image not
available
anymore
Artist:
I TRENI INERTI
Title:
Aérea
Format:
CD
Label:
Creative Sources
Rated:
I'm not sure if I was influenced by the title and the windmills in the layout, but I feel that this new work by Barcelona-based improvisers Ruth Barberán (trumpet) and Alfredo Costa Monteiro (accordion) features some differences from "Ura" (2003), one of the very first Creative Sources releases. This is obviously due to the lack of Matt Davis at trumpet, but it's not only that: while "Ici" and "Era mala mare" present Barberán's and Costa Monteiro's trademark approach, with sharp and scattered sound-particles, the initial "Luz azul" is as open and bright as the title suggests: both the trumpet and the accordion stay on droning, sustained patterns, making for one of their least violent and most nostalgic pieces.
Experimental / Avantgarde / Weird & Wired / Glitch / Noise / Field Recording
Edit (2318)
image not
available
anymore
Artist:
PETER BAUMGARTNER/CHRISTOPH SCHILLER
Title:
Savagnières
Format:
CD
Label:
Creative Sources
Rated:
Titled after the Swiss city it was recorded in one year ago, "Savagnières" features Baumgartner at powerbook and Schiller at spinett, quite an unusual instrument especially in the improvised field. Electronics are mostly kept at a quiet and very minimal level, consisting in modulated sinewaves and drones; quite the opposite for the spinett playing, which is hectic and energetic, while avoiding the noise peaks which are often present in the Creative Sources catalogue. Nonetheless, Schiller knows how to dose the plucking and picking of his instrument, so that the two elements (electronic and acoustic) actually merge very well, creating a suspended and mysteryous dialogue. As always, top-notch design by Carlos Santos.
Experimental / Avantgarde / Weird & Wired / Glitch / Noise / Field Recording
Edit (2313)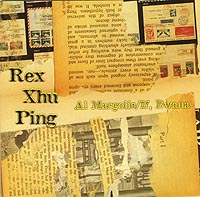 Artist:
AL MARGOLIS/IF, BWANA
Title:
Rex Xhu Ping
Format:
CD
Label:
Pogus
Rated:
Al Margolis is internationally known for his indefatigable activity as a label owner (the historical tape-label Sound of Pig and, of course, Pogus itself) and manager (Deep Listening, XI Records and Mutable Music), but his 20-year old musical alias If, Bwana has gained a cult status as well. "Rex Xhu Ping" presents six compositions featuring Margolis at tapes, electronics and clarinet, with guest musicians Laura Biagi (vocals), Dan (speaker, tapes) and Detta Andreana (tapes, bowed cymbals) and the Orchestre de Fou, an ensemble playing everything from organ to a mysteryous "bikelophone". The six tracks are even radically different from each other, but this doesn't mean the cd sounds incoherent or randomly assorted, which is, I guess, a very positive quality for a composer/performer. The doom-laden "Natraj" opens the album with a looped bass note and screeching electronics, but the sullen atmosphere is soon washed away by "Frog Field", a mix of ecstatic xylophone loops and field recordings, easily the best piece of the disc. "Tattoed Love Muffins" features male/female rants (in English and Italian) over disjointed electroacoustic improvisation, while "Oy vey, Angie", performed by the above mentioned Orchestre, is a dark and beautiful droning piece, another highlight of the work. The last two tracks, "Cicada # 5: Version Bohman" and "Quaderni", experiment on manipulated vocals disintegrating "normal" speech, and would be a suitable soundtrack for some play of Beckett's. As a whole, "Rex Xhu Ping" is a fascinating and almost constantly sombre work, and a successful bridge between historical minimalism and concrete music, and 80's/90's industrial experimentation.
image not
available
anymore
Artist:
INCITE/ /STAPLERFAHRER
Title:
Split
Format:
CD
Label:
Authorised Version
Rated:
Germany's Incite/ present(s?) four tracks (+ intro and outro) of geometric microwave techno: frequencies, hisses and pin-like beats structured in algid rhythmic frames. Though it's obviously hard, if not impossible, to add anything to the style canonized by Noto, Ikeda, Pan Sonic and the likes, Incite/ is truly good at what he's (?) doing. Staplerfahrer comes from the Netherlands and explores the more radical and free-form side of the glitch aesthetic, with exercises on pure sine waves forms. His 6-track part of the split begins with pulses sounding like Morse code signals, and ends with noisier and harsher tracks. All very minimal, meaning that the initial sound pattern is maintained to the whole piece, without much variation or composition; so it's interesting but sometimes lacking depth.
image not
available
anymore
Artist:
ROSOLINA MAR
(@)
Title:
Before and after dinner
Format:
CD
Label:
Wallace
(@)
Rated:
The new full-length realized by Rosolina Mar celebrates another joint venture between Wallace records and Robotradio after Hell Demonio's debut cd. While paying tribute to the roots of rock, Rosolina Mar differently from many post-rockers are much more into the sound of the 70ies but differently from bands such as Dead Meadows this' just a light influence. If you ever happened to see them live you know how together with Red Warms Farm they're one of best and most active live act around. For what concerns "Before and after dinner" the formula they used for their self tilted second record has remained almost untouched. What we have here is post-rock music well mixed with a seventies' flavor that sounds a lot like Phil Manley's band Golden (less mathematical and much more listenable...oh yes, Manley is the genius of Trans Am). Rosolina's sound is still the same even if this cd is less uniformed than before and apart from the first odd intro it's possible the trio decided to experiment a bit more with song structures and guitar effects. This time the Fabio Magistrali's recording helps to recreate the solid live skill of the group, therefore if you love rock music that moves listeners' feet: this' probably addressed to you. "Before and after dinner" (that looks like a inside joke referred to "Before and after science") has its own alternate moments since not all of the tracks are groundbreaking, but you can bet all of the tracks have been played with an hell of a groove. The cover song of "Flesh dance" deserves a special mention not just for the funny idea to cover the theme of Irene Cara's masterpiece, infact that's also the highest peak touched by Rosolina Mar: trash turned into gold.