image not
available
anymore
Artist:
CONTRASTATE
Title:
False fangs for old warewolves
Format:
CD
Label:
Fin de Siecle media
(@)
Rated:
"A really weird one", that's one the first impressions I got from the listening of "False fangs for old werewolves" and if you'll get this cd you'll probably agree with that impression. Contrastate should be "expired" for five years so far but if there's something that nobody can write or say about this cd is that it sounds "old fashioned" or "surpassed" (many of the songs are coming from the early nineties!). "Odd", that's a good adjective to describe the music of Contrastate. This retrospective should appear on the top of the want list of every dark/experimentalism listener but it could be of great interest for those looking for something that's "out of the ordinary" but with a great "phatos". Fin De Siecle Media wrote this band believed that "rather than trying to re-create studio material, new songs would have been specifically written to be performed live" and after I've read it I couldn't but think how intense their live performances should have been. A good studio work, many songs have a definite "isolationist-death ambient" cut, but there's also something really old that made me think of the early industrial/post-industrial projects like Coil, Current 93, Nurse with Wound and company, they don't remind of these bands (just the use of delays and some of the sounds) but they owe a lot to these people (who don't?!). Another interesting thing is that while their music is dead serious, Contrastate had/have a great sense of humor: while reading the notes included inside the booklet of this cd I thought they probably could have been the best people to hang out with but again it surprisingly "contrastates" with the feeling they create through their compositions.
Experimental / Avantgarde / Weird & Wired / Glitch / Noise / Field Recording
Edit (2180)
image not
available
anymore
Artist:
THE CORTET
Title:
HHHH
Format:
CD
Label:
Unsounds
Rated:
Brought together by pianist Cor Fuhler (hence the name), The Cortet features well-known names of contemporary improvisation like Thomas Lehn (EMS analogue synth), Rhodri Davies (prepared harp), and John Butcher (tenor and soprano saxophone). Throughout its five tracks, the album is as unpredictable and bumpy as the beautiful cover photo (which incidentally reminded me of the final part of Julio Cortazar's "Rayuela") suggests. Often using a variety of tecniques and devices (e-bows, close miking, preparations etc.) that blurr the expected sounds into para-electronic forms, the Cortet knows how to range from a subtle, rarefied zen playing (not unlike + minus, to name but one similar experience) to quite intimidating crescendos. The third and longest track, "TH", sums it up very well. This is the kind of improvised recording you'll feel compelled to listen time and time again, to discover new details and hidden beauties at every incursion.
Experimental / Avantgarde / Weird & Wired / Glitch / Noise / Field Recording
Edit (2171)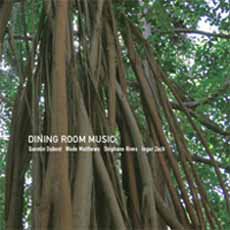 Artist:
DUBOST/MATTHEWS/RIVES/ZACH
Title:
Dining Room Music
Format:
CD
Label:
Creative Sources
Rated:
Featuring Quentin Dubost at electric guitar, Wade Matthews at bass clarinet and alto flute, Stéphane Rives at soprano saxophone and Ingar Zach at percussions, "Dining Room Music" features three remarkable improvised tracks, recorded in the dining room of the Maison Bustros in Beirut. The liner notes question the tradition according to which "the ideal recording [...] is the one in which the music exists in a sort of vacuum, insulated from all possible interference and so thoroughly manipulated that no trace remains of where it was actually recorded". The "where" is, in this case, is the "resonant marble-floored dining room of the Palais Bustros". What I ask myself is: would have I listened to the cd in the same way hadn't I been influenced by the gorgeous photos of the Maison, after reading that its "high windows welcome light conveniently filtered by garden foliage"? Autosuggestion can enhance a listening experience, but also be distracting sometimes. Anyway, this recording does convey an idea of spatiality. It's a warm performance full of restrained movements giving birth to fragile filaments of sound - but also powerful scrapings and hisses battling above the low-end drone generated by the percussions (or so I guess).
Experimental / Avantgarde / Weird & Wired / Glitch / Noise / Field Recording
Edit (2169)
image not
available
anymore
Artist:
ELIO MARTUSCIELLO
(@)
Title:
Aesthetics of the machine
Format:
CD
Label:
Bowindo
(@)
Distributor:
Fringes
Rated:
Ever heard about Elio Martusciello?...I think you should, above all if you're into exsperimental music and electronics. This musician plays in the ensemble of Ossatura and recorded for/with: Elliott Sharp, Recommended records, Staalplaat, Splas(h) records, Goethe Insitut, Giancarlo Schiaffini, Metamkine, Chris Cutler, Otomo Yoshihide, Sachiko M, Christian Calon...just to name a few (yes, a "few"). Anyhow, beside being a versatile musician he's a composer and a researcher and this cd joins together the last two sides of his complex personality. "Aesthetics of the machine", following the words of Martusciello, goes beyond the "point of listening" and sometimes is much closer to Cage "idea of performance" than anyone else. The sounds on which this cd is based often cross the soil of the auditory apparatus: "ultrasounds" (up to 20kHz) and the infrasounds (down to 16Hz) and when these sounds are audible, sometimes it's a total blast (on the back of the record there's a warning, infact cause of the loud-recording of the release and the power of the frequencies the record could damage ears and hi-fi systems...and hell knows he's not joking at all!). Martusciello uses the adjective "concrete-electronic" and explains it, but I can't say if that helps to figure out how it may sounds since it's such a singular audio-experience it's hard to imagine something like that. If power-electronics someday will become academic I'm sure Martusciello will be the headmaster and it's funny since this record is not meant to be power-electronics at all but it's is twice as solid and thrice as hard (even if you try to turn the volume down). This work has much to do with theory and aesthetics (therefore with philosophy), probably it goes beyond what many people means with music but that's the point. There's music borne out of an idea, but there's music that fills you mind with ideas, this release "just" instills big question marks into the poor head of the listener...if you think that's not extraordinary , tell me what then?.
Experimental / Avantgarde / Weird & Wired / Glitch / Noise / Field Recording
Edit (2161)
Artist:
VV.AA.
Title:
Yokomono by Staalplaat Soundsystem
Format:
12"
Label:
Staalplaat
Rated:
I am not really sure what and who to file this under... Staalplaat Soundsystem is a collective of (ex-)Staalplaat records emplyees/founders who wanted to break free from the releasing other people's music only scheme and wanted to create something new, uncharted, truly experimental and artistic. Yokomono is their second release/installation. Presented as a clear transparent 12" locked groove vinyl (locked groove means that the needle always plays one loop over and over, skipping to where it started, withouth continuing), "Yokomono 02"'s side A comes with 55 loops of digital silence, the deterioration and damaging of which, will generate the actual sound; while side B's offerings comprehend 55 loops by 11 artists (Anton Nikkil, Carl Michael von Hausswolff, Charlemagne Palestine, Christian Fennesz, fm3, Ignaz Schick, Ilpo Vaisanen, Justin Bennett, Phill Niblock, Radian and Tim Hecker).Staalplaat's Mono Erosive Surround Sound Installation consists of 10 turntables with no arm/needle where the needle is mounted on 10 so-called vinyl killers, or toy cars customized with on board fm transmitter which basically "drive" through the loops creating new music. At the actual installations (taking place all over Europe) the sound will come through over two hundred radio receivers connected with the toy cars. These guys represent the true avantguard of today, the new pioneers of new music. After the refrigerators, the vacuums, the ventilators and all their other crazy and original ideas, who knows where they'll take us tomorrow. Check out the site of more info, pictures and more about Yokomono and related projects.