Experimental / Avantgarde / Weird & Wired / Glitch / Noise / Field Recording
Edit (2965)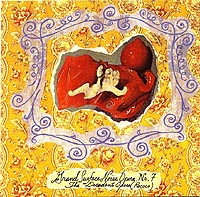 Artist:
CRAWLING WITH TARTS
Title:
Ochre Land, Blue Blue Skies/Grand Surface Noise Opera Nr. 7
Format:
CD
Label:
Pogus
Rated:
I have been a fan of Michael Gendreau's brilliant and austere "55 pas de la ligne au n° 3" (23five, 2002), but I still had to discover his earlier, crazier activity under the Crawling With Tarts, a duo also involving Suzanne Dycus-Gendreau which ceased its activities in 1998. This massive 2-track, 70-minute release by the ever excellent Pogus (after If, Bwana's equally successful and inventive "Frog Peak Music") is a great chance to re-discover CWT's soundscapes, and also features one of Gendreau's first solo composed recordings. "Ochre Land, Blue Blue Skies" was indeed recorded by Gendreau in 1998, with "conceptual information" from his partner, and sort of forebodes his artistic and professional interest in pure motor vibrations - the piece is largely an exploration of turntable-generated sounds, with a raw free-flowing approach that luckily never mars the enjoyment of the piece. If the first track is good, the second one is a masterpiece; this time the emphasis is on the cut-up and layering of pre-recorded sources (looped vinyls and tapes, I guess) with astonishing, brain-melting results. Inoffensive easy listening music and odd language lessons are smashed to bits and re-assembled in a musical equivalent to Kurt Schwitter's Merzbau works... and incidentally, the Grand Surface Noise Opera oozes the berserk creativity of early Merzbow and Nurse With Wound, had they focused on concrete turntablism. One of the most refreshing and vital releases of 2006 for sure.
Experimental / Avantgarde / Weird & Wired / Glitch / Noise / Field Recording
Edit (2961)
Right after having reviewed End Of The Summer, Coletti and Iriondo are back with Polvere and this time it's a full length that's following a good debut 3" mcd. Xabier Iriondo really learned how to make it all sound since like I've been repeating before every sound is forged and shaped and consequentially recorded with a great sound engineering ability. Polvere by some means is the avant/kraut folk project of this couple of musicians and beside the experimental/post-psychedelic characteristics of the cd it shows their melodical/acoustic virtues. Weird samples, electro-acoustic pastiches and acoustic instruments marry acoustic or non distorted guitars with their usual seventy-cut but in a truly melodious style. Imagine Gastre Del Sol playing with Cul De Sac or Fahey and jamming together with undistorted/softest Faust or even Can, well... you're probably on the right way to identify this unconventional object. The plastic cover itself is a real piece of heart and together with the top notch recording makes this object valuable of you money. High quality as one can expect and if you're into the majority of projects connecting Coletti and Iriondo you'll almost certainly like it. Polvere' sound probably works better on briefer length but some episodes are definitely interesting.
Experimental / Avantgarde / Weird & Wired / Glitch / Noise / Field Recording
Edit (2952)
image not
available
anymore
Artist:
ARRINGTON DE DIONYSO
Title:
Breath of Fire
Format:
CD
Label:
K Records
Rated:
Arrington de Dionyso is surely known to many as the mastermind of one of the most relevant "rock" (between a thousand brackets) bands of the last few years, Old Time Relijun, an incendiary mix of blues, garage, free-jazz and avant music (if you don't know them yet, do yourself a favour and buy at least "Uterus and Fire" and "Witchcraft Rebellion"). If you're Italian, you could have also witnessed one of the hi-octane performances by the Arrington de Dionyso Quartet, featuring Old Time Relijun's Aaron Hartman, Jacopo Andreini and Fabio Magistrali (member of A Short Apnea, and one of the best producers in Italy). This solo album was actually recorded last year by Magistrali in his house in southern Puglia, and the liner notes state clearly that no overdub or electronic manipulation have been added. It's quite easy to know why this has been specified: these very short solo pieces by De Dionyso (here using "voice, bass clarinet, copper kettle, newspaper, and Siberian khomuz", which should be a type of jew harp) sometime have an alien, monstrous sound: in "Emptiness and Void" the vocals have a deep metallic resonance (is that the kettle?), in "Breath of Fire (Part One)" and "White Fire on Black Fire" they could be mistaken for a didjeridoo, in "Holotropic" for some kind of reeds, and so on. De Dionyso's accomplishments in throat singing and vocal improvisation (techniques about which he has also given several workshops in the USA, Europe and Israel) are surely the most interesting thing here. I was not that impressed, on the other hand, by the short free-jazz bursts which add nothing to what Arrington has offered in a band context. As a whole, this is a genuine and at times explosive record, but like many, many improv works (be they solo or not) it often repeats itself, and its fragmentary nature doesn't help either to clutch the listener's attention throughout.
image not
available
anymore
This is the first official release of the specialized German mail order service SkullLine. Like so many mail order services did a comparable initiative in the past (to name the best known: Out Of Line / Crazy Horse Music), also the responsible people at SkullLine decided to enter the dangerous world of the music business by starting some efforts as a label. You have to know, that SkullLine is specialized to cover rarities mostly hailing out of the Industrial and Ritual Noise genre, but they hold also a few hard-to-get items out of Electro/EBM and the Darkwave/Goth genre in stock. Diversity musically placed between Dark Electro, EBM, Powernoise, Minimal up to Ambient – that's also the given stuff of TT, which stands for Tronic and Triton83 and this duo presents here 14 tracks discovering all above mentioned styles more or less of quality. This release is strictly limited and available in two different versions. The first one is limited to 80 exemplars and comes in a DVD case, holds some graphically militaristic but nice done stuff on board and provides a pin. Pin but different artwork comes also in the special limited version (20 pieces only...) which is well hidden in a metal box set. What counts is the music and it takes some influences out of acts like FEINDFLUG, XOTOX, :WUMPSCUT:, NOISUF-X and related. Here and there are also included some shreds of vocals, mostly richly destroyed and placed in the mix. I adore the classic Electro tune "Automat" with some remembrances to the classic THE KLINIK, while "Gott wo bist Du?" gets my vote for being the most disruptive noisy piece here. Some obscure and experimental stuff is featured as well, just check out "Leichenliebe". Like the mail order service so is the presented music here, at times structured with known elements, at other times unconventional and chaotic. The given sound and recording quality does need an improvement for sure – but that's the only thing I would like to criticize. Please note that this release is only available – as far as it is strictly limited – directly from SkullLine, so please join them through the given contact references here. A next production featuring Triton83 is already in the works...
Experimental / Avantgarde / Weird & Wired / Glitch / Noise / Field Recording
Edit (2925)
Artist:
Cheerleader 69
(@)
Title:
Godriders in the Sky
Format:
12"
Label:
Steelwork Maschine
(@)
Rated:
First off, this is a vinyl release, but I cannot comment on the pressing, etc. itself because I was not sent a copy of the album itself, only a CDR of the songs. I know how some vinyl fetishists are (not that kind of vinyl fetish... .) – I've heard people describe particular albums as "beautifully pressed," etc. So if you want to know about the texture of the album you'll have to go elsewhere. The disc I was sent was an unmarked CDR and a bad printout of the cover art. So already we were off to a bad start. Luckily, the music was excellent, even if the first impression didn't win me over. I've never heard of this project or his other outfit, Punish Yourself. The man behind the project states two reasons for creating Cheerleader 69. The first one relates to the music: "I needed an output for this kind of music, because I couldn't use these soundscapes with my regular band, Punish Yourself, (http://punishyourself.free.fr) - cyberpunk dancefloor chaos can mix with bombastic orchestral stuff, yeah, but only if you use a small amount of the strings'n'brass'n'marching drums extravaganza... And I wanted to use a full blast of soundtrack-like orchestrations." This should give a pretty good indication of what you are in for. But I was not prepared for how well done it was. This is some really good soundtrack-esque kind of work with militaristic percussion thrown in for good measure. From the first track, "Your Book is Full of Killings," Cheerleader 69 manages to keep a nice dark undertone going without it becoming too oppressive. On "Bad Tape," it sounds like he borrowed heavily from The Anti-Group's "Union With Sirens" off Iso-Erotic Calibrations and anything that reminds me of TAGC is definitely a good thing. When we reach "Godriders (in the sky)," the music completely changes, with heavy percussion, chaotic brass, and what sounds like a choir singing. This track reminds me of the more bombastic elements of Coph Nia or In Slaughter Natives. This is by far the standout track on the album. The rest of the album vacillates between the two extremes of militaristic percussion with heavy orchestration and subdued soundscapes that bury voices and noise just beneath the surface. The final track on the album, "Transgression," is a good example of the latter. Drones and voices mixed with a repetitive melody that cycles through song. It is a peaceful, soothing track that still manages to keep an unsettling vibe throughout. The three tracks available on the limited edition CD also maintain the mixture of subdued ambience and militaristic soundtrack type music. "Rotta Flammis Circumsepta" reminds me of old Laibach, with heavy percussion and orchestration. This is an excellent album and well worth picking up. The other reason for picking it up may be ideological. Cheerleader 69 explains the other reason for forming this project: "I wanted to bring back some left-wing ideas into ambient/industrial/neoclassical stuff, there are WAY TOO MUCH fascists roaming that scene. So if you are one of these nazi fuckheads, or have any sympathy for them, you have to understand this is not music for you. Because I believe in everything you hate and hate everything you believe in." This LP is limited to 500 copies and is available in three versions: Black LP (93 copies), Yellow LP (357 copies), and a Special edition with a CD (50 copies). If you only get the LP, you aren't missing a lot – the music is similar and the standout tracks are on the LP, but the CD music is not just filler - it is able to stand on its own merit.