Experimental / Avantgarde / Weird & Wired / Glitch / Noise / Field Recording
Edit (3253)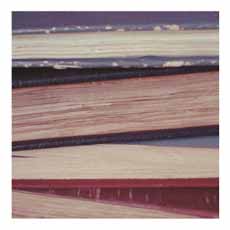 Artist:
NEIL DAVIDSON
Title:
Grain
Format:
CD
Label:
Creative Sources
Rated:
This is the second solo guitar cd in a row released by Creative Sources, and it really hasn't much in common with Irazoki's "Olatuetan", except for the sparse chord plucking of the third track, "Cast", which could betray a common passion for Derek Bailey. The rest is a minimal drone affair, an quite a loud one at that. Young Glasgow-based improviser Davidson probably uses e-bows or motors to play his instrument of choice, exploiting its resonance box to create these semi-static pieces which seem to spring directly from an unbearable tension of metal, wood and air. Dan Warburton has mentioned Phill Niblock and Oren Ambarchi as possible references; I would add David Maranha's equally impenetrable "Piano suspenso" to the list, and heartily recommend this cd to fans of heavyweight static sounds.
Experimental / Avantgarde / Weird & Wired / Glitch / Noise / Field Recording
Edit (3252)
image not
available
anymore
Artist:
DOMENICO SCIAJNO/RALF WEHOWSKY
Title:
Gelbe Tupfen
Format:
CD
Label:
Bowindo
Rated:
German experimental soundmaker and Selektion label member Ralf Wehowsky (aka RLW) is widely known for his sound-recycling activity, which has lead to monumental collaborative projects like the 5-cd set "Tulpas", where a theory of international artists re-read his music. Something similar has occurred with the recent "I. K. K. - Purpur" cd on Sirr Records: Wehowsky created some recordings using his daughter Sonja's singing of a Christmas carol, "Kinderlein Kommet", which partially ended up in a 7" released by Meeuw Muzak and were later re-used to assemble further sonic material. This was later sent to various fellow artists who re-interpreted the piece. The same basis and working method was used by RLW for this collaboration with Italian bassist, electronic musician and software-developer Domenico Sciajno, responsible for the first half of the cd. Don't be fooled by the Christmas carol thing: though you can spot some particle of child singing in the two codas, all the rest is quite a difficult journey. Both Sciajno and RLW offer free-flowing pieces where digital clicks and disturbances, droning frequencies and sharp, ear-irritating crackles form a thick fog of vaguely disquieting electroacoustic music. Let's say that, roughly, the former offers a more shifting and sparse set of sounds, while the latter opts for deeper drones, nearly silent movements and, here and there, more recognizable acoustic sources (looped and manipulated vocals, possibly a creaking door...); but the two visions of theirs intersect very well, so that the listen doesn't suffer from any abrupt change. This is surely not an easy to digest experience: both artists merge the sense of change and indeterminateness of radical improvisation with the algid results of digital electronics, coming up with an obstinately solipsistic work, which eventually grows with every listen thanks to his very uncommunicative approach.
Experimental / Avantgarde / Weird & Wired / Glitch / Noise / Field Recording
Edit (3234)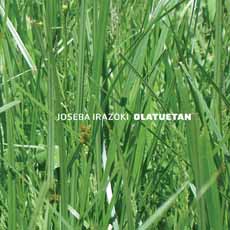 Artist:
JOSEBA IRAZOKI
Title:
Olatuetan
Format:
CD
Label:
Creative Sources
Rated:
A 7-track, 44-minute work from this Basque musician, who I understand plays a veriety of instruments and also writes more song-oriented material. Here Irazoki plays "lap steel, nylon strings, electric guitar and banjo", and dedicates the work to late masters like Derek Bailey and Robbie Basho. In "Olatuetan" there's probably more of the former's abstract bruitisme than the latter's ecstatic cascades, though the Takoma style surfaces in the quieter, or more structured moments ("Behin bashorekin olatuetan"). While predictably not as stellar as his inspirators, Irazoki surely knows how to grasp his audience: to mention only the most remarkable pieces, "Belin olatuetan" is an inspiring start made of tiny swerves, pauses and repeats dotting clusters of sparse notes; "Bertze behin olatuetan" is a cubist-like performance for sharp, disjointed sounds and whispers; and both final pieces, the bow-driven "Betirako olatuetan" and the fingerpicking-driven "Bertze behin bashorekin olatuetan", successfully match a more recognizable playing with feedback noise. A concise but often surprising work.
Experimental / Avantgarde / Weird & Wired / Glitch / Noise / Field Recording
Edit (3232)
image not
available
anymore
Artist:
Muslimgauze
Title:
Hafax Al Assad + Ingaza
Format:
CD
Label:
Staalplaat
Rated:
The Dutch experimental record label Staalplaat keeps carrying out Muslimgauze's plan to spread the message about the conflict in the Middle East by putting out carefully packaged music by the defunct British artist.Although the string of previously unreleased work seems to have come to an end for now, Staalplaat and Muslimauze are not reseting in peace... "Hafax Al Assad" and "Ingaza" are two CDs that were originally released in 1999 as part of the 9 CD set "Box Of Silk And Dogs". These two CDs now come available separately packaged in beautiful triangular gatefold sleeve. They are accompanied (at least when sent to the press) by a letter from Lebanese artist Tarek Atoui (soon to release a Mort Aux Vaches CD) which outlines a frustrated but thoughtful Palestinian point of view that Bryn Jones would most likely share. Musically the former (with the darker cover, shown in the picture) contains more up-tempo material while the latter seems to contain slightly more mid-tempo material. If you read this far you probably know Muslimgauze and I can take for granted that you know what his music is about and sounds like. Should you never have heard his music yet, you can start with one of these or with pretty much any which one of his dozens of releases, preferably with a pre-1999 one. You will hear harsh non-looped live performed saturated mostly strictly percussive music with Middle Eastern voices and recordings.
Artist:
Hansel
Title:
Lorentzian Lineshaper
Format:
CD
Label:
D-Trash records
(@)
Rated:
As I embark on the difficult task of attempting to review the latest CD by the Boston-based duo Hansel, I embrace my fate: I'll get flamed no matter what! The duo obviously have some serious gripe with the media who attempt to pigeonhole them into one boxed description or the promoters who try to file them under one category. So if I get the description somewhat right or accurate according to the fellow writers and reviewers, which of course could be argued is fairly relative anyway, I'll probably get shit from the band; and if I tell you that Hansel is a rock band (which is how they describe themselves to avoid any confusion) then I'll definitely get shit from the readers (since anybody that heard this record knows that Hansel doesn't share anything more than attitude and occasional distorted guitars with what you usually refer to as rock). Hansel is a little stressed out by the situation that came into being, and you can tell from their press release and some lyrics or samples in their record. So I could comply with their desire to not be labeled, hence doing a disservice to my readers and possibly getting a few very curious readers to go and actually listen to the music online to make up their own mind (but then they'll probably illegally download the album and then the band AND the label will hate me anyway) or I can just fuck all of that political correctness bullshit and mess with my destiny by giving a shot at trying to describe a band that's actually hard to describe or file under just one category or genre in the first place. Ultimately, I don't give a shit about getting shit, so what I'll do is I won't make any comparisons and I'll just try go give you a rough idea of what they sound like.First of all, if you are familiar with D-Trash records, think of Hansel as your non-typical D-Trash band. They implement elements of electronic music, industrial music, rhythm-noise, breakcore, glitch, rock, hop hop and what not (shall we say experimental electro-glitch-core crossover? or just e-ndustrial noise-core rock hop? just messing with you...). No matter what, it is going to be hard to give you an accurate picture of Hansel because they jump back and forth from any of the above to any other one of the above genres. This said, certain things that are actually facts could help you pin point (sort of) where Hansel stands: although they are not committed to them, they do use computers and electronics; most rhythmical/percussive material as well as most vocals are distorted; their sounds are sparse and simple at the source, but highly tweaked and saturated in complex ways; their sonic attack is minimal but aggressive and raw; they are genuine and spontaneous; they are very eclectic and across the board. If that doesn't get you any further you'll really have to go to the label's website and find out for yourself.In the meantime we want to tell the band that Chain D.L.K. loves them no matter what and we don't give a flying fuck about what the other media says about them (I haven't read a single other review of their music to try and find aid or inspiration or to try and align my views with those of others - why would I anyway?), nor do we have any expectations from them or anybody else, for that matter. I agree with Hansel that artists should just make music and let nothing other than their own creativity mold the music they write. That said, sometimes shit sucks, sometimes shit rocks, it's all subjective in the end anyway, and so are reviews (so bands shouldn't really give a damn about what people say anyway).This said I wanna hear that triple Dolly Parton cover album now!PS I don't think I ever filed any review I wrote in as many categories at the same time!