Artist:
VV.AA.
Title:
Small melodies
Format:
CD
Label:
Spekk
Rated:
Are you into ambient/electronic music with a melodic edge? Well, if you're you'd better watch out for this sampler is one of the best records of the year. I think I could say something about the deluxe jewel box that looks like the cover of a small diary/note-book but I will limit the description to the music. I think if this cd would have been featuring Ultra Milkmaids, Taylor Dupree, Oren Ambarchi, Tape and Fenton "alone" it would have been already a congress of top quality musicians, but Hèrve Bogossian, Stephen Mathieu, Tomoshi Date, Sogar, Naph and some others top class names is probably too much!. "Small melodies" is an incredible honeymoon in ambiental electronic, sweet drones, delicate guitar-glitches, trance-like loops bringing in a third dimension faster than a dream machine. Releases like that should be filed under "stress erasing music", if the day's been hard "Small melodies" puts you in a relaxed mood to face the night. I've always thought music in general was a great mean to amplify emotions and there's nothing more empyreal than the music contained in this sampler to fest the end of an hectic day. During the listening I got the impression every small frame was moving slowly like a relented documentary on natural environments. Fenton's "beautiful loser" is another clear signal this guy "has it", but scouts' honor the whole menu fills my mouth of saliva like Pavlos dog. If you are into this style, please get it!.
image not
available
anymore
Artist:
WEISBLAT/ COSTA MONTEIRO/RODRIGUES
Title:
Diafon
Format:
CD
Label:
Creative Sources
Rated:
If I Treni Inerti's "Aérea" shows glimpses of Costa Mointeiro's quieter side, "Diafon" plunges us back in the sonic maelstrom that the Portuguese improviser is used to create in his solo turntable performances, with the duo Cremaster or in collective recordings like "Octante" on L'Innomable (search the archive for my review). Here he uses "pick-ups on turntable" in a trio with Barry Weisblat (electronics) and Creative Sources owner Ernesto Rodrigues (violin, pick-ups and objects). The result is honestly closer to harsh noise than to even radical improvisation: frequencies collide and crumble, the violin is brutally ill-treated, everything is loud and distorted. Probably one of the most violent records in the catalogue of the Portuguese label, but also one of the logical extremes of its stylistic identity.
Experimental / Avantgarde / Weird & Wired / Glitch / Noise / Field Recording
Edit (2319)
image not
available
anymore
Artist:
I TRENI INERTI
Title:
Aérea
Format:
CD
Label:
Creative Sources
Rated:
I'm not sure if I was influenced by the title and the windmills in the layout, but I feel that this new work by Barcelona-based improvisers Ruth Barberán (trumpet) and Alfredo Costa Monteiro (accordion) features some differences from "Ura" (2003), one of the very first Creative Sources releases. This is obviously due to the lack of Matt Davis at trumpet, but it's not only that: while "Ici" and "Era mala mare" present Barberán's and Costa Monteiro's trademark approach, with sharp and scattered sound-particles, the initial "Luz azul" is as open and bright as the title suggests: both the trumpet and the accordion stay on droning, sustained patterns, making for one of their least violent and most nostalgic pieces.
Experimental / Avantgarde / Weird & Wired / Glitch / Noise / Field Recording
Edit (2318)
image not
available
anymore
Artist:
PETER BAUMGARTNER/CHRISTOPH SCHILLER
Title:
Savagnières
Format:
CD
Label:
Creative Sources
Rated:
Titled after the Swiss city it was recorded in one year ago, "Savagnières" features Baumgartner at powerbook and Schiller at spinett, quite an unusual instrument especially in the improvised field. Electronics are mostly kept at a quiet and very minimal level, consisting in modulated sinewaves and drones; quite the opposite for the spinett playing, which is hectic and energetic, while avoiding the noise peaks which are often present in the Creative Sources catalogue. Nonetheless, Schiller knows how to dose the plucking and picking of his instrument, so that the two elements (electronic and acoustic) actually merge very well, creating a suspended and mysteryous dialogue. As always, top-notch design by Carlos Santos.
Experimental / Avantgarde / Weird & Wired / Glitch / Noise / Field Recording
Edit (2313)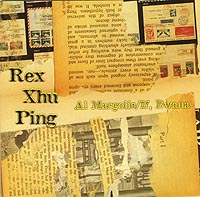 Artist:
AL MARGOLIS/IF, BWANA
Title:
Rex Xhu Ping
Format:
CD
Label:
Pogus
Rated:
Al Margolis is internationally known for his indefatigable activity as a label owner (the historical tape-label Sound of Pig and, of course, Pogus itself) and manager (Deep Listening, XI Records and Mutable Music), but his 20-year old musical alias If, Bwana has gained a cult status as well. "Rex Xhu Ping" presents six compositions featuring Margolis at tapes, electronics and clarinet, with guest musicians Laura Biagi (vocals), Dan (speaker, tapes) and Detta Andreana (tapes, bowed cymbals) and the Orchestre de Fou, an ensemble playing everything from organ to a mysteryous "bikelophone". The six tracks are even radically different from each other, but this doesn't mean the cd sounds incoherent or randomly assorted, which is, I guess, a very positive quality for a composer/performer. The doom-laden "Natraj" opens the album with a looped bass note and screeching electronics, but the sullen atmosphere is soon washed away by "Frog Field", a mix of ecstatic xylophone loops and field recordings, easily the best piece of the disc. "Tattoed Love Muffins" features male/female rants (in English and Italian) over disjointed electroacoustic improvisation, while "Oy vey, Angie", performed by the above mentioned Orchestre, is a dark and beautiful droning piece, another highlight of the work. The last two tracks, "Cicada # 5: Version Bohman" and "Quaderni", experiment on manipulated vocals disintegrating "normal" speech, and would be a suitable soundtrack for some play of Beckett's. As a whole, "Rex Xhu Ping" is a fascinating and almost constantly sombre work, and a successful bridge between historical minimalism and concrete music, and 80's/90's industrial experimentation.