image not
available
anymore
Artist:
KOJI ASANO
(@)
Title:
violin and viola suites No.1-No.7
Format:
CD
Label:
Asano production
(@)
Rated:
At last reading Asano's biography it reports about his studies and therefore his belonging to the category of "learned" musicians and even if it wasn't that evident in his previous works it emerges in this new "violin and viola suites". Forget the electronic productions of this japanese 'cause the title is not a joke: this cd features seven brand new suites composed by Asano and performed Kumi Nakajima and by Masashi Sasaki (the principal violist of the Sendai Philharmonic Orchestra). Modern Chamber music? Classical music? Sure to an untrained hear (like mine) it may sound somehow really classical (and I'm talking about genres and not about the compositional side of this music). It somehow reminded of some music written by Terry Riley for the mighty Kronos quartet and if you've heard that you know this old "freak head" writes in a really different way if compared to his solo work with Scodanibbio or to his minimalist masterworks, I'm speaking about opus like "Requiem for Adam" and "Salome". Some passages, for what I know, also reminded me of Vivaldi and I'd say it's more than a sensation but I must say I'm forced to doubt being so ignorant for what concerns chamber music. Fast passages and solar music that would fit really well in a old italian Villa. I think this is a good record and the overabundance of conditional terms is due to my poor knowledge of this kind of music, shame on me.
Experimental / Avantgarde / Weird & Wired / Glitch / Noise / Field Recording
Edit (2712)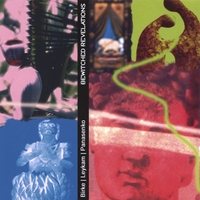 Artist:
BIRKE | LEYKAM | PANASENKO
Title:
Bewitched Revelations
Format:
CD
Label:
Frank mark arts
(@)
Rated:
With these post scornesque/godfleshesque, psychedelic, intimist layouts you never know what to expect... sure, in the most of the case it's an experimental trip but what more?!. This trio's journey is a multiple one, both for the fact they play many instruments and for the simple reason they take different directions while assembling the tracks, beside that the most of it is the result of "free improvisations acted on impulse". On the whole the dye is quite dark but in a psychedelic way, therefore don't think of any contemporary heavy weight, the most of the songs in some way marry stoned electronics a la Mick Harris with a kraut salsa and a freak taste for impros. Even if everybody plays everything, in the most of the episodes Birke's main occupation is playing synthesizers and programming drums (he does it in a really "neat" way), Leykam is the "string man" and Panasenko is the freaky-string man-polistrumentist. In addition to it all they've guest intrusion of Mark (radio, noises, midi trumpet, etc..) but more than that never forget everything is filtered and twisted to the bone. This' could be the best possible soundtrack for your burning joints and like a good work based on improvisation it has more ups ("fog patches" for example) than downs, it pays tribute to Fripp, Eno and Laswell intuitions on the creative use of the studio.
Experimental / Avantgarde / Weird & Wired / Glitch / Noise / Field Recording
Edit (2689)
Artist:
VV.AA.
Title:
Ignoble Vermine - A Tribute To Ptose
Format:
CD
Label:
GAZUL RECORDS
(@)
Distributor:
Musea Records
Rated:
When I first listened to this CD, I thought it was just one band called Ignobile Vermine. Since the text on the CD cover is all in French, I admit I wasn't paying too much attention. My first thought was, wow, kind of a diverse band here. After doing a little Internet digging, I found that this was a compilation CD of FIFTEEN different bands over nineteen tracks, all doing a tribute to some band I never heard of called Ptose. (There's a long line over the "o" in Ptose, if that makes any difference.) My second thought was, "so who the heck is Ptose, and why have I never heard of them"? A little more digging, and I come to find that they've been around since 1979, and they're France's answer to The Residents, although they seem to have more musically in common with Renaldo and the Loaf than The Residents. That explains a lot of what I thought about the music I heard on the CD. Similarities to The Residents abound. Okay, but since I've never actually heard Ptose, all I have to go on is what I think of the music in general, and not how well these bands are "tributing" Ptose. That being said, let me tell you what I think. My sentiment on The Residents has always been mixed. I've heard and owned a number of their albums. I've seen them live. Some of their stuff can be great, and some amateurishly awful. The tracks on this CD seem to mirror my sentiments to a tee. Rather than go into the track titles, I'll just focus on the bands. First up, LES HAUTS DE PLAFONDS. Their track is kind of a pop-pourri of a little melody and some schizzy backing tracks over a rhythm machine rhythmic background, which morphs into a different minimal melody with a little spoken word over it. Likeable enough, perhaps one of the more "normal" tracks on the CD. Second track by BOSCO really reminded me a lot off The Residents "Fingerprints" album. More intense drum machine (The Residents as I recall in their early days tended to use played percussion) a buzzy repeating synth bass line, and call & response vocal chanting with a chorus of lower vocals vs. a higher falsetto vocal. Nonsensical perhaps, but still kind of engaging. This may be one of the better tracks on the CD. Has a real vintage Residents feel. LAURENT PERNICE & PAKITO BOLINO are up next with a chaotic noise-driven piece of insanity with some pretty wacky loops avant piano, and a slew of changes that get more interesting each time you listen to it. I'm no real noise fan, but it's well worth wading through. These guys pack a lot into 3:46. KLIMPEREI have three tracks on this CD. The first begins with a melancholic guitar based melody just seems to peter out once it gets going. The second is a bouncy little circus-style number that reflects Residents style whimsy in the melody with harmonium and guitar juxtaposition. Nice little piece. The last track by them is just a 46 second idea, is cute, but lacks development. Next band, LA SOCIETE DES TIMIDES A LA PARADE DES OISEAUX begins their track with an odd glockenspiel melody, some low woodwinds and ominous guitar staccato picking and scraping. Over that a raspy voice intones, "Here come the boogey-man, he's going to call you... .". Drums come in and the guitar beefs up, the vocals get more intense and frenetic as the song gets progressively stronger and louder. Very much like Tuxedomoon on a rock-bender with Winston Tong fronting on vocals. Avant rock enthusiasts may like this track very much. I thought it was a little derivative. SERVOVALVE follows with a long, repetitive sequenced synth track that throws some odd percussive elements, processed spoken word, other synth sounds, etc. There just wasn't enough here to sustain my interest over six minutes. Following that comes LEFDUP ET LEFDUP. This is a pretty cool track, maybe the closest thing to Industrial rock on the entire CD. Real drums (as far as I could tell, or great programming) saxophones, intelligible spooky sort of goth vocals, goofy melody line, but very likeable. I've changed my mind, may THIS is the best track on the CD. DELETED follow, and they have two tracks on the CD. Their first track sounded like a melted down jazz orchestra from the 20's playing some melodic blues riff. Their second track is bit more avant rock in instrumentation and unfortunately ends too soon. They have potential. NORSCQ have the longest track on the CD at 8:23, but not the best in my estimation. I never was much of an "experimental guitar" fan, but if you are, you might enjoy it. To me, it tends to sound like an endless tuning session, and someone that just can't play. I admit that I just ended up skipping ahead on this track, and it did develop into something with guitar squawks over a bass riff, but for me it was just too much, too little, too late. PIERRE BASTIEN ET MECANIUM was up next, with a creepy, creaky, wheezy little track about a ghost. I wouldn't doubt the majority of the sonics here were made from violin and saw. Quite inventive. PALO ALTO featuring EMIKO OTA follows. It's probably what you might expect from a Japanese experimental music artist. Ota has a fair amount of credentials on the experimental music scene, and although the track comes off with a lot less whimsy than the bulk of the material on this CD, it makes for some diversity. Some nice juxtapositions on this one. CHAZAM is up next with a percussion heavy track, thrumping bass line, silly synth lead and chanted vocals in French. Some overdriven lead guitar adds to the mix. Nothing special here. PHONEME offers an eerie little downtempo instrumental synth ditty punctuated by white noise stabs and a low processed vocal at the very end. Nice. TOUPIDEK LIMONADE use a kazoo throughout their track along with recorder, bass, guitar and percussion. Although it sounds like one of the less developed tracks on the CD, it at least brings back some Residents-style whimsicality. DRAGIBUS do the same song as BOSCO did earlier with less effective results. The CD closes out with NON FINITO ORCHESTRA doing a medley of Ptose songs and it certainly sounds like an appropriate ending for this CD. Extremely well done insanity. Maybe THIS is the best track on the CD. Maybe I should go back and listen to the whole CD again. No, on second thought I think YOU should listen to the CD. Available through Musea Records and definitely recommended to Residents fans and fans of avant rock.
image not
available
anymore
Artist:
RONNIE SUNDIN
Title:
the amateur hermetic
Format:
CD
Label:
Komplott
Rated:
Thinking to the cd of Hanna Hartman I've the itch to think Komplott could be labelled as "field recording gone odd and dark" without any doubt this fits really well with this new release. Ronnie Sundin concentrated it all in just one track: a structured and elaborated suite with several crescendo and diminuendo obtained mainly thru a good mixing skill and leaving lot's of the original sound source intact. "The amateur hermetic" differently from what the title suggests paints the landscape black as the colour of its cover and if you won't get this impression from the very beginning with the second movement around the twentieth minute I'm sure the weird "coral effect made out of who knows what" will make you pray for the holy ghost. Right after the second crescendo the scene is crossed by a killer distorted bass sound that's left hanging enough to scare the shit out of your ears. Right when the climax is reached the distorted bass gradually leaves the crime scene for more white noise waves and to some quiet parts that recall the first the beginning of the cd till it all fade like the fog in the famous movie by John Carpenter. Without being a dark ambient release I'm sure many fans of the genre will dig this for the "lost in a forest" sensation.
As I've said before, I've the impression the ranks of "radical electronics" got more and more influenced by industrial music, but in an age where everything get mixed that's not such a surprise. If you add many industrial "musician/performer" were somehow using electronic music it will give sense to the previous consideration, think of Whitehouse, Suicide, Throbbing Gristle, Coil, etc.. It's hard to believe Uniform haven't been influenced by the "grey shadows" of the eighties, consider that beside "the man of the moment" a.k.a. Dalek they feature Lydia Lunch, Alan Vega, Franko B, Terry Edwards, Alice Kemp and Olga Naiman. Do you remember the rest of the Planet Mu catalogue? Ok, forget it! This duo loves drowning in a dark pool where the only things you can grasp are odd cold noises. Can we speak about "post-industrial electronics"?! I think so..."arythmical post industrial electronics"...the bastard son of Pan Sonic and Thomas Kohner? Obsessive nightmares sold as "avantgarde"?. Wolf Eyes on Sub Pop, Protocol on Planet Mu...hey man: something tells me obsession and frustration are "finally back in stock". If you get horny as you hear the sound of Coil and Pan Sonic, I'm sure "protocol" is the right release for you ears...and for those of your psychiatrist.