Experimental / Avantgarde / Weird & Wired / Glitch / Noise / Field Recording
Edit (2731)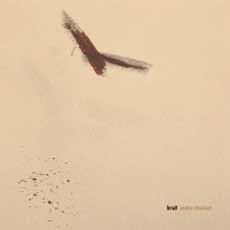 Artist:
PEDRO CHAMBEL
Title:
Bruit
Format:
CD
Label:
Creative Sources
Rated:
"Noise" is an adequate title for this solo guitar record by Portuguese musician Pedro Chambel, who has already appeared in the Creative Sources catalogue a few years ago. Not that it is extra loud (quite the opposite, actually),but it's surely based on un-musical (micro)sounds - the static feedback coming from guitar and amp, the scratching of fingers on the chords... using the guitar surface and components to produce anything but notes. Chambel is surely not breaking any new ground in the radical improvisation field, but the album has a sort of suspended feel that I quite liked - and the more physical pieces, like the feedback driven second track and the delay loops (only my guess) in the sixth one added some nice bursts of electricity.
Coming from Italy, Goj and H2S are already active since 1999 the first and 2001 the latter. They have in common a friendship and a similar musical feeling. They know that their stuff could be filed under "no-music", but listening to the eight tracks I must say that what they do is emotional music and emotions could also find their way through sounds and noises where melody is only a surplus. This common aim made they produce a split mini CD with four tracks each. Goj presents four tracks of what he calls "neuroambient". Trying to explaining how "neuroambient" could sound let's say that each track could have a different approach to sound/structure and if the opening "Flat-E" is made out of distorted drums and a rarefied distorted organ sound the following "Lotta vs Sonia" changes radically with its looped electronic structure. "Kingdom" sounds like the early Earth (distortion, reverb and chorus on a bass guitar) and the last track "Non, je ne suis pas du tout un excentrique" is an ambient experimental short track with treated radio sources on background of a synthesizer pad. H2S approach to experimental sounds is different because he mix new wave intuitions (see the chorused guitar of the opening "Fragmentation") with industrial taste. In this way the tracks sounds now more noisy and then a little more ambient with noise inserts (like on "Kafka's parallel dimension" or "Allen mistress on the snow"). The closing "Bondage in the wood" sounds like post punk meets Cabaret Voltaire. Some naivety are evident but this split is definitely worth you attention.
Experimental / Avantgarde / Weird & Wired / Glitch / Noise / Field Recording
Edit (2721)

Artist:
Sebkha Chott
(@)
Title:
Nagah Mahdi ~ Opuscrits en 48 Rouleaux
Format:
CD
Label:
Musea Parallèle
(@)
Distributor:
Musea Records
Rated:
Holy shitzky and whee doggies!!! I'm not exactly sure what I was expecting to hear when I slid this disc into my player, but I certainly wasn't prepared for the spellbinding miscellany of aural ingredients packed into this approximately 69-minute tour de force! This band of self-described "Mekanik Metal Disco" musicians appears to consist of 20+ members, living (vivants) and dead (morts), though I'm having some difficulty trying to pin down an exact number and the roles each one plays, as much of the information (particularly the sections pertaining to band members) on their website is in French, which is Greek to me. :-)

The 48 tracks are divided into eight "rouleaux" which are book-ended by a prologue and epilogue. The songs blend seamlessly into one another as countless genres are explored and several new ones invented along the way. Most of the vocals are in French, though there are a few snippets in English. Speed/death metal themes recur frequently, but are cut with cabaret, reggae and ska themes, straight ahead rock riffs, jazzy interludes, meringue movements, trippy psychedelic sounds, bass-driven funk, splashes of break-danceable techno, circus sounds, horn and piano solos, runaway organ passages, shots o salsa, saxophone jams, spoken word spasms, keyboard and synth wizardry, drunken operatic folk, vocal silliness, and all manner of avant-garde oddity. Just when you think the surprises have all been sprung, another one comes along and bites ya: mind-bending computer effects, Darth-Vader exhalations, freakish pornographic-sounding telephone conversations, and (best of all) MORE COWBELL!

Listening to this, I can only imagine the tongue-in cheek musings on their website about the band's genesis occurring 10,000 years ago to be true. These folk may be young, but they most assuredly come across as an inveterate and highly talented ensemble. While researching this band, I came across numerous comparisons to Frank Zappa-meets-Magma and other early prog-and-psych rockers, but beyond the elemental similarities to those acts, their overall sound is considerably less "song"-like and more hodgepodge – in my mind, very much reminiscent of Mr. Bungle. From the sensationally swift, schizophrenic shifts in style and the razor-sharp technical precision with which they are rendered, right down to the male vocalist's phrasing and sounds (which are very congruent with chief Bungler Mike Patton's), the sounds on this disc are uncannily similar to those of Bungle's seemingly inimitable sonic salmagundi.

This is the kind of album that makes writing reviews a ton of fun. Fans of frenetic everything-rock -- pass Go, collect $200, and grab as many copies of this album as that will buy you RIGHT FUCKING NOW... TODAY! Give em to perfect strangers and make friends for life! Socks be darned! The sound of Mekanik Metal Disco is gonna knock your friggin' pants off!!!

Experimental / Avantgarde / Weird & Wired / Glitch / Noise / Field Recording
Edit (2717)
Artist:
Ellen Burr
(@)
Title:
Duos
Format:
CD
Label:
pfMENTUM
(@)
Rated:
Duos is my first exposure to Ellen Burr, an accomplished musician who has studied with such luminaries as John Cage and Morton Subotnick. Seven unique pieces comprise this charmingly peculiar release by the California-based flutist/artist/author. The first and final tracks on Duos are solos performed by Burr on C flute, with the middle five being collaborative efforts from which the album's name ostensibly derives. Among these twosomes, the listener is treated to a series of interesting experiments, based on improvisation within the structure of graphic scores composed by Burr. Several of these scores appear in the liner notes, along with explanations of how they were interpreted by the artists.The fun commences with the playfully frenetic "Ball of Yarn," a lively bit of exploration on C flute that masterfully brings its subject into the mind's eye. One can easily envision a ball of yarn unraveling, perhaps while being chased around the house and batted here-and-there by a mischievous kitten. "Canon-Cards-Canon I" (track 2) features Burr (alto flute) and bassoonist Sara Schoenbeck creating a collective landscape of sound based on an intriguing technique devised by Burr. Each player has chosen three cards from a deck of sixty line gestures, with the aim being to interpret melodic and dynamic shapes based on the direction and density of the lines. Meandering along, this track is tentative, yet pleasing. Burr is joined on "Permutations 62" by clarinetist Andrew Pask. The score for this track centers around a painting by Mary Martin in which each of seven black and white cells have been transposed into a note with pitch and duration, with the graphic permutations within the picture being used to create the flute and clarinet lines. The result is an upbeat frolic, with stray notes, runs, and trills tumbling haphazardly from both instruments."Four Square" pairs Burr (C flute) with percussionist Jeanette Kangas in a sixteen minute exploration of rhythm and sound. The tune was created through the selection and arrangement of stylistic "character cards" upon a board, with the players crafting their sonic output by following arrows within the four squares on one side of the board, then turning the board and interpreting the next set of cards. Though disjointed and sparse at times, this piece kept me wondering what was around the next bend on the board.Next is "Senbazaru," a slow-moving dance between Burr's alto flute and the prepared bass of Steuart Liebig, with whom Burr has collaborated in the past. There are some really beautiful passages in this song, where the flute really comes to life, forging a melodic path amid the gentle meadow of subdued bass tones."Canon-Cards-Canon II" marks the return of Sara Schoenbeck, as her bassoon takes on a whole new life in a conspicuously more hectic movement than in Canon I. The finale, "Warp & Weave," is another Burr solo, featuring her attention-grabbing technique of alternately playing and "singing," through the flute. Periods of quiet are punctuated by quick, staccato bursts of sound and notes, and some amazing runs hide in the middle of the piece, as the album skips and jumps toward its conclusion.
image not
available
anymore
Artist:
KOJI ASANO
(@)
Title:
violin and viola suites No.1-No.7
Format:
CD
Label:
Asano production
(@)
Rated:
At last reading Asano's biography it reports about his studies and therefore his belonging to the category of "learned" musicians and even if it wasn't that evident in his previous works it emerges in this new "violin and viola suites". Forget the electronic productions of this japanese 'cause the title is not a joke: this cd features seven brand new suites composed by Asano and performed Kumi Nakajima and by Masashi Sasaki (the principal violist of the Sendai Philharmonic Orchestra). Modern Chamber music? Classical music? Sure to an untrained hear (like mine) it may sound somehow really classical (and I'm talking about genres and not about the compositional side of this music). It somehow reminded of some music written by Terry Riley for the mighty Kronos quartet and if you've heard that you know this old "freak head" writes in a really different way if compared to his solo work with Scodanibbio or to his minimalist masterworks, I'm speaking about opus like "Requiem for Adam" and "Salome". Some passages, for what I know, also reminded me of Vivaldi and I'd say it's more than a sensation but I must say I'm forced to doubt being so ignorant for what concerns chamber music. Fast passages and solar music that would fit really well in a old italian Villa. I think this is a good record and the overabundance of conditional terms is due to my poor knowledge of this kind of music, shame on me.