image not
available
anymore
It's not the first time I hear Urkuma's name, but finally I hear a whole record, nice discovery! What else can you say about that!?. Stefano De Santi's (aka Urkuma) music is a good paradigm of listening where nothing really happens, but at the same time where nothing is the same for a long of time. An electroacoustic experience but in a way truly different from the music of people like Evan Parker, Birgit Ulher or other by the Creative Sources' catalogue in general. "Rebuilding..." is much more electronic oriented but at the same time as I've just said it maintains a "ambiental/acoustic" feel. You can perceive there's just one person behind the entire audio-collage of every track, every single sound take slowly/gently place in the scenario not with an irruption, but with the precise intent of becoming a complementary colour. Beyond the mere strength of proportions I'd say this release somehow sounds psychedelic... nothing induces properly to trance, but this complementary idea behind single parts make me think of a trip with landscape alternating in front of the windscreen. Probably that's the worst bullshit I'm gonna write in ages, but it really make me think of Pink Floyd's live at Pompey...take the parts where those old freaks don't play proper song, imagine a similar stream of consciousness and above all take the whole idea as it was Christof Migone's reinterpretation of it all and that's probably what could cone out of it. Soft, cold, difficult but intriguing.
image not
available
anymore
Artist:
SLEPCY
Title:
We Are The Newest Battle Models
Format:
CD
Label:
Cock Rock Disco
(@)
Rated:
Formed by the Polish duo Piotr Kurek and Marcin Stefanski, Slepcy have been working on electronic music that had his proper sound. They released few stuff for DJ Scud's Ambush records, Kool.Pop, and Suburban Trash Industries. Their new WE ARE THE NEWEST BATTLE MODEL mix in a clever and frenetic way low-fi electronic sources along with strange vocals coming from unknown sources. Their tracks span from hardcore electronics to junk electronic operas. The cut and paste style of dealing with rhythm is paired with a dramatic and cinematic sense. If you check "Laurence" the repetitive bass line along with the eerie main melody make me feel that something is going on. It's like they are representing someone's life and I must say that there's nothing funny going on. Fortunately the casual rhythm structure is present only in few tracks and most of them are built like weird soundtracks where electronica meet drama. I really appreciated the theatrical feelings I felt while listening to their music and it was something new for me. I hope that they will keep this quality of surprising the audience with violent crazy rhythms combined with particular orchestrations (and if you want a perfect example of this check the main track).
Artist:
Ariel Kalma
Title:
Osmose
Format:
CD
Label:
Beta-lactam Ring Records
(@)
Distributor:
Massive Music
Rated:
Hailing from the realm of Tangerine Dream is this pleasant collection of original synth music paired with nature sounds, from French ambient pioneer Ariel Kalma. In 1977, the year of its original release, the recording was sophisticated enough in both concept and execution not to be at all your typical space-trip. The music on each track is blended with rain forest sounds from Borneo brought back to Paris by composer/recordist Richard Tinti and layered in tastefully, if not artfully. On certain of the tracks different instruments are featured, such as soprano saxophone (track number one, "Saxo Planetariel"); harmonium (number three, "Planet-Air"); flute (played modally through "Forest' Ballad"); and guitar and organ (the also-remarkably-titled "Orguitar Soir"). Kalma himself claims to have employed a "circular breathing" technique whilst recording his wind instruments, a physiological twin to the classic technique of tape-looping, which is also featured in spades. The overall effect is eerily terrestrial and space-age at the same time. This can take you back to a blissful, pre-digital era just before the 1980s -- when the Yamaha DX7 took over all synthesized sound, and the terms "New Age" and "Rain Forest" came to mean phony crystal magic and overblown, insincere environmental causes. (And by the way, don't let that soprano sax scare you away -- this is a safe distance from Kenny G territory, so indulge yourself without worry.)
Experimental / Avantgarde / Weird & Wired / Glitch / Noise / Field Recording
Edit (2849)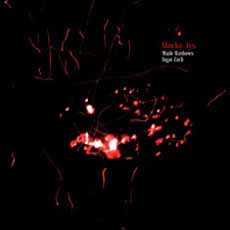 Artist:
WADE MATTHEWS/INGAR ZACH
Title:
Mørke-lis
Format:
CD
Label:
Creative Sources
Rated:
With six tracks titled by the dichotomy between light and darkness in six different languages, "Mørke-lis" is indeed an album of contrasts and unexpected superimpositions. I can only guess at how it was recorded, since Matthews is listed as "electronic synthesis" and Zach at "percussion": maybe the former filtered the latter via max/msp or something similar, as the music comes out sharp and scabrous, with an almost mineral quality. Whichever tecnique they may have used, this is a strong duo performance of algid electronic fibres shattered by frantic gestures, reaching their chaotic peak in the sixth and last track "Ténèbres Lumière"; and Zach's splendid photographs are the perfect visuals for such a volcanic performance.
Experimental / Avantgarde / Weird & Wired / Glitch / Noise / Field Recording
Edit (2847)
image not
available
anymore
Artist:
BRET CHRISTOPHER
Title:
Division: Blossom
Format:
CD
Label:
MoSo
Rated:
My fist exposure to this US artist I knew nothing about, and it's surely a pleasant one. As the geometric layout clearly suggests, Christopher works in the glitch-microsounds field, by organizing with laboratory-like precision a series of algid, impalpable elements such as pin-like beats, chilly drones and slowly moving frequencies. While mostly opting for a subdued and restrained style, he also knows how to add some punch, with the liofilized rhythms of the third track or the skilfull crescendo of slow pulses, electric cracklings and colliding frequencies in the following one, my favourite in the whole lot. People into labels like 12k or L-ne are heartily invited to check this out.