image not
available
anymore
I'm always happy to hear something so good that comes completely out of the blue... but are we sure Yannis Kyriakides is a "new-jack" for real?!. Obviously the answer to the previous question is "no", and I think if you'll visit the Unsound website you'll find it yourself, but to understand this guy is a top class musician, you just need your own ears and a bit of attention. This work is based on material segmented and manipulated from interviews to twelve Brussels' residents, and it all has been taken from the BNA-BBOT archives. The final result could be "easily" labelled as experimental electronic music, but I can guarantee "Wordless" sounds unlike a standard electronic release. For those who need references (that in this case could be also very deceptive), Kyriakides' "artefact" is by some means really close to some of Elio Martuscello's work with Z_e_l_l_e or with Metaxu, but could be also compared to Jorg Piringer's "vokal". Also Piringer decided to rework/reshape radio/tv sources even though the result is fairly different, but consider these two musicians had different intentions and different approaches. The music sometimes is glitchy and makes you feel like the cd skips furiously as if it were damaged, but there's also melody in "DJ_0617" or in "Music sales person_0618". In the most of the tracks "Wordless" is the son of a juxtaposition of sound and silence, its forged by cuts and proportion, by hook or by crook it goes really close to concrete music. Abstract? Avant-garde? "oui" but not just autistic...bravo!.
Experimental / Avantgarde / Weird & Wired / Glitch / Noise / Field Recording
Edit (2742)
image not
available
anymore
Artist:
NO NECK BLUES BAND AND EMBRYO
(@)
Title:
EmbryoNNCK
Format:
CD
Label:
Staubgold
(@)
Distributor:
Wide
Rated:
BUY from
New York's reclusive No Neck Blues Band joins Munich's veterans Embryo for their first recorded collaboration, with their free-flowing improvisational blend of world music, jazz, krautrock and other indefinable genres. The result is Embryonnck seven tracks and 44 minutes of concentrated musical collaboration, in which both groups diligently shun categorization, drawing upon whatever stray traces of free jazz, psychedelia, ethnic folk, or blues that happen to capture their fancy, while maintaining a decidedly liberal attitude towards possible instrumentation.The opener, "Wieder das erste Mal," sets a tone for the rest of the album and it sounds like all participants are thoroughly locked-in and enjoying themselves. This song is also perhaps the best demonstration of EmbryoNNCK's casual symmetry and its repetitive rhythm is critical. In "Die Farbe aus dem All" the bass and drums looks like a propelling vertigo, while songs like "Five Grams of the Widow", more traditionally rooted in jazz with its bursts of sax rhythms and vibraphone shimmer, and "Zweiter Sommer" provide a valued contrast to some of the heavier tracks. The disc ends with "Das Erste Mal", a song that takes up nearly a third of the album's total duration. It starts with struck, metallic percussion and cymbals, with a hazy, generative propulsion reminiscent of recent Gang Gang Dance. This piece gains density as it moves along and the collaboration makes it a sort of muscular avant-rock. The cd cover lists 13 musicians and it's easy to imagine every one of them at work in this last song, even if with so many individual players involved it becomes difficult to pinpoint who exactly is doing what. The album never feels as if the group is over-reaching, but rather they do a good job of maximizing each other's strengths. This, combined with their sense of dynamics, makes for a powerful debut that will hopefully entice them into future collaborations.
image not
available
anymore
Artist:
FLYNT GLASS
(@)
Title:
Nyarlathotep
Format:
CD
Label:
Brume
(@)
Rated:
This a glacial cd right from the first sight, an frost-blue colour that domains everything with ice pics both in and out of the digipack. Weird or not Brume is putting out some industrial oriented electronic musicians, it means they've a clear perception of where to go and who's better for their release schedule. Flint Glass has a good amount of echoes and drones ordered on a rhythmical skeleton, but good taste blessed this release and while being obscure it really sounds "melodical". Can you remember Afx's darkest episodes featured on the second double cd of "Selected ambient works"? Well add some straight tempos (really well programmed) and a load of drones counterbalancing some acute sounds and here is your cocktail. But a good cocktail should be accompanied by some sneaks and let's say the salsa is a nordic one: a bit of Biosphere and a grain of Pan Sonic so that you can even feel the taste in your mouth. "Nyarlathotep" is a record perfectly focussed, a bit too long maybe, but I think that's the problem of many electronic releases. While the lay out may lead to think this cd is meant for "industrial listeners", the music can be appealing for a wide spectrum of electronics fanatics, it accomplish the good result of mixing a night feel with an all electronic ambiental mood. Good and definitely well produced.
Artist:
THE PROCESS VOID
(@)
Title:
Arcane Matter
Format:
CD
Label:
self-released
Distributor:
Crash Frequency
Rated:
Here we have another act hailing out the unknown badlands of Australia, the solo project THE PROCESS VOID leaded by Alex J. Also this act is part of the Australian Crash Frequency (www.crashfrequency.com, thanks again and ROCK on, Karl!!!) and this community grows stronger and better, also with this release under their flag. Alex describes his music being influenced by classic Industrial acts, PUPPY, FLA, but guitar-driven stuff like KILLING JOKE, and I personally would like to add a portion TEST DEPT to this reference. The truth lays somewhere in between, musically THE PROCESS VOID combine minimal EBM/old school Industrial inspired bass lines with rough vocal screams (not really the fine kind of singing...), solid bass kick and snare drum patterns ("Retributions, "Seconds") and some synth layers ranging between melodious and atonal. Also some guitar noises can be heard here and there mostly placed in the background. This is in all a very rough and not fainthearted style of Independent/Underground music. The later placed tracks turn also more and more into a noise and trash experiment, the long running final piece called "Book Titles" for example ends into a total noise climax, that's why I took TEST DEPT to be a possible reference. The whole CD convinces through its experiental undertone and its aggressive kind generally, plus it doesn't sound like anything discovered before. This project is definitively on a good way and I'm looking forward to hear more from it. Check out this interesting but hard to pick up release through the given sources here.
Experimental / Avantgarde / Weird & Wired / Glitch / Noise / Field Recording
Edit (2732)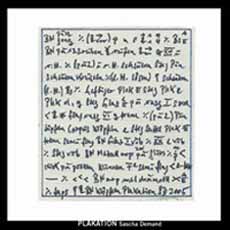 Artist:
SASCHA DEMAND
Title:
Plakation
Format:
CD
Label:
Creative Sources
Rated:
More solo electric guitar on Creative Sources, but quite unlike Pedro Chambel's album I have just reviewed. Rather than opting for the instrument-as-object performance, German Sascha Demand plays several short soliloquies - from sombre janglings to minor feedback effects, everything is based on limited set of sounds and gestures that are repeated with autistic precision. Here lie both the strength and the frailty of the album: it has a dark feel to it, with an underlying tension that never breaks out; but on the other hand, its fragmentary nature somehow limits its evocative effects, as one sketch is quickly replaced by another, which is distracting on the long run.