Experimental / Avantgarde / Weird & Wired / Glitch / Noise / Field Recording
Edit (3396)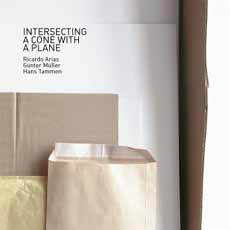 Artist:
RICARDO ARIAS/GÜNTER MÜLLER/HANS TAMMEN
Title:
Intersecting a Cone with a Plane
Format:
CD
Label:
Creative Sources
Rated:
With only a handful of peculiar and talented artists, it almost becomes embarassing to write reviews, since everything they do seems to be blessed with an uncommon degree of excellence. Günter Müller surely belongs to those chosen few, and every recording of his, be it solo, duo or ensemble, has both a costant quality and an individual mark; in the case of collective improvised performances, it's also stunning how his electronics, or drumming, merge with the other players while maintaining their own filigree. "Intersecting a Cone with a Plane" features Müller at his usual set of "assorted percussion, mds, ipod, electronics, processing", Arias at a mysterious "bass-balloon kit" and Hans Tammen at an equally puzzling "endangered guitar" - one of the few cases when I wish there was a live photo to understand what the hell they were playing... Anyway, the three tracks, recorded in New York in 2003, are an exhilarating texture of sharp and pointed sounds, crackling electronic particles and controlled feedback, and some lower rumbles - possibly the bass-balloon thing? While not overtly harsh, and full of subtle details, it sounds like a slo-mo recording of something boiling over, a free jazz record melting through fainted tapes and blown circuits.
Experimental / Avantgarde / Weird & Wired / Glitch / Noise / Field Recording
Edit (3395)
image not
available
anymore
Artist:
PHILIP SAMARTZIS/KOZO INADA
Title:
h [ ]
Format:
3" MiniCD
Label:
Room40
Rated:
Along with the very nice quasi-3" ep with Lawrence English (see archive), Philip Samartzis has recently released, via the ever fine Room40, this 20-minute collaborative track with Japanese soundmaker Kozo Inada, who has several highly appreciated releases under his belt. "h [ ]" is surely no let down, coming off as one of the best mixes of avant electronics and location recordings that I've heard lately. The former element takes the form of high-pitched frequencies and drones and a few noise crackles, the latter features some remarkable cicadas and seagulls sounds, which are actually IN TUNE with the electronics, not just two layers pasted together. If the electronics+field recordings formula has become a genre in itself, you can hardly find better examples than this.
image not
available
anymore
Artist:
Jack Or Jive
(@)
Title:
Issin 1988 - 2006
Format:
3 x CD (triple CD)
Label:
Ultra-Mail Prod.
(@)
Rated:
Already active since a long time, JACK OR JIVE have decided to celebrate their 20th anniversary with the release of this limited CD set, available in 900 normal editions and 100 special box sets. The rare special packaged and very nice designed 3-CD box set featuring besides three conceptual CD's an artistic impressive created booklet providing several drawings by the female lead singer and main artist Chako, several background info, bio and discography of this Asiatic act. You got introduced into the diverse and mysterious sound worlds of this act, also a brief description about the compositional process is included. Edited and published by the Honk-Kong based label Ultra-Mail Prod. (which still needs to bring up a website...;-)), this package is one of the most outstanding works I've discovered so far! The band JACK OR JIVE featuring the imaginary female fronted Chako presents here unreleased recordings created over all the years of their long-time existence, but mostly completely new arranged and re-assembled. The music is as always the acoustic manifestation of Chako's compositional efforts, stylistically based on Goth/Wave, Neo-Folk, Ambient and Ritual Industrial tunes – while all these genre-friendly monikers are still too limited to catch the whole musically horizon of this act. Their wide-spread cultural background they can integrate in almost all works, maybe this explains the fascination and mysticism behind this international renowned act. The CD's are strictly separated under the monikers "Dark", "Light", and "Outside" – and somehow in the same vein the music is arranged. While the "Dark" CD features among others creepy and ominous sounding Ambient and Ritualistic drones and the whole mood is rather experimental and dark, the "Light" CD somehow clears up and brings up some more easier accessible works. "Outside" against to this looks and sounds a bit like the "live" side of the bands and can also integrate some improvised works – only possible and recorded for the moment. Chako's voice and vocal cords have indeed a hard job to do to provide and fit with the required mood. Overall a must-have edition of a historically meaningful release for the fans and followers this act could gain world-wide.

DARK

1. Leave a temple
2. Wisdom from above
3. Chinese dragon
4. Solitary
5. Person of vision
6. The letter from the heaven
7. Nation which sank
to the sea
8. Four seasons
9. Lie in the palm of your own hands
10. Invulnerably
11. Riddance
12. Say goodbye
13. Lily dyed red

LIGHT

1. Star
2. Blue train
3. Floweret
4. Over
5. Rompish girl
6. Cross your hands
7. I will wait
8. Seashell ornament
9. Snow line
10. Brought to a head
11. Friends in Asia
12. And then
13. Autumnal leaves
14. His favorite book
15. Snow line 2
16. Advance together
17. Thank you

OUTSIDE

1. Next life / Flag stones
2. Show windows
3. Procession of mourners
4. Stare into the darkness
5. Sequent
6. A man in the moon
7. Reach across
8. Depletion of sensitivity
9. Capability for crisis management
10. So what?
11. Aberrations of youth
12. Row courage
13. Fragments of me 2
14. Zen riddle
15. The window
16. Spiritual echoes


image not
available
anymore
Artist:
Marvin Ayers
Title:
Scape
Format:
CD
Label:
burning shed
Rated:
Festooned in pixel-art packaging from the film "Scape", this is the second score by Ayers for Peter Gomes' movies. The record features roughly two cycles, the first half is rhytmic and more melodic but still deliciously minimal with hermetic titles left to describe some of the variations between the tracks. Particularly worthy of note is the second part of the record which is a mesmerizing journey in modern minimal ambient. As with Cycle, I wasn't that impressed with Ayers' work, but I'm sure that that both records would be much better if listened along with their filmic counterparts.
image not
available
anymore
Artist:
Marvin Ayers
Title:
Cycle
Format:
CD
Label:
burning shed
Rated:
Marvin Ayers, once famous for his "Cellosphere" on the Mille Plateaux sublabel Ritornell, returns with two cds. "Cycle" is the score of an experimental movie by Peter Gomes and deals with treated harmonics by two differnt pianos recorded in different places (a grand piano recorded in a studio and a slightly out of tune baby grand piano recorded in an empty room) to fashion a highly emotive brand of acoustic electronica. Ayers work fits into the latest currents of the avantgarde flora and fauna. Cycle won't be a classic as it does not add anything to this slightly overcrowded genre but it's well executed and worth hearing.