Experimental / Avantgarde / Weird & Wired / Glitch / Noise / Field Recording
Edit (3497)
image not
available
anymore
Artist:
JENNIFER GENTLE
Title:
a new astronomy
Format:
CD
Label:
A Silent Place
(@)
Rated:
This the same band that in the last years got the attention of the media for having signed for Sub Pop, here we have the repress of a long gone cdr released by Sub Pop in a limited edition. Cause of the name and of the sound they've been compared many times to Pink Floyd, sure they probably have been listening to the british masters a lot, but sincerely this cd is quite far from that comparison (later they've become more soft). There's a lot of late sixties/early seventies in this music, the basic idea it all has been recorded with a 4-tracks cassette machine helps it all to sound "vintage". This what your you ex-freak daddy/uncle would recognize and label as "psychedelia". Sometimes Jennifer Gentle really reminded of Faust when they let the raga-melody come out, or like Beach Boys into experimenting, somewhere else it could have been Love mixed with Gong or also Stones in a lo-fi salsa. Could you expect some magical "space drones" on a record like that? Of course yes, and infact you have the "space odyssey experience". The guy behind the project probably at the time was really nuts for the sixties and he's incredibly good in writing like they did at the time probably cause of a good dose of magic touch. Since probably many of you may imagine being on Sub Pop these guy's sound is easy, well there's good amount of 60/70's experimental flavour here hence don't ask yourself why A Silent Place went for the repress. They've become softer than this work but this probably one of they most interesting work to date.

Experimental / Avantgarde / Weird & Wired / Glitch / Noise / Field Recording
Edit (3494)
image not
available
anymore
Artist:
FRANCIS DHOMONT
Title:
...et autre utopies
Format:
CD
Label:
empreinte Digitales
Rated:
The more I think to labels like Emprintes Digitales the more I think these people deserve a monument, not just for the fact they put out top notch material with beautiful packaging but also for the fact they're not afraid to release contemporary music with a strong "experimental accent". For those of you who've never heard of Francis Dhomont, you'd better give a check to his biography since it looks like this man is one of the beginners of "musique concrète" that itself makes real the "history's what's happening" in the way the Ex meant it back in the days. This collection of compositions ranging from 1998 to 2004 will bring your hear into a contemporary-classic-electronic dimension I'm writing that for those more confidential with the genre, therefore while being really different, who's friendly with some electronic composition of people like Maderna, Berio, Stockhausen, Schaeffer, I think what we're talking about. This "collected works" present the most introspective and abstract side of Dohmont and the title "..and other utopias" is quite explicit in this sense and more than ever in a dark age like this there's no dichotomy with "abstraction" and "introspection" it's almost like talking about the same thing. While forging/choosing every single sound accurately the french composer didn't forget to keep his mind fixed on the construction idea that's why even when abstraction gets high we're far from hearing "random noise". I think some passages betrays an incredible taste for tension/release like in "Voyage-miroir", not to speak about the title track where dissolution casts the listener in a sort of house of mirrors. It's hard to get deep in the complexity of such a work but I suggest you to look for a way out from the synaptic labyrinth of Dhomont.

image not
available
anymore
Artist:
BACHI DA PIETRA
Title:
non io
Format:
CD
Label:
Wallace/die Schachtel
(@)
Rated:
In the beginning there was Madrigali Magri, it was a sort of post-rock/alternative trio floating in-between the troubled waters of avant blues, murder ballads and desertic folk, after they split up, their main songwriter joined Bruno Dorella from Ovo/Ronin and they added the world "heaviness" to the vocabulary. I wasn't such a big fun of their debut record even if it really good so much that it got some incredible responses, but it looks this time I've to surrender to the fact this record is undeniably good. Is it so different from the previous chapter?...I don't think so, but the impression is they worked more on melting together the "mammoth" drumming with the dead blues feeling of the songs and for me it woks much better than before. "Non io" mixes this vaguely Nick Cave dead-blues ambience with some "noise-rock" influences and with wave/dark vein (the keyword for the lyrics it's "depression", of course). Hard to say that, but this time the sound of the drum makes me think to trip-hop or to some sophisticated new folk sensation like the Devics, the beat dissolves in the background, it fuels the hypnotical atmosphere of the tracks and clearly in the economy of a "guitar and drums" duo you can imagine how important it is. Strange to see it comes out both on Wallace and on an experimental "non rock/non folk" label like die Schachtel, but tip of hat to the "sacred allegiance" and above all to this elegant, introspective musical collection of failures.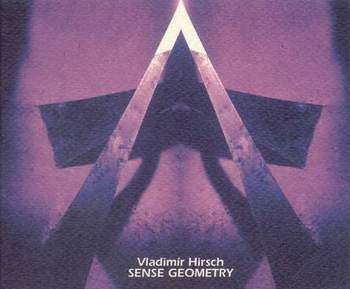 Artist:
VLADIMIR HIRSCH
(@)
Title:
Sense Geometry
Format:
CD
Label:
Ars Benevola Mater
(@)
Distributor:
Masterpiece Distribution
Rated:
Active also with Aghia Trias, Zygote and Skrol, Czech composer Vladimir Hirsch presents a new mix of a previous work titled SENSE GEOMETRY which had been originally recorded between 1998 and 1999. The composition of the ten tracks is based on fictive, geometric symbolism of certain mechanisms of the human psyche. Vladimir calls this musical form of mathematical theory "fractal musical geometry". We already know that music and mathematic are deeply linked as music is a way of disposing sounds into a space dominate by time. Also the music score is divided using mathematic fraction (4/4, 3/4, etc.). Musically the tracks are tense orchestral suites where the rhythm has an important role as along with piano and strings industrial noises are used to improve the tension created. It's also useful to notice that the whole CD is based on percussion. The piano, where used, the metallic samples, the drum and the different sound sources are creating a sort of marching soundtrack which ideally paint geometric sound forms. It's nice to notice, also, that Vladimir didn't forget to use also melody even if this isn't his main purpose. If you love disturbing atmospheres, modern classical music and also neo classical industrial sounds, this is a good release. P.s. Try it also if you don't know any of this genres but you love old horror movies soundtracks!
image not
available
anymore
Artist:
DO MAKE SAY THINK
(@)
Title:
You, You're A History In Rust
Format:
CD
Label:
Constellation
(@)
Distributor:
Wide
Rated:
BUY from
Since Constellation issued their self-released debut album in 1998, Do Make Say Think have made one critically-acclaimed album after another. "You, You're A History in Rust" is the fifth record and a brilliant extension of the band's unique sonic narrative. And as the fans know, DMST's approach to musical deconstruction is never academic, forced, or played merely for effect; it is always a matter of weaving the captured elements together with the mixing desk played like a master instrument. With this record the band continues its simultaneous explorations into the worlds of post-rock, jazz, electronica; there are dark corners and bright splashes, textural murmurs and bright melodies. Adding in saxophone, trumpet and violin to the guitar, bass and drums, DMST doesn't use vocals to bring emotion into the music and multiple layers of instruments create the mood. The best moments? "A tender History in rust" with his light, folky feel with whistles and whispers and "Executioner Blues" that doesn't need vocals because its narrative is well-explained by an assemblage of guitars, strings and jazzy drums that ebb and flow before building to a cacophonous crescendo. Highly recommended!