Artist:
VV.AA.
Title:
Decennium Sturm
Format:
CD
Label:
Sturm
(@)
Distributor:
COP International
Rated:
Another label compilation for the Latvian Sturm label, created and released to celebrate their already 10th anniversary. Unbelievable, that this Sturm collective has already worked hard that long time almost without any knowledge and attention from some western audiences. And this compilation has something special to offer – NO track titles are included here. The bands of this label all give here new and unreleased stuff to the listeners, but there's no track name. ANOCODAINE made the start here and already this track turns after an unspectacular melodic intro into a pounding Electro instrumental piece. KNAUZERS UN ZEME offer a military marching piece with several noisy samples featuring bombing and firing airplanes and war noises and vocals pending between dark and distorted. ROSEWATER offer the best work here, a hard straight-forward moving Dark Electro pearl with harsh Powernoise-inspired rhythm patterns and rough distorted vocals – their enjoying and successful formula, but this piece I would qualify as their most straightest track so far. Almost in a same vein hits the project LIVING NIGHTMARE, which I haven't discovered before, no matter also for the Metal-like guitar riff included here. With LS TUR, STROPS, BARODARHO and KAUNA TRAIPS the music here turns more and more into the martial and experimental noisy kind this label has so much to offer. Also MARCHWITZA give a rather chaotic piece, but I'm sure that I have heard it before on their full-length "Have A Hard Day". Also an untitled act offers a track tending more into a slower Ambient-like tune, and more in silent style this CD turns off. Check also out that video file done by CYBERPUNK to conclude this valuable compilation. Interesting concept, but very unusual, too. Worth to start some investment.

Track list

1/ ANOCODAINE
2/ KNAUZERS un ZEME
3/ ROSEWATER
4/ LIVING NIGHTMARE
5/ LS TUR
6/ STROPS
7/ MARCHWITZA
8/ BARODARHO
9/ RADIO KAPUT / 3OT
10/ KAUNA TRAIPS
11/ UNTITLED BAND, 1921 vs RUDENS LAPAS
12/ GAS OF LATVIA
13/ CYBER PUNK (video)


This is a Latvian Industrial compilation brought and released by the leading Industrial/Powernoise label Sturm. Numbered under Sturmmandat 11, this release features a lot of never-heard-before-of acts and names mostly provided hard pounding Dark EBM, rhythmically Powernoise, up to IDM-inspired tunes and Experimental cuts. A hand-made and folded paper package with a screw holding the disk makes sure to hold a limited item in your hands. Strictly separated into an "Upsturm" (rhythmically) and a "Downsturm" (static, experimental) this comp starts rhythmically after an intro piece with the duo of MARCHWITZA. We've already discovered them, presenting here one of their best works with "Big Cojones". Also ROSEWATER, maybe the best known act of Latvia, make a valuable Dark Electro/Powernoise appearance with "Unbroken". Thinks are getting more and more noisy and martial, BIOS and STROPS can offer some valuable rhythmically Powernoise tracks and can be called favorites. With the "Downsturm" section the pounding rhythm parts are mostly removed and the tracks are turning more and more into some Minimal and Ritual-inspired tunes, some pure chaotic pieces (ANTIREALITY), and also some dramatic Dark Ambient (ANOCODAINE) pieces can be discovered as well. A lot of diversity is given for sure from the Latvian scene, but it mostly turns into a chaotic, martial and very noisy kind. Not designed for some weak nerves for sure. Hard-Pounding-Industrial-Dissonance!

Track list:

1/ 2OT Kas Tur?
--upsturm--
3/ MARCHWITZA Big Cojones
4/ ROSEWATER Unbroken
5/ CYBER PUNK Acid Rampage Running
6/ BIOS Power Z
7/ DEVNOISE Degeneration
8/ STROPS Tetan
9/ KNAUZERS Latvieti Nepadodies!
--downsturm--
11/ BARODARHO Invalids (live)
12/ CLAUSTRUM Zobrati
13/ TRAUR ZOT Komendantstunda
14/ SYNDROME Raumasche
15/ RUDENS LAPAS Kailsals
16/ ANOCODAINE Pain (sturm cut)
17/ ANTIREALITY Harshwave
18/ GAS OF LATVIA Union

After meeting at the MUTEK Festival in 2002, sharing the bills on various festivals all over the world and a previous collaborative effort in 2003 along with Radbound Mens and Timeblind ("Quality Hotel" out on the Mutek label), Stephan Mathieu and Janeck Schaefer decided to spend some days together in the home of a classical composer in the English countryside and there they recorded a huge amount of material that they later reprocessed and assembled in York Music Research Center. Basically Mathieu plays all the instruments and Schaefer does all the field recordings and in most of the tracks you can recognize both artist's distinctive trademarks but sometimes the symbiosis works so well and results in a new, unorthodox glitch-psychedelia. The highlight here is the sixth track called "Quartet for Flute, Piano and Cello", where you can hear pops and crackles of a worn-out vinyl over a complex sound patchwork somehow resembling Ehlers' "Plays" series. Due to its amazing sound quality it surely sounds better through loudspeakers rather than headphones. Recommended.
Experimental / Avantgarde / Weird & Wired / Glitch / Noise / Field Recording
Edit (3173)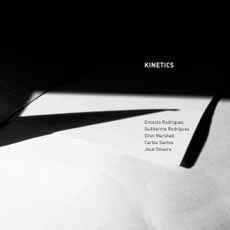 Artist:
RODRIGUES/RODRIGUES/MARSHALL/SANTOS/OLIVEIRA
Title:
Kinetics
Format:
CD
Label:
Creative Sources
Rated:
Besides being responsible for the hyper-prolific label Creative Sources, Lisbon improviser Ernesto Rodrigues sometimes pops up in its catalogue with recordings of his own. Here he plays violin and viola together with Guilherme Rodrigues (cello, pocket trumpet), Oren Marshall (tuba), José Oliveira (percussion) and Carlos Santos (electronics, and author of the particularly beautiful layout). Let's say that these 8 untitled tracks, recorded in Lisbon in 2004, are some of the best collective albums in the CS catalogue, in my humble opinion, "Kinetics" being a perfect title for such an animated performance. I will just mention the first track, with its tight interplay of jerks and overlaps, breath overflowing and deep rumblings; or the second one, with whispered vocals, soft noises and electronic hisses; or the chaos running amok in track four. Very nice record throughout.
Experimental / Avantgarde / Weird & Wired / Glitch / Noise / Field Recording
Edit (3172)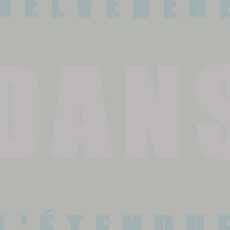 Artist:
CHIESA/GUIONNET/PETIT/LA CASA
Title:
Belvedere
Format:
CD
Label:
Creative Sources
Rated:
"Belvedere" is one of those site-specific improvised records that you tend to expect from soundmakers like Guionnet or La Casa, but it's surely quite different from the Afflux project. Recorded in 2003 in Villa Adriana, home of the late René Quinon, to whom the disc is dedicated, it features Guionnet at alto saxophone, Petit at guitar, David Chiesa at double bass and La Casa at microphones and mixing desk. The latter's "sound catching" activity was particularly important, as various mics were placed both inside and outside the house, to transform it, to quote Guionnet's liner notes, into "a sort of abstract and tentacle-like belvedere plunged into the acoustic space of the place". The performance is portrayed in this single 71-minute track. What does it sound like? Guionnet utters some painful high-end squeals throughout, while both the guitar and the double-bass opt for more minimal and sparse gestures, or subdued drones, and outdoor bird recordings are merged into the whole. I have listened to this record a few times with the highest possible attention, and I honestly find it very irritating. Sometimes in a constructive sense, sometimes not. It is often mysterious and even intimidating, but also has dead weight moments when it just sounds dull and repetitive. It is obviously a matter of subjective perception [duh!], but I think that 71 minutes of this are just too much; what is puzzling and mesmerizing in the first minutes gets boring when repeated for half an hour or so. At the same time, many passages are excellent. After several listenings, this still leaves me confused and dissatisfied.