Artist:
Sote (@)
Title:
Dastgaah
Format:
CD
Label:
Dielectric
Rated:
Sometimes categories become useless or even better some musicians make it inadequate. Sote's "dastagaah" sure can be filed under "ethnic electronica", but I'm not sure it really paints the proper image of what Iran original Akta Ebtekar plays. Together with the blend of this two different elements we should consider a top notch "deviation" factor. Honestly is one of the most bizarre record I've been listening during the last months, I don't even know if the mixture of iranian music and laptop elements fits perfectly in all of the tracks, but believe me, I hardly happened to hear something like that. If you're an electronic fanatics I'm sure you already know this guy's earlier mini cd was on Warp... tip of hat to him!. For a few seconds it also reminded me of some Black Dog middle-est influenced harmonies, but "Dastagaah" is located somewhere else, take the fifth track: how can you define that if not "Odd"?. A-rhythmical or at least forget you're Panjabi Mc indian beats, Sote effort is mystical and directed to your grey matter, if I knew much more Middle-est philosophy/religion I'd say that Sote stands to sufism as "ordinary" middle-est influenced music to orthodoxy. Not always easy to be digested but definitely unconventional and personal.
Experimental / Avantgarde / Weird & Wired / Glitch / Noise / Field Recording
Edit (2766)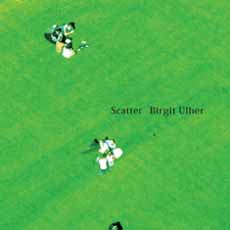 Artist:
BIRGIT ULHER
(@)
Title:
Scatter
Format:
CD
Label:
Creative Sources
(@)
Rated:
People like Taylor Deupree, Koji Asano and Birgit Ulher knows the meaning of the words "relax" and "stand by" but most of all do they know what "rest" means? Probably the answer is "neee" and this new cd on Creative Sources is here to confirm it. After some collaborations we reviewed in the last months this musician is back with a proper "solo recording". If compared with her collaborations this release is much more minimal and above all softer, if you're familiar with the usual sound of this portuguese label I'm sure you won't be dissatisfied by "Scatter". The trumpet sounds choked, its voice passes from suffocated notes/noises to short but never violent incursions. The voice of Ulher's trumpet rears its head just a few times (as I've said many times before when speaking about this style of free-improvisation forget academic use of instruments) and if you consider the average length of most of the tracks goes from three to four minutes: it means the most of the lexicon is represented by electro acoustic" noises. Birgit use her instrument as a nail with which she pierces silence more than in any other previous recording. I can imagine many listeners when giving a listen to "Scatter" could think of a joke, or even worse that the recording indulges on a bunch of senseless exercises, but wasn't that the opinion many had about the abstract expressionists' works in New York? Isn't contemporary art trapped in that no mans land that separates a serious piece from a joke?.
Experimental / Avantgarde / Weird & Wired / Glitch / Noise / Field Recording
Edit (2750)
Artist:
GIUSEPPE IELASI & HOWARD STELZER
Title:
Night Life
Format:
CD
Label:
Korm Plastics
Rated:
Born out of the residency offered last year by the Brombron project, "Night Life" finally brought together Italian soundmaker Giuseppe Ielasi (know for a theory of solo and collaborative albums and for his remarkable label Fringes) and his US friend Howard Stelzer, equally well-known for several records and the beloved Intransitive recordings. These 4 tracks, clocking in at 30 minutes (a good choice, to keep it short and intense), are the edited result of various sessions played with guitars and cassette tapes (respectively Ielasi's and Stelzer's main instruments), effects, microphones, field recordings and synths. Ok, it's unfair and pointless to say this and I know it, but the result is not as stellar as Ielasi's "Gesine" - that being said, this is one of the best assembled and most adventurous discs off the impro area that I've listened to lately. The performers' palette range from the all-out noise screech of track 2 to the string bowing and quiet plucking of track 4 (actually quite reminiscent of the style of Ielasi's latest masterpiece) with pretty much everything in between: electroacoustic improvisation with a strong sense of timing, variation and interaction, which definitely encourages repeated listens.
image not
available
anymore
I'm always happy to hear something so good that comes completely out of the blue... but are we sure Yannis Kyriakides is a "new-jack" for real?!. Obviously the answer to the previous question is "no", and I think if you'll visit the Unsound website you'll find it yourself, but to understand this guy is a top class musician, you just need your own ears and a bit of attention. This work is based on material segmented and manipulated from interviews to twelve Brussels' residents, and it all has been taken from the BNA-BBOT archives. The final result could be "easily" labelled as experimental electronic music, but I can guarantee "Wordless" sounds unlike a standard electronic release. For those who need references (that in this case could be also very deceptive), Kyriakides' "artefact" is by some means really close to some of Elio Martuscello's work with Z_e_l_l_e or with Metaxu, but could be also compared to Jorg Piringer's "vokal". Also Piringer decided to rework/reshape radio/tv sources even though the result is fairly different, but consider these two musicians had different intentions and different approaches. The music sometimes is glitchy and makes you feel like the cd skips furiously as if it were damaged, but there's also melody in "DJ_0617" or in "Music sales person_0618". In the most of the tracks "Wordless" is the son of a juxtaposition of sound and silence, its forged by cuts and proportion, by hook or by crook it goes really close to concrete music. Abstract? Avant-garde? "oui" but not just autistic...bravo!.
Experimental / Avantgarde / Weird & Wired / Glitch / Noise / Field Recording
Edit (2742)
image not
available
anymore
Artist:
NO NECK BLUES BAND AND EMBRYO
(@)
Title:
EmbryoNNCK
Format:
CD
Label:
Staubgold
(@)
Distributor:
Wide
Rated:
BUY from
New York's reclusive No Neck Blues Band joins Munich's veterans Embryo for their first recorded collaboration, with their free-flowing improvisational blend of world music, jazz, krautrock and other indefinable genres. The result is Embryonnck seven tracks and 44 minutes of concentrated musical collaboration, in which both groups diligently shun categorization, drawing upon whatever stray traces of free jazz, psychedelia, ethnic folk, or blues that happen to capture their fancy, while maintaining a decidedly liberal attitude towards possible instrumentation.The opener, "Wieder das erste Mal," sets a tone for the rest of the album and it sounds like all participants are thoroughly locked-in and enjoying themselves. This song is also perhaps the best demonstration of EmbryoNNCK's casual symmetry and its repetitive rhythm is critical. In "Die Farbe aus dem All" the bass and drums looks like a propelling vertigo, while songs like "Five Grams of the Widow", more traditionally rooted in jazz with its bursts of sax rhythms and vibraphone shimmer, and "Zweiter Sommer" provide a valued contrast to some of the heavier tracks. The disc ends with "Das Erste Mal", a song that takes up nearly a third of the album's total duration. It starts with struck, metallic percussion and cymbals, with a hazy, generative propulsion reminiscent of recent Gang Gang Dance. This piece gains density as it moves along and the collaboration makes it a sort of muscular avant-rock. The cd cover lists 13 musicians and it's easy to imagine every one of them at work in this last song, even if with so many individual players involved it becomes difficult to pinpoint who exactly is doing what. The album never feels as if the group is over-reaching, but rather they do a good job of maximizing each other's strengths. This, combined with their sense of dynamics, makes for a powerful debut that will hopefully entice them into future collaborations.