image not
available
anymore
Artist:
AIT!
Title:
Romanticismo Oltranzista
Format:
CD
Label:
Punch Records
(@)
Rated:
Personal project of Tairy, founder of Punch Records, Ait! presents with ROMANTICISMO OLTRANZISTA a particular album conceived as a sort of post apocalyptic/nihilistic cabaret. The ten tracks, sung in Italian (but you can find all the translations into the booklet), underline thanks to the overall atmosphere and to the lyrics, the difficulty of living these modern times where boredom and a sense of despair takes a hold each day a little more. Musically Tairy doesn't care about genres, so he mixes experimental intuitions, surf melodies (on "Una dedica") and everything which could help into the creation of a tense atmosphere for his semi spoken word (sometimes it made me think about a sort of industrial version of an Italian band called C.S.I.). The lyrics have an important place into Tairy's musical concept so, if the opening "Uno spettacolo adulto" ("An adult show") is a two minute introduction which sounds like weird French cabaret song, "Dio" is a track based on a bass line and a growling sample and it helps into the creation of a personal pray to God and "Una dedica" is his personal way to rise his middle finger. Listening to the tracks all in a row you'll be overwhelmed by a sour taste into your mouth, just like you are unable to do anything. Tracks like "Il mondo è morto (trent'anni fa)" ("The world is dead – thirty years ago") or "Tempo morto" ("Dead time") don't leave open any possibilities to future, it is like decadent times are over, because we are already became zombies.
Experimental / Avantgarde / Weird & Wired / Glitch / Noise / Field Recording
Edit (3791)
image not
available
anymore
Artist:
ROBERT VINCS
Title:
devic kingdom
Format:
CD
Label:
Extreme
(@)
Rated:
I really don't know where to start, but let's do it by saying this' a really particular release for many reasons. Saxophonist Robert Vincs assembled a fifteen tracks recording which combines different elements in a really singular way. If ECM would fly more often there "where eagles dare" I can even imagine Manfred Eicher would have died to put it out on his own label (not he's not releasing nice records anymore, every once in a while it still happens... ) and considered the high amount of reverbs/delays used for "Devic kingdom", he probably would have fall in love with it. Due to some of the sounds, the recording has a strange "experimental-old school" feel... can you remember when many of those unconventional bands coming from the Big Apple were recorded by people like Eliott Sharp, Robert Musso, Bill Laswell, Martin Bisi or John Thirlwell. In some ways the recording revives that misty transition from "analog to digital studios" and I've had an hard understanding if that was intentional, but it goes really well with the music therefore any further consideration is useless. Being his solo release, you have Vincs' expressive saxophone "setting the rules" in all of the tracks, but instead of "tyranny" I think what we've here is much more an "oligarchy" and a damn well assorted one since the other conspirators have an equilibrated relation with their band leader. This cd is an interesting example of how you can work with "fusion" in an intelligent way, sometimes the rhythmical tracks of "Devic kingdom" can remind early Material/Golden Palominos less bass/guitar driven and minus their post-kraut element. Anybody said John Lourie and/or early Lounge Lizard? Yes, but diminished of their acoustic jazz trio characteristic... who offers more?. Somewhere else you have this strong ethnic music influence (Playing with tears, Sanatorium lake) somewhere else it's soundtrack-music (Saraghina, Not far from Hanging Rock), somewhere else it's "just" jazz played with ambience, treated with electronics and emphasized on introspection and not on abstraction. This introspective journey thing is also what probably makes this release so "melodic" and so intense, this could be the avant-fusion answer to Peter Molvaer or Jean Garbarek even if in its conception (just conceptually) it's probably closer to Fima Ephrom. The sound work is really good but as I've said, the central point of this work is its "melodically expressivity" reached through rarefied atmospheres, and if you need an example try "Not far from... ": it's hard to not associate it to a disquieting movie like "Picnic at Hanging Rock", but the imaginary portrayed by Vincs could be that of Jim Jarmush's "Permanent Vacation" (what a movie!). Vincs paints an intense and suggestive piece of art and he does it also exploiting some traditional elements (and what do you think if I say there're also some aboriginal influences too?). This work' strength lays in introspection.


Experimental / Avantgarde / Weird & Wired / Glitch / Noise / Field Recording
Edit (3785)
Artist:
HEDDY BOUBAKER
(@)
Title:
Lack Of Conversation
Format:
CD
Label:
Creative Sources
(@)
Rated:
Despite what suggested by the title, this cd features what conversationwise could be a spoken word performance and I would add that's a really passionate one. Heddy Boubaker fits perfectly in the mold of Creative Sources releases that should be considered under a performative perspective much more than "music" canonically speaking. The audio work he did on for the recording of saxophone, cans and of his body (he listed them as his main instruments on this one) is good, therefore beside having a good use of pan-potting you can ear the sound definition is strong and clear. As many other performers he exploited his mouth and his saliva to create that typical "white-noise" ambience you have with brass, but he tapped his fingers on the body of the instrument obtaining that typical sound you hear in many performances nowadays. In the process of selection that bought to this release, he probably tried to differentiate the timbre of every sound, so that you have high and low registers mainly divided in different tracks. Boubaker in his working on acoustic research applied to his instrument has an outspoken physical approach that brought me to think he could be an unsounding Mats Gustafsson, I write it cause in some way the majority of the tracks in some way are muscular and he's not playing that much with silence like many others on the portuguese label. I still find one of the most interesting thing of this work is who he's chosen to pan pot and to move this or that sound in aural space, by some means this a peculiarity of this "Lack Of Conversation" since it bring near to some electronic work instead of an acoustic or impro performance. Everything keeps moving from one ear to the other, slowly and fast according to the necessity of every sound event, that's also what make you think in first place to performative music and like it happens quite often you sit down with your headphones on and every sound moves around you as if it was a some ritual fight act. This' one of those kind of releases with that characteristical sound "a la Creative Sources": love it or leave it.

Experimental / Avantgarde / Weird & Wired / Glitch / Noise / Field Recording
Edit (3782)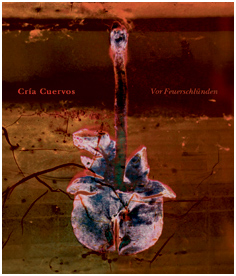 Artist:
CRIA CUERVOS
(@)
Title:
vor feuerschlünden
Format:
CD
Label:
Afe
(@)
Rated:
While I've heard rumors about the repress of his recent collaboration with Bradley, Maggi makes it on Afe and frankly known both the label and the musician it was just a matter of time before it could have happened. Taking for granted Cria Cuervos' music can be easily filed in the "dead serious" category one could have imagined a drone oriented release, this' much more post-industrial/"music concrete" style instead and Maggi puts the emphasis on brain bombing right from the start. "Vor feuerschlünden" slowly grows building up tension from white noise and delayed "natural" (form what I can guess) noises and if sometimes in the past this musician's "modus operandi" made me think to Lopez, here he could be Organum pushed to the extreme consequences. The field recordings he loops making it all become cyclical is retrieved all of a sudden leaving the stillness of an hi-pitched, hi-power wall of noise, sure it can make you think to Merzbow but Maggi is less muscular and more anal if you get the what I mean. While you think the track is gonna be over in a few seconds he stretches the final as the listening was nothing but a path of resistance a la "leave you hopes". Sticking to my impression this Cria Curvosí effort is more Organum-oriented, thereís this post ambiental feel gone bad that's recurring also in the second movement. This time you have a low register drone and an electronic buzzing that creeps from one an ear to the other playing the stereophonic game that gives more and more the impression youíre drowning into an audio-swamp. Thereís an hi-psychedelic feel in the second track (Blutgebell) even more than in the opening chapter, perhaps it has to do with the constant drone that dopes your brain cells with the first half of the suite. But though being blatantly attracted from sobriety and minimalism, Maggi is meticulously planning the heavy trip: the drone "in the middle" from cyclical becomes uniform, monumental and there's a some pitch/colour/effect and creates a break since later some mechanical and hi-pitched layers start moving in the backyard. The atmosphere is heavy as usual, but as Iíve said at the beginning of the review Cria Cuervos music is far from being easy. Not that his previous releases were so hyper-structured or open to a whole world of melody, but lately Maggi is reducing everything to basics erasing superfluous things, by some means it's like the protagonist of that old Roger Corman movie titled "The man with the x-ray eyes", he ends up seeing just skeletons in place of humans.




Experimental / Avantgarde / Weird & Wired / Glitch / Noise / Field Recording
Edit (3778)
Probably the most free-jazz junkies among you have already identified some of the musicians involved in this recording, but for the rest of the readers is important to know Francesco Cusa is one of the most appreciated italian avant-jazz drummers, Gianni Mimmo beside being the headchief at Amirani is a refined saxophonist (and I'll add lately he's an "hyperactive musician") and Andrea Serrapilio is a young and promising cellist paying his duty in Samsingen with jazzist Luigi Bonafede and somewhere else. This combined effort is the result of a fruitful improvising session and shows how three jazzy/learned musicians can combine their respective skills and instruments without sounding as the average "free-jazz-impro" cliché. It's funny cause I think the tracklist can be misleading, above all during the very first listenings, in this sense, given that the most "idiomatic" and somehow ordinary (which doesn't imply banal) tracks have been used as openers, some of the most unconventional and groundbreaking blasts come just after a few episodes. As many impro sessions the recording in first instance is probably meant as the "portrait of a moment", but having been a fruitful meeting, they've been able to reach that synergy that makes the difference from an interesting session and an anonymous one. First off they've managed to keep it short in every take, that's why the average length of each song is about two or three minutes. As said the trio leaves from a jazz harbour (Submerged singer, Crusty) but most of the times arrives somewhere else (Possible Endings#1, Pot Head pixies). The physiognomy of the release is the sum of Mimmo's clean/neat playing duelling and teaming up with the unclean/playful rhythms created by Cusa and Serrapilio, the final result is singular. Sometimes I've had the impression I was listening to Prokopfief put in a shaker with some slices of Art Ensemble of Chicago, Dolphy, Frith and a spruce of Tom Cora... take it with a grain of salt but that was my impression, but by some means it can be helpful to get the picture of what's "not boiling" in this "A Watched Pot", otherwise shame on me!.