Experimental / Avantgarde / Weird & Wired / Glitch / Noise / Field Recording
Edit (3414)
Artist:
Ljova
(@)
Title:
Vjola: "World on Four Strings"
Format:
CD
Label:
Kapustnik records
Rated:
BUY from
Lev Zhurbin a.k.a. Ljova is a classically trained NY-based Russian viola player, film music composer and arranger with noteworthy credits in the music industry that include Yo-Yo Ma and the Silk Road Ensemble, the Kronos Quartet, Jay-Z, Bond, Matmos, Assif Tsahar, George Davidson, Savion Glover, Ryuchi Sakamoto, the Electric Light Orchestra and others.

As you might expect from such an eclectic artist, Ljova likes to bring together the musical heritage and culture from a number of different countries and regions, including China, India, Iran, Japan, Russia, Tanzania as well as gypsy music from Romania and France.
You will hear a lot of that in this debut CD of his, which presents 13 original compositions, a Bjork cover and a Romanian traditional piece. Beautiful arrangements of multiple tracks of viola drawing complex soundscapes, beautiful harmonies, intriguing dissonances, enchanting atmospheres and moving melancholic compositions that have a remarked taste for distant cultures and fashionably old.

Although this is a mostly viola-only record (except for one track where he is aided by accordionist Michael Ward-Bergeman and by an upright bass somewhere else), surprisingly this debut doesn't really feel over-played, prolix or self-indulgent for the most part. It is not a virtuoso solo album (although you can obviously detect the skills), but rather an album that takes a cinematic approach to the matter at hand and achieves a vision of moody, atmospheric classically-inspired experimental film-type music.
image not
available
anymore
With incommensurable delay here we're reviewing this "jazz"(?)-core clash of titans counterpoising Zu (with Xabier Iriondo) and Iceburn. The mighty Zu with the help of mister Iriondo (from Uncode Duello/A Short Apnea's fame) floats in a new (at least for them) electro-acoustical territory, but without losing their typical jazz-core obsessivity and their hard pounding "bass and drum" repetitivity. Due to the improvisational/experimental essence of the session and probably cause of the heavy hand of Iriondo behind the mixer, this side could be described well speaking about physical post-core music with a Brotzmanesque saxophonist melt in an intentionally chaotic, heavy, electro-acoustical pool. The real surprise has come when I started listening to the Iceburn side, but before that, let's speak about these trio from Salt Lake. Hailing from the capital of Mormons, Iceburn has left from evolved, emotionally charged, metal-core growing into something gradually more progressive, jazzy and probably they've reached the top in "Poetry of fire". Later they changed their moniker and augmented their line up becoming The Iceburn Collective and this final release is played in trio with Gentry e Chad from the historical line up. Well, they've been one of the most interesting jazz/progressive-core band of the nineties (and "post core" would be a limiting definition for such a band) and here you can enjoy one of their many evolutions. These four songs presents an unheard sludgy post-Krimson obsessive incarnation of Iceburn. Less free jazzy than the last period, heavy as hell, psychologically devastating, this could be the declaration of love from this glorious band to some of their "hard playing" inspirators and let's include in the list people like: Black Sabbath, Melvins, Rorschach, Amphetamine Reptile, Dazzling Killmen and a good part of the Skin Graft catalogue, Ornette Coleman, John Zorn's Naked City and Painkillers and god knows who else. About twelve minutes to lose yourself in complaint for their never so missed departure even if they've generated and reinforced bands like Colossamite and Gorge Trio.


Experimental / Avantgarde / Weird & Wired / Glitch / Noise / Field Recording
Edit (3410)
image not
available
anymore
Artist:
GETATCHEW MEKURIA & THE EX & GUEST
Title:
Mon Anbessa
Format:
CD
Label:
Terp
(@)
Rated:
First off: long life to The Ex! It's easy to fall in love with these dutch punks, they embody everything I've always wanted to be and I've never been: anarchists, smart, open minded, radical, classy and above all coherent. Lately I've had the luck to see them live together with Mohammed Jimmy Mohammed (r.i.p.) at the Zu fest and they still kick ass with they post punk virulence!. They've always been into experimenting with different ethnical music forms sometimes it worked while sometimes it was just an experiment, but like it or not in a world where sometimes anti globalization itself fight globalization in a standardized and pre-packaged way, well they're the last of many demonstration: "another world is possible"...but they've always been demonstrating it, therefore the next question is: "when Bregovich of ethnic music becomes fashionable is it for a real interest or just cause it's the last in an endless list of trends?", anyhow that's not the case, therefore forgive my old fart divagation. The mix of The Ex-element with Getatchew Mekuria and Guest is out of the ordinary, sure, but not so far from what you can expect, at last we're talking of a band with a strong contradistinctive language, but the "unconventional factor" is the african aftertaste of this saxophonist that sometimes probably is also the responsible of some song structures and it means that's not a mere collaboration in which he's playing arranging those flying dutchs without having his say. Sometimes I think the music is damn catchy like in "Aynotche terabu shemonmwanaye" sometimes it's good but probably less functional, but maybe that's just a problem with my ethnically-untrained poor ears. A lot of jazz, funk reminiscences everywhere, even if sometimes are barely audible but never forget when speaking about jazz we always speak of the so called "afro-american culture". Let's repeat it all together: "Long life to The Ex and to their friends!!!".

Experimental / Avantgarde / Weird & Wired / Glitch / Noise / Field Recording
Edit (3409)
Bizarre release, but I'd say if emo-core should have had any smart option of development that should have been the way. Should we give the usual list of references to paint a decent portrait for anybody who's never heard this one: if you ask me I'd say they combine the less poppy Joan of Arc with the most chaotic melodies of Storm and Stress and to me it alone would make them deserve the "good taste and great idea" quality trademark. Imagine Cap n' Jazz getting drunk as fuck, getting depressed, happy, melancholical and again happy and deciding it's time to rock in a "fee jazzy way"... well that could be the result. Bands like that makes you think how Capitan Beefheart deserves a special place in the history of modern rock music and therefore tip of hat to the mad bluesman. Energetic melodic indie rock with a strong free structure to keep it all dispersedly together, in someway it reminded me also a release like Union of a Man and a Woman in a softer and more "experimental" salsa. I don't know how many indie rockers can dig Winning since there's a lot of energy in their songs and there's also a good dose of extravaganza in their assembling the melodies but I guess if you're in some of the bands I've mentioned you should give it a try. Nothing so experimental probably but they have that element that many bands lose while going for the "free modus essendi", they haven't forgotten the melody and that itself is a weird thing playing what they play.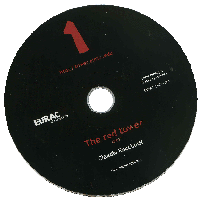 Artist:
CLAUDIO ROCCHETTI
(@)
Title:
red tower
Format:
CD
Label:
Eur.ac
Rated:
Rocchetti is more active than ever, therefore drony/electracustical/experimental junkies out there stay tuned since there's a whole bunch of releases involving this italian musician residing in Berlin. While lately he's been around basically with 3/4 Had Been Eliminated (Hapna) and by himself I've heard some new Pocket Progressive (formerly on Creative Sources) release is on the way sooner or later and at the same time he's to going to be out together with the mighty Maurizio Bianchi on a split release... "how long can this punk get?". Lately he's striking in the north of Italy and is selling this new (?) somehow enigmatic release on Eur.ac research, I've written enigmatic since there's no layout coming with the cd but a couple of infos on the cd and it comes in a trasparent plastic box (by the way Eur.ac should be a gallery/ artistic cafè). Differently from his former recordings on Bar La Muerte and Wallace this new output is much more ambientally-electro-acoustically oriented, so what's the difference beside the diluted and constant drone pulsing underneath?...the electro-acoustical side of this work is probably softer then ever before and Rocchetti concentrates this long track much more on resistance and on time-length than he's ever done in his previous materials. This interesting and well developed piece reminds a lot of some Asmus Tietchens, John Waterman, Francisco Lopez above all when they contemplate "stillness". This long track grows slowly building tension in a subtle way and after twenty minutes it disappears in the same way as it came, leaving thus space to silence and to emptiness where some noises are barely perceptible from far away. Some "strong" electro-acoustic noises break the calm right when you don't expect it to happen, but they don't revolutionize the heavy ambiental scenario of this work. You may think that's the ordinary release by someone playing this genre, but I think Rocchetti is slowly developing his own language and since I've recently seen him live I can say it without shame.