Experimental / Avantgarde / Weird & Wired / Glitch / Noise / Field Recording
Edit (9433)
Artist:
John Cage
Title:
Complete Song Books (constructed by Reinhold Friedl)
Format:
12" vinyl + Download
Label:
Karl Records
(@)
All 92 of John Cage's "Solo For Voice" pieces, recorded strictly in order, constitute a 65-minute collection of audio that is often far more art than it is music, for whatever that distinction's worth. There is a massive variety of ideas in here, prototypes for a broad range of what modern experimental music has become, from drones to glitches to found sounds, much of it hollow, sinister and deliberately unnerving.

The vast majority of the pieces last under a minute. The most frequently heard sources include high-pitched feedback loops, metal percussive hits, mechnical hums as though from air-conditioning units, and human vocal groans and drones. There are recurring elements that, when listening solidly to the whole work, can border on repetitive, in particular the language-less theatrical spontaneous vocal expulsions; the LP divides the pieces into 4 sides and it's perhaps more successful in smaller doses. Certain peaces (84 being a particular favourite of mine) are quirky and more humorous, remisicent a little of some Pierre Henry pieces.

In the classical tradition, John Cage as the composer is the 'headliner' of this release, but with musical pieces so loosely and unusually defined, a lot of credit must be directed to the key performer, Reinhold Friedl, and also to the studio engineer and electronic button-pushing of Rashad Becker. While the musical operating instructions are Cage's, the real character and performance here is from Friedl's interpretation. There's both a sincerity and a sense of humour in it, and a diversity of voice- plus there are self-built instruments and Fluxus-style responses that mean that this version will never sound close to anyone else's.

KarlRecords describe themselves as "an outlet for puzzling sounds". The pleasure in this sound is either puzzling, perverse or pious, but nevertheless it's a rich and very worthy album.
Experimental / Avantgarde / Weird & Wired / Glitch / Noise / Field Recording
Edit (9416)
Legiac is the electronic duo of Roel Funcken and Cor Bolten which creates a sort of ambient music with a certain use of field recording creating complex soundscapes. This release is inspired by the Voynich manuscript, an early 15th century hand-written and illustrated codex, and aims to be something more multifaceted than ordinary release of this genre.
The juxtaposition of synth and field recording in "Bycam Fosfane" is constantly moving his sight while "Troven Briangular" is mainly focused on synth with the other elements in the background. After the first seconds of noises "Sirius of Procyon" seems to develop into a dance track but is exactly one step away to be bound in a rhythmic cage while "Transcendental Sea" features spacious drones and "Inzantum Feaner" more meditative, and dark, ones. The almost pop moments generated by the melody of "Bognitive Cypass" are balanced by the background noises which are even more effective in "The Voynich Manuscript" which result impressive in his crescendo. "Vellular Cito" oscillates between quiet moments and harsher ones while "The Din Skided" reveals a marked rhythmic structure. After the first part based on field recordings "Jefre Tropod" evolves as a meditative track based on slow synth melodies and "Ambikythera Mechanism" closes this release in an almost solemn mood with the synth melody vaguely reminiscent of the slow movements of the organ and the evocative field recording.
A carefully crafted release which is better enjoyed with headphones to catch the many elements in the background that could be lost in a noisy environment and perhaps require more than a listen to be appreciated. Not only for fans.
Experimental / Avantgarde / Weird & Wired / Glitch / Noise / Field Recording
Edit (9415)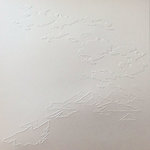 Artist:
Glauco Salvo
Title:
5 haiku
Format:
12"
Label:
Kohlhaas
(@)
Rated:
Haiku is a traditional form of japanese poetry based on three phrases and Glauco Salvo uses it as a reference for a musical form based on banjo, e-bowed zither and playback devices. The result is an evocative juxtaposition of field recording and folk music.
The flowing water is the background of "Haiku 1" where the banjo exposes a melodic phrase with slight variation which sounds as an accompaniment of the sounds of the place where the track was played instead of the vice versa. The silence of "Haiku 2" is suspended by a ambient's background sound and sparse notes of banjo as an almost literal translation of a poem. "Haiku 3 - Haiku 4" is a single track in two movement: the first one is based on a strumming that is progressively overwhelmed by a background noise while the second is based upon the zither acting as a canvas for the banjo to paint. "Haiku 5" closes this release starting quietly with a distant variation of the phrases of "Haiku 1" which are almost inaudible as buried by the foreground noise that becomes louder until it abruptly ends.
A release requiring a subtle and attentive listening to not become a mere relax's background and miss his delicate request for attention and hear the necessity of silence for words instead of screaming with nothing to say. An antidote to city's noise.
Experimental / Avantgarde / Weird & Wired / Glitch / Noise / Field Recording
Edit (9406)
The impressive list of guests of this release, artists as as Jarboe, Merzbow or irr.app.(ext.), marks, at least in part, the importance of the work of Fernando Cerqueira and his SPH which published a lot of tape that are now collector's items. Now his successor label, Thisco, publishes this collection of tracks where, as Rasalasad, he reworks sound sources of the guests or adds a music to their spoken words.
The voice of Jarboe opens this release in "Value" and is gently accompanied by a complex juxtaposition of drones while "Astellar", based on sources by Matthew Waldron, in noisier by nature. The field recording and small noises of "This" are exactly one step away from overwhelm the spoken word piece by Wildshores while the one by Von Magnet is underlined by drones and isolated buzzes in "This". The noisy sound sources provided by Emil Beaulieau for "Spectre" and by Masami Akita for "Axx" are treated in such a way that the drones used by Rasalad create a dialectic so it's not something that could cover the noises but instead it underlines them. The only track without a guest, "Night Walk", is intensely cinematic and the spoken word create that sort of sense of listening an audio track of a movie. "Silence" features spoken words from the same text by John Zerzan and when they appears distorted as they were recorded on a noisy radio channel marks a sharp departure from the previous quiet drones. "Deriva" is the first track using a rhythmic element, probably in the sound sources provided by Smell & Quim, and "Stellar", featuring Antonym, is almost a return to the form explored in "Night Walk" with his evocative use of movie samples. The remix by Shhh…. of "Simulacra" is a track based on the contrast between the quietness of the synth line and the noisy, and almost industrial, rhythmic part.
The great Cerqueira's merit is his ability to blend the multi-faceted contributions into a form which is reasonably coherent and doesn't generate, even in his variety, the sense of hearing a compilation. Apart from some technical flaws, as a couple of tracks ends abruptly, this release could even ends in some end of the year playlist as it reveals some really interesting writing ideas. Please hear carefully.
Experimental / Avantgarde / Weird & Wired / Glitch / Noise / Field Recording
Edit (9397)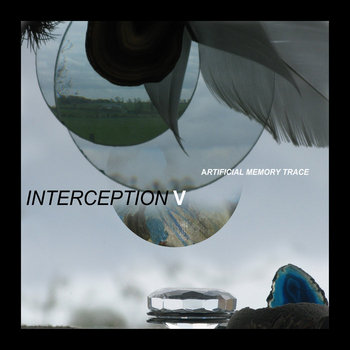 Artist:
Artificial Memory Trace
(@)
Title:
Interception V
Format:
CD
Label:
attenuation circuit
(@)
Rated:
This new recording by this project of Slawek Kwi is presented as using some field recordings by Porya Hatami, so the listening is done with a clear mind and this is a long release full of elements.
The barking of a dog introduces a first part based on field recordings and some filtering, or maybe samples, generating some resonances so while the source is clear e.g., the dripping of the water, there's a sense of something added but not immediately evident; so the track evolves in an hypnotic way as the resonances became the main element of the track until the samples and noises start to emerge and converse with the underlying element of the track until the return of the clean field recording of the dog marks the start of the second part of the track. The juxtaposition of the sound sources generates a thick mass of sound in which some element is put in the foreground and, when the dog's recording marks the third part of the track, it's unpredictable an expiration of sound details immersed in a quiet soundscape where all elements of the first two part return creating a sort of abstract narrative.
As his length is not properly compatible with times where listening is so parceled out in small excerpt, it's something not recommended with listeners with short attention span but the others will find moments of inventive sound construction. Nice.