Experimental / Avantgarde / Weird & Wired / Glitch / Noise / Field Recording
Edit (10211)
Artist:
Patrizia Oliva
Title:
Numen - Life Of Elitra Lipozi
Format:
CD
Label:
Setola di Maiale
(@)
Rated:
This is a cd reissue of a work published on cassette from an artist which, even with a considerable discography, has always had a so low profile, or lack of interest from press, that most of the releases listed on her website are not on Discogs. Even if she's mainly a singer, this release is a mostly instrumental work where she seems to fuse sparse ideas into a coherent work in a precarious equilibrium between composition and improvisation. It's been edited for a tape but, instead of being two full tracks, they sounds as a sequence of tracks mainly because there's seldom a second of silence to mark the end of a section.
The first track, "Danse Des Fantomes", starts quietly with the voice singing under a loop in a crescendo which abruptly stops for a quiet section based on found sounds, or so they seems, which seems mainly obtained from a film perhaps for the blurred sound; a vocal loop introduces a part for synth featuring even some sample from an opera and a part for organ introducing the final section where the tones sung creates an atmosphere vaguely reminiscent of minimalism.
The second track, "A Day Long To", is more divided in sections and completely revolving around the impressive vocal qualities of the singer which is able to give a catchy allure to the noisy background and, after an ambient interlude, there's even a spoken word part under a vocal loop. After an almost dark ambient part the voice of Oliver Sacks, to whom this work is dedicated, closes this release.
It's difficult to make a list to all the influence which is compressed in a so multifaceted work which could be a little bit disorienting and lacking, mainly for editing reason, a real musical unity but it reveal a little nuance at every listen. Recommended.
Experimental / Avantgarde / Weird & Wired / Glitch / Noise / Field Recording
Edit (10210)
Artist:
Giovanni Lami
(@)
Title:
Hysteresis III
Format:
Tape
Label:
Soft Error
Rated:
While the previous two parts were recorded in Ravenna and Solfatara, "Hysteresis III" was recorded in Valencia and, more or less consciously, this in another step forward an organic sound object from the noisy and abstract introduction to this modus operandi heard in "Hysteresis I", where the manipulation to enhance the typical noises of a reel to reel tape recorder as the Nagra V, used in this project, created a sonic representation of a ghost.
As the first voices of the first side are heard, this third chapter is marked by an approach closer to the canonical field recordings release with the tape manipulation reduced to the minimum; the great cure for spatialization creates a realistic environment and the tape noises are mainly used to separate the section of the track. The B side is instead more on the path of the previous chapter as more time is devoted to the tape manipulation at the beginning and at the end of the track while the central part is based on the playback of the voices recorded and this is another cue of the character of this release, while the first two parts were recorded in a probable uninhabited environment, in this tape the human presence is underlined.
Instead of repeating himself, Giovanni Lami decided to take his project in a slightly different direction so it could probably be enjoyable by a wider audience as it's less noisy and more evocative. I'm curious to hear the last two chapters.
The info-sheet attached to this new release by Ukrainian label Kvitnu doesn't mention the reason why the six tracks of this output by label boss Dmytro Fedorenko didn't reach the audience after they were forged, but better late than never. Actually there's an analogy between the long delay between the birth and the surfacing of this release by Kotra and the life cycle of the insects quoted in the title: before resurfacing and living for a short period (between some weeks and a few months) as adults, they spent years (the genus mentioned in the opening track "Magicicada" - mostly living in America - requires between 13 and 17 years) under the ground where they complete the growing process. After their growth, they resurface together after digging intricates web of tunnels and males uses the known whisper to group the other members of the community. The six tracks of "Cicada" (as you can easily guess by their titles as well) render this life cycle by means of finely sharpened rhythmical noises, whose constant elements are shaking high frequencies and a sort of flickering vibrations over elastic tremors of low frequencies, that resemble the trembling choruses of cicadas and all the stages of their life. A life that you could consider pretty strange, but smarter listeners will find some tragically surprising similarities with many human lives, heavily influenced by the unwritten laws of many industrial and post-industrial communities, or a remarkable parallelism with some political processes...
Experimental / Avantgarde / Weird & Wired / Glitch / Noise / Field Recording
Edit (10205)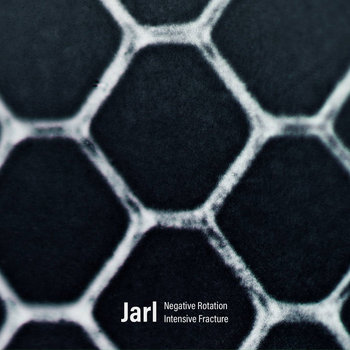 Artist:
Jarl
(@)
Title:
Negative Rotation / Intensive Fracture
Format:
2 x CD (double CD)
Label:
Zoharum
(@)
Distributor:
Alchembria
Rated:
While in this current age of so called "Retromania" by Simon Reynolds, most labels are busy with relentless reissue of known names with a perceived fan base that will follow them, labels as Zoharum have plans of reissue of unknown gems of obscure names. While already known by the release of the remarkable "Tunguska Event" with and Envenomist which was reviewed a couple of years ago, his relatively large discography is dispersed on rare cassette editions. This double cd collect two of this tapes, from mid 2000 with a fistful of bonus tracks. This music is a type of noise that sometimes doesn't follow the canonical thick mass of sound to follow a more meditated approach bordering the territories of industrial.
The first of the two tapes, "Negative Rotation", is a monolithic track in eleven parts starting with sparse and hypnotic noises whose rhythmic structure and evolves with echoes of guitar, feedbacks, phantoms of radio waves, grains of noises, drones, quiet basses, ample noisy resonances, and sparse beats with the result that the listener is not overwhelmed but questioned by the effort of creating a such cohesive structure with so many sonic variations. There are two bonus tracks, "No Response" and "Succubus", which sounds like an outtake of the main release as they are based on the same ideas.
The other tape, "Intensive Fracture", is more oriented towards noise and is based upon a thick background noise and psychedelic evolution of high pitch so, instead of being a monolithic mass of noise, it features even some quiet moments of background noise resulting in an irksome but surprisingly varied opus as it moves to the spacey 2nd part to the overwhelming crescendo of the 4th. While in the same vein the bonus track "Stenbergsmannen", "The Great Moloch" and "EnvÄgskommunikation" are less oriented towards noise and especial in the second track a certain research for sound development is exposed.
This release is a little surprise form a relative obscure name which reveals a personal vision of a genre which is sometimes plagued by the dull repetition of a model. Recommended for all fans of noise and industial music.
It seems that the inventive Italian sound-maker Andrea Gastaldello, the real name of the man behind the Mingle curtains, picks single adjectives to describe the "property" of the tracks he embeds in his releases. It's just a personal impression and it's valid only for the stuff he dropped on Ukrainian label Kvitnu. The first output, "Static", featured somehow 'static' (or seemingly calm) tracks, and well 'ephemeral' sounds like a suitable tag to describe the features of this new bunch of tracks (again masterfully mastered by Eraldo Bernocchi). Any resounding entity in the eight (plus the ninth one "Vaporized", available as a bonus for the digital format only) tracks of this psychoactive listening experience seems to fade away after their appearance, but this process is rarely abrupt. The only "solid" entities are the digital hits, but the rhythmical pattern act like an anode and a cathode in electrolysis, as they seem to attract the ions he dissolves in his wisely controlled sonic pools. Even in tracks where this process doesn't lie on digital hits or clicks (as on "Lost", where the 'rhythm' gets built on short bursts of an electric current and a bleep that is similar to ones for cardiac monitoring), the other entities get somehow dissolved. The final step of this process, "Ancestral", has something lukewarmly mystical and willingly uncodified, as if Mingle wants to keep secret the result of this full awareness of ephemeral nature of things (maybe the genuine awareness of self?). It seems such an 'ephemeral' nature of Mingle's sonic explorations in this release (the last one of a four-chapter series, including "Movements" and "Masks" on Tannen Records, besides the above-mentioned "Static"), as the attached notes let guess: "The ticking of an old alarm clock, keeping the time, relentless... Certain vanishing moments, they become dreams that you can't seize - dreams pass, weightless. They don't happen. that very instant - it's when you're looking for relief, detached from anguish, far from reality. The daily ephemeral dose speeds up, it becomes frantic and doesn't stop. Desire translates to immediate enjoyment. Everything goes quickly, everything vanishes into some fresh ambition, in the illusion of something new, fast. The true essence of desire lies in absence". Wise description for a listening experience that I recommend in an ephemerally warm (vanishing into a frosting...?) way.