Experimental / Avantgarde / Weird & Wired / Glitch / Noise / Field Recording
Edit (9982)
Artist:
Loss
Title:
She, Zombie
Format:
3" MiniCD
Label:
Inner Demons Records
Rated:
For those who have not been paying attention, Loss is the work of Inner Demons Records founder Dan Fox. His work tends to be highly emotional and complex, and this release is no exception. "She, Zombie" opens this up with a grinding sawtooth wave drone and a bass line over a woman's voice on an answering machine repeating, "I'm sorry, please don't leave me," followed by a barely intelligible "I just want to see you." This is an exercise in slow moving repetition, as more and more lines draw together into the composition. About 6 minutes in, there is a male voice spoken word segment about a drug addicted woman. Phrases like, "I was the second most important thing in the universe …. in my universe, she still came first," highlight the kind of co-dependency hinted at in the opening machine message. This is brought home as the answering machine message returns, but slowly morphs into what sounds like both male and female voices saying the same phrase over and over again, until it is distorted beyond recognition. For those who have followed Loss and are used to the heavily distorted vocals, this is a track with depressing moments of clarity. "Dead Dreams" is the other track on this disc, and has more of a harsh beat feel to it, but with the lush synth work that one would expect from Loss. It works as an interesting upbeat contrast to the haunting feel of "She, Zombie." Overall, this is a great addition to the Loss discography and well worth picking up. However, you will want to do this quickly because it is limited to 42 copies. This disc weighs in at around 21 minutes.
Experimental / Avantgarde / Weird & Wired / Glitch / Noise / Field Recording
Edit (9978)
Artist:
VV.AA.
Title:
Delineation- A Collection Of Reinterpretations & Remixes
Format:
Tape
Label:
Midira Records
"Delineation" is a four-cassette box set containing just under two hours of reworks of Midira Records tracks from N, Ninemiles, Caudal, Piiptsjilling and others, reworked by 13 different artists who are allowed to cut fairly loose and put their own spin on things. The reworkings are so broad that it plays more like a compilation of original label tunes than a remix album, and in some parts it's so consistent that it feels more like an indulgent artist album.

The opening two tracks, remixes from Nadja and Aidan Baker, are both lengthy slices of slow sinister drone with supremely slow (circa 50bpm) rock drumming echoing away underneath. They're both reworks of N tracks, which comprise almost half the collection and which generally follow the same pattern- languid drone with heavily effected guitar ambling over dark, almost zombie-walk rhythms. The trumpet playing on the Zenjungle remix, initially purist and then gradually and subtly glitched, helps that one stand out with a unique character, while the Andrea Belfi remix revolves around a plucky semi-synthetic sound that's more than a little bit Twin Peaks.

The non-N tracks are mostly pushed to the second half of the set, and add a moderate amount of extra scope without being radically different. Aidan Baker's "Consciousness Bridge" reshaped by Architeuthis Rex shifts things somewhat, with a sorrowful and hard-to-decipher, slightly folky female vocal and more ethnic percussive sounds providing a different kind of energy underneath the two-chord drone. Ninemiles' remix of Piiptsjilling's "Kobbeswerk" ups the electrical sparking and industrial flavours, and a Birken remix places subtle, deep-underwater thump patterns underneath the wash. A Tissika remix of another Piiptsjilling track and the appropriately-named 'Desolation' version by Dirk Serries of another N track wrap things up with a couple of longer and more barren soundscapes as proceedings tail away, fading carefully into silence.

The extensive duration of most of these tracks (averaging 9 minutes each) is perhaps inspired by the tape format, with most of the tracks allowed to fill most or all of a 15-minute side of a tape, yet I don't quite see that this release lends itself to the tape format. Periods of silence at the end of each side, and having to turn the cassette over after almost every track, makes it feel like the worst limitations of the format have been exposed. Luckily each box set comes with a download code, so in practice I'm sure most listeners will enjoy the continuous two-hour listening experience, and the cassette box will be an unusual little bookend or paperweight.
Experimental / Avantgarde / Weird & Wired / Glitch / Noise / Field Recording
Edit (9971)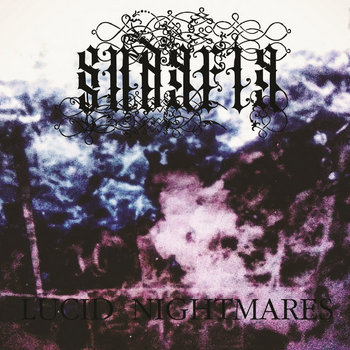 Artist:
Sudaria
(@)
Title:
Lucid nightmares
Format:
CD
Label:
Frozen Light
(@)
Rated:
Just a few months after "The Syncretic Labyrinth" this Spanish project returns with a release which confirms the quality of this project. While in the previous release the black metal influence was under the curtain of experimental music, this release shows more clearly this reference as there's even vocal and a more defined song form in certain parts of this album which, however, is closer to a single piece in seven parts than a collection of tracks.
The masses of violins of "Lucid Nightmares" introduce a listener into a sound field where movement is generated by the overtones and some small noises in the background so it could be a little too long and requires a reasonable high volume to be fully appreciated. "Mirrors of Ignorance" is instead a more constructed and atmospheric track as the various sounds are immersed in silence while the second part is a slowly moving line of synth. "Pale Old Gods" oscillates between quiet synth movements and dark moments of noise where the black metal influences emerge clearly. While the first and third part of "Age of Vice" are based on a sort of lied for piano, guitar and growl vocals the second and central part is a thick soundscape for low frequency drones. After some seconds of silence "Shapeless Flame" erupts in a mass of feedback which has a resolution in "Abhorrent Breeding" with his mass of sustained tones of synth that, after some second of silence, introduce the listener to "Abortion" whose quiet and almost psychedelic developments accompany the listener towards the end of this release in an almost dreamy atmosphere as a sort of relief after a nightmare.
More focused than his predecessor even if plagued by a production somehow a little too blurry or unbalanced in volume in certain moments, but this is a standard for the genre, he gives the impression that there's more to come from this project. Highly recommended for fans of weird black metal.

p.s.: there's also space for an unlisted bonus black neofolk track.
Experimental / Avantgarde / Weird & Wired / Glitch / Noise / Field Recording
Edit (9965)
Artist:
Afredo Costa Monteiro / Miguel A. Garcia
Title:
Aq'ab'al
Format:
CD
Label:
Mikroton
This is the first published collaboration between these two experimental improvisers. In it, some familiar stalwart sounds of dark experimental ambient music including drones, industrial noises, feedback, white noises (and other flavours I think), analogue modulations and glitches wash and wave, sometimes fairly slowly, sometimes abruptly, as you're taken into an alien environment that's complex, immersive yet largely unwelcoming.

Though packaged as 4 tracks, each around 10 minutes long, it's a relentless work with little distinction between the sections. Things do mellow out briefly towards the end of second piece "Und", but it's a temporary reprieve. The hollow tones at the beginning of "Toj" have a slightly more horror movie flavour for a while, while parts of "Sappnicran" feel like they've been pumped through a plastic tube.

It's abrasive but over time it gradually becomes quite compelling, with a sort of sonic scouring effect. Particularly on headphones it's somewhat cathartic. It doesn't peddle anything particularly new or distinctive, but as a well-wrapped dose of experimental noise it develops its own sense of function.
Experimental / Avantgarde / Weird & Wired / Glitch / Noise / Field Recording
Edit (9961)
Prolific ensemble Zeitkratzer's latest work takes traditional Serbian folk songs of World War I (performed by guest vocalists Spaji, Tomi and Mili) and builds a harsh avantgarde soundscape around them. Despite the relatively traditional arrangement of instruments (piano, french horn, violin and so on), at times this is a wall of rather harsh and aggressive playing that emulates discomfort and danger. It's an hour of scratched strings, inhumanly sustained drone notes and slow waves of amplitude and pitch shifts with a pointedly analogue and unpolished timbre. Mellower moments like "When I Go To War" are the exception rather than the rule.

With a rather sombre and sincere packaging that is more than likely to confuse and potentially disgust people looking for authentic folk recordings, "Serbian War Songs" sometimes veers dangerously close to taking the profound suffering of 100 years ago and simply toying with it. That's perhaps a little unfair and certainly not true of the whole work though, with longest piece "Assassination In Sarajevo" feeling particularly both bold and authentic, and some of the shorter works such as "Last Night Dorde Went through Valjevo" and "King Peter Song" giving the song core a more spacious and respectful setting.

"The Battle Of Makov Kamen" is one of the most accessible pieces, a duet with regular percussion and chanting that ends up sounding strangely like The Creatures in parts. Conversely "Salute to ivojin Miši" is the most difficult listen, a carefully staged and sharp cacophony that feels like it would work better as part of a theatre work rather than purely sound.

The dynamic vocalisation is really the star here- sometimes wailing, sometimes angry, sometimes a yoik and at times almost a yodel. The instrumental setting is fair but at times perhaps neither as sympathetic or as dynamic as it could perhaps have been, which is a shame as this release certainly had the potential to shine brighter.