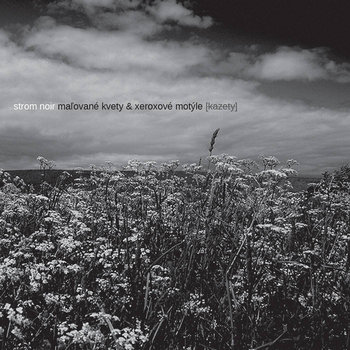 Artist:
Strom Noir
Title:
Maľované Kvety & Xeroxové Motýle
Format:
CD
Label:
Zoharum
(@)
Distributor:
Alchembria
Rated:
"Maované Kvety & Xeroxové Motýle" collects two unpublished works originally recorded with the intention of releasing them on cassettes. The first one, "against a dwarf", was completed in 2016 and is essentially a drone release while the second one, "painted flowers and xeroxed butterflies", is more oriented towards quiet noise territories as it's from 2011.
The first part is opened by "Widely Opened Window", a track based based on slowly moving drones juxtaposed in such a way that resonates each other and create a suspended atmosphere. "Rozkyv Duše" is based on a similar structure but the drones are substituted by noisy tones. "Saturday Is Gone" develops highly reverberated lines of guitars, or so they sound. "Against a Dwarf" proceeds by accumulation of drones until there's quiet and wide mass of sound that seems firm but it's constantly moving. "Echo v Tebe" closes the first part of this release with a static drone.
The second part is opened by "Tlkot Dreva & Bzukot Kovu" where the guitar tries to emerge from a background of small noises until it covers the sound spectrum becoming a drone. "Painted Flowers & Xeroxed Butterflies" seems to continue in the same path but it remains in a dialectic with the background evolving without a resolution. "Shattered Like a Glass Goblin" is an ambient track divided in a quiet first part and a noisier one. The almost unfiltered guitar of "Ttoollosk" is the base for the most evocative track as the overall sound search an impossible hook with a distant past using the reverb to obtain a sound vaguely similar of an old record's one. "Pure II" closes this release with a juxtaposition of guitar notes and a sort of noisy field recording.
This is a really good release for fans of the project as it doesn't sound at all as a collection of outtakes, as it's usual for this kind of operations, and the first part could be well received by fans of drone music and the second part by fans of experimental music. It's worth a listen.
Experimental / Avantgarde / Weird & Wired / Glitch / Noise / Field Recording
Edit (9911)
Artist:
VV.AA.
Title:
Harsh Noise London #1: Parliament
Format:
Tape
Label:
Harsh Noise London
I wasn't expecting much from these brutally worked-over recycled cassettes, but the first couple tracks, a live set from Animal Machine, effectively grabbed my attention after a couple minutes. AM radio static-like landscapes, crunchy transitions, walls of deep-belly noise, and hooting high-frequency tendrils poking out of the mess once in a while.

PCRV, opens with a thick, all-lows pulse bomb that switches between sub-flub and feedback squalls, spacey delay creep outs, and surprising flashes of violence that get more intense as the track progresses. I found myself wishing for more clarity in the mix, since the performance was so exciting and seemed a bit coated in filter muck, but damage is damage, and I'm just happy there was so much to listen to.

Gen 26 moves slower than the first two artists, but dizzying stereo field alternations either from effected panning or clashing signals almost made me hold my head in pain/sickness. It's a deceptively simple presentation of a complex assault, but I'm not sure I'll be listening again anytime soon. Seasickness or vertigo-inducing malevolence. Making someone a bit ill with a harsh noise recording is usually regarded with respect, so kudos! Bleah. Like any slow-moving, monolithic piece like this, I eventually was lulled into a head-bobbing trance, but I'm still not interested in taking this ride again.

When the final track from Nryy started, I said, "Wow, this sounds Japanese!" Had to check to confirm, but, yeah, it's totally Japanese. That's not to say it sounded formulaic or stock, I just think Japanoise is always going to have a distinct flavor. The tip-off for me was the "WAAAH WOW WOW WAAAAH" Masonna-esque vocal delivery. A discernible pattern of push-pull tension/release develops as the piece progresses, sucking in with thick walls and lashing back out with squelching highs. Surprisingly, I still feel like the Animal Machine and PCRV tracks moved a bit more, but this is a solid track.

Overall a very tasty compilation. I'd love to hear the full-fidelity recordings of some of these fantastic performances outside of the recycled-cassette muddiness, but I suppose that would be defeating some of the purpose. I'm looking very forward to hearing the other Harsh Noise London offerings.
Experimental / Avantgarde / Weird & Wired / Glitch / Noise / Field Recording
Edit (9899)
Alessandra Novaga's "Fassbinder Wunderkammer" is "a record about Rainer Werner Fassbinder and his cinema" and a love letter to Peer Raben, Fassbinder's chosen composer for all his films, according to the the press sheet. I consider myself a big film guy, but Fassbinder is one on my list I haven't gotten to, so most of this review will be coming from an uninformed position regarding the core concept. I don't know Raben any better than I know Fassbinder, so I find myself comparing him to the classic '70s guys I'm familiar with...Ennio Morricone, Lalo Schifrin, Bruno Nicolai. Like Nicolai, he tends to take strange turns, from gloomy to playful and vice versa. Novaga uses three different guitars on the album, and the "un-tunable Framus from 1940" is heard on the second track, "Frankfurter Out of Tune (Mutter Kuster Fahrt zum Himmel)". With this foreknowledge, I wasn't freaked out by the pitch problems of the piece. For reference, I checked out the actual score from the film (Mutter Kuster Fahrt zum Himmel). Novaga's stark interpretation is quite a jump from the lushly layered Raben piece, but her version could have fit perfectly in the movie as a cue in a quieter scene. The slightly out-of-tune and plunking hesitation adds not-unwelcome character, and gives it a reason for existence besides just a fan's self-indulgence.

Novaga's approach with the Gibson 339 reminds me of a bit of Loren Mazzacane Connors, with chords left to hang in the air and wash in the overdrive as the next seems to be painfully dragged out from behind the curtain. The jumpy, bright sections of "Der Amerikanische Soldate" illustrate more of Raben's whiplash fetish, and A lovely behind-the-nut starshower closes out "L;M". For "Serenade", I again compare Novaga's to the original score. Her atonal, improvised lead that runs ragged over the conclusion actualizes the chaos clearly hinted at throughout Raben's anxious piece. Her work here again succeeds more as an alternate cue than a useless, duplicating cover version.

Noisy sample processing opens up side B with "Lola"...what I'm assuming to be a clip from the film forced through gating and distortion effects. I applaud her inclusion of this more experimental stuff...it would have been easy, and not as interesting, to just rely on the straight-laced classical renditions. This noisy detour is another personal touch that contributes to this project's justification for existence, to be followed by the tenderly delivered, beautiful "Goetter der Pest", lest anyone forget they are dealing with a capable musician who is interested in representing Raben on all fronts.

For "Berlin Alexanderplatz", Novaga brilliantly employs tasteful volume swells to imitate the chilling flute work in the original score. Since I first heard "To Live Is To Die" by Metallica as a child, I've been a sucker for volume swells. Her work here reminds me of some of my favorite uses of this technique in works by Nels Cline, especially with lovely chords mingling uncomfortably with more dissonant cousins, creating the uneasy atmosphere Cline excels at and Raben seems to find necessary for scoring Fassbinder's moments. To imitate the dramatic, swelling finale, Novaga uses distortion and wailing feedback tones to wrap things up Hendrix style, with her solo appropriately simulating the effect Raben used an orchestra to accomplish. Comparing these two moments, hers and Raben's, probably sealed the deal for me that this is an important and effectively executed project.

"Each Man Kills The Thing He Loves", which is already a brutal, perfect title, is an aptly haunting conclusion to this album. Novaga transmits her own voice through a cassette Walkman into her guitar amp, which is then overdubbed and manipulated using a loop station, employing reversed passages and speed variations to end the album on an uneasy note, building to a whirling, murmuring wall before breaking down to whining feedback around her vocal sample and a final fade out.

I look forward to revisiting this album once I've become more familiar with Fassbinder's filmography. Despite the unfamiliarity, I've still enjoyed this album, and I can't imagine any Fassbinder fan being able to pass on adding it to their collection, or simply fans of moody, sparse, solo guitar work seasoned with experimental moments. The vinyl comes in a matte, pink jacket with typewritten text, beautifully complementing the delicate contents, an insert, and a download code. I had no issues with the vinyl, it seems like a great pressing, limited to 300 pieces.
Experimental / Avantgarde / Weird & Wired / Glitch / Noise / Field Recording
Edit (9894)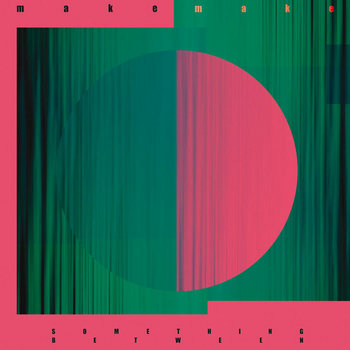 Artist:
Makemake
(@)
Title:
Something Between
Format:
CD
Label:
Zoharum
(@)
Distributor:
Alchembria
Rated:
Makemake is the musical project of ukasz Marciniak and Rafal Blacha, both using guitar and electronics. Their music is essentially EAI so the album is a series of "open compositions" recorded in the CK Agora theatre hall in Wroclaw trying to obtain a spatial sound using different microphone and a careful mix made by Micha Kupicz.
The first track, "Suspiria", starts as rock jam but suddenly it became a dialogue between the two guitars where they tries to resonate each other rather than simply do a call and response. This approach is further confirmed by "A-Bow" where, for large a part of the track, they construct a drone until they starts to play some musical lines above it. In "Dry Water" one guitar acts as a percussive element while the other develops his melodies so it's closer than a canonical tune than expected at this time of the release. "Visions" is perhaps the track where the electronic element is more present and it a form that reminds even to some cartoons. This easy elements is further confirmed in "Dinner at Home" with his distorted guitar sounding like a relative of the banjo while "Flight over the Rubble" returns to more experimental and free form sounds. The drones and the sustained tones of "As I Look Back" close this release in a dreamy atmosphere almost in opposition to the austere atmosphere of his beginning.
The main characteristic of this release is his departure from a certain austere environment which is now the main cul-de-sac of this genre and the constant mutation of the timbres that makes possible a journey into sounds. It could be a surprise for fans of the genre.
Artist:
Im Wald
(@)
Title:
Orion
Format:
CD
Label:
Wide Ear Records
(@)
Rated:
Even if it's not so brand new, this entry by Im Wald (German for 'in the wood') on Swiss label Wide Ear could be considered as a sort of programmatic statement. You could listen to it as a sort of gradual elevation from the short intro "Flachen" (meaning 'surface' or 'ground') to the longest suite 'Orion', where the suite in between - "Nebulae" - could be perceived as a sort of narrow interstice before the sound of this ensemble, made up of Tobias Meier (alto saxophone), Matthias Spillmann (trumpet), Frantz Loriot (viola), Nicola Romano (cello) and Raffaele Bossard (bass), spreads his sight out or above the in-between cage-like space of the just mentioned track. Phrasing in this stage sounds truncated and it seems that the intricate wooden web of low-lying branches and the dense brush frustrates any attempt of sketching a tune: the feverish and sometimes convulsive brushing on strings often turns into exhausted chirping or sinister buzzing, single strokes on bass chords evokes a sort of occasional acceptance of such an insuperable hurdle, the air into the saxophone often results into choked breaths and such a sequence of attempts last over the full length of the suite (around 11 minutes). The sound opens on the mentioned final suite "Orion", but it's a gradual process as the first half of the suite seems to mirror a phase of a troublesome and still sorrowful recovery, but I prefer not to say how the sound will evolve in the second half. I said this output could be programmatic for the presence of a long introductory article (title The Space Of Music) by Berni Doesseger, who made an interesting historical excursus tracing back possible forerunners of the style that this label keeps on exploring. Have a check.