Experimental / Avantgarde / Weird & Wired / Glitch / Noise / Field Recording
Edit (3847)

Artist:
PSYCHEDELIC DESERT
(@)
Title:
Keshiki
Format:
CD
Label:
Pharmafabrik
(@)
Rated:
Japanese project Psychedelic Desert's first album is titled KESHIKI and it has been released by the Italian label Pharmafabrik. The CD contains two minimal and long suites which seem to pay their tribute to cosmic music and which are true to the project's name because of the ambience created. The tracks succeed into creating a layer of fluctuating synth like sounds which stimulate the brainwaves of the listener. The only weak point I'd like to underline is that the tracks are based on similar sounds and being about 40 minutes long each one, they could made the listener loose his attention if not deeply involved into the lysergic sounds. The second half of the second track changes its sound a little bit thanks to some feedback and to what to my ears seems to be a treated guitar.
image not
available
anymore
Artist:
REPTILJAN
Title:
Archaeodermophagia
Format:
CD
Label:
Some Place Else
(@)
Rated:
Printed into a limited edition of 104 CD-Rs and having a special handmade package (there are also some blond hair included) ARCHAEODERMOPHAGIA is the new work of Reptiljan, one of the Niko Skorpio's musical projects. Being described as spontaneous compositions for bass guitar, contact microphones, fm radio and delay and distortion pedals, the CD contains seven tracks where it really hard to recognize what is what. The tracks don't seem to have a sort of structure and the main thing you'll be aware of is the phase of the stream of sound. The phases are spanning to light feedback with background noises to hard distorted mayhem where it is better you won't have your headphones on. There's also tracks which follow a different scheme, like "Metsanpeittoon" where the classic music coming from a radio channel is "infected" with noises little by little just to be sampled and treated on loops. Also on the following tracks there are traces of a certain musicality but they are rapidly overwhelmed by noise and chaos. I appreciated the most structured moments where I found some form of "organized chaos" but noise for the sake of it isn't my thing...
Experimental / Avantgarde / Weird & Wired / Glitch / Noise / Field Recording
Edit (3839)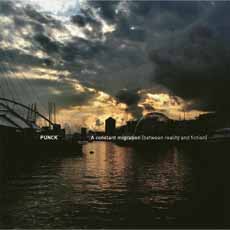 Artist:
PUNCK
Title:
A Constant Migration (Between Reality and Fiction)
Format:
CD
Label:
Creative Sources
Rated:
I truly feel awful for reviewing Punck's last year full length only now, also because it's been in constant rotation (...) in my stereo for all these months. Life problems and taking one's time eventually lead to these disasters... "A Constant Migration" is surely the best and most mature release of Adriano Zanni's as of yet - following the wake of his previous "Nowhere Campfire Tapes", but taking his soundscapes to a higher level (and that was a good album, mind it). I suppose that playing live sets has contributed to refine his tecniques and give a smoother, more organic feel to his compositions. As usual, Zanni uses "laptop, field recordings, found sound and sampling", and the result can be compared to the works of Seth Nehil, jgrznich, Dave Lloyd and mnortham. Highly refined concrete music where natural and electronic sounds are stretched and layered into drones, or scattered around as in an improvised session (which could explain why this has been released on Creative Sources). Zanni's audio-trip stands out from similar ones for the warmer, more emotional (existentialist, I wrote about his previous cd) approach to soundmaking, here leading to the breathtaking closure of "Hagakure [II, 105]", a powerful high-end drone streaked by bowed strings. This cd was mastered by Hue (Sparkle in Grey), which totally makes sense: take it as a comrade to "Un'estate senza pioggia", at least in terms of attitude.
Experimental / Avantgarde / Weird & Wired / Glitch / Noise / Field Recording
Edit (3836)
image not
available
anymore
Artist:
JASON KAHN
Title:
Fields
Format:
CD
Label:
Cut
Rated:
Recorded using "analogue synthesizer, percussion, short wave radio, and location recordings", "Fields" is another impressive addition to Kahn's discography, and can be loosely associated to his more electronics-based works like "Miramar". Don't expect any background ambient, though: while featuring the subtlety expected from the artist, the seven tracks, clocking in at 39 minutes, are also harsh and uncompromising. Each one shows great care in assembling different sound layers from the - often unrecognizable - sources, and the end result is so thick that it gives the impression of some mysteriously amplified machinery boiling over. While using raw material which by now is commonplace in electroacoustic music, Kahn manages to obtain something which is totally his, and this unique quality is the same you'll find in his improvised collaborations. As usual, the percussive element, reminding of Kahn's background as a drummer, is often present, disguised as a glassy rattling (track 1), a tinkling metronome (track 3), or the pulses of track 5; but you'll have to find it buried in layers of distorted frequencies and grey drones, which dominate the compositions giving them a sense of troubled stasis. The most impressive results probably come with the last two pieces, with bird chirps floating above low-end currents (track 6), and a magnetic storm of high-pitched cricket buzz. Possibly one of Kahn's noisiest endeavours, "Fields" is a though one to digest in a row, but that's true with most experiences that mark you in any way.
Artist:
The Club of Rome
(@)
Title:
Full Fathom Five
Format:
CD EP
Rated:
Amazing 6-track cdr-ep by Atlanta's Club Of Rome, a band whose music could be described as a lo-fi mayhem halfaway between Nervous Gender's hysterical synth punk and the more fucked up side of Black Dice. "Sunday Gospel" is the first one on the ep and reveals all their twisted sense of humour, it is a real gospel recited with a distorted and emphatic voice. "Let's Go USA" is a depraved rock'n'roll rant washed in meth and alcohol, and resembles early Chrome (!!) with floating tapestries made by cheaply distorted electronics. My favourite here is "The Ballad of Phil Spector" that seems a perfect 00s update to Suicide's lesson. That being said, you just have to look at the pictures on their myspace (http://www.myspace.com/theclubofrome) to know that COR are the perfect people to hang out with. And hey! They share the name with one of the many alter-egos of Asmus Tietchens'... but I doubt they bother.