Experimental / Avantgarde / Weird & Wired / Glitch / Noise / Field Recording
Edit (4193)
Artist:
The Bad Hand
Title:
This Is No Time For Modesty
Format:
12"
Label:
Daly City Records
(@)
Distributor:
Massive Music America
Rated:
Pleasantly eclectic San Francisco band with jazz-alt-grunge-punk leanings give their utmost in this 11-song effort, yet have a ways to go to cement their overall feel. Most of this LP's instrumentals seem partially half-formed, as if still stuck at their "jam" phase of songwriting, and their incidental noise effects, farty kazoo and backwards-taped snippets of conversation do little more than add comic relief to the album's off-beat-ness. Nevertheless there is a certain charm about the shoegazerish, wispy female vocals on "Hell Bent" and "Grand Theft Bravo," and the way they work atypical instruments (Rhodes piano, Hammond organ, violin, mandolin, recorder) into the mix. But although they sound just the way a band like Guided By Voices might have sounded at one time, the Bad Hand's alchemy is not quite yet up to par.

If you are a local S. F. scenester, however, then you need to both own this album (on limited edition white vinyl, no less) and go to all of their shows because whether or not they become the next G.B.V., this is exactly the kind of unpretentious, non-commercial non-pop that every growing boy and girl of collegiate age should cut his/her canines on.
Experimental / Avantgarde / Weird & Wired / Glitch / Noise / Field Recording
Edit (4178)
image not
available
anymore
I think for the stupid and simplistic it may sound, I have to open this review by saying this work is a real masterpiece. My expectations were obviously high (hey! We're talking about Robert Ashley!) also for I've read here and there Ensemble MAE was great, but it went far beyond my best expectations. The title track of this cd is simply touching (written in 2004): piano chords sewed on what seems to be a post-jazzy/contemporary scenario crossed by Ashley's voice, probably the most interesting part is how the instruments and the voice of the composer can give the impression every voice (human or instrumental) is following a speech. Both the spoken part and the instrumental one made me feel like I could have listened to this song forever. The second track instead brought to my mind some works by Steve Reich as transfigured with the peculiar style of this composer, if you liked the interpretation of Ensemble MAE in the previous episode, you can't but admire their contribution to enrich the incredible "phatos" of this second exhibit to whichh they've contributed with their personal arrangements. According to Ashley's words: "the voice should be a part of every musician's technical skills" and that partially explains why on a severe contemporary piano texture, apart from some sporadic intervention by the rest of the ensemble, you'll hear some dutch speaking narrators telling something I'm not able to discern (except for the fact somewhere they speak about cocaine, can it be?). During the fourth episode, long simple notes will be a good reminder of the fact drone music has its roots in classical compositions more than in asiatic traditional/spiritual music. The closing episode helps creating an incredible atmosphere while the players during most of the composition never produce what you would label as a normal note. The track is really spectral and it will make you shudder to listen to such an intensity. I've been listening to this work so many times, I was afraid it was just an enthusiastic first impression I've to control, but after several listenings I can let myself write get this work or give it a try It really deserves you're attention. Brilliant.

image not
available
anymore
Artist:
CRIA CUERVOS
(@)
Title:
CRIA CUERVOS Ilauna
Format:
3" MiniCD
Label:
The Locus of
(@)
Rated:
Poor and simple packaging for what I consider the one of the best Cria Cuervos solo releases so far. Maggi's last release on Afe records was ok, but I was not completely convinced of the final result above all if compared with the good collaboration with Bradley recently repressed on Small Voices. This simple 3" mcd Cria Cuervos works minimally, and according to my personal opinion pays homage to some of the early heavy weights in his category. With that I obviously mean people like Z'ev, Organum, Tietchens, Zoviet France, Watermann and so on. Given the fact I consider that to be one of the most interesting bunch in experimentalists for many reasons one of which is the fact those "heroes" were not limiting themselves to just use the industrial label since they probably couldn't care less to be labeled this or that way a damn good example. About nineteen minutes of spectral sounds in which I perceive what I think it's a chain (?) or a metallic thing that clinks looped like somebody is dragging it around like one of those prisoners in the Medieval castles (don't ask me why I've wrote this bullshit?!?). This' probably the darkest work this Italian has done, at the same time as I've told it's damn old school but it gets you where he want to for it's scary or even better it's "spectrally" obsessive.


Experimental / Avantgarde / Weird & Wired / Glitch / Noise / Field Recording
Edit (4156)
image not
available
anymore
Can you blame me if I say I feel uncomfortable reviewing Bennink vs Ex since it's like betting on Hagler vs Ray Leonard or even worse like putting you money imagining who will remain after Godzilla vs King King. Ok, this should be meant in a really respectful way for you can't but admire these two mature heroes, the first is one of the most renowned avant-jazzy drummers ever seen in Europe and in the rest of the globe while the second is one of the two axes of the killer Dutch legend Ex. Radical improvisation which can be seen from different point of views, since if recording impros by some means turns into a type of picture book of an instant, well, go your way and carpe diem given the fact that this concept blows away critics (as it should be) criticism and everything goes beyond aesthetical judgments. If we opt for a normal review instead, consider everything is highly dynamical and above all far from those constrained impros where everyone is trying to make it all look super-intellectual forgetting the most of music (also cerebral music) is borne out of blood, instinct and real need for self expression. Thought as you can easily figure it out yourself this' mostly unmelodical material it's really expressive and both those mature players have still their pulsing hormones to erase a float of pretentious younger musicians, the result sometimes it's a bit too predictable. Is their music obvious? I've never said that, I just mean sometimes these exhibits are a bit too close to their peculiar style in previous recording hence some Exesque guitar kicking "a-la-free-jazz-punk-we're-Ex-and-we're-here-to-blow-your-brains-out" and some radical Bennink "free-jazz-drumming-playing-in-duo-with-my-fucking-punk-friend-Terrie-Ex". Sometimes they show you they're a kick ass duo, but not all of the episodes are on the same level.
Experimental / Avantgarde / Weird & Wired / Glitch / Noise / Field Recording
Edit (4153)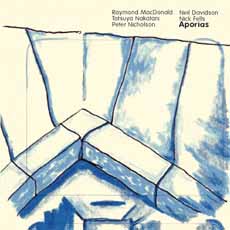 Artist:
NAKATANI, MACDONALD, DAVIDSON, NICHOLAS, FELLS
Title:
aporias
Format:
CD
Label:
Creative Sources
(@)
Rated:
Not electro-acoustic music this time, but a fine work dealing with radical improvisation and what's more all has been frozen during a real live set at the Glasgow concert hall. This quintet is composed by a cello a saxophone player, guitar, drums and obviously being in the new millennium there's a laptop for the sake of computer age. The performance is well recorded and despite the hall reverb (here quite attenuated), the sound definition is really good and yes, the most important thing is that the ensemble works really well as a collective. You have some chaotic parts, some soft movements and some quietly played notes that build up tension, the principal trait of this five piece is that every musician is afraid to be too intrusive in the work of his ensemble fellow, anyhow that doesn't prevent them to dive in coral parts. Despite the fact I think the most of the music comes out free improvisation, you can bet it has not much to do with free jazz if not for some brass solutions. The music most of the times flirts with contemporary classic music and with some Lynchesque odd soundtracks, in general you have some really quiet situations and disconnected-chaotic-free eruptions that's rather typical in these free live performances (and here's also where the pay the heaviest tribute to free-jazz music). As I've said before in general this material should be listened live, not for the fact it's weak on a cd, but for logically live-performance is its intrinsic nature.