Experimental / Avantgarde / Weird & Wired / Glitch / Noise / Field Recording
Edit (4235)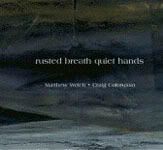 Artist:
Rusted Breath Quiet Hands
(@)
Title:
s/t
Format:
CDS (CD Single)
Label:
MUUD
(@)
Distributor:
MUUD
Rated:
Rusted Breath Quiet Hands is a collaborative effort featuring Brooklyn-based alto saxophonist/composer Matthew Welch (rusted breath) and New England's Craig Colorusso, a performance artist, dancer, sculptor, and guitarist (quiet hands). This self-titled CD – the second release on Colorusso's MUUD label – includes two lengthy, untitled tracks. The first track begins with the sinister sound of Colorusso's guitar coming to life as low moans are wrenches from its strings with a bow. This is soon accompanied by Welch, who improvises a series of long, sustained notes punctuated by the occasional melodic turn. The overall effect is somewhat reminiscent of bagpipes, with the powerful undertone of Colorusso's bowed guitar providing a steady, low-end hum to support Welch's higher, extended tones and chanter-like interludes. It's a very novel and innovative interplay between the two instruments. The second song reverts to a more traditional sound for each instrument. Welch's range on the alto really comes to the fore here, as he paints portraits of sound onto the wide open canvas of Colorusso's slowly repeated, gently articulated guitar arpeggios and harp-like strums. The sax calls gently at times and cries out loud at others, alternately hiding behind and leaping out in front of its companion guitar. This piece is lovely, and evokes the feeling of swinging slowly in a hammock on a warm summer morning. This is an impressive debut with a cleverly onomatopoetic, descriptive name that humbly sums up its components. This disc should appeal very much to fans of organic experimental music.
Experimental / Avantgarde / Weird & Wired / Glitch / Noise / Field Recording
Edit (4227)
problems
with image
availability
Artist:
Alvin Curran and Cenk ErgŁn
Title:
The Art of Fluke
Format:
CD
Label:
Tear
Rated:
Henry David Thoreau once noted that "music is constant, only listening is intermittent." This idea of the constant presence of music in the world around us is aptly represented in Alvin Curran and Cenk Ergün's latest effort "The Art of the Fluke," which centers on the notion of spontaneity and finding musicality in daily occurrences that most people would overlook such as running faucets, clanking shoes, and rattling plates. At a first listen, "The Art of Fluke" is highly reminiscent of Nurse With Wound's now legendary "Chance Meeting on a Dissecting Table of a Sewing Machine and an Umbrella. However, the primary difference between Curran and Cenk and Nurse With Wound is that the former are actually trained musicians with a diverse range of work under their belts from music theory to chamber music, to experimental music with the like of MEV. This formal musical sensibility does come across in the music in that while the "Art of Fluke" is composed entirely of found sounds, it is a very cohesive and well thought out piece of music that has an a very organic flow to it. Overall, "The Art of the Fluke" is a very interesting collection of experimental compositions in the musique concrete vein that moves beyond the usual amateur excursions into sound manipulation that most records of this variety tend to be.

Artist:
ERIK LEVANDER
(@)
Title:
Kodens
Format:
CD
Label:
Rumraket
(@)
Rated:
Active since late nineties with different projects and at the second solo full length album, Erik Levander is a Danish guy who is presenting to the lovers of minimal sounds his newest album titled KODENS. The new album took almost four years in the making and different compared to its first version (the hard disk of Erik's pc crashed and he lost almost everything), KODENS is a mix of melancholic atmospheres, glitch mayhem and ambient intuitions where also acoustic instruments are used (see the main clarinet part on "Manen viskar" or the piano track "Tribut"). Creating a thick web of sounds where light noises and bleeps crashes and die just to find a new form/life, Eric gave form to a complex structure which sometimes is difficult to enjoy at a first listening and it's difficult that it would be enjoyed by people who don't love i.d.m. or experimental stuff. Anyway there are tracks like "Kvad" that immediately are able to catch your attention thanks to the little melodic lines which give more power to the intricate sound structure while others like the opening "Sekund" sound too intimate.
image not
available
anymore
Artist:
SARALUNDEN & ANDREY KIRITCHENKO
(@)
Title:
There Was No End
Format:
MCD (Mini CD)
Label:
Nexsound
(@)
Rated:
Second CD release for Sara Lunden and Nexsound both. This time Sara is working with the label's boss Andrey Kiritchenko. The six tracks of the CD present a particular blend of electronic arrangements (almost glitch) mixed with light noises, electric guitars and the characteristic Sara's vocal approach which is in balance from melancholy and intimacy. These tracks recalled me one of the most melodic releases of Bpitch Control (Damero first album) but without the rhythmic research which here is substituted by the synth/noise multi layer approach. "Take your chance when you have it", instead, is a sort of alternative modern folk track with acoustic guitar and noises. This is the track I appreciated most along with "Erotic dreams", a track with a good mix of melody, rhythms (the other ones didn't have a rhythmic section) and electronic experimentation. This release is interesting as well the other was but they both tend to be focused on a calm melancholic approach which is ok in this case since we have six songs E.P.s. but which could tend to be a little repetitive in the case of a full length.
image not
available
anymore
Artist:
SARALUNDEN.BJORKAS.MJOS
(@)
Title:
Dubious
Format:
CD EP
Label:
Nexsound
(@)
Rated:
Founded in 2000 by Andrey Kiritchenko in Kharkiv/Ukraine, Nexsound is a label dedicated to unconventional sound. Their releases (they press proper CDs as well they release stuff as web label) have a characteristic experimental approach which on the pressed CD is less considered as on that format they are releasing the most "accessible" stuff. The first release of this series is a collaboration MCD which see songwriter/performer Sara Lunden composing with Kyrre Björkås (he plays with the Norwegian band Det är jag som är döden) . and Andreas Mjös (producer/musician, he plays with the Norwegian band "Jaga Jassist"). DUBIOUS contains five tracks which mix "pop" with electronic experimentations and melancholic soundscapes. The tracks are based on male/female vocal duets where the first two tracks "Dubious" and "You can come" see the musical structure based on acoustic instruments (mainly guitar and piano) being enriched by manipulation of electronic sounds. "Naked in my bed", "The sound it makes" and "Murder" (the song I appreciated most because of its dark atmosphere), instead haven't acoustic instruments into their structure as they have a minimal electronic background made of tiny synthetic sounds which couple well the intimate atmosphere created.