Experimental / Avantgarde / Weird & Wired / Glitch / Noise / Field Recording
Edit (3855)
image not
available
anymore
There's nothing related to Burzum or other church-torching Norwegian black metallers in Ralf Wehowsky's new full length, if you're wondering. The title refers to an American veteran soldier Wehowsky met in Vietnam, who "was talking about the churches he bombed during the War (high buildings are the best targets), with great enthusiasm and was extremely pleased to show us some of the ruins". Which kind of introduces us to a new RLW nightmare. Those familiar with Wehowsky's background (from P16.D4 onwards) know what to expect: a unique mix of musique concrete, dismal post-industrial atmospheres and contemporary composition (to give it a name). The sounds used are often simple and skeletal (drones, muffled samples, some recognizable traffic field recording, angry voices, some piano...), but RLW is a master at treating and blending them, with a style that is not really comparable with anybody else's. The four tracks ebb and flow with bass drones and sudden bursts of irritating ear-piercing frequencies, in a truly outstanding sound recycling.
Experimental / Avantgarde / Weird & Wired / Glitch / Noise / Field Recording
Edit (3854)
image not
available
anymore
Artist:
GARY SMITH
Title:
SuperTexture
Format:
2 x CD (double CD)
Label:
Sijis
Rated:
UK guitarist Gary Smith has an impressive curriculum of recordings, both solo and in various combos (Mass, Glass Cage, Powerfield and aufgehoben, who must be pretty well known to fans of improv noise), not to mention his collaborations and guest appearances (Shoji Hano, Bill Fay, Rhys Chatham...). "SuperTexture" is a double cd with a hardly new idea applied with daring and unexpected results: the first disc is a solo recording of Smith's (only using a guitar, an amp and a pedal), and the second is a remix thing, or rather a series of radical reinterpretation of the improvised tracks by an all star set: Bill Fay, Steve Roden, Elliott Sharp, David Tibet, Paulo Raposo, Bernard Günter, Tom Wallace, Zoltan Kodaly School for Girls, Peter Rehberg, Tianna Kennedy, Charles Hayward (ex-This Heat), BJ Nilsen, and of course aufgehoben. Whew! The different approaches obviously give wildly varied versions, and in terms of creativity in the "remix" field, "SuperTexture" is one of the most interesting experiments I've listened to lately. Which is also true considering that Smith's playing is a harsh and cubist one, a Bailey-esque scattering of pulverized scales and glassy shards. What to do with such an apparently hostile material? Well, lots of things: from sui generis songwriting (Fay and Tibet) to electronic processing (Raposo, Rehberg), drones (Nilsen), entropic rumbles (Sharp) and vicious noise (aufgehoben's all out mess). Most tracks were good or excellent (ok, I did not like Tom Wallace's beat-driven version), my personal picks being Günter's destructured blues, Roden's entrancing loops and Hayward's funk jam. Not really a disc that I'd spin for pure personal pleasure, but surely an amazing one under many points of view.
Experimental / Avantgarde / Weird & Wired / Glitch / Noise / Field Recording
Edit (3847)

Artist:
PSYCHEDELIC DESERT
(@)
Title:
Keshiki
Format:
CD
Label:
Pharmafabrik
(@)
Rated:
Japanese project Psychedelic Desert's first album is titled KESHIKI and it has been released by the Italian label Pharmafabrik. The CD contains two minimal and long suites which seem to pay their tribute to cosmic music and which are true to the project's name because of the ambience created. The tracks succeed into creating a layer of fluctuating synth like sounds which stimulate the brainwaves of the listener. The only weak point I'd like to underline is that the tracks are based on similar sounds and being about 40 minutes long each one, they could made the listener loose his attention if not deeply involved into the lysergic sounds. The second half of the second track changes its sound a little bit thanks to some feedback and to what to my ears seems to be a treated guitar.
image not
available
anymore
Artist:
REPTILJAN
Title:
Archaeodermophagia
Format:
CD
Label:
Some Place Else
(@)
Rated:
Printed into a limited edition of 104 CD-Rs and having a special handmade package (there are also some blond hair included) ARCHAEODERMOPHAGIA is the new work of Reptiljan, one of the Niko Skorpio's musical projects. Being described as spontaneous compositions for bass guitar, contact microphones, fm radio and delay and distortion pedals, the CD contains seven tracks where it really hard to recognize what is what. The tracks don't seem to have a sort of structure and the main thing you'll be aware of is the phase of the stream of sound. The phases are spanning to light feedback with background noises to hard distorted mayhem where it is better you won't have your headphones on. There's also tracks which follow a different scheme, like "Metsanpeittoon" where the classic music coming from a radio channel is "infected" with noises little by little just to be sampled and treated on loops. Also on the following tracks there are traces of a certain musicality but they are rapidly overwhelmed by noise and chaos. I appreciated the most structured moments where I found some form of "organized chaos" but noise for the sake of it isn't my thing...
Experimental / Avantgarde / Weird & Wired / Glitch / Noise / Field Recording
Edit (3839)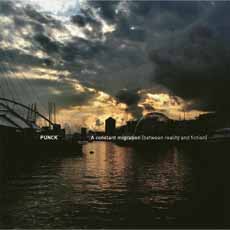 Artist:
PUNCK
Title:
A Constant Migration (Between Reality and Fiction)
Format:
CD
Label:
Creative Sources
Rated:
I truly feel awful for reviewing Punck's last year full length only now, also because it's been in constant rotation (...) in my stereo for all these months. Life problems and taking one's time eventually lead to these disasters... "A Constant Migration" is surely the best and most mature release of Adriano Zanni's as of yet - following the wake of his previous "Nowhere Campfire Tapes", but taking his soundscapes to a higher level (and that was a good album, mind it). I suppose that playing live sets has contributed to refine his tecniques and give a smoother, more organic feel to his compositions. As usual, Zanni uses "laptop, field recordings, found sound and sampling", and the result can be compared to the works of Seth Nehil, jgrznich, Dave Lloyd and mnortham. Highly refined concrete music where natural and electronic sounds are stretched and layered into drones, or scattered around as in an improvised session (which could explain why this has been released on Creative Sources). Zanni's audio-trip stands out from similar ones for the warmer, more emotional (existentialist, I wrote about his previous cd) approach to soundmaking, here leading to the breathtaking closure of "Hagakure [II, 105]", a powerful high-end drone streaked by bowed strings. This cd was mastered by Hue (Sparkle in Grey), which totally makes sense: take it as a comrade to "Un'estate senza pioggia", at least in terms of attitude.