image not
available
anymore
Artist:
DIFFERENT STATE & SIGILL
(@)
Title:
Spazmatic[k] Spell
Format:
CD
Label:
Zoharum Records
(@)
Rated:
SPAZMATIC[K] SPELL is a Different State/Sigill (www.myspace.com/sigill) split CD album dedicated to the memory and work of painter and magician Austin Osman Spare (en.wikipedia.org/wiki/Austin_Osman_Spare). DIfferent State is a Polish project active since early 90's which released different albums since then. At their beginnings the music was mostly focused on noisy experimentation but slightly it moved on the use of electronic gear. The four tracks of this split ("I hate the eyes", "Ear", "Nose" and "Formal experimentation") see Marek X Marchoff (the man guy behind the project) helped by Laura Marchoff (angelic[k] voice, custom made generator A-23), Tom Westbum (clarinet, sax, alto sax, trumpet) and Janusz Sokolnicki (tube AMP, lead guitar). The combo for each track used a different solution, approaching them from a particular angle. If "I hate the eyes" is a really good spoken word with experimental electronic background, the following "Ear" recalled me a sort of mix between Foetus and Mark Stewart & The Maffia. "Nose", instead, is more melancholic and cinematic, proposing a nostalgic guitar solo overwhelmed by distant and reverbered orchestral sounds. "Formal experimentation" is an electronic/wave experimental track which creates a sort of spatial effect with sax inserts. Sigill approach to sound is a total different one. The Polish duo formed by Brat Salo and Nantur love to create obscure drones with echoed sounds where vocal parts seem to be taken from rituals. "Sunever", "Io Pan'i", "Ashtoreth" and "Moon lore" remember to me some old Endura tracks with that sort of throbbing electronic humming mixed with samples and noises: a sort of ritual dark ambient kind of sound. They sound less varied compared to Different State but their sound is kinda "thick".
image not
available
anymore
Artist:
PIETRO BONANNO
Title:
Music For Flying Planes
Format:
CD
Label:
Essentia Mundi
(@)
Rated:
After releasing three solo piano albums and two other ones focused on drones, Pietro Bonanno is releasing his latest album MUSIC FOR FLYING PLANES for Essentia Mundi. Based on drones for three out of five tracks (the remaining two are composed using treated piano layers which propose different de-constructed themes), the tracks weren't able to involve me too much because of the kind of sounds used (low bit-rate drones which were sounding with no dimension) and because of the choice of giving to the suites an hypnotic imprint with no apparent defined structure. The whole album has some good moments: "The day of diamond dreams" and "This journey will be eternal" are the tracks I appreciated most because it give the sensation to grow constantly but it's hard to stand 20' of recursive similar sounds because after 5 minutes the music became like a distant noise. If you are into minimal hypnotic ambient sounds check some sound excerpts at the label website.
Experimental / Avantgarde / Weird & Wired / Glitch / Noise / Field Recording
Edit (4269)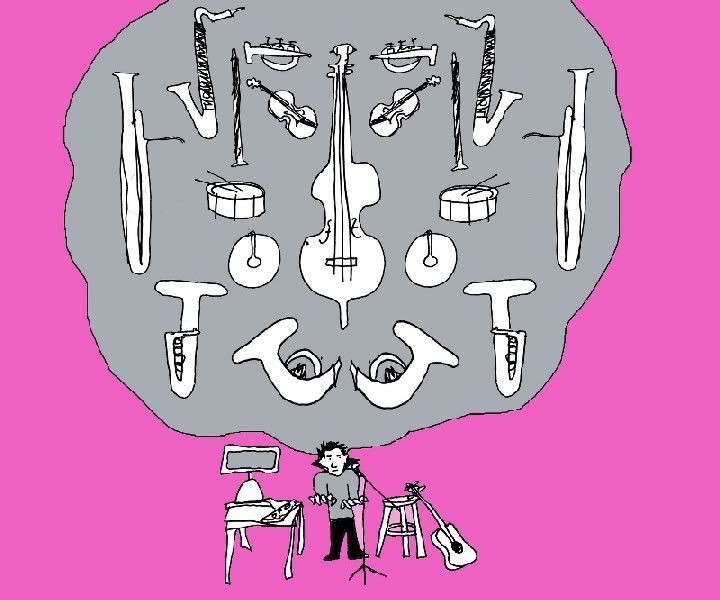 Artist:
Miss Massive Snowflake
(@)
Title:
Queen's Headache
Format:
CD
Label:
North Pole Records
(@)
Distributor:
Starbage Hands
Rated:
Miss Massive Snowflake is one Shane de Leon of Portland, Oregon. This multi-instrumentalist and songwriter played with the experimental group Rollerball for ten years, and he has recorded and performed with numerous bands and artists. "Queen's Headache" is a felicitous romp full of playful tunes that sound like what might happen if Ween were to sneak into one of the classrooms in Jack Black's "School Of Rock" and host an impromptu fantasy music camp for kids. This is by no means a knock on the music, which is really catchy and chock full of intriguing and diverse instrumentation. It is rather a very positive indictment on the booster-shot-sized injection of youthful exuberance and fun brought to this CD by its many young contributors, and the apparently young-at-heart ringleader, de Leon. The opening cut is a sweet and serene instrumental entitled "Satsuma." "Bombs Away" follows with a sad and scathing political message woven into a simple, understated melody. Larry Yes lends his vocal talents on "Swing of Hair," a love-infused ditty with a banjo appetizer and a mildly funky feel. "Hillarianos" introduces us to child vocalist Micah Von Werssowetz as he riffs about being a robot over a mild dose of television static. This mirth goes out the window as Von Werssowetz switches gears in "The Hunt," a creepy piece that sounds as though it might've been authored by Dylan Klebold and Eric Harris! Things simmer down considerably after that, though, with "Meredith," a mellow guitar melody with a soothing beat and a few juicy midi horns thrown in for kicks. "Who Wrecked the Party" sees the return of Larry Yes on lead vocals with music by DJ Faccia di Merda. A buzzing beat hops round with middle-eastern influenced drums as children from the Choral Kinders ask "who wrecked the party?" About a minute into this tune, Yes uncorks one of the most absurd raps ever penned, sounding like Larry Nye-does-G-rated-Eminem. This is "better-not-listen-to-it-for-the-first-time-while-driving-because-it's-so-amusing-you-may-wreck-your-car" funny! "Draggish Friends" features child vocalist Kiana Monihan offering a brief update on the situation in Iraq. Werssowetz reappears on "I Don't Know," though you wouldn't know as his vocals are heavily processed and hidden behind a beefy beat with some ham & eggs keyboards on the side. "One I've Been Waiting For" is a lovely, low-fi cover of a tune by Raleigh, N.C.-based alt-rockers, Remora. "Fossil Fissure" is an unsettling statement on invasion and death with Kiana Monihan and de Leon on vocals. The edge is taken off once again as this is followed by the spunky instrumental "Sunday, Monday," and then "Cake," which appears to be a fondly reminiscent dedication to a friend. Somber tones return on "The Mexican," but the disc closes out with a laugh on "26 Names," as Marley Von Werssowetz drops a list of playground insults describing Miss Massive Snowflake – one for each letter – over bongo beats and a slow chord progression. A-Alligator Breath... B-Butthead... etc. Too much comedy! As an added bonus, the disc also includes videos for five of the songs in quicktime format. The disc and a lyric sheet are housed inside of a colorful sleeve within a nice digipak-type slipcase with a beautifully letterpressed cover. The playful artwork and design are products of de Leon's fertile imagination and should provide a clue for the listener that fun times are ahead. One of the true joys of being a music reviewer is discovering hidden treasures – releases I probably would not have otherwise come across that appeal to me so much I would have happily dropped some coin to add them to my collection. "Queen's Headache" fits firmly into that category!
Experimental / Avantgarde / Weird & Wired / Glitch / Noise / Field Recording
Edit (4266)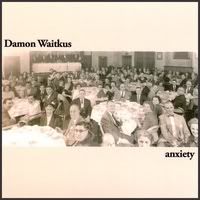 Artist:
Damon Waitkus
(@)
Title:
Anxiety
Format:
CD
Distributor:
CD Baby
Rated:
Damon Waitkus is a composer who uses found sounds and home-made musical devices in conjunction with traditional instruments to craft an intriguing brew of experimental sound that draws heavily on contemporary classical and rock influences. Originally from Boston, Massachusetts, he has studied with Fred Frith, Alvin Curran, and many other notable instructors. He is currently pursuing a Ph.D. at UC Berkeley. His debut release, "Anxiety," presents six richly diverse tracks that cover an astonishing range of sound and feelings. The disc begins with the title track, an aptly-titled twenty two minute odyssey that focuses heavily on interplay between various percussion sources (including piano and wine glasses) and stringed instruments, and features violinist Emily Packard and cellist David McNally as collaborators. There are bleak valleys and lulls, tense peaks of sound, deliciously discordant string squabbling, and a wondrously uneasy miasma of moaning that halts abruptly just before the track ends. Next is the fantastically titled "How, over years, the nose may hook, as presaged by occasional flares in character." Guitarist Jacob Kramer contributes a pleasantly mellow segment of fret-exploration on this tune. "Transmit 1" moves in an entirely different direction, with ominous chords from the piano jostling for position with a low, windy howl and bird-like sounds that are eventually chased off by an insistent and almost sensually urgent band of unidentifiable aroused beasts! Another corner is turned in "Bas-relief," which pits the oboe of Meave Cox against the soprano sax of Jonathan Russell. The two instruments playfully tussle over who'll lead the dance in this perky little harmonious gem. The mood shifts again entirely in "You Are Vulnerable," with Waitkus retreating briefly into a somewhat aloof posture. "Transit 2," the closing piece, crawls slowly back out of the shell, with a more menacing feel than any of the other tracks. The shower of tinkling highs and murmuring lows emanating from the piano are sufficient to tighten the gut a bit, like the anticipation of some unsuspecting sap about to "get it" in a horror flick. An excellent effort!
Experimental / Avantgarde / Weird & Wired / Glitch / Noise / Field Recording
Edit (4265)
Artist:
Scott R. Looney
(@)
Title:
Repercussions
Format:
CD
Label:
Edgetone Records
(@)
Distributor:
Independent Online Distribution Alliance
Rated:
Improvisational pianist Scott R. Looney, currently based in Oakland, California, has been highly active in the experimental and improvisational music scenes and has an impressive resume of work and study alongside many renowned improvisers, such as Henry Kaiser, Oliver Lake, and Morton Subotnick. "Repercussions," his first release in seven years, reveals a combination of technical skill and creativity that is truly engrossing. Traditional playing, demonstrating the artist's intimate relationship with the instrument, is enhanced by "hyper piano" styling (including prepared elements), which opens up a host of new possibilities. A few passages are somewhat dark and brooding, such as "Intermittent," which lopes along before a erupting in a minimally climactic outburst at the end. The somber and drowsy moments are vastly outnumbered and overshadowed by hard-charging, frenetically paced runs and high-flying fingering that dominate the release. "luxtasEnTempore" and "Lissajous," for instance, thrive on agitated frenzies of rapid-fire runs, dips, and dives. Percussive sounds dot the landscape, adding depth to the staccato keyboard hammerings during certain tracks. There is some particularly intense clamor during "Rummage," in which it seems Looney fairly ransacks the piano, using every part to produce an array of accompanying sounds. My hat is off to Mr. Looney for actualizing this wonderfully eclectic body of improvisational music.