Experimental / Avantgarde / Weird & Wired / Glitch / Noise / Field Recording
Edit (4266)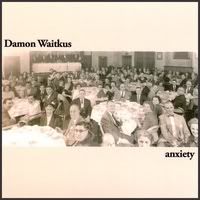 Artist:
Damon Waitkus
(@)
Title:
Anxiety
Format:
CD
Distributor:
CD Baby
Rated:
Damon Waitkus is a composer who uses found sounds and home-made musical devices in conjunction with traditional instruments to craft an intriguing brew of experimental sound that draws heavily on contemporary classical and rock influences. Originally from Boston, Massachusetts, he has studied with Fred Frith, Alvin Curran, and many other notable instructors. He is currently pursuing a Ph.D. at UC Berkeley. His debut release, "Anxiety," presents six richly diverse tracks that cover an astonishing range of sound and feelings. The disc begins with the title track, an aptly-titled twenty two minute odyssey that focuses heavily on interplay between various percussion sources (including piano and wine glasses) and stringed instruments, and features violinist Emily Packard and cellist David McNally as collaborators. There are bleak valleys and lulls, tense peaks of sound, deliciously discordant string squabbling, and a wondrously uneasy miasma of moaning that halts abruptly just before the track ends. Next is the fantastically titled "How, over years, the nose may hook, as presaged by occasional flares in character." Guitarist Jacob Kramer contributes a pleasantly mellow segment of fret-exploration on this tune. "Transmit 1" moves in an entirely different direction, with ominous chords from the piano jostling for position with a low, windy howl and bird-like sounds that are eventually chased off by an insistent and almost sensually urgent band of unidentifiable aroused beasts! Another corner is turned in "Bas-relief," which pits the oboe of Meave Cox against the soprano sax of Jonathan Russell. The two instruments playfully tussle over who'll lead the dance in this perky little harmonious gem. The mood shifts again entirely in "You Are Vulnerable," with Waitkus retreating briefly into a somewhat aloof posture. "Transit 2," the closing piece, crawls slowly back out of the shell, with a more menacing feel than any of the other tracks. The shower of tinkling highs and murmuring lows emanating from the piano are sufficient to tighten the gut a bit, like the anticipation of some unsuspecting sap about to "get it" in a horror flick. An excellent effort!
Experimental / Avantgarde / Weird & Wired / Glitch / Noise / Field Recording
Edit (4265)
Artist:
Scott R. Looney
(@)
Title:
Repercussions
Format:
CD
Label:
Edgetone Records
(@)
Distributor:
Independent Online Distribution Alliance
Rated:
Improvisational pianist Scott R. Looney, currently based in Oakland, California, has been highly active in the experimental and improvisational music scenes and has an impressive resume of work and study alongside many renowned improvisers, such as Henry Kaiser, Oliver Lake, and Morton Subotnick. "Repercussions," his first release in seven years, reveals a combination of technical skill and creativity that is truly engrossing. Traditional playing, demonstrating the artist's intimate relationship with the instrument, is enhanced by "hyper piano" styling (including prepared elements), which opens up a host of new possibilities. A few passages are somewhat dark and brooding, such as "Intermittent," which lopes along before a erupting in a minimally climactic outburst at the end. The somber and drowsy moments are vastly outnumbered and overshadowed by hard-charging, frenetically paced runs and high-flying fingering that dominate the release. "luxtasEnTempore" and "Lissajous," for instance, thrive on agitated frenzies of rapid-fire runs, dips, and dives. Percussive sounds dot the landscape, adding depth to the staccato keyboard hammerings during certain tracks. There is some particularly intense clamor during "Rummage," in which it seems Looney fairly ransacks the piano, using every part to produce an array of accompanying sounds. My hat is off to Mr. Looney for actualizing this wonderfully eclectic body of improvisational music.
Experimental / Avantgarde / Weird & Wired / Glitch / Noise / Field Recording
Edit (4262)
The press release that came with the disc states, "Utilizing loops, found sounds, drones and aseptic rhythms, we create unsettling alien soundscapes that fall somewhere between dark ambient and glitch." Sounds good, but the disc starts off with "Laika – Part One," which doesn't really seem to back that statement up. It's a bit repetitive for my taste, but it has a decent beat that would appeal to fans of old Orbital. Once we get to "Laika – Part Two" it seems to start owning up to the promise made in the press release. Nice drones and voices that I can't understand. The track moves at a glacial pace, which seems to be just right. If the beat were more prominent, "Still Water" would be just noisy enough to fit in with the Ant-Zen crowd. In general, this is an interesting mix of soundscapes and beats that defies easy description. In comparison, on their myspace page, they list early Aphex Twin, Nurse with Wound, Coil, and SPK. I can go with early Aphex Twin at times, but they don't sound like any of the NWW that I own (but I think only Steven Stapleton has all of them) and they don't quite have the complexity of Coil. But it is engaging and interesting. If you want to hear them for yourself, check out their myspace page at http://www.myspace.com/cntr. This disc weighs in at 65 minutes.

Experimental / Avantgarde / Weird & Wired / Glitch / Noise / Field Recording
Edit (4256)
It may help to know some of the back story on this collaboration. The press release states that "Saralunden and Kyrre Björkås met 2002 in Riga when Sara was performing at an art exhibition. There was no sound engineer at the show but Kyrre, who was there working as an assistant to an artist from Norway, helped her out. A few hours later they were lovers." It goes on to state that the pair eventually broke up but still wanted to work together. This is one of those discs that defies categorization. This is stripped down duets accompanied by sparse instrumentation. But this is not duets like you would expect. They are duets only in the sense that you have two people singing together. The male and female vocals seem more spoken than sung and weave together nicely. However, it's so sparse that it doesn't really seem to go anywhere. The tracks remain in a state of stasis. For me, the best track is "Murder," which has a nice almost monotone delivery over a samba beat. The disc comes in a slipcase that refuses to yield the disc. This disc weighs in at just 16 minutes.

Experimental / Avantgarde / Weird & Wired / Glitch / Noise / Field Recording
Edit (4255)
At times, the background music is similar to Saralunden.Björkås.Mjös "Dubious," (which is also reviewed here) only not so sparse. "Come With Me" has a nice chant-like quality to it. "Oh So Blue" showcases Lunden's melodic voice. The overall feeling is like having someone sing to you in your living room. "Don't You Remember" adds a layer of processing to the voice and burbling electronics in the background that make it sound like something that Hafler Trio would do. "Take Your Chance When You Have It" brings in acoustic guitar, making it sound like something you'd hear at a campfire. There is something in the background that sounds like a cartoon cat being strangled though. It wasn't quite as engaging as the previous tracks. "Erotic Dreams" is almost jazzy with a syncopated synth line through it. About halfway through it breaks into drums and electronic whirs and bleeps that seem to be at a slightly different tempo than the singer. "Tonight" brings back the acoustic guitar, but it gets a bit repetitive toward the end. For me, the standout tracks here are "Oh So Blue" and "Don't You Remember." This disc weighs in at 24 minutes.