Experimental / Avantgarde / Weird & Wired / Glitch / Noise / Field Recording
Edit (4381)
This is the best release of the year so far, and it'll be tough for anything to top it. (Though Zorn does have an upcoming release named The Dreamers, which just might do it.) This installment in the Filmworks series was composed for the animated film The Rain Horse, directed by Russian animator Dimitri Geller.

Zorn chose the trio of Erik Friedlander on cello, Rob Burger on piano, and Greg Cohen on bass. The trio is simply amazing. The way that they play off of each other is sublime. There's no other word for it really. At times they play complex runs around and through each other, but for the most part they leave room for one another to play astoundingly haunting melodies. Melody is the focus of the album. Zorn fans will know that this often not the case in his work. The melodies here are familiar somehow, but they're tough to place. Filmworks XIX: The Rain Horse has an Eastern European feel, as would be expected (after all, it was composed for a Russian film), but it's also got touches of Middle Eastern and Western influence.

What struck me most about the music is how emotional and romantic it is. As I said, the melodies are haunting, but they are also catchy. The songs have terrific pacing. Mind you, there is no percussion on the album. The piano, cello, and most obviously the bass create the tempo for these beautiful songs.

As amazing as the songs themselves is the story of the performing, recording, and mixing of the album. The musicians entered the studio in the morning and knocked out all 11 songs by 6pm. If that weren't enough, engineer Marc Urselli mixed the album in three hours. For an album of 11 songs of this caliber to be recorded and mixed in one day is a testament to the level of talent involved. The energy of the performances was captured perfectly - the sonics are great and none of the intensity is lost. Mastering engineer Scott Hull did an outstanding job. The sound is soft yet energetic.

The best album I've heard in a long time. I bow to thee Mr. Zorn and company.



Artist:
ZENI GEVA
Title:
Maximum Money Monster
Format:
CD
Label:
Cold Spring
(@)
Rated:
After years of unavailability, eighteen years since its original release on Pathological Records, here's surfacing MAXIMUM MONEY MONSTER by Zeni Geva. Merging free jazz, hardcore and repressed rage the Japanese trio open the album with a punch in the audience's face thanks to the sixteen minutes of "Slam king", a track based on a couple of chords that is able to hypnotize and devastate at the same time. "Blaze" and "Black out", instead, in less than two minutes are able to pick you up and make you do a roller coaster ride through hard rock psychedelia ("Blaze") and obsessive industrial core ("Black out"). Musically, is like listening to an extreme version of Black Flag on acid and by the way guitars are treated you can understand the reason why K.K. Null collaborated with Merzbow later. I saw Zeni Geva live twice at the times of "Desire for agony" and I assure you that their nihilism was throbbing and alive, on and off stage (the guitar player that time was so angry for some reason that he beat his head against a wall of the bathroom). Thanks to this new Cold Spring reissue you can check their live sound on the three bonus tracks: "War pig" and "Skullfuck" (coming from this album) plus "Dead car, sun crash".
Artist:
ROBE
Title:
the third cinder
Format:
CD
Label:
Snip-Snip records
(@)
Rated:
Some months ago while on the web I've come into Robe's myspace page and I've been positively impressed both by their sound and by the most of their song structures. This release came out on Snip-Snip that's David Reed's own label and let's say there's a sort of connection: actually Robe' sound, from what I've heard so far, in most of the cases is darker and heavier if compared to the music of Reed, but here it all has become more "foggy" and confirms the impression I've had they like to dissolve the drones in a magmatic scenario. It all makes me think to the movies of John Carpenter or David Lynch, but at the same time differently from many of their previous releases "the third cinder" paints a more abstract portrait of this band from Columbus. A simple selection of sounds and mainly drones surfacing and disappearing in suspension as shadows sucked in the mist, if some of the first noises may give the impression they've been influenced by some of the early experimental industrial masters (I was thinking to Death in June when leaving folk back home), I guarantee later the environment develops into a bad dream gone worse. Beside the peculiarity of having this deep cinematic feel, Robe have an interesting approach to dark ambient and post-industrial music that I don't find in that many bands of the genre. If you've never heard anything of this band from Indiana, remember they're quite heterogeneous thus you have releases where they've heavy guitars revealing Justin Broadrick/Final reminiscences and other recordings you could easily file under dark ambient. "The third cinder" is probably one of their most ethereal work but there's no doubt from what I've heard it doesn't betray Robe's identity and offer a good way to be introduced to the sound of this band.
Experimental / Avantgarde / Weird & Wired / Glitch / Noise / Field Recording
Edit (4369)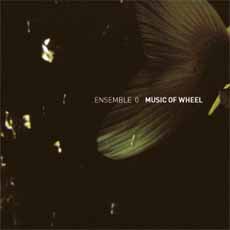 Artist:
ENSEMBLE 0
(@)
Title:
Music of wheel
Format:
CD
Rated:
I've just come back from the cinema and this' the second work I review where piano is central or at least primary for the evolution of the narrative plot, but at the same time it's not played like that of a soloist. I'm sure Ensemble 0 will crucify me for this first consideration I've written but for most of the tracks It do mke sense, this is contemporary music to the bone but differently from many others they haven't left emotions back home, so take for granted they're really suggestive beside being interesting or "simply" brain stroking. Piano, cello, glockenspiel, toys a little bit of trombone and the guitar of Sylvain Chauveau (shame on me since this' the only musician I already knew) which rears its silent accent to make you feel its ethereal presence that's probably what you're gonna perceive if what you expect is a "normal" guitar. The fifth element of the band is silence, but differently from many quartets jamming in the contemporary area, this french people follows a straight tempo line, be it hidden or manifest usually they move faster then most of the quartets playing this game, it makes the soup even more tasty. This consideration focused on their relation with tempo is interesting since I already liked the of most of these extemporary compositions but this in someway shows one o the most Interesting peculiarities of the quartet beside the fact you can discern the influence but they still have their personality. Funny, from the early seconds of the cd I was thinking it would have been a journey a la Bablicon meets Rachels, but in the blink of an eye they disincarnated the song living some elements to counterpoint the silence with a few chords. This last thing in general represent their modus operandi together with the fact in most of the compositions they parsimoniously leave no more than one or two instruments duel with pauses. Interesting and in some way really suggestive.


Experimental / Avantgarde / Weird & Wired / Glitch / Noise / Field Recording
Edit (4363)
image not
available
anymore
Artist:
HERMAN MUNTZING
Title:
DeConstruCt. 10 solo pieces
Format:
CD
Label:
Creative Sources
(@)
Rated:
Nice exhibit of solo performance for this experimental musician playing a Flexichord a sampler and some objects. A Flexichord is a string instrument Muntzing has built with the help of Martin Kohn, it looks like a weird mixture of a zither and a guzheng, this swedish musician plugs, strikes, scratches the strings with a incredible number of objects remembering the approach of Fred Frith to go beyond traditional guitar playing. "DeConstruCt" is an interesting effort and take for granted it has its moments, for example the opening and the closing tracks simply blew me away, I wish the cd had some more high pitched notes for the sound of the instrument and the taste of the player here get mixed "tres bien!". There are some additional samples to enrich the salad, a drum here, but Flexichord is the real and only protagonist of this work. One of the favorite trick in most of the pieces is to change note with the help of tremolo, improvised slides or who know what else, the electro-acoustic factor is really small and most of the times this music reminds of some minimal, gamelan-alike composition. No, we're quite far from serial composition but repetitions or loops have their importance or at least that's the impression I got. Funny how Muntzing likes to bang the chord to make it sound like some prepared piano emphasizing the percussive aspect of playing a string instrument. If you force me to do a mannerist classification I'd put together definitions like "abstract soundscapes counterpoised to melodic, minimalist tracks" where the voice of the harmony of the instruments becomes central. An interesting work, above all when he goes really close to some traditional way of playing harps.