Experimental / Avantgarde / Weird & Wired / Glitch / Noise / Field Recording
Edit (4384)
problems
with image
availability
Artist:
igOr
Title:
Solo View
Format:
CD
Label:
iii records
Distributor:
iiirecords.com
Rated:
This record was received in with a description clearly stating: "Attention: Avant Garde." While this is quite the tricky descriptor to use these days, I actually think it describes this disc in one true sense of the phrase (think pre-postmodernism). On it you will find a swath of instruments that convolve effectively on my new music friendly ears, and this is somewhat exciting; Hammond organ, drum machine, heavily manipulated electrical guitar (often soloing, twanging or looping on top), some 8 bit and overly tweaked electronics of unknown origin– and yet there is still some room for interpretation, live performing, a respectable guitaristic presence, and a mix that was articulated by way of an engineer with sensitive ears.

Guitar tone is finely tuned in. The standard musical devices are arriving consistently via left field, with some occasional reinforcement happening on the right wing. A heavily tapped/panned stereo image conveys something of a psychotropic, sonic projection towards the listener which makes for a nice, live, soundstage.

The average track weighs in at 6.5 minutes, and ironically – incorporates a very non-avant garde song writing formula. This is where I hope that igOr will start to focus his energies of his militia of tomorrow. Themes, variations, solo sections, micro-level panning, occasional chorus, guitar passages, etc did not exactly throw me for a loop –but at the same time the content inside these worlds is not always predictable.

I will cheers Mr. Igor credit for his occasionally defined, and unique musical voice. Can't say I've experienced an over-abundance in the way of this variety of non-sampled, electronic, guitaristic, spacious, 8 bit, a-rhythmic, white noisey, free-form guitar jazz, and I will say igOr does a good job of not shooting 'the shredder wad' in what has become a playing field defined by athleticism before musicality. Kudos to that my fellow guitarists! But my alter-ego is questioning the longevity of this record –not every record should be required to be held to this same rule, so I encourage the reader to define these avant garde sounds on his own.

When I adopt this approach to listening to this, I can say that some new and interesting rules and textures arise from this disc. So cheers to igOr and his battalion of sonic soldiers. And while I cannot speak for every reader and open minded listener on this review site – what I can say that for those of us who seek the innovation in every album-- this disc may very well provide some well-timed curveballs in an often comfy game of experimental tides.


Experimental / Avantgarde / Weird & Wired / Glitch / Noise / Field Recording
Edit (4383)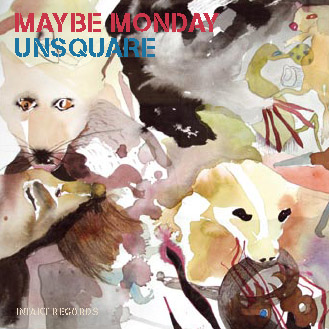 Artist:
Maybe Monday
(@)
Title:
Unsquare
Format:
CD
Label:
Intakt records
(@)
Rated:
In November of 2006 Larry Ochs' Maybe Monday improv group had a 3-night residency at Zorn's club The Stone in NYC and one of those three afternoons they all gathered in my recording studio to create "Unsquare". Larry Ochs on sopranino and tenor saxophones, Fred Frith on electric guitar and Miya Masaoka on 25 string koto and electronics joined for the occasion by special guests Gerry Hemingway on drums and percussions, Carla Kihlstedt on electric and acoustic violins, Ikue Mori on electronics and Zeena Parkins on electric harp and electronics. They all recorded live, together, over one hour of music, pretty much straight through, all first takes, no overdubs and more than a year later Swiss label Intakt released it for everyone's enjoyment. If you are familiar with the sounds of NYC's downtown music scene and the musical world revolving around Zorn, you should have an idea of what this might sound like. The interesting aspect of this record is the interaction between the three core members. Miya's oriental strings plucked lightly while Fred's guitar is making all kind of sounds, way beyond just plucked strings, and Larry's saxophones whaling in the background (or foreground). I think that the fact the three of them have been playing together for a while does indeed transpire in this recording, but the addition of the personalities and the sonic palettes of the special guests has taken this experience to a new level made of subtle complexities and new sounds, usually not part of Maybe Monday's sonic offering, which makes it all the more unique and worthy of a listen.
Experimental / Avantgarde / Weird & Wired / Glitch / Noise / Field Recording
Edit (4382)
Another AMAZING album from John Zorn.

I was tempted to leave the review at just that first sentence. But that might not be enough to pique everyone's interest. As it says on the album insert, The Dreamers is a follow-up of sorts to Zorn's The Gift. He employs most of the same brilliant musicians here, most noticeably Marc Ribot on guitar, Jamie Saft on keyboards, and Kenny Wolleson on vibes.

The Dreamers portrays a sense of, well, dreaming. Ribot's guitar and Saft's keyboard combine for lush textures and beautiful melodies. The compositions tend toward world music, jazz-fusion, and surf-rock, but don't fall neatly into any of these categories. Forcing these songs into genres isn't possible, but it gives you a sense of the feeling of the album. There is a complexity and subtlety in the arrangement of melody and harmony which pushes these songs beyond classification.

Fans of John Zorn's Electric Masada may recognize that this is the group performing The Dreamers. Along with Marc Ribot, Jamie Saft, and Kenny Wolleson, there is Trevor Dunn on bass, Joey Baron playing drums, and crowd favorite Cyro Baptista on persussion. Zorn himself joins in on alto sax.

Marc Urselli once again does an impeccable job of capturing the nuance of Zorn's detailed compositions and the performances of these exciting players. Scott Hull, as well, once again does a superb job of mastering so as to give this collection of vastly different songs and sounds a cohesive feeling and shine.

This album is a lot of fun to listen to. It's not an "easy" album per se, but it is a fun and rewarding listen.
Experimental / Avantgarde / Weird & Wired / Glitch / Noise / Field Recording
Edit (4381)
This is the best release of the year so far, and it'll be tough for anything to top it. (Though Zorn does have an upcoming release named The Dreamers, which just might do it.) This installment in the Filmworks series was composed for the animated film The Rain Horse, directed by Russian animator Dimitri Geller.

Zorn chose the trio of Erik Friedlander on cello, Rob Burger on piano, and Greg Cohen on bass. The trio is simply amazing. The way that they play off of each other is sublime. There's no other word for it really. At times they play complex runs around and through each other, but for the most part they leave room for one another to play astoundingly haunting melodies. Melody is the focus of the album. Zorn fans will know that this often not the case in his work. The melodies here are familiar somehow, but they're tough to place. Filmworks XIX: The Rain Horse has an Eastern European feel, as would be expected (after all, it was composed for a Russian film), but it's also got touches of Middle Eastern and Western influence.

What struck me most about the music is how emotional and romantic it is. As I said, the melodies are haunting, but they are also catchy. The songs have terrific pacing. Mind you, there is no percussion on the album. The piano, cello, and most obviously the bass create the tempo for these beautiful songs.

As amazing as the songs themselves is the story of the performing, recording, and mixing of the album. The musicians entered the studio in the morning and knocked out all 11 songs by 6pm. If that weren't enough, engineer Marc Urselli mixed the album in three hours. For an album of 11 songs of this caliber to be recorded and mixed in one day is a testament to the level of talent involved. The energy of the performances was captured perfectly - the sonics are great and none of the intensity is lost. Mastering engineer Scott Hull did an outstanding job. The sound is soft yet energetic.

The best album I've heard in a long time. I bow to thee Mr. Zorn and company.



Artist:
ZENI GEVA
Title:
Maximum Money Monster
Format:
CD
Label:
Cold Spring
(@)
Rated:
After years of unavailability, eighteen years since its original release on Pathological Records, here's surfacing MAXIMUM MONEY MONSTER by Zeni Geva. Merging free jazz, hardcore and repressed rage the Japanese trio open the album with a punch in the audience's face thanks to the sixteen minutes of "Slam king", a track based on a couple of chords that is able to hypnotize and devastate at the same time. "Blaze" and "Black out", instead, in less than two minutes are able to pick you up and make you do a roller coaster ride through hard rock psychedelia ("Blaze") and obsessive industrial core ("Black out"). Musically, is like listening to an extreme version of Black Flag on acid and by the way guitars are treated you can understand the reason why K.K. Null collaborated with Merzbow later. I saw Zeni Geva live twice at the times of "Desire for agony" and I assure you that their nihilism was throbbing and alive, on and off stage (the guitar player that time was so angry for some reason that he beat his head against a wall of the bathroom). Thanks to this new Cold Spring reissue you can check their live sound on the three bonus tracks: "War pig" and "Skullfuck" (coming from this album) plus "Dead car, sun crash".