Experimental / Avantgarde / Weird & Wired / Glitch / Noise / Field Recording
Edit (3881)
Melbourne soundmaker Eamon Sprod debuted with the album "Surfacedrift" on the Australian label Naturestrip in 2005, and this second full-length quickly establishes him as one of the best field recording-based composers around. Tarab, adopting as a monicker an Arabic word for the "ecstatic surrender one can experience when listening to music", is allegedly interested in the falling apart of modern world, through the sonic exploration of its junk and debris; however, his flowing and emotional soundscapes seem to find a new sense of beauty, rather than depicting a miserable sight. Sprod weaves microscopic close-ups of wind, water, glass, earth and whatever contributes to a rich texture, and skilfully alternates moments of serene contemplation with bursts of turmoil, as in the storm of "Away" which closes the album. Tarab is surely working along well-established lines, and I'm not the first to mention Tsunoda, La Casa, Toy Bizarre or Watson as possible references; but this rather inevitable element doesn't detract from the absolute excellence of the listening experience.
Experimental / Avantgarde / Weird & Wired / Glitch / Noise / Field Recording
Edit (3873)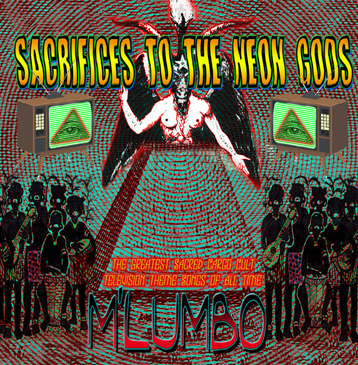 Artist:
M'lumbo
(@)
Title:
Sacrifices to the Neon Gods
Format:
CD
Label:
Mulatta records
Distributor:
City Hall records
Rated:
If you are in the mood for some crazy-ass music, then M'Lumbo is the band to turn to. This six piece NY based collective of musicians (who travels with two filmmakers and a sound guy) is renown for playing some of the most "out there" music out there, and they keep doing so since the late 80es.
Exotic, psychedelic, post-modern, avantgarde, esoteric, experimental and so on and so forth are all adjectives that only do half justice to the orgy of sound, visions and moods that M'Lumbo stirs up with their records and their live performances (which needless to say, you should try to make whenever they happen).

"Sacrifices to the Neon God" is their 6th full length CD release (which follow three tapes in the earlier days) and is basically a live-performance-mash-up of TV/cinema themes (performed by the band, not triggered from a sample library) from every era, studio or network, captured on the stages of The Knitting Factory, St. Ann's Cathedral and a studio. M'Lumbo could potentially appeal to fans of John Zorn and half of the records he puts out on his label Tzadik, Negativland, Le Forbici di Manitu', Miles Davis' craziest works, Tom Waits and many many more... It's practically impossible to define M'Lumbo by virtue of comparison or to file them under one category or music. Their style is a combination of so many things and they do it encompassing everything from weird and unusual to pop culture, from plagiarism to improvisational, from free-form jazz to rock and funk, from world music to pop music and everything in between. I dare you to listen to them and find the definitive label.

Artist:
PURE H
Title:
Signia
Format:
CD
Label:
Pharmafabrik
(@)
Rated:
Active since early '90s, PureH gathers members who during the last 15 years played into many musical projects as Inertia, KSVLKSV, Xarq, etc. Their latest album has been released in 2005 and was titled "Anadonia" (reviewed on Chain D.L.K. by Andrea Ferraris). This new CD isn't properly PureH new album, it is a collection of remixes of "Signia", the track which opened that album. I'm always picky with remix albums and this one has both the good and the bad sides of an operation like this could have. First of all, unfortunately, only one track has been reworked and this is a limit to audience who don't live out of bread and dub. The good point is that the label (or the band) chose the top notch of genre's artists to remix that track. Eraldo Bernocchi (you should know him for his work with Sigillum S, Bill Laswell, etc), P.C.M., South African Chris Wood, KK Null, Dj Surgeon, Wodan, Richard Dunlap, Burp, Mo Shang and Psychedelic Desert expanded, liquefied, raped the original track turning it into an ambient, industrial, dub, guitar i.d.m., experimental electronica, jazzy ambient track. On some versions you could still recognize the original tune which surfaces from layers of sounds. My preferred ones are the opening Eraldo Bernocchi "Vision rising" version, P.C.M.'s "Blue waters turn black" and Richard Dunlap's "East lands silent".
Artist:
Tuner
Title:
Pole
Format:
CDS (CD Single)
Label:
Unsung Records
Distributor:
RYKO Distribution
Rated:
Tuner's second CD "Pole" (after their debut "Totem") is a fascinating and mysterious voyage through a complex mesh of sounds, both abrasive and silky, and as with all things original, the key lays in the friction and the blend of all elements, the synaesthesia of the experience and the sophistication (or, at times, simplicity) of the approach.
Tuner is a transatlantic collaboration involving Austin, TX-based Pat Mastellotto (King Crimson) and European (Germany/Austria) Markus Reuter (Centrozoon), and both of them make absolutely sure to bring their special and personal touch to the table. While Mastellotto plays drums and percussions and does some very interesting spoken word poetry, Reuter plays touch guitar, acoustic/electric guitar, bass, keys and vocals. The album also features a lot of guests (mostly singers, but also players of vibraphone, theremin, wind organ, violins etc) among whom the one with the most assignments was Austrian singer and label-mate SiRenee, who lent her beautiful, soft and fragile voice to half of Tuner's tunes.
Tuner is a band that makes originality their new language and challenges everyone who attempts to pigeonhole them with genre-delimiting definitions to come up with new words to describe a genre-bending and style-defying new sonic palette that goes beyond conceptualized barriers of pre-packaged music knowledge. I am going to gracefully decline that challenge and instead attempt to help you understand what Tuner is all about with names you might recognize (such as for example Tool, who are probably one of the most fitting and strongest influences here; not so much for their fierce sound but for their innovative, dark and arcane approach). For those who have not yet been initiated to the Tuner sound, try very hard to imagine a band that is NOT a metal band but that sounds like a mixture of Tool, My Dying Bride, Peter Gabriel, Hector Zazou, Porcupine Tree, Nine Inch Nals, Brian Eno, Me'shell Ndegeocello, David Sylvian... I know it's hard, but try, and if you fail, you can redeem yourself on their website or their myspace.com/tunertunes page, where you can also buy "Pole" (which by the way comes packaged in a beautiful out of the ordinary jewel case).
Experimental / Avantgarde / Weird & Wired / Glitch / Noise / Field Recording
Edit (3864)
image not
available
anymore
Artist:
Rothkamm
(@)
Title:
FB03 (E Pluribus Unum)
Format:
CD
Label:
Flux records
(@)
Rated:
NY-based German transplant Frank Holger has been long-active as an experimental music artist. His latest project was a trilogy of which FB3 is the final installment. I haven't heard chapters 1 and 3, but FB3 is basically a collage of found sounds, glitch electronics, concrete musique, rumbling drones and monophonic sine waves... It sounds as if there is a lot of granular synthesis and randomness involved and as if Rothkamm makes a conscious effort at flirting with ambient music without quite wanting to get there all the way, pulling himself back into the almost self-constrained yet total-freedom-enabling realm of avantgarde/experimental music. There is practically no commitment to melody or beats, though the sounds would well complement at least the latter, if they were place in a more IDM-type scenario, for example. If he didn't have his own label (Flux), I am sure he would have been a tasty bait for Staalplaat's recruiters.