Experimental / Avantgarde / Weird & Wired / Glitch / Noise / Field Recording
Edit (4526)
Artist:
Sparkle in Grey
(@)
Title:
A Quiet Place
Format:
CD
Label:
Disasters By Choice
(@)
Rated:
Matteo "Hue" Uggeri is a man of many talents. I first heard some tracks from his In A Voice project that sounded like it would be right at home on the Hyperium "Heavenly Voices" compilations or on Projekt records. Sparkle in Grey takes a different approach and I had to listen to this disc several times before figuring out just what to say about it. According to the label, "The six tracks on this debut album have started off as improvisations on an electronic base, and have later developed throughout live shows in Italy and abroad in squats, clubs, diners, music festivals in the woods and in a kindergarden." The improvisational aspect is certainly present and accounted for (and I would love to see them perform at a kindergarten show). I tend to think of projects in terms of who they remind me of and the only comparison that I could come up with was Nature and Organisation's "A Dozen Summers Against the World." I made my wife listen to it, who finds Nature and Organisation the only palatable offering from any of the World Serpent catalogue and she also thought that that A Quiet Place was quite nice. All of that to say that this album may be improvisational but it is still very accessible. The various tracks incorporate samples of spoken word, guitar, violin, and field recordings to create interesting soundscapes that at times fade into the background and surface in ways that are not too invasive. Let's look at some of the more interesting tracks more closely. I especially like the narrative at the beginning of "Limpronta" that notes, "My theory is that if you don't bring it with you (into the studio) you'll definitely need it." This track is a bit more free form with some noisy elements thrown in as punctuation until it gains more structure with guitar and violin creating an almost mournful melody. "Goose Game" begins as a study in repetition but then settles into a nice groove with electric guitar dominating. This one kind of grew on me after a few listens. "Teacher Song" would be right at home as an interlude on one of Current 93's neo-folk albums like "Of Ruine or Some Blazing Starre." Overall, you get the sense that this would be a great band to see perform live. The cartoonish drawings (done by Hue) on the cover and liner notes demonstrate that this is not an in-your-face kind of experimental album. Overall, the feeling is quite calm and restrained. If you're looking for improvisation that seems almost peaceful, this is very well done. This disc weighs in at 46 minutes.

Experimental / Avantgarde / Weird & Wired / Glitch / Noise / Field Recording
Edit (4524)
image not
available
anymore
Artist:
Gianni Mimmo, Xabier Iriondo
(@)
Title:
Your Very Eyes
Format:
CD
Label:
Wallace
(@)
Rated:
Presented as a a journey with an overt sacred/religious approach "Your very eyes", as you can guess, here and there won't betray your "transcendental music" expectations and will creepy inside your agnostic little hearts, but on the other side I also think "religious" would be misleading definition cause the global work in my opinion goes really well with "documentaristic". I think the strong personality of Gianni Mimmo has had an heavy weight in the sound characterization of the duo, that's why even if they're considerably far one from the other I believe there's a continuum between the Kursk sonorization this saxophonist did with Contini and this work with experimentalist Iriondo, at last it would be a logical step considering Iriondo at the time of the sonorization had been directly involved in the work as a sound engineer. You don't have to consider it as the extension of a solo work, it just shows a light and well pondered intervention of the Italo-basque guitarist here mainly involved with singular chord instrument and as sound engineer, his incursions most of the times are non intrusive, but somewhere else he's able to pierce the audio space firmly. Thought they've been recording in an old church and the sound is really influenced by the audio refraction caused by that particular kind of stone with which the church has been built, don't think of it has that horrible "hangar like" feel, the sound ambience is clearly defined and you can distinguish easily everything without drowning in reverb. In some episodes the atmosphere gets really intense, somewhere else the musicians "resigned" to something really melodic and I'm sure it will have a great appeal for a "jazz/classic" crowd of listeners since without falling into cheap solutions it brings some traditional music in the backpack and it's damn easily digestible, which is never to be taken for granted from a recording like that. Sorry for being boring but more than filmic I'd put the emphasis on "documentaristic music", you know it's different for in documentaries most of the times the soundtrack has more of a continuum and is more central for the story plot, it reminded me so much of those old documentaries based on road trips on the life in some deserted, ancient areas, "music for discovery channel" or in the likes? Maybe and that's ok for me.
Artist:
vv.aa.
(@)
Title:
DTrash Records 2007 New Releases Mix
Format:
CD
Label:
DTrash Records
(@)
Rated:
DTrash Records is a Canadian based label formed in 1998. The label's mission is to create an international network of extreme electronic music. This compilation is meant to represent the label's releases in 2007. This compilation is a single track composed of 10 artists and 18 songs. Most of the artists on this compilation are represented twice.

First, let me say that a single-track compilation is both a blessing and a curse. The blessing is that I was forced to listen to every second of this compilation, and was not allowed to make snap judgments. The curse is that I cannot easily return to the tracks I enjoyed.

Second, the music: Since this compilation is various artists in a single track, I will write all of my impressions in a single sentence. The music represented by this release is akin to Atari teenage riot meets mochipet with hints of mindless self indulgence and the riot grrl movement, and major digital hardcore and gabber influences. This release is, much like the label's mission, extreme electronics. The highlights for me were the works of Hansel, Babylon Disco, Heartworm, Mind Disruption, 64 Revolt, and Contra. Honestly, I enjoyed almost everything I heard.

DTrash Records' 2007 New Releases Mix is a very aggressive mix of heavy electro-percussive sounds and angry post-punk vocals. The compilation kept me on my toes for the entire hour it played. If this release is any indication of the quality output from DTrash Records, I would sincerely recommend anyone with an interest in progressive electronics to check this label out.
Artist:
CHOP SHOP
Title:
Oxide
Format:
CD
Label:
23five
Rated:
Though active since 1987, US noisemaker Scott Konzelmann is not really one of the most prolific artists around, so this "Oxide" cd was hailed as a sort of event. If you're familiar with past Chop Shop releases, not much has changed - crude sections of feedback noise/drones aired through modified loudspeakers, here battling with the defects of damaged tapes (expect some extra hiss and abrupt overlapping). It's grey, raw static music, whose gritty textures tend to acquire a sort of atmospheric feel. If you can imagine a more physical and unrefined version of López's "ambient" untitled works, you'll get close to the listening experience of "Oxide". On the other hand, it comes as no surprise that these static sound masses have been mentioned as a fundamental influence by the master of today's wall-noise, Richard Ramirez/Werewolf Jerusalem. Killer packaging with embossed cardboard jacket and an excellent layout throughout.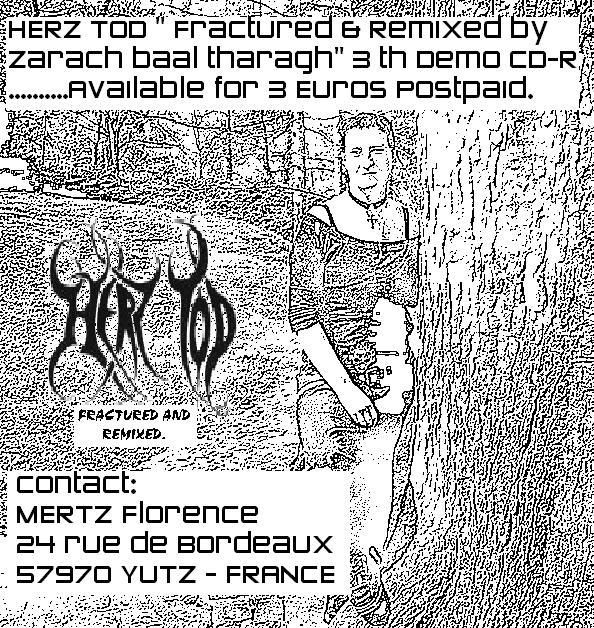 Artist:
Herz Tod
Title:
Fractured and Remixed
Format:
CD
Label:
Smell the Stench
(@)
Rated:
This is a review of Herz Tod's Demo III, which was Fractured and Remixed by Zarach Baal Tharagh (ZBT). ZBT is also known for his project, Stigma Diabolicum. This is Herz Tod's third release under Smell the Stench Records, and ZBT's eleventh--this is also ZBT's second Fractured and Remixed release. Both of these artists hail from Lorraine, France. There are seventeen tracks on this release, most of which are a minute long.

The sounds of Fractured and Remixed are both warped and crispa difficult polarity to establish. There is just enough ambience, and just enough activity, to cause the listener queasiness--much like floating down a calm river and having a nightmare of drowning at the same time. I originally chose this release for review because it was listed as "ambient." This is ambient, but it is ambient that demands attention.

ZBT's Fractured and Remixed version of Herz Tod's Demo III is ambient music for people with Attention Deficit Hyperactive Disorder (ADHD). As often seen in people with ADHD, the content is always interesting and keeps the listeners on their toes, but the tracks also end abruptlywith the listener still on their toes. These tracks are definitely fractured, but not enough to detract from the quality or dynamic of the sound.