Experimental / Avantgarde / Weird & Wired / Glitch / Noise / Field Recording
Edit (4558)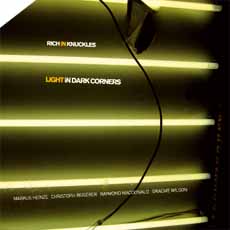 Artist:
HEINZE, REISERER, MACDONALD, WILSON
(@)
Title:
Light in dark corners
Format:
CD
Label:
CREATIVE SOURCES
(@)
Rated:
Electroacoustic music? No way!...what we've here is a saxophone quartet like mighty Rova or like World Saxophone Quartet (and like any other quartet with "Saxophone in the moniker, of course!), even if they're creating a blend quite different to the one of the aforementioned band. Thought the nature is really different from Rova and World, there's a radical jazzy feel in the way the team players cooperate and let's say that I've also found some similarities with Peter Brotzmann or Evan Parker, but I'm conscious it's like comparing a guitar player to Hendrix so please forgive me for this bullshit. Being a saxophone quartet this or that influence get mixed in a sort of knife fight, they're not even loud like mighty Brotzmann and are lacking of that obsessivity sometimes is peculiar of Parker, I just mean this circular playing sometimes is involved in a brawl with some other merciless intervention or with something really different. These musicians have worked synergeticly during the whole session and the result is really enjoyable, above all if you're into jazz-improvisiers trying to leave "free" back home and striving to go beyond their personal background, but at the same time these saxophonists are not afraid to play a full "phrase" that's something you don't have to take always for granted. That's the point, the majority of the record is played with conviction and not "half chocked/suffocated" or "cut" like many improvisers of today that in this way pretend to be radical or intense while they're just following another standard...a more radical one, but still a dogma remains. This release has its moments, in general a good work.
Experimental / Avantgarde / Weird & Wired / Glitch / Noise / Field Recording
Edit (4557)
Artist:
BRENDON MURRAY
(@)
Title:
Commonwealth
Format:
CD
Label:
23five
Rated:
This' an interesting label, I've been tasting a couple of their releases and I find they've an exciting roster above all if you're into experimental music if names like Francisco Lopez, John Duncan or Tetsuo Furudate still mean a thing, well you don't need any other comment. This release is quite warm and with that I mean releases like "Commonwealth" are in some ways severe but humane, not just for the most of the sound sources/instruments used, I think it has to do much more with the audio essence of the music. Basically this cd consists of a forty-nine minutes suite evolved around something that sounds like an organ drone which reminded me much more of some La Monte Young than of Xenakis but yes it also brings somehow very close to some compositions of Elian Radigue as you can read in the press sheet accompanying this release. I know many would be tented to compare the sound source to some Pauline Oliveros and I don't think that would be completely wrong, but believe me, for the first twenty minutes it's really monolithic and it takes time before it starts softening changing note and giving the ambience a more relaxed atmosphere, but don't worry this softening will leave the "non-indulgent" nature of the record untouched. Thought I don't think this work has been exactly meant to be a dark ambient suite, it goes from massive to crepuscular, infact if during the first half the drone is brawny with the first part of the final decreasing the music becomes really obscure while also inexpressive while approaching the end. "Commonwealth" by some means is a classic work you if you're into "single drone oriented" release that's for you.
Experimental / Avantgarde / Weird & Wired / Glitch / Noise / Field Recording
Edit (4553)
image not
available
anymore
Artist:
RICARDO ARIAS, MIGUEL FRASCONI, KEIKO UENISCHI
(@)
Title:
Object
Format:
CD
Label:
eh?
(@)
Rated:
Object: the name says a lot above all if you go to the back of the packaging and give a look to the instruments adopted for this recording, by the way if you don't trust me just give a try to the sound as sentenced by Prevost: "No sound is innocent!". Arias, Frasconi and Uenishi play laptop, glass objects and bass balloon kit and their effort ends sounding not so far from many good electro-acoustical releases. Just one track for the sake of live performance, in this way they've not betrayed the original spirit of this live show, this long suite has it's moments and stylistically offers a concert clearly divided in different sections thus don't expect it to be a typical freaky, post-psychedelic linear continuum. In some way this also reminder the sound of Alessandro Buzzi, just less "jazzy" and not Prevost-influenced but if you're into played objects and you appreciate him you will like them and vice versa. Well proportioned and really elegant, "Objects" becomes really interesting above all when drift ashore from dogmatic electro-acoustic music and embraces a more avant-garde contemporary scenario, while playing some glasses (or sort of) and that bass-balloon kit Frasconi and Aria have the luck to find some natural intersections in their communication, there the soloist is supported by his mates in a really discrete manner. Every voice is easily distinguishable, every movement is well developed till it reaches its natural declining and that's good, sometimes you'd really like them to free them from the bondages of gradual ups and down or to quite their natural "shelter" to look for a more violent/sudden change, but there's no doubt the improvisative edifice is well built on a solid framework.
Experimental / Avantgarde / Weird & Wired / Glitch / Noise / Field Recording
Edit (4551)
problems
with image
availability
Artist:
william c. harrington
(@)
Title:
noise noise
Format:
CD
Label:
urban electronic music
(@)
Distributor:
www.urbanelectronicmusic.com
Rated:
william c. harrington
Noise noise.

This disc is an adventurous journey back to a previous era of electronic musical thought, and this is a good thing. That being said, it provides some unexpected turns, some unpredictable and large gestures, with a variety of whimsical, electronic storytelling art.

As his bio denotes, Harrington has worked in the record industry for years, where he quote "amassed a sizable collection of electonic(sp) and avante-garde(sp) recordings before going on tour."

Fans of Tod Dockstader may rejoice early on, as track # 2 "KL" is right up that alley. A surprising selection for a second track on an album, this piece deserves its rightful place in the electroacoustic concert hall, perhaps on the same musical happening as a Zappa or early pastiche tape piece. Track #3, "Arps" is another inside job that starts abruptly but finds its rightful place in the listener's ear somewhat early on.

Track #5 is my choice pick. "Blast" is something of a schizophrenic unveiling of the artists inner mind. My vote, should the composer be reading this, is that this should have been track one. A bold comment but nevertheless one that is sincere, it's nice use of timbre- and while not easily ingested, Harrington is quite comfy doing his thing. He is very much at ease in his own skin. I would love to hear more of this type of material as in this writers opinion, it is his compositional wheelhouse.

Track #6 is my 2nd favorite, (perhaps eclipsing my initial response) as the most timbrally complex of the album. Never to be underestimated, Harrington does a nice job of ramping up to the closing track as as 'Wisp o' the Will' demands that the listener take a seat for the finale.
"noise noise'", the closing & title track, sneaks up - casting the listener down into the best seat of the house. Then the composer turns on the spotlights...Twice. Harrington delivers his final message in the form of a sonic onslaught but thanks to the lead in, it comes as a necessary relief.
This album is not for the average listener or newcomer, which is what draws me to it. While not definitive or groundbreaking, music lovers of outer perimeter listening will rejoice. --mv






NWODTLEM is a Toronto based project run by the co-founder of Here's my Card Records. Pir8 is a DVD collection of eight music videos filled with chopped, spliced, and sampled break-core insanity. The audio-insanity is formatted in such a way that it nearly sounds randomized. The music is brimming with movie samples, which range from absurd voice clips to absurd sound effects. The video samples and audio tracks are perfectly timed and synched.

My first impression while watching PiR8 is that it is very distracting (in a good way). Even if I wanted to ignore this video, I could not. From the moment I pressed play to the moment the disc corrupted (at the beginning of the third video) my attention was stuck to the screen. This guy obviously has a highly technical mind, and a slightly warped personality. I don't know how long it would take to create something this involved, and I honestly don't want to know.

NWODTLEM's PiR8 is a DVD I could have seen myself playing very often. This is a fun and enjoyable audio/visual experience, and I hate that my copy will only play two tracks. Honestly, I feel like I am writing a eulogy, not a review. Here lies a great DVD with a lot of potential. One that I will play on occasion for the two greatly edited videosand then will turn off in dismay when the disk becomes unplayable. I would sincerely be interested to see more output by NWODTLEM, and I think the risk here is worth the reward. I highly suggest picking up a copy of this DVD.