Experimental / Avantgarde / Weird & Wired / Glitch / Noise / Field Recording
Edit (4568)
Artist:
Glinkowski Slaton Sparacino
Title:
Trio slicnaton
Format:
CD
Label:
New Music Solutions
(@)
Distributor:
CD Baby
Rated:
A while back, I reviewed the first CD from this artist collective, Mahlon Hoard "Slicnaton", which I described as "Ornette Coleman meets John Cage and Brian Eno in a dark alley". Apparently they liked my take on the first CD enough to send the second one for review. After repeated listenings, I'm glad they did. While the first CD, sounded like a collection of loose, disparate (albeit interesting) improvs, "Trio slicnaton" is a much more cohesive effort. It is also quite a bit darker.

The electo-acoustic ensemble for this outing consists of Mietek Glinkowski (Violin & Vitar), Nicholas Slaton (Electronics & Basses), and Julian Sparacino (Flute, Bass Clarinet & Piano). They also get a little help from Jon-Marc Ryan Dale (Drum Set) and Andrew Munger (Percussion). The tracks were culled largely from live improvisations in early 2008, both in performance venues and recording studio. Owing to the unity of the core ensemble, it becomes clear that there is a certain synergy between the members that elevates the results of the improvisation to a realm beyond just interesting sonic experiments.

From the onset of the first track, "All in Time", an ominous atmosphere sets the tone for what's to come with a low windy drone as the backdrop for slow bass clarinet motifs and some deeper echoey industrial elements. Think Lustmord backing Mick Karn and Massimo Munari. It's a great way to start an album.

The next couple of tracks, "Still Still" and "Storch" are closer to classical avant-garde with good spatial relation between the sonics and the silence. Low drones of various types are used to good effect while violin and bass clarinet play dirge-like melodies. In "Storch" it sounds like some type of rapidly picked stringed instrument can occasionally be heard under the dense cloud of low rumbling noise adding to the tension. Storm clouds clear on "From Scratch" and pentatonic flute arpeggios flirt with a slippery, slithery violin giving the piece an oriental zen-like quality. Brief but welcome.

"Blown out" owes more to free jazz improvisation but put in a Stockhausen setting. What I really like about Trio Slicnaton over avant-gardists like say, John Zorn is that the improvisation doesn't get in the way of the ambience, it's never "in your face". Yes, there are certainly weird tonalities aplenty, and it isn't all smooth sailing, but there is nothing untoward that clashes with the feel of the mood they're creating. And this is mostly a pretty dark mood. The cinematic nature of these sound sculptures would easily lend itself as an excellent soundtrack to an edgy experimental film. At times mysterious, at others, oppressive, the instrumentalists combine to form a pastiche of diabolic import, yet place necessary rays of light to keep it from being one long continuous nightmare. "Nightlife" is such a piece, with flutes and emulation of nature sounds that lend an aura of calm and tranquility. My only regret is that the CD isn't longer; at a little under 39 minutes it seems too brief a listening experience, and probably should be labeled an EP rather than a full CD. Still, 38+ minutes of great music outweighs 75 minutes of just good music anytime. I'd rather be left wanting more, than just wanting something different.

This is a STRONG BUY recommendation of you like avant-garde/dark ambient. There is a big difference between the kind of experimental noise some "artists" inflict on listeners, and well-crafted compositions that take the best elements of their influences and synthesize them into something truly brilliant. Trio Slicnaton is such a remarkable recording. You can find it at CD Baby.

Experimental / Avantgarde / Weird & Wired / Glitch / Noise / Field Recording
Edit (4566)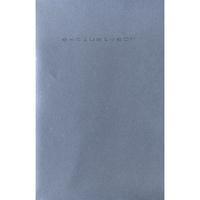 Artist:
ExclusiveOr
Title:
ExclusiveOr (s/t)
Format:
CD
Label:
Quiet Design Records
Distributor:
Quiet Design, CDBaby
Rated:
If you have long felt the absence of vintage synth noise improv in your mp3 collection, the self-titled debut effort from NYC-based duo exclusiveOr can finally fill your specialized needs. Combining all manners of clicks, pops, rumbles, and pure, loveable sine tones, Jeff Snyder and Sam Pluta have created a 50-minute alien sound world that, in its best moments, captures their flesh-and-blood vitality behind the controls. Consider the trajectory of the first half of the album. Each successive track, played without pause, simultaneously builds and disintegrates into the next, before emerging into the unexpected icy beauty contained within 01110010 (colloquially known as "Track 5"). With crystalline harmonies juxtaposed against implosive bursts, its nebulous emotionality stands as the high point of the album.

If a release like this could ever chart, Track 7 would be the lead single. As far as nerdy synthesized noise goes, it rocks hard. If there's one disappointment, however, it's in the ninth and last piece; especially after the controlled insanity of the two tracks before it, no. 9 sounds a bit too much like an equipment test, exhibiting neither the gifted on-the-fly structuring nor creative interplay showcased by the duo everywhere else on the album.

That aside, Pluta and Snyder have crafted an impressive testament to the virtues of electronic sound. Even though their material is created from the emblematic sounds of a 1966 Buchla and 1977 Serge synth, the end result is anything but anachronistic. The detritus of every decades-old circuit lies at the base of the music, and it's captured at a low-dynamic clarity that allows it to be absolutely integral to mood and texture of the album. Listen closely. -Trevor Hunter/mv



Experimental / Avantgarde / Weird & Wired / Glitch / Noise / Field Recording
Edit (4563)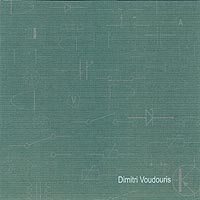 Artist:
DIMITRI VOUDOURIS
(@)
Title:
NPFAI.1/PALMOS/NPFAI.3/PRAXIS
Format:
CD
Label:
Pogus
(@)
Rated:
Another great work on Pogus, this time it's Dimitri Voudouris' turn, he's a composer hailing from Greece and this collection features four pieces of his music composed between 2002 and 2004. Even if that's to be taken with a grain of salt the sound of this release in someways joins Un Caddie and Chris Brown But let's see exactly what I mean speaking about the singular tracks. NPFAI.1 takes some traditional African instruments like kalimbas is decomposed with the use of computer assisted processing that despite the work of layering you may notice and of which he speaks in the line notes of the booklet you're not gonna have a wall of sound but a thin, silent work instead. In NPFAI.3 (which stands for New Possibilities For African Instruments) the central instrument in the process is the marimba: a prepared marimba and he reported also how he has changed the pitch of the instruments and why. While the atmosphere is not that far from the opening track, this one I less silent and deals much more with tradition in someway maybe just for the fact Voudouris intentionally reinterpret it immerging himself into a sort of Jungian search of archetypes. In describing Palmos the composer speaks about the discovery of a sound environment that is alien and familiar at the same time and it makes sense above all if you reflect on the fact he's the same person that mentioned Jung. Who better than Current 93, but above all Nurse With Wound, vivified Jungian conceptions in music? Well, imagine this Greek composer as the academic and more abstract answer to that anarchic abstraction and keep in mind the use of African instruments bring the sound back to the origin of our culture. In Polmos we floeat in that nowhere-land where past and present get mixed up in a chaotic limbo, but in this work everything is not magmatic and quasi industrial, weird to write it but it's true, but c'mon! that's the real point, sacred and profane sometimes can be so fucking close. According to what I've read this composer: "bases his technical and theoretical compositional approach in research of cognitive psycho-acoustic behavioral patterns in humans and the behavior of sound in relationship to continued environmental changes. His socio-cultural interests have led him to research the survival of music in the 21st century and the impact that media and technology have on the composer." It all makes it even more interesting, but the fact alone this came out on Pogus it's enough to think ckassify it as "intriguing".

Experimental / Avantgarde / Weird & Wired / Glitch / Noise / Field Recording
Edit (4561)
Artist:
Ryoji Ikeda
(@)
Title:
Test Pattern
Format:
CD
Label:
Raster-Noton
(@)
Distributor:
Raster-Noton
Rated:
"Test Pattern" is the second audio release for Ikeda's "Datamatics" project, following 2005's "Dataplex" and 2004's video project called "C4I". Basically, all the sounds on those works are obtained by converting pure datas into a binary system, whether they'd be texts, photos, sounds or video files. It's a rare opportunity to listen to a pure data flow, and surprisingly the patterns throws in superbly knotty sound networks that he sometimes repeats to create a sort of rhythm. You must listen to "Test Pattern" as a whole and not by single tracks and you'll be blown away. In this one Ikeda uses such high frequencies and the sound bits are moving so fast that it's almost impossible to compress this album into mp3 without losing quality. As the title says it can be used as a test cd for audio equipments (I personally know people that used "Dataplex" as a test cd for discos and venues) and a sticker on the cd says that the last track can damage your equipment... so listen at your own risk! I don't want to spoil anything, but I saw him performing "C4I" twice in the past years (and many parts of "Test Pattern" are used in it), and I strongly hope that his next release will be a dvd of this jaw-dropping work. Highly recommended for Raster Noton maniacs, noise freaks and almost everyone into every different kind of electronic music.
Experimental / Avantgarde / Weird & Wired / Glitch / Noise / Field Recording
Edit (4559)
image not
available
anymore
Artist:
CONTRASTATE
(@)
Title:
A Live Coal Under The Ashes
Format:
CD
Label:
Tesco Organisation
(@)
Rated:
Active from 1987 to 2000, the English band Contrastate originally released their third album A LIVE COAL UNDER THE ASHES for Tesco in 1992. The first edition had the CD positioned at the center of a transparent vinyl one-sided album which had two live tracks. This new edition of that album has the five tracks of the CD plus an unreleased one coming from the same period and titled "Death follows the one eyed cow". Turned from a duo into a trio with these recordings thanks to Stephen Pomeroy joining in, Contrastate made an album inspired by the political changes of the Eastern and Central Europe area during the falling '80s. The tracks of the album shows a band who is able to create tense ambience patterns which paint rich ambient experimental landscapes where the alternations of different moods is one of their characteristic. Passing from tribal atmospheres with spoken word parts to cinematic ambient solutions, but without a massive use of synth pads, Contrastate convince thanks to the genuineness of their sound and I'm sure you'll be pleased to re-discover this release...