Experimental / Avantgarde / Weird & Wired / Glitch / Noise / Field Recording
Edit (4316)
Artist:
KIMMIG, SCHILLER
(@)
Title:
regen
Format:
CD
Label:
Creative Sources
(@)
Rated:
Somewhere else in a different context, somebody was speaking about the "voice of the voiceless", well here It Is, a vivid example of this voice. Kimmig (violin) and Schiller (spinet) are fully immersed in the electro-acoustic thing which is the best quality and also a small limit of this release. It start very silently and later on it opens to what I really meant with the "voice of the voiceless" sentence, as you can hear the musicians let the wood of their instruments speak. It doesn't imply the don't strike/bow strings since they do it, but above all in some parts of the release they prevent strings and anything else to sound as we're used to hear it. The two players here give priority to scratching their instruments, there they play some really fast incursion (above all Kimmig), they inentionally start to engulf to avoid falling in what they probably consider a predictable solution. Not exactly crippled, what you may fin in this music goes from a short stab to an intangible presence where they are incredibly retained, anyhow, it's also true that after the first half of the time length, play something that sounds really classic contemporary music, it has to do with the solutions adopted by the players during their many intersections. As said this cd is on the edge between free-improvisation and and contemporary composition If that's your cup of tea you'll drink it easily.



Experimental / Avantgarde / Weird & Wired / Glitch / Noise / Field Recording
Edit (4315)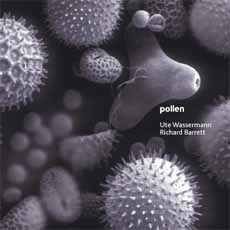 Artist:
BARRETT, WASSEMANN
(@)
Title:
pollen
Format:
CD
Label:
Creative Sources
(@)
Rated:
Interesting duo of voice (Wassermann) and electronics (Barrett), from the Creative Sources legion. The fact the voice is really central in most of the drafts drives the whole music into a specific direction, it's quite funny how they work on it outlining every track around it. The style of Wassemann is apparently close to that of his label mate Jean-Michael van Shouwburg but a thoughtful ear will immediately notice this one is less throaty/baritonal and above all their improvisational approach is really different. This' not exactly electro-acoustic music, the sound matter here is to be located in the improvisational/experimental area, above all when it involved some enlightened vocalists of the seventies or some present sound artist like Cristophe Migone. Just less ambient and above all less oriented toward sound-art. As you should have already understood by what we said so far, if you were thinking to Meredith Monk, Cathy Barbarian or that style of vocalization just forget it, for while as I've said the sound of the voice has a primary function, the use of electronics in this case is mimetic, sure, but at the same time is really important. Abstraction and improvisation play a big role in the composition of these tracks, some short sound rides, fast and slow vocalizations face some similar non intrusive intervention of the laptop, it's really hard to detect who's doing what. The final result as I've said at the beginning of the review is interesting.




image not
available
anymore
Artist:
Dahlia's Tear
(@)
Title:
Under Seven Skies
Format:
CD
Label:
Thonar Records
(@)
Distributor:
Mono Culture
Rated:
The title of the third album for this Swedish Dark Ambient act seems to be program, because 7 tracks are featured on here. DAHLIA'S TEAR offer a new album full of static, down-tempo and experimental layers, long stretched guitar riffs even accomplishing the ominous sounding mood. The music itself can be called epic, because the layers vary a lot but always with a filling attitude. A soundtrack and filmic-like sound outfit with some brilliant inserted ideas, but also quite demanding to the listener. Rhythmic elements are rather subtle featured here, the music rather convinces through its breeding mood. But just if you think that the music builds wall of sound without any real target, you'll recognize here and there that sort of a repetitive theme, a kind of a refrain, which definitely polishes the whole tracks. DAHLIA'S TEAR have definitely created a very own and authentic sounding kind of work, which I definitely like to recommend to check out. But please make sure to invest a lot of time for this, because this album requires it. No cloud disturbs the being "Under Seven Skies".
Experimental / Avantgarde / Weird & Wired / Glitch / Noise / Field Recording
Edit (4308)
After sever listenings I can truly say I really love this release. For those who haven't associated the name yet: this Didkovsky is a member of Doctor Nerve even if this work for guitar and string quartet is situated somewhere else if compared to that band. The territory is somehow that where generally you're used to meet people like Fred Frith during some of his many contemporary trips but the compositional style plus the sound of Didkovsky are more noisy and I'd put in more severe. The music featured in this work has an high evocative impact and be it intentional or not the fact the cd opens with a sequence of notes really close to Morton Feldman's "triadic memories" (from "Crippled Symmetries") can give you an hint of the whole audio journey. The fact is that despite this similarity the music is considerably far from Feldman, just take the second track for solo electric guitar and computer: this music is more chaotic and noisy, it really reminded me of some old works by mighty Caspar Brotzmann when going less rock like in "Zulu time" where he teamed up with Page Hamilton. With the third episode the matter is more drone-oriented thought this guitarist's style slowly fuses with the string quartet, the magma is really well melted due to the fact every musician is using a talkbox thorough which they alter the sound of their instruments with the shape of their own mouths. The piece evolves gradually letting the string music come to surface, despite some really odd dissonances it reminds of some classic experimental composition by Maderna, Stockhausen or in the likes, the only difference is that the structure here is less fragmented and moves like a mantra from the outer space. "What sheep herd" offers something which probably would go really close to Giacinto Scelsi if he only would be still alive: it sounds like a monochord composition which owes so much to music coming from Asia. As you probably have guessed the final part of this work is more relaxed and silent and both the adjectives fits really well for the closing track where you have just the string quartet restrained and increasingly fading into silence. Didkovsky's music is deeply influenced by some of the best composers hailing from the sixties and seventies, if you are into some Frith consider the last track has been appositely composed for his guitar quartet, the two musicians are not too similar, but you'll probably find some interesting connections.


image not
available
anymore
Artist:
SNOLEOPARDEN
Title:
self-titled
Format:
CD
Label:
Rump
(@)
Rated:
Hey this month I happen to review a bunch of really bizzare projects/releases, this time it's the turn of this band coming from Danmark. It's basically soft, childish music with something strange, they use a lot of percussive melodic elements as marimbas and glockenspiels but don't be too quick to judge after just a track thinking this' probably near to Pylon or some other freaky band, sure it's freaky but what about the second folk sketch sung with the help o a bunch of little kids?!...they keep alternating these tracks reminding me Animal Collective meets Un caddie renversé dans l'herbe teaming up to write a bunch of unconventional melodic freaky folk tunes. The cocktail of tracks is quite unusual and sometimes I've had an hard time trying to give a sense to all the elements but it's really well done and it's also explicit the fact the result is really close to what they probably had in mind. Freaky jams, melodic childish music mixed with psychedelic pop elements and a good production that puts together really well things that otherwise would be really far one from the other. If I could had the chance I'd put them and Miss Massive Snowflake on the same tour bus and promote them as the most unconventional mix of post-folk, Beck, melodic elements and a disturbed childish psychology.