Experimental / Avantgarde / Weird & Wired / Glitch / Noise / Field Recording
Edit (4681)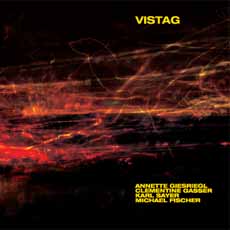 Artist:
GIESRIEGL, GASSER, SAYER, FISCHER
Title:
vist ag
Format:
CD
Label:
Creative Sources
(@)
Rated:
This cd too that opens with a misleading initial track, infact the first impression is that what we have here is the ordinary improvising group of the roster, but be patient for a couple of tracks and you'll find the situation changes and considerably since despite the same title for every track, this' a collection of impros and not a concept-work. When this band, consisting of Vienna improvising string trio plus Annette Giersiegel, crosses the electro-acoustic zone is good but is when they follow their natural propension for intense atmospheres that they go deeper and deeper reminding me some string works of bands such as like Civil War or Polwechsel. Iin these episodes where they surrender to introspection their music becomes inspired, the blend mixes some traditional and contemporary influences an here and there it also reminds of composer Toru Takemitsu, who anyway is much more sober but the Asiatic fascination is still there to stay. Despite the fact they've a violin they choose for many low registers, there's no soloist and when using the vocals they give you the impression it's a sort of Meredith Monk alike approach, but on this performance vocals have been drifted ashore by the current



Experimental / Avantgarde / Weird & Wired / Glitch / Noise / Field Recording
Edit (4680)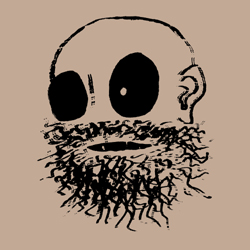 Artist:
GAMMA GOAT
Title:
Beard of Sound, Beard of Sand
Format:
CD
Label:
Eh?
(@)
Rated:
This probably one of the most weird releases on Eh?/Public Eyesore label, this band hailing from Lincoln is hardly comparable to this or that band, but in some way could be filed under: "lo-fi, strars and stripes answer to Japanese own early Boredoms". Wait a minute, we're talking about two really distant areas of the world and probably the bands themselves are really dissimilar for what concerns approach, impact, sound and many other things, but the level of freakiness is the same and above all consider also these U.S. guys share with Yamatsuka and friends that same taste for "apparently" demented vocals a la "back to primitivism!". Don't judge Gamma Goat too quickly since the tracks offer a big range of solutions and they also reminded me back in the days Skin Graft used to be such a safe place for weird combos like this...hey probably that's where Japan and Us meet! (I'm talking about the glorious Skin Graft catalogue). I think the majority of this material comes of from live takes, anyhow the lo-fi resolution fits really perfectly with most of the material, above all when they go for primordial industrial beats which could also revive the odd spirit of Blixa and friends when Einsturzende were deeply into drugs and into making a "hell ov a noise!!!. Sometimes they're bluesy but it's blues from the cave men (Mighty big boots), sometimes it's post-no wave, sometimes it's more experimental (killing ducks with nunchuk) but everything is done in a really naïve way so find your conclusions. A weird cd.


Artist:
Famine
(@)
Title:
Every Mirror Turns Black
Format:
CD
Label:
Bugs Crawling Out Of People
(@)
Distributor:
Ant-Zen
Rated:
What has started several years before with the promising Dark Electro act CRYOGENE offering a sound somewhere between X MARKS THE PEDWALK and DECODED FEEDBACK, went unfortunately completely down under before a first debut album for this act could see the light of the day. After some short musically interruptions with FRACTURED, the solo project FAMINE was born, but far away from the usual Electro/EBM formula. FAMINE creates a nervous sound outfit, which mixes Trip-Hop, Breakbeat, Clicks n' Dub, Noise or even some wild pounding Black/Death Metal styles to a special and unforeseeable cocktail. Especially those drastically and speedy Metal tunes with deep growling vocals are storming violent the scenario and quite unexpected ("Blood Sacrifice"). But also attacking IDM/D'n'B-inspired teutonic pieces like "Hands" don't take any prisoners. "Every Mirror Turns Black" fulfills the demand of an diverse and Experimental-oriented album, also and because it doesn't forget to offer enough Dark Ambient in between the adrenaline-pumping smashers. Not an album in the expected line, rather more a new experience. Now it comes to grow and develop a more matured sound – the talent is immense, as this album proves it well.
Artist:
Worms Of The Earth
Title:
The Angels Of Prostitution
Format:
CD
Label:
Bugs Crawling Out Of People
(@)
Distributor:
Ant-Zen
Rated:
Good work finally pays of and it warms my heart, that there's somebody out there, who gets rewarded with a deal to record a first debut album and to release it via the Canadian Experimental/Noise-label Bugs Crawling Out Of People. WORMS OF THE EARTH alias Dan Barrett works in multiple fields of the Electro/Industrial/Noise genres, be it with the issuing of an online magazine with the same name, or be it with the compiling of some download-able compilations, which can provide here and there some better known names. If somebody out there deserves a bit more attention and exposure, then Dan is the one for all of his efforts for and around the scene. This official debut album of WOTE offers a diverse mixture of styles, mostly and started with rhythmically Powernoise ("The Whore", "Famine Wears The Mask Of Prosperity"), but you'll get also some calmer, more Electro-minded works too ("Dew Falling Over The Garden"). Generally the music of WOTE isn't at all the new invention of the bulb, but this album comes out quite respectable. Several collaborations are presented on this album, too. We have at first a new word-core assault by the omnipresent Rock n' Roll Supergod IT-CLINGS, king of the Jews, with the typical title "Big Fucking Titties Or A Fuckable Mouth (Of The Succubus)". Some remix contributions mostly done on the track "Whore" turning some parts of this album near to the Harsh EBM/Hellectro genre, no wonder, if names like the new NoiTekk-act DYM, DEAD MANS HILL, EMBODI, VICIOUS ALLIANCE or TO MEGA THERION have laid their filthy hands on the WOTE originals. An interesting and generally convincing debut for sure, while WOTE can't bring up anything new to the genre. Please note that the first 50 copies of this album will be accomplished with a special bonus CD, which features 4 additional tracks, plus 5 remix contributions. Try to get it!


Artist:
Attacks The Darkness
(@)
Title:
I Am The Gatekeeper
Format:
Download Only (MP3 only)
Label:
self-released
Distributor:
iTunes, Napster, etc...
Rated:
This is a California-based Electronica/Experimental solo-project by David Inden, who releases under his moniker ATTACKS THE DARKNESS his first full-length album after his predecessor EP entitled "Six Times Seven". David's music isn't that sort of an easy-listening Electronica with a calm attitude, it rather integrates multiple fragments out of quite different music styles and it tends to mix this fragments in an at times obscure manner. It is definitely rhythmic oriented, but a quite unusual sonic experience which needs some more spins to find an assessable entrance for the listener. Electronica, Experimental, Ambient and/or Electro/Industrial styles can all be discovered here, but in a quite unusual style. Advantageous is the fact that David don't likes to explore a one-dimensional path of music, and as the info sheet to this album explains it wisely, "ATTACKS THE DARKNESS attempts to map the ever expanding soundscape that is on repeat in his (David's) brain." Therefore it is hard to name some favorites, but the gloomy Dark Ambient-tune with the delicious title "There Is A Body In My Freezer And I Don't Have Any Answers" gets a vote from me. Music for some open-minded Electronica music fans, in some parts compatible with some acts signed Tympanik Audio and/or Hymen. Available via several known online downloading retailers like iTunes, Amazon.com, Napster, etc...