Experimental / Avantgarde / Weird & Wired / Glitch / Noise / Field Recording
Edit (4968)
I had not heard of Worms of the Earth, the project of Dan Barrett. From the intro track, you can tell that this is not going to be a nice soothing disc. The screaming women of "The Angels of Prostitution" give way to a driving noisy repetitive beat in "The Whore." One entity that is thanked is "people I hate for inspiring me to write this album," so you kind of know where this is going. Much of this would be right at home with members of the DTrash roster. I have to admit that I was a bit relieved that it wasn't just another Whitehouse ripoff, with tracks like "Big Fucking Titties or a Fuckable Mouth (of the Succubus) [with it-clings]" (how's that for a radio friendly track title?), which is actually a groovy little track with some rather odd spoken word ranting by It-Clings. He finally seems to hit his stride with "I Watched Them Hang," which has a nice synth melody woven through the beats. "Untitled" strips it down and slows it down a bit while still retaining the intensity that permeates the disc up to this point. "Dew Falling Over the Garden" continues on that trajectory with a hissing distorted voice that you can't really understand. I was surprised at the sheer number of remixes on this album. We have tracks remixed by Dead Man's Hill, Embodi, Dym, To Mega Therion, and Vicious Alliance. Three of them are reinterpretations of "The Whore." For me, the best song on the album is "Under the Bodhi Tree," with a mix of spoken word about spirituality and an almost ethnic feel in the music. Overall, the music is well done and has a lot of intensity, but I have to admit that this one really didn't do it for me and I can't really nail down why. As they say, there's no accounting for taste. I think that part of it is the overall feel of the music, sort of in the way that I don't really enjoy some of Navicon Torture Technologies' stuff. That said, if you like NTT, you'll probably like this. This disc weighs in at about 66 minutes.

Experimental / Avantgarde / Weird & Wired / Glitch / Noise / Field Recording
Edit (4967)
Artist:
Ur (@)
Title:
Triadic Memories
Format:
CD
Label:
Afe Records
(@)
Rated:
I had not heard of this band, but according to the label's website, Ur is a collaboration between Italian artists Federico Esposito and Mauro Sciaccaluga. This is interesting experimental soundscapes. The tracks are simply titled Movement #1, Movement #2, and Movement #3. Let's look at each individually. Movement #1 is an interesting track, densely layered with looped spoken word samples, what sounds like an abused guitar, and a hell of a lot of feedback. Various elements come to the forefront, only to become submerged in the maelstrom once more. It slowly disintegrates at the end. Movement #2 is the shortest track at 7.28 minutes. This one trades harsh noise for dark ambient droning soundscapes. The usual comparisons to Lustmord apply. In some ways, it seems to function as a kind of intermission between the two longer, more involved movements. Movement #3 is the most varied of the three and at 20.52 is the longest of the tracks. The main problem with this track is that the intro gets a bit repetitive, with the same loop playing out over the first 10 minutes, despite the gradual inclusion of other elements in the track. It isn't until about 5 minutes in that it begins to get interesting and noisy. About halfway through it begins to revert to the drones of Movement #2 until it ends at 13 minutes in. It picks up again at 15.30, slowly fading in. I expected it to really unload like the first movement at this point, but it never does. Overall, this is an enjoyable disc. I would recommend it to people that like noisier dark ambient like Inade or Terra Sancta. This disc weighs in at 39 minutes and is limited to 133 copies in odd sized packaging.

Experimental / Avantgarde / Weird & Wired / Glitch / Noise / Field Recording
Edit (4965)
problems
with image
availability
Artist:
Körperwelten
(@)
Title:
Avatars of Rape and Rage
Format:
CD
Label:
Malignant Records
(@)
Rated:
The first thing that you are confronted with on this disc is the artwork by Jonathan Canady. I am not really a fan of the artwork, and if you have seen any of his Deathpile releases, you may have some idea of what you are in for. But then again, many may think that this is the best part of the packaging. Needless to say, don't leave this disc on the coffee table when you have your parents over. This disc is a collaboration between Nordvargr and Navicon Torture Technologies that took place from 2002-2008. According to their website, they took their name from the original German title of Gunther von Hagens' Body Worlds exhibition of human cadavers. Considering the artists involved, this disc is significantly more subdued than I expected, especially considering the title and the track names. Pulsing, buzzing oppressive soundscapes and vocals that lie just beneath the surface dominate this album. It's not quite noise, but not really dark ambient; rather, it appropriates the best elements of both. The sound keeps shifting ever so slightly to build tension and keep it interesting. Occasionally, there will be some semblance of beats and noise blasts to wake you up as the buzzing lulls you. This disc is considerably more engaging than the material that I have heard from either of these artists on their own – a rare example of synergy in collaboration where the sum of its parts is far greater than the components themselves. The album weighs in at about 39 minutes.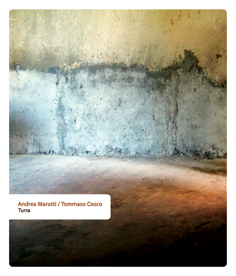 Artist:
Tommaso Cosco, Andrea Marutti
(@)
Title:
Turra
Format:
3" MiniCD
Label:
Afe
(@)
Rated:
Enchanting release here and it's a 3" mcd that ties the knot between Andrea Marutti (aka Amon/Never Known/Mortar/Afe head chief) and Tommaso Cosco that, yes is an absolute new comer as a musician, but every once in a while organizes a show in Archiaro, a beautiful natural place in the south of Italy. For what regards the aesthetic result of this long track I'll cut it short by saying the heavy hand of Marutti in the production stage is clearly detectable in a split second but be it I know a little bit of history of this recording, be it you can read it along with the inner lines of the artwork (written by Tommaso Cosco himself) you will convey with me some stories behind this or that release make them even more interesting. Being the natural extension of Marutti's "the Subliminal Relation Between Planets" that came out a while ago on Nextera, you probably may have deducted it's an ambient otherworldly effort but what gives more and more points to the work is how Cosco assembled his sounds for this collaboration. I can't say exactly what a "Turra" is but at this point (and from the picture) I imagine it's some kind of ancient house made of stones that farmers and shepherds probably used as a shelter/warehouse. Cosco did the most intelligent thing an untrained experimentator can do by leaving his instinct go boom and explode, this guy probably took confidence with the room, the natural reverb and with the microphones and he did it throwing in all of his intuition. After this bunch of instructions/informations on how the majority of the sounds have been produced, what I wrote so far could anticipate a variety of "music concrete, electro-acoustic/primitive" piece: no way! It's ambient, heavy ethereal and atmospheric ambient that voices the stones the walls have been made of.


image not
available
anymore
Artist:
Ethan Rose
(@)
Title:
oaks
Format:
CD
Label:
Baskaru
Rated:
Baskaru keeps on putting out some heartfelt classy post-ambient music like in the case of american artist Ethan Rose. This guy has several releases out on japanese Locust music-Headz label and yes, the aesthetic nature of his compositions by some means reflects this japanese electronic influence, above all if you think to those electronic ambient artist from Japan dealing with soft ethereal music with some soft digital sounds, I think this may help you to identify the global sound of this work. "Oaks" is really relaxing and luminous, from what I can read in the inner notes Rose has adopted as a primary source a bunch of sounds coming out from a 1926 Wurlitzer organ and then manipulated it all with computer and electronics, if I wouldn't have read it inside the notes I doubt I would have ever recognized the primary source of sound. The music definition is great and despite the analog source the global sound has a digital aura, but yet warm and self assuring. In tracks like "the floor released" this cd reaches a great atmosphere by tying the knot between soft high pitched melodies and a warm bass framework. As I've been repeating from the beginning of the review this cd can be easily filed under ambient-electronic music and is not one of those work where the artist looks desperately for a strange or extraordinary revolutionary solution, it's a simple (but not simplicistic) release where Ethan Rose has embroided some delicious, relaxing and easy listening solutions. The production is good and the majority of the melodies strike deep inside where you heart aches, if that's still a good reason to put out and buy a cd here is a warm embrace to celebrate the spring that's approaching.