image not
available
anymore
Artist:
FLUORESCENT GREY
(@)
Title:
Gaseous Opal Orbs
Format:
CD
Label:
Record Label Records
(@)
Rated:
This' the second release by Robert Martin aka Fluorescent Grey I review and it confirms all the good things I've been thinking at the time I've heard his previous work. This electronic musician joins some nice post-IDM reminiscences with some experimental-electronic attitude therefore it's easy to speak about some of the most cryptic, odd Afx, Autechre and maybe Lfo with less melody and with a dark electronic attitude. Let's say if this label is gonna have Mick Harris in their catalogue as I've read, I'm sure the taste of his forthcoming work for them won't go that far from some of the darkest moments of this cd (the first track for example). Fluorescent Grey kept his rhythmic skill and hasn't hidden his "acid" aftertaste, the fact is he's refined his working on abstract tracks and at the same time when surrendering to melody he's put some narcotic dub radiations. Martin has an odd sense for melodies which means the music is not that easy listening-electronics alike and here's where he probably in some way he's closer to Mick Harris "Logghi Barogghi"-era. Dissecting the track-list you'll find the music becomes more melodic when you're arriving to the end of the cd but the strangest things of all is a really melodic song that due to the flutes reminded me of that Marxmen anthem sung by Sinead O'Connors titled "Ship ahoy". I think Fluorescent Grey has improved his compositional process but hasn't changed his physiognomy therefore if you liked his first full-length your expectations won't be deluded. Good recording and well shaped production that crystallizes all the particulars of the music assembled by Bobby Martin, he probably has to work a bit on the atmosphere of the tracks but if you're into rhythmic electronics, post-drum and bass music take for granted this guy plays in the major league.
Experimental / Avantgarde / Weird & Wired / Glitch / Noise / Field Recording
Edit (4297)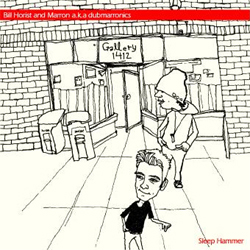 Artist:
BILL HORIST & MARRON
Title:
Sleep Hammer
Format:
CD
Label:
Public Eyesore
(@)
Rated:
This live recording is the result of the collaboration between experimental guitarist Bill Horist and japanese guitar deconstructionist Tanaka Yasuhiko aka Marron. I've already heard other materials featuring Horist and in general I find he always have his interesting personal touch both while working in solo and when collaborating with other musicians. Marron 's and Horist's guitar-loops/deconstructions gets along really well together and in most of the tracks and what's more even if probably most of the material is "ready made" and improvised, in many episodes it really sounds like the scrawl?? of a composition and that means they know really well were they're headed. Despite the fact guitar and loop-machines probably are the main sound source in most off the songs, the cd is homogenous but quite varied and well balanced. They range from psychedelic-guitar-layering to abstract electronic no-wave rides or to melodic ambient track that pays an heavy tribute to mighty Robert Fripp. Somewhere else where loops gets more cyclical I've caught myself thinking to some minimalist's composition above all to Reich when he used Metheny in one of his masterpieces, think of it just less controlled and more free style. Horist displays his many influences and what I appreciate most of this performance is the duo don't stop at the first easy solution but pushes forward trying many solution at the coast of going out of focus during the process. By the way I'm glad to say that thanks to God their inspiration resisted enough to paint many interesting episodes and thanks to a really good recording the result is here for your ears to listen. I imagine many of you may think this' just another post-Branca, post-Thurston Moore freaky series of melodies, as I've said the psychedelic, post krautesque element is included with the ticket but Horist is an interesting guitarist and in some way he reminds me of mighty James Plotkin when going sober (who?...Plotkin sober?!?!) and melodic, to this add the fact Tanaka Yasuhiko interventions are really calibrated above all if judged in the economy of the impro-structure. Sometimes you've some really melodic solutions, sometimes you've entropic crescendos and somewhere else you've some relaxed, soft ambient patchworks but what's more in most of the cases the tracks and in general the whole performance has heart. I repeat, the recording is really good and it's easy to forget this' a live performance.


Experimental / Avantgarde / Weird & Wired / Glitch / Noise / Field Recording
Edit (4296)
Artist:
Inversion Effect
Title:
A Brief History
Format:
Download Only (MP3 + Lossless)
Label:
Artificial Music Machine
(@)
Rated:
Here's how the press release that came with the disc defined the album: "Using both traditional and non-traditional instrumentation, they compose introspective soundscapes and lush, moody atmospheres." Evidently, Inversion Effect is a kind of supergroup of Artificial Music Machine artists (like a Pigface of experimental groups). This comes through in the music. At times, the music ranges from cinematic soundscapes ("Cavesong (Planetarium Version)" and "A Wife's Hope," for example) to slightly noisy ("A Static Transmission," "Textural Interlude") to incidental music designed to heighten tension with clanking metal and sparse, shifting tones ("Puppets Part 1," Faces in the Hall"). The only track that didn't quite work was "In the Shadow of the Vampire." The synthesized strings sounded cheesy and the piano theme became too repetitive. Even so, this is, overall, an interesting album. According to the website, "In 2005, the band composed an original score for the classic silent film Nosferatu, and performed it live at several theatrical screenings." I can see this band being able to pull this off and do well. If you like dark ambient that seems to tell a story without the need for words, this is one to check out. This disc weighs in at 57 minutes.

Experimental / Avantgarde / Weird & Wired / Glitch / Noise / Field Recording
Edit (4295)
Here's how the press release that came with the disc describes it: "Utilizing an arsenal of sine waves and static, low frequency oscillators, pulsating tones, organic rhythms, subsonic reverberations, disembodied voices and heavily processed field recordings, Numbers on the Mast evoke otherworldly atmospheres and create a truly revelatory listening experience." That's a lot to live up to; I don't think that I would call it revelatory. The press release states, "Occult, mystical, and mathematical concepts found recurring expression in the group's work, along with subliminal suggestion and sound frequencies with trance-inducing qualities." Mystical is one of those descriptors that is often thrown around and I must admit that I did not really get that feeling. The music can best be described as noisy experimental. The tracks are all untitled. At times, the music becomes a bit too repetititive. For example, track one opens with a high pitched tone that sounds like something off of Star Trek which goes on for 6 minutes, wearing out its welcome pretty quickly. However, the track eventually settles into pleasant drone interspersed with buzzing, static, and warbling synth. Track 2 also falls into the trap of repetitiveness, with a shaker sound that seems to go on for far too long. The underlying elements are interesting, but it's a bit to thin and sparse to really keep me engaged. It does eventually get more complex and interesting at about 10 minutes in, but by the time it got to that point it had already lost me. Track 3 is a bit more interesting, with circuit bent analog bleeps, bits of static, and fragments of distorted voice over a layer of shifting synth drone. Track 4 is also good, with pulsing synth washes that crescendo and decrescendo. In this track, they have escaped the trap of repetition to gain continuity. At 5.51, this is the shortest track on the album, which also may contribute to its strength. Most of the tracks try to cram too many ideas into a track, making it seem disjointed. Track 5 is a bit more chaotic, with deep resonating thuds of percussion, water noises, and what sounds like heavily processed wind recordings. Like the track before it, it has achieved continuity without becoming boring, even at over 14 minutes. Track 6 is also short, bringing in the closest thing to a beat in these tracks. Although interesting, it is not as strong as the preceding two tracks. Overall, this is a mixed bag. About a half hour of the disc is uninspiring but the second half is interesting. This disc weighs in at 74 minutes.

image not
available
anymore
Artist:
JOHN LUTHER ADAMS
(@)
Title:
Red Arc / Blue Veil
Format:
CD
Label:
Cold Blue
(@)
Rated:
Generally I'm not a fan of piano works probably cause I've been listening too many bad or at least insipid piano works, anyhow some of my favorite contemporary music is written for piano, has been conceived in front of it or evolves around the idea of the instrument and that's also the case of the oddest pair of all: Cage and Feldman. While as I've said many piano works tend to bore me to death, when that kind of releases is expressive I happen to get completely absorbed during the listening and John Luther Adams has captured my attention from the very first listening. I can't say if "Alaska created the music or if the music created Alaska" as Mr. Adams is wondering in the lines of his biography, but be it suggestion or not, there's probably a small portion of Alaska frozen in the music of this musician. While I've put the emphasis on piano, this cd features some other guest appearances of percussion and vibraphone and they're not secondary at all above all the percussion infact in the economy of the third track percussion become the corpus of the whole composition. There's a big ambient feel in the music of this composer but differently from other piano composers flirting with ambient music (for example David Cunningham) there's no trace of keyboards, piano treatment or post-productive treatments of these recordings. Adams' music is ambient under a really Satiesque perspective and not just due to the instrument, but also for the fact this composer is not anxious to demonstrate anything, the center of this music is just inspiration and like Carver's writings surplus has been removed from these compositions. At the same time, despite having no thrills, this music has not much of the american minimalists' influence, sure their shadow is there but nothing more than that (but which American –an not just them- contemporary composer can say he's immune from that kind of influence?). "Red arc/blue veils" is simple but vibrant, melodic and intense, differently from what you may think of its simplicity this cd is far from wallpaper-music, it goes deep. If the snow of Alaska creates a quiet atmosphere, this music probably is able to re-create Alaska wherever you are.