image not
available
anymore
Second album-release for the Switzerland-based Military/Industrial-act GRABSTEIN, which this time seems to be a kind of a conceptual release. The main theme deals with the female Anne Frank and the Nazi-German invasion of the Netherlands during WWII. Military-inspired stuff quiet often documented with some historic voice and war samples, but with GRABSTEIN often accomplished with some further music styles. Enjoyable Neo-Classic influence like a top-notch piano performance like on "Nowhere To Hide", but also some ominous sounding Dark Ambient-like sound environments as offered with "Deportation" or "Death". GRABSTEIN often declares not to follow or to defend any politically system and I believe in this, since the chosen samples seriously don't bring on a drama – the historic content is recognizable. Rather more worth to mention is the out-of-any-question higher artistic and musically valuable content presented through the Neo-Classic arrangement. No stuff of course if you feel ashamed if someone feels the need to deal with some past atrocities, but... wouldn't it time to grow and to get some more distance which especially counts for the older generation? No one should forget and everyone shall be warned – this album fulfills this with some real historic content.
Experimental / Avantgarde / Weird & Wired / Glitch / Noise / Field Recording
Edit (4664)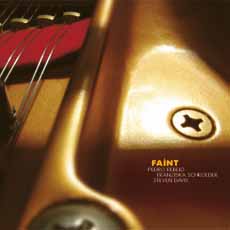 Artist:
DAVIS, REBELO, SCHROEDERFAINT
(@)
Title:
faint
Format:
2 x CD (double CD)
Label:
Creative Sources
(@)
Rated:
This cd starts moving really slowly and silently presenting some soft improvisative puzzle game, but after the hesitant introduction it evolves almost immediately into a modern free-impro with many jazz/contemporary music reminiscences. That was a quite obvious thing to be said I know, but consider the piano is quite central in the economy of this double cd, in some sketches we can even dare to say it's the main color, don't worry we've no demonic player a la Petrucciani but Rebelo has a big weight in the majority of the track here contained. Hard for me to say if all this double cd accomplish the hardly reachable result to be "hella catchy" from the very beginning to the last track, but thanks to the great amount of material despite the strong character of the trio, you'll slowly find they've been quite varied sacrificing their musical ego for the common cause. Regardless of what I wrote before, here the piano is the driver, there at the driver's place seats the saxophone, here they've been really soft, there they've been pushing the keys of their instruments. Ok you always have that barely pronounced strangulated sounds that turned into Creative Sources' own trademark but what surprised me the most is how Steve Davis have been able to keep far away from banging the drum: if we cannot speak about a Taku Sagimoto approach to the drums, he's by the way one of the most silent drummer I've ever heard in my whole life. This Faint first cd doesn't betray the average sound that characterized Creative Sources so far but it would be too reductive to cut it short here. According to my opinion is the second cd the one that presents the majority of the best materials, I think on the second cd they've been able to go deeper into their combination, electro-acoustic on the second cd has become nothing but a color with which they've been decorating the tracks. In between visible and invisible structure in the filling the blank process, where pause gain the same importance of played chords, there you'll find lot of the intensity of these three performers. In many tracks they've been playing the piano pretty unconventionally, it all reminded me of one of those prepared pianos a la Cage just a bit more trapped into a patient improvisation where every note is left alone just when it's the proper time to go. Nice cd above all in its most relaxed tracks.




Experimental / Avantgarde / Weird & Wired / Glitch / Noise / Field Recording
Edit (4662)
Artist:
Quetev Meriri
(@)
Title:
debut album
Format:
CD
Label:
GushPunka
Rated:
Quetev Meririri work is really brilliant and complex, the dimension of sound creation they worked in is deeply rich, analog and performed with great attention and passion. They follow the vibes of traditional-oriental gloom and hazy acid-folk. It is easy to ear Yddish music among the drones performed with guitars and voices. A rich sound texture and a very good recording quality is the key that
Quetev Meriri uses to probe the mysterious side of Mediterrenean culture, the word Quetev is ancient Aramaic and means "Poisoned Arrow", but it is also the name of a demon, who dominant the noon hours. This work has a mood very dark but elegant not ominous or radical, it is an avantgarde/experimental piece looking at a the past: all the tracks have the name of radical Jewish Philosophers (Rosa Luxemburg, Walter Benjamin...).
The band is composed by Yehu Yaron, a well known bassist in Israel, composer and writer, involved in many projects even as a solo artist. Shai Lowestein is the she-noise-guitar artist of the band responsibles of the aggressive shadow made out with his guitar set up, very nice. Haim Rachmani, composer of Hebrew poet's poems, sing and noise-vocalist thru different tools. This debut album is for sure something very interesting and it opens a world of sounds and experiment unusual and deeply linked with past.
Experimental / Avantgarde / Weird & Wired / Glitch / Noise / Field Recording
Edit (4656)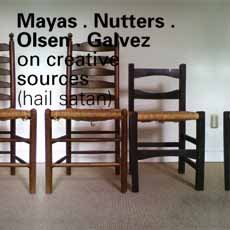 Artist:
OLSEN, TAROCHER, MAYAS, NUTTERS
Title:
(hail satan)
Format:
CD
Label:
Creative Sources
(@)
Rated:
Good, there's no trace of Satanism here thus if you were wishing to hear this portuguese label deranging toward dark ambient, black metal or esoterism...well you'd better leave your expectations back home. Much more than to pentagrams and upside down crosses these musicians are probably devoted to irony and in someway this could be reflected by their music too, infact if you give a listen to nine tracks of this work you'll notice while their music is dead serious the atmosphere is never too heavy immersed in that hyper-intellectualizations that makes half of the work coming out from this circuit heavier than death. To clear up your doubts I'll say immediately the scenario is that of electro-acoustic improvisation in someway it's quite similar to many works from the same area, but the recording is damn good and they apply an interesting use of some sounds like hisses or percussive part. From their improvisational style I'd say they have a foot in the grave of jazz and thumbs up for it but also to the fact they've been alternating tracks quite smartly so you won't get bored by this or that silence for they play, for jazz' sake!. It's good to hear they kept fun not just in the title but also in the way they interact and that's why their music is not the heir of a frigid idea above all in the most animated tracks. But before closing this review I wonna show you what an unreliable reviewer I'm (c'mon who can you trust nowadays?..."disappointed a few people" like John Lydon...you can bet it!) the best song of the record is "pitch IV" which is the result of two dark minutes deeply immersed into contemporary classic music that creates an intense odd atmosphere that builds up some anxiety.



Experimental / Avantgarde / Weird & Wired / Glitch / Noise / Field Recording
Edit (4655)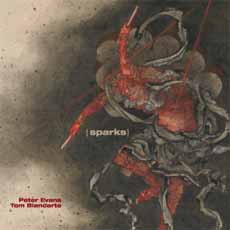 Artist:
SPARKS
Title:
s/t
Format:
CD
Label:
Creative Sources
(@)
Rated:
Holy shit "hardcore lives" used to sing Freddy from Madball... and this duo hailing from New York city resume the same concept in the opening track and if you can't trust my word than you will be convinced by the piccolo trumpet of Peter Evans and by the "chainsaw-like" bowing of Blancarte. Be it the recording or the emphasis with which they're playing ( like if they've been in the middle of a brawl) but you can't even compare this way of performing with the average "hey I'm a dynamical improviser" way of playing. I think the difference sometimes is still in the purity of the spirits and even when the duo is calming down the atmosphere you perceive there's a subtle tension, I think when Sparks play less neurotic parts really bring to mind a nervous boxer on the edge to explode. Some may define it Brotzmaneque music (he's played with them so find your easy conclusions... ) and maybe that's partially true, but the combination is great: Evans sometimes makes me think he's possessed by some voodoo demon and Blancarte is a good shaman for he drives the ceremony right where possession over the redline. I think the world is still full of good musicians and decent improvisers but even playing something that we can also label as "standard improvising" this duo is able to fly ten feet higher than the ninety percent line-ups playing this style and the funny thing is that they're doing it without even using a drum kit that could be one of the easiest solution for a project like that in order to have those beloved loud explosions. I've read they've also been teaming up with Bennink which makes me wonder how could it sound like with him banging the drum but from this recording you don't think they need any additional player believe me. Loud music for loud people or I'd better speak about intensity?..mm..maybe, infact I'm sure they can be much more softer, but it's New York city speaking: Cro Mags, Suicide, Cop Shoot Cop, Taxi Driver... am I allowed to expect something like that?. "Free jazz in your face".