Experimental / Avantgarde / Weird & Wired / Glitch / Noise / Field Recording
Edit (4706)
Artist:
HATEWAVE
Title:
Sexual Healing 2
Format:
MCD (Mini CD)
Label:
Apop Records
Rated:
If you're familiar with Hatewave's great eponymous album on Tumult (featuring Weasel Walter of Flying Luttenbachers fame), well, just partially forget its ferocious, technical math-death-grind, here we go back to the bands' early no-wave roots with a 13-minute demo of hilariously ugly music, recorded "in 1995 on bad equipment in threadbare conditions on drugs in the Midwest in winter". Featuring a trio playing drums, guitar, Casio SK-5 and vocals, "Sexual Healing 2" (or is that "Free Ringtones!"?) as a sort of demented scum-black thrash with metal-can sounding beats and "atmospheric" parts played with cheap keyboards. "Shitlist" and "Insomniac" have some gruff cookie monster vocals reminding of Spazz-ish power violence, and "Mutiny" even seems to attempt at some Crossed Out-style break. Everything falls apart, however, in "Sexual Healing 2", "An Hatewaves" and the 8th untitled track, which are pure, unadulterated no-wave garbage. Add some out-there and truly disgusting visuals and you'll come off with a much more extreme Hatewave than the later tech-death incarnation ("Fuck metal", the liner notes say).
Experimental / Avantgarde / Weird & Wired / Glitch / Noise / Field Recording
Edit (4705)
image not
available
anymore
Artist:
AXEL DÍRNER-DIEGO CHAMY
Title:
What Matters to Ali
Format:
CD
Label:
C3R
Rated:
Recorded in 2006, "What Matters to Ali" features well-known trumpeter Axel Dörner in a quite unusual improvised session with Argentinian drummer Diego Chamy, who also reads a text throughout. In its best moments, the recording has an eerie, mysterious feel, with sparse, subdued sounds and the hardly discernible, rambling vocals giving it an almost ritualistic atmosphere (think of some early Osso Exótico). Dörner plays, as expected, in his usual style made of wails, hisses and gurgles, which, alas, I must say is hardly surprising by now, while I've found Chamy's work on metallic thumps and resonances much more engaging. One track, 45'39", many interesting parts popping out of a rather uneventful whole. Powerful cover photo.
image not
available
anymore
Artist:
TERMINAL SOUND SYSTEM
Title:
Constructing Towers
Format:
CD
Label:
Extreme
(@)
Rated:
I wish you already know Skye Klein for this guy, beside being fifty percent of most underrated Relapse band ever (Halo), with his release of the last year titled "compressor" gave us a real masterpiece of rhythmic-electronic music. It's still hard for me to understand if this "Constructing towers" is better or at the same level of its predecessor, by the way I can assure you Terminal Sound System is the living proof electronic music can still be seductive, interesting and catchy without necessarily being "anal" or experimental. While it's true that this new release picks up where "Compressor" left off, I think the most interesting quality of this new chapter is the introduction of melody, not the previous Klein's recording was just cold and ass kicking, but this time some of the tracks are softer and more accessible for an indie customer and not just for a learned electronic/IDM listener. He's left some of those electronic post jazzy passages intact, you've some good examples like "Firefly Butoh" and above all "Duchamp Falls", where it all sounds like after the interreing of Peace Orchestra we have a new Arthur starring "The Sword in the Stone", but my impression is there are a lot of shoegaze/post-rock riminiscences like in "Alaska", "Zodiac" and "Theme for Broken Home" (which is probably my personal favorite of the cd). The atmosphere is nocturne as always and the visionary flag is again high on top but you'd better give a look to the clips with which Terminal Sound System has decided to complete some of the tracks and you can watch them for free here: http://www.terminalsoundsystem.com/towers/. I can't exactly say Klein opened a new "phylum" in the taxonomy of music, but I have no doubt his personal bland of Drum'n'Bass, IDM, electronic jazz, post-rock, etc. is brilliant, ass kicking and elegant. If you're one of those filling the ranks of discontent listeners complaining "after Richard D James, Autechre and Seefeel everything had become stagnant" it's time to stop complaining and to try this 2008 viagra for your ears.






Experimental / Avantgarde / Weird & Wired / Glitch / Noise / Field Recording
Edit (4691)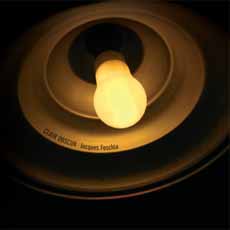 Artist:
JAQUES FOSCHIA
Title:
clair obscur
Format:
2 x CD (double CD)
Label:
Creative Sources
(@)
Rated:
This' the first solo double cd I review from the Cretive Sources-area and it's quite interesting since for many musicians from this odd-music hemisphere their cd on this label is like some kind of nice and well packaged "business card" ready for every listener-reviewer to be reminded. As you probably know every Creative Sources' artist put the money and takes part to the production of the work, sometimes the outcome is a good business card, sometimes it's a bad one. This one is good, quite classic in many ways, let's say "ordinary" in the way it sounds odd and "un-ordinary", even thought it would be too damn reductive to stop our conclusions here. Jaques Foschia (funny name, in Italy "foschia" stands for "thin fog") plays clarinets and combines both bass and eb one in a really interesting way, it reminded me a bunch of good solo works like those done by Kyle Bruckmann, Scott Rosemberg, Peter Brotzmann (mm... even if not as in "your face") and Anthony Braxton but none of them in particular, at last this work is refined and has its own physiognomy. He combined a collection of studio tracks for what looks like the real full-length and an entire disc containing two live sessions, the sound definition of which is not less effective then the studio tracks. His studio work is quite characteristic of this improvisative area therefore if you're into Birgit Uhler, Axel Dorner, or in the likes, well I'm sure you love "Clair obscure" for the global sound and the waiting games that are the peculiarity that gave this label a clear distinction (and sometimes a bit of predictability) for what concerns the sound matter. Even while acting live you have hissed sounds fragmented sketches and above all some well developed executions were according to my persona opinion Foschia shows his finest traits and I'm referring to the last part of the first live session.





Experimental / Avantgarde / Weird & Wired / Glitch / Noise / Field Recording
Edit (4686)
What have here is a bizarre cdr by Marina Hardy and following the wacky trajectory of this label, it presents a collection of tracks to say it all: "out of ordinary". Honestly I've just appreciated a few of them like the ethereal episode of "Apple sauce pudding", or the opening "M kay" where she may remind you of Madame P for those who know her, but I still find it hard to feel really comfortable in a cd where you pass from a the reinterpretation of a russian traditional to an ethereal track, from a western ballad not so far from early Calexico to (nice) melodic harp (?) driven track that probably would have find place on a record of Cynthia Dall. There are bands and project doing this 360° meting pot even more intensely but this release is really well done, maybe just a bit too heterogeneous to the extent it may sound confused. But I have to admit in general Marina Hardy is really able to build "fake instant classics" seen from this perspective this' probably one of the records that reminded me more about Marc Ribot and his "Book of heads" days on Tzadik. As I've said this musician has an incredible heterogeneous writing skill I just think she's to focus a bit more the global idea of the record but she still manage to be interesting.