Experimental / Avantgarde / Weird & Wired / Glitch / Noise / Field Recording
Edit (5087)
image not
available
anymore
Artist:
SZILARD MEZEI, ALBERT MARKOS
Title:
korom
Format:
CD
Label:
Creative Sources
(@)
Rated:
A release fully recorded in Novi Sad, wow... self suggestion brings forth a certain austerity but while the music is still really deep don't expect it to be sad or highly depressive. This string duo has a lot of reminiscences of classical studies and listenings of every individual here featured. If we must dissect this release to help you make a picture we should emphasize the fact the length of the tracks and the tracklist is too bizarre to be not intentional, there're a long couple of opening tracks and you've some mid and long compositions to close the cd, but in-between there's a big number of short sketches not longer than forty second per each. Stylistically the first episode somehow is the natural summa of many of the following moments, but I still find the musicians' choice is interesting. It's Creative Sources hence is obvious to expect some unplayed parts, but this cd is much more played than the average cd of the genre and if you consider the considerable amount of high and low tones that these two instruments can create you're probably tented to give your respect to this dynamic duo since they're well mixed together if not complementary. Don't worry they don't spend most of their recording time scratching the surface of their wooden instruments, they strike and bow chords but really discretely and without boring the shit out of you. This work is really abstract in a classical way, it's still free-improvisational music but with a big classical inheritance (give a try to the closing part of the second track). An interesting work.


image not
available
anymore
Artist:
LUC VAN ACKER
Title:
VPRO RadioNome December 18 1981
Format:
12"
Label:
Enfant Terrible
(@)
Rated:
Recorded for the RadioNome radioshow broadcasted by the VPRO in the early 80's, the six tracks of this 12" show the early style of Luc Van Acker, the guy who later created Revolting Cocks. Well, if you know his band don't try to find early germs of that sound on these recordings, because you'll be disappointed. On VPRO RADIONOME DECEMBER 18 1981 Luc is performing six experimental/industrial suites where electronic, violin and various other sounds melt forming a sort of experimental industrial free jazz mix where improvisation and the urge to express blast off the vinyl grooves. We start with the short "Intro Chi" where a thin, almost timid, vocal is coupled to a minimal melody, drum machine and synth waves. With the eight minutes of "Dohan Viola" we start our trip down to hell thanks to a mix of drones, bells, metal noises and violin. Try to imagine a jazz version of Lustmord and you'll have the picture. "Samadhi", instead is more based on angry vocals and percussions while the ten minutes of "Fanfaro Piano" threat your ears with guitar distortions and drum machine just to turn into a something totally different after four minutes thanks to distant piano sounds coupled to ghost like vocals.
The 12" ends with the hardcore electronic jazz of "Buharata" where disturbing sounds and vocals are free to improvise. Check some excerpts at the label's website.
Artist:
PRINCE CHARMING
(@)
Title:
lapis lazuli
Format:
CD
Label:
Karlrecords
(@)
Rated:
So they call it illbient, but beyond the classificatory idea I'll try to help you figure out this new brilliant release on Karlrecords. Prince Charming hailing from Hollywood California has several releases out on Wordsound Label and Lovecraft Technologies, he's back with this new full-length that shows how good taste, irony and elegant music can coexist on the same cd. Judging the book by the cover when I first gave it a look at the layout I thought this could have been one of those "burn the house down" releases meant just to dance till you drop, sure it displays a danceable edge but on the other hand the atmosphere is much more oniric than that the cover may suggest. Illbient, ok, but there's a good amount of dub, of good old remix-attitude, an ounce of the glorious Warp catalogue from back in the days and an overexposure to movie soundtracks that here and there appears in the blink of an eye to immediately disappear a second later. While as I've said the music has that ironic edge that may remind Plaid, Nightmare on Wax, Plone or even Black Dog, the style is not absolutely retro and presents an incredible range of influences thus you'll find a quasi post-rock guitar floating ashore on a dub soundtrack (Pomegranate Of Vice), there's a squared electronic rhythm on a nightly Red Snapperesque melody (Uvarovite And Demantoid Blues). You'll be astonished by some Piazzolla alike harmonies, trumpets, simil electronic funky rhythms. While being danceable and really easy even if at the very first listening some combinations could seem hazardous, "lapis lazuli" has an overall night feel: not exactly something for the chill-out zone but without any doubt something you can relax at while still dancing. Please don't emphasize the fact I've said this' an ironic cd, there's class and elegance overwhelming from the first to the last episode of this work: thumbs up.



Experimental / Avantgarde / Weird & Wired / Glitch / Noise / Field Recording
Edit (5081)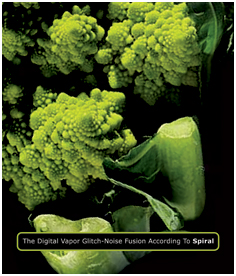 Artist:
SPIRAL
Title:
The Digital Vapor Glitch-Noise Fusion According to Spiral
Format:
CD
Label:
Lunhare
(@)
Distributor:
info@aferecords.com
Rated:
I think you may have noticed it, anyhow Andrea Marutti during the last years beside getting involved in a good number of collaborations has kept putting out solo releases (or he simply augmented his hyperactivity). Spiral is not exactly what Amon or Never Known fans may dig, but at the same time I'm sure if you're a diehard follower of Marutti and you've tasted his materials in different salsas I'm quite fond of the fact you'll find spores of his other projects in this release too. Eight track for almost one hour of "music", let's say it's mainly reworked synth material which has a little bit of ambient attitude for what concerns the structure but that reminded me much more of some post-industrial-experimental projects. Some years ago this work could have come out on labels such as Invisible, Possible records or Sentrax Corporation, I've found reminiscences of Coil, Mika Vainio, ELpH, a simplified Asmus Tietchens and who know what else. The title says a lot, but this' not a loud release and it's also far from being brute or whatever, here are featured a good amount of high and low frequencies and an intentional propension for simple song structures with simple or hidden melodies. I can't say this' one of those releases the majority of you will file under easy listening but betraying the impression given by the album title this' not Marutti in his "heavier than life"-mode so the electronic pussy like you and me won't complain like "nnooo... he's depressed me once too much!!!". Under a certain perspective this' an unusual release with a really experimental and ludique extravaganza but at the same time if you exclude a couple of really difficult tracks, I think this' something definite worth of a try.
Experimental / Avantgarde / Weird & Wired / Glitch / Noise / Field Recording
Edit (5078)
Artist:
Heroin And Your Veins
Title:
Nausea
Format:
CDS (CD Single)
Label:
Verdura Records
(@)
Rated:

When you listen to a lot of music and educate yourself on different genres, I find that it's somewhat easy to get jadded on occasion, and feel like you've heard all there is to hear in such a such type of music. And whenever I start feeling that way, I end up stumbling upon a band with a unique sound that slaps my assumptions straight out of my head. Finnish project Heroin and your Veins is one such band.

"Nausea" is the second album from Heroin and your Veins, their debut album being released back in 2007. Both records are awesome, but I hear alot of growth between the two records, with this newest release being the better of the two.

It's a bit hard to accurately describe the music that this band makes, but obviously I intend to try. Imagine a surf band from Hell, or an experimental lounge band with a really bad hangover. All of the music is instrumental, and sounds very much like the perfect soundtrack for a really weird film noir, or moreso a David Lynch movie... Actually it kind of has some of the elements of
Angelo Badalamenti's work with Lynch, they both share a great usage of space and mood, and a certain jazzy influence, though Heroin in your Veins bring way more of a surf element to the table than the former. It's part post-rock, part experimental, but all very slow, dark, brooding and original as hell...

Every single one of the 10 songs on this album rule, and I recommend you check out this project if you're in the mood for something new and interesting...