Experimental / Avantgarde / Weird & Wired / Glitch / Noise / Field Recording
Edit (4938)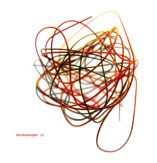 Artist:
VV.AA.
(@)
Title:
FABRIKSAMPLER v2
Format:
CDS (CD Single)
Label:
Pharmafabrik
(@)
Distributor:
Pharmafabrik
Rated:
On the web site of the label there is only this description: "New compilation album which features exclusive new tracks from Henrik Nordvargr Björkk (Sweden), Lull (UK), WoO (Serbia), Go Tsushima (Japan), Left Eye Dominant (Italy), Alexei Borisov (Russia), Tania Stene (Norway), Pure H (Slovenia), Sunao Inami (Japan), Dodecahedragraph (Slovenia), The Cherry Blues Project (Argentina) and Final (UK). Full album of ambient, drones, noise..." But there is far more in this jewel, there is the work of the pioneers of the ISOLATIONISM kind of music that all the world heard in the Sci Fi masterpiece "Planet of the Apes". This album is amazing, astounding and literally perfect, only its sounds are able to define the power of it to suggest the huge and immense abyss of the collective subconscious linked to music. Drone Music and ambient have this "secret" power, to be the mantra of the modern era, where the quiet noise of the computer and the hum of the neon lamp are the new composers. The artists involved in the album are perfectly tuned and their work are a continuous surprise for the ears. It's easy to focus our attention on noise guitarism mixed with ambient and glitch, ambient recording and pure experimentation, there is nothing of usual and in the same time it's not an aggressive work, that's nothing to do with noise music or harsh noise. Every tracks is a probe in a different universe, the artists selected rule very different worlds, anyway my favorite track is the 7th a distant drone, similar to a stormy sea of fluorescent lights where a strange entity is calling out; it was recorded in a catacomb. This album is a must to have and Pharmafabrik defined the secret island where these strange sounds born and are transmitted.

image not
available
anymore
Artist:
The Dielectric
(@)
Title:
Flicker of an Eye EP
Format:
Download Only (MP3 only)
Label:
Urbcom
(@)
Distributor:
iTunes
Rated:
After making a break of the coarse and musically direction of the Urbcom label to the end of the last year, this British label now focuses to present a more experimental and rather IDM-minded sound outfit. This straight decision towards this new and more experimental oriented sound has ended in a cleansing of the last known label roster, and acts like the recently discovered PROJECT BLUE or D. Escott's project INTERCITY3 are no longer related to Urbcom. THE DIELECTRIC stands representative for this new direction and offers with this EP a sort of a first appetizer to some more upcoming releases, a trilogy series entitled "Rapid Eye Assemblage Vol. 2". It is the project of the JERICO ONE brainchild J. Hookens, who's also the main responsible man for all further business relations of the Urbcom label. Musically THE DIELECTRIC doesn't break with Hookens' previously discovered path, his signature remains alive. This EP offers 5 rather abstract-minded Electro/Industrial tunes, which all offer a quite hypnotic feeling thanks to a relative static compositional effort. Varied in its rhythm programmings somewhere between 2-Step, Trip-Hop and IDM, the tracks are filled with dozens of FX manipulations and do not at all intend to satisfy a usual listening experience. "Dimensions" can be named as the main track featuring a clear vocal performance and a rather calm sound outfit. The other tracks are turning more or less near to an IDM-related outfit, "Re:location" for instance features the Japanese Cyberpunk-artist KENJI SIRATORI with a spoken-word guest performance. A quite interesting release by J. Hookens, but at least a bit too short with only 18+ minutes playing time. It's clear to recognize that the sound dimension of THE DIELECTRIC should be able to offer more stuff. Where's an album?
image not
available
anymore
Artist:
Brandkommando
(@)
Title:
New Fucking Radical Orthodox
Format:
CD
Label:
SkullLine
(@)
Distributor:
SkullLine
Rated:
If you live in a flat and if you like to have a peaceful neighborhood, well, then don't switch on this music! BRANDKOMMANDO is a Polish Industrial/Noise/Power Electronics act, which can look back on a rich discography. "New Fucking Radical Orthodox" is already the 15th release for Karol, who is the brainchild behind this act. It is musically one of the roughest and most disturbing releases I've heard so far. Walls of abrasive noise manipulations, effected, processed and overdriven in different frequencies with a high amount of improvisations. Add to this Karol's not lesser manipulated screaming voice performance, and you'll an album especially designed for the fans full of anger and hate. Radical may in its message, but surely radical of its music content, these 7 tracks are a pure sonic assault to breakdown your nerves. The skewered pig-head on a fork couldn't been chosen any better, Powernoise in its roughest kind. Extremely limited as usual, try hard to get it directly via SkullLine.


Experimental / Avantgarde / Weird & Wired / Glitch / Noise / Field Recording
Edit (4897)
Artist:
Forms Of Things Unknown
(@)
Title:
Black Trenchcoats & Swastikas 'N Shit
Format:
CD
Label:
Pimalia Records
(@)
Distributor:
Aquarius Records
Rated:
"BLACK TRENCHCOATS & SWASTIKAS N SHIT" (subtitled "DEMOS OUTTAKES & RARITIES 2003 – 2006) is the latest offering from Ferrara Brain Pan's FORMS OF THINGS UNKNOWN project. Well, you can't say the title and CD cover isn't controversial; takes the Residents concept of Third Reich & Roll' to a whole new level. If you need to know why Ferrara might feel compelled to do something like this, go to FOTU's MySpace page and read "A True Written Statement by Ferrara Brain Pan" and you'll be given some idea. (Bitchslapped by Bill Clinton? And that was just the fun part... )

BLACK TRENCHCOATS is nearly a full hour's worth of FOTU material, most of it in the experimental vein. Opening track "Vallatar" is highlighted by a melodic mournful wailing woodwind solo. Nice tone-setter. "Interrupted By Interior Design" comes in two parts/tracks, the first underscored with a low frequency drone and a hissing sound while other tones (electronic and acoustic) are briefly introduced with some sort of breathing loop. The soundbyte at the end poses the question- "What maniac put this doll in my bed?" and then part two begins with a latin conga-driven rhythm groove with weird vocal soundbyte samples, some moaning drone and short feedback. Crazy baby!

"The Fifth Path" is a harmonium dirge that would make Nico smile, if she were still alive. (Not an easy thing to do; Nico wasn't known for her happy face'.) The next track, "Quadrilateral" is the longest on the CD, clocking in at 15 seconds over 14 minutes. Up to this point, things are going pretty well. All that is about to change... Once again we begin with a low frequency drone, this time modulated with an LFO. A bit into the track two higher frequency tones enter- a steady ringing and a regularly intermittent blip. This is followed by a rapid white noise brushing' sound which in turn modulates the ringing for a while. While it may be a cool minimalist synth exercise in LFO treatment, I found it tedious to listen to. FOTU returns to the bass clarinet on "Elegy", another woodwind solo. Moody and well done. "Blue Light" has all the dark ambience and oppressive heat of standing next to a huge furnace in some subterranean factory while machines and clank and bizarre voices squawk, chatter and laugh away in the darkness. "Save Em Dry Til The Cows Come Home" just may be the weirdest track on BLACK TRENCHCOATS. Over a repeating bass line is a woodwind arrangement while a variety of disparate sampled vocal and other bizarre soundbytes drift in and out. "Cobblestones" is a Renaissance style piece arranged for recorder ensemble and bowed psaltery. Nice little ditty. Think Aeon' period Dead Can Dance. An alternate mix of "Mesozoica" is the next track, shorter in length than the one on CROSS PURPOSES' and lacking the prominent woodwind work. More of a subdued dark ambient version. I don't know why, but I was reminded of Steve Roach here. Still, it has merit. The last track, "Burial Of The First Toy" is FOTU's version of the title them from Jodorowsky's cult film, "El Topo". I've seen "El Topo" a couple of times, but it's been awhile. I honestly can't say I remember the main theme, but the track is a nice recorder solo.

Overall, "BLACK TRENCHCOATS & SWASTIKAS N SHIT" is pretty good, especially considering low lo-fi FOTU's recording process was, and if it wasn't for the 14 plus minutes of "Quadrilateral", I would have rated it higher. If you're new to FORMS OF THINGS UNKNOWN, I'd start with the CROSS PURPOSES' CD. If you like that, I think you'll probably enjoy this one too. I wouldn't take the swastikas n shit' too seriously; even though there IS a picture of old Adolph on the inside of the trifold digipack. It really has nothing to do with the music. I doubt Ferrara's a Nazi sympathizer. It's undoubtedly just his warped sense of humor.

Experimental / Avantgarde / Weird & Wired / Glitch / Noise / Field Recording
Edit (4883)
Artist:
Edward Ka-Spel
(@)
Title:
Dream Logik Part Two
Format:
CD
Label:
Beta-Lactam Ring Records
(@)
Distributor:
Beta-Lactam Ring Records
Rated:
Considering the cultish following (albeit a sizable one) that the Legendary Pink Dots have, a solo release by their guiding light Edward Ka-Spel is bound to plumb ever deeper regions of terra igcognita and few who are Dots-ignorant are unlikely to even stumble across this CD by accident. That being said, it doesn't take an LPD fan to appreciate DREAM LOGIK PART TWO, but it might help.

The first obvious sign that this is no average CD is its packaging; encased in a folding five-paneled double-side glossy container with bizarre art by Jesse Peper, this Ka-Spel release is an immediate attention grabber. I'm sure that in years to come, this CD will become a collector's item just for the packaging. (The initial release of 400 numbered copies containing an additions CD, BURNING CHURCH, with the first 100 being signed already is. I never seem to be lucky enough to get one of those.)

It is said that DREAM LOGIK PART TWO continues along the lines of DREAM LOGIK PART ONE, but I was never fortunate enough to hear that recording. I can say that Ka-Spel's psychedelic journey on this outing is like having Syd Barrett, (Daevid Allen's) Gong, Boards of Canada and Autechre rolled into one oblique bundle. Ka-Spel dispenses pieces of cosmic intuition via both song and spoken word, in both introspective insight and playful tomfoolery all held together with the fabric of minimal electronics and acoustic instrument elements that set more of a tone, mood and ambience rather than act as backing tracks for vocals. Dots fans will feel right at home with Edward's quirky lyrics, as on "The Modest Ambitions of Cedric the Centipede" – "... in talking licks I'm a millionaire, it's five years since I brushed my hair, still haven't got a stitch to wear... " Granted, this is the goofiest little number on the CD, but surely you get the gist. For the listener, DREAM LOGIK PART TWO is not unlike being a dosed-out Alice in a Psychedelic Wonderland; always curiouser and curiouser, envisioned through the kaleidoscopic perceptional lens of the plasticity of reality, and the relative subjectivity of meaning. I think Ka-Spel put a lot of work into this one, and is likely to be one of his more highly regarded solo efforts. I admit that on first listening, I was not attuned to its frequency. DREAM LOGIK PART TWO is a challenging experience that implores a subjective rather than objective audial experience. Perhaps an altered state of mind is the best way to appreciate this surreal recording. How you achieve that is strictly up to you. There is no doubt however, that it is a marvelous achievement, far superior to the last LPD album (PLUTONIUM BLONDE), and for a release on an obscure label like Beta-Lactam Ring, DREAM LOGIK PART TWO seems to be available in a good number of commercial outlets like Amazon, Looney Tunes, J&R, etc. I'd advise picking up a copy before they're all gone.