Experimental / Avantgarde / Weird & Wired / Glitch / Noise / Field Recording
Edit (5098)
image not
available
anymore
Artist:
VV.AA.
Title:
VOLUME 1
Format:
CD
Label:
Niente records
(@)
Rated:
Weird label and of course weird sampler featuring some free-experimental-improvisational acts hailing from Italy, the box and the raw packaging is not giving that many infos but on their website you'll find everything you have to know about the project, I guess the no-info option is intentional. I'm not a great fan of samplers and sometimes I find they're completely out of focus since I've an hard time finding a "fil rouge" that links the majority of the artists featured, but despite the diversity of the musicians here featured, if there's something you can't say about this debut cdr of Niente records is not that the sampler is not homogenous. I'm not talking about a stylistic continuity that here is intentionally avoided for the sake of variety, but the basic idea of free/deconstructed/experimentalism is pulsing underneath for the whole length of the cd. You pass from the avant-post-rock of Vonneuman to the new noisy reincarnation of St.ride which here may result not that far from Landormin that here are loud as hell, from the post electronic feel of M16, Harshcore and Mongoholi Nasi to the improvisational non melodic live performance of Ciunfrini, Falascone, Giust, Marsh. The funny thing is that the sound is quite uniformed and I think it has to do with the mastering and the global production, strange it's really hard to get if they reworked every track to give it a common shape inside the track list or what else. Here you'll probably notice Harshcore, A Spirale, Giust, Nihil is me are farm from their previous works both for the sake of variety but also for an explicit choice of the track-list compilers. There's a good amount of saturation and distortion characterizing the majority of the tracks, even the more gentle of them featured inside this cdr. If samplers usually are nothing but a presentation card for a label, it's hard not think Niente will be dealing with freaks and out of ordinary music/people... that's why I cannot but give 'em my best wishings for a bright and radiant (or should I say radioactive?!) -NO- future!.
http://www.myspace.com/nienterecords

Experimental / Avantgarde / Weird & Wired / Glitch / Noise / Field Recording
Edit (5097)
image not
available
anymore
Artist:
TRIO DE BATTERIE drums noise poetry
(@)
Title:
drums noise poetry
Format:
CD
Label:
Amor Fati
(@)
Rated:
Interesting jazz, or post jazz label and even more interesting release since this time we're dealing with an all acoustic drum trio. Three really atmospherical and at times spectral suites where Perraud, Pontevia and Laserre integrate one each other with a really complementary style. Ghost notes like in the first track, some fast and strong incursions, a body to body dance with silence and atmosphere, the live recording in a museum added some spectral reverb sound you may love or hate, but I'm part of the lovers since they so end up playing the room and the space. Low notes and sharp sounds (mostly cymbals), you hear deep bass hummings but they also make those squeaking noises most of the skilled drummers loves. Don't expect those quasi tribal things since they went for really slow and patient compositions, most of the times the work on building up tension and creating those intense scary atmosphere. They show drums can be instruments so full of notes that rock and many genres have somehow castrated it, not close to the electro-acoustic approach, but neither to those reinterpretation of the drum set made by mighty Chris Cutler or to Eddie Prevost, but at the same time they're really close to both (above all the last of the two). This last comment brings to some specific moments of the work really near to some AMM or Eddie Prevost's solo recordings but it would be too reductive so forget it. Funny but it smells so much of contemporary music and up my nostrils it makes a great impression, infact I've been loving it from the very first listening. A cerebral and intense release that makes me think that if we were waiting for the "shape of jazz to come": here it is!. I'm glad to see the "Bordeaux Jazz festival" mark printed inside the booklet, playing frigid jazz-standars in the new Millennium most of the times makes no sense, while this makes definitely do. Brilliant release and what a layout!.
image not
available
anymore
Artist:
A Wake A Week
Title:
Little Black Cloud
Format:
CD
Label:
Spectraliquid
(@)
Distributor:
DSBP
Rated:
This is a side-project of the DETRITUS-musician and mastermind David Dando-Moore and with this 10-track album the Greek label Spectraliquid leaves a bit the course to provide CD-EP's with a straight-oriented, rhythm-supported IDM outfits. A WAKE A WEEK differs a lot, since David installs a subtle form of Ambient-Electronica, often supported by symphonic and Neo-Classic-like string arrangements and further organic instruments. No pseudo-aggression, only pure layered drones and melodies – yes, this cinematic mixture comes out unexpected. It definitely requires some more spins than usual to find complete entrance to this kind of work, because without fully attention you won't be able to grab only a glimpse of the featured content. On the other hand, some rhythmically drops well and subtle placed would help the listener (...and at least the reviewer...) to remember better one or another track. But okay, there can be named only a few artists, which produce music in a comparable way. It's also hard to figure out a favorite, since this album has to be consumed as a whole and complete unit – to separate it into single tracks wouldn't make sense. Not bad and an appreciated album to all of you, who like to drift away with the mood, but at least to me personally not thrilling enough to keep the concentration high on to all later based tracks.
Experimental / Avantgarde / Weird & Wired / Glitch / Noise / Field Recording
Edit (5088)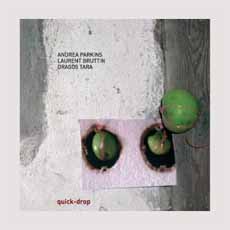 Artist:
ANDREA PARKINS, LAURENT BRUTTIN, DRAGOS TARA quick-drop
Title:
quick-drop
Format:
CD
Label:
Creative Sources
(@)
Rated:
As I've said while ago Creative Sources has slowly opened to other directions thus beside putting out that improvisational/electro-acoustic material that gave this Portuguese label its actual popularity, they're releasing some weird works that ranges from electronic music, to ambient, to field recording or quasi-industrial whatever. This cd is not exactly something different in terms of genre but sure it's not your usual "exhibit", infact the fact Andrea Parkins uses several electronic devices characterizes firmly the whole recording and underlines the modern contemporary essence of this cd. While the opening track and the fifth here and there reminded me a lot of some Chris Brown compositions, the rest of the electronic parts keep remaining quite soft and never too intrusive, at the same time high frequencies and weird tones passages make the difference and give this work its strong identity. Differently from other acts on the same label they went for a loud opening track and later for a softer bunch of improvisation where everything evolves more gradually. The use of the vocals of Wanda Obertova doesn't make it easier, but fits wonderfully with the whole futurist atmosphere. By the way, the following track are more and more contextualized ito contemporary classic music for example give a listen to the fourth suite. The recording quality is great and the high abstractive factor brought the whole work close to some composers on Ambience Magnetique and that itself is a great point of interest.



Experimental / Avantgarde / Weird & Wired / Glitch / Noise / Field Recording
Edit (5087)
image not
available
anymore
Artist:
SZILARD MEZEI, ALBERT MARKOS
Title:
korom
Format:
CD
Label:
Creative Sources
(@)
Rated:
A release fully recorded in Novi Sad, wow... self suggestion brings forth a certain austerity but while the music is still really deep don't expect it to be sad or highly depressive. This string duo has a lot of reminiscences of classical studies and listenings of every individual here featured. If we must dissect this release to help you make a picture we should emphasize the fact the length of the tracks and the tracklist is too bizarre to be not intentional, there're a long couple of opening tracks and you've some mid and long compositions to close the cd, but in-between there's a big number of short sketches not longer than forty second per each. Stylistically the first episode somehow is the natural summa of many of the following moments, but I still find the musicians' choice is interesting. It's Creative Sources hence is obvious to expect some unplayed parts, but this cd is much more played than the average cd of the genre and if you consider the considerable amount of high and low tones that these two instruments can create you're probably tented to give your respect to this dynamic duo since they're well mixed together if not complementary. Don't worry they don't spend most of their recording time scratching the surface of their wooden instruments, they strike and bow chords but really discretely and without boring the shit out of you. This work is really abstract in a classical way, it's still free-improvisational music but with a big classical inheritance (give a try to the closing part of the second track). An interesting work.