Still from Omaha and Lincoln like Gama Goat we've another kind of freaks, this time we deal much more with something close to dark ambient even if it would be really reductive above all if considered something close to post-black metal music with which this cd has nothing to share. This is psychedelic crepuscular ambient music the roots of which are so damn planted into kraut-rock that Herzog should bring Kinsky back from the grave and start shooting again the follow-up of Aguirre. Holy shit, Nurse With Wounds, Faust and Popol Vuh would be moved if they're seeing how they made it into the heart of this present generation of "art brut" experimental artists. No hyper intellectualized shit, just a trip for the mere taste of getting lost, America is on its knees today we're again so close to the nightmare of Wall-street that the ghost of some suicidal investor of the crack of 29 is probably waiting for his nephews to reach him wherever he's in his afterlife. The world is trembling in fear these days, dark days "are not coming" they're already here and this music without being too depressive or too dark-wave is still misty, slow, overwhelming and narcotic. We're the descendents of the Pink Floyd generation and this' the logical step into nowhere, this nightly drones and these grey colours won't probably add anything to your collection but without being a copycat of this or that artist these guy assembled an interesting release above all during the closing episodes.



Artist:
Ebola
Title:
Mutant Dubstep Vol. 1
Format:
CD EP
Label:
Spectraliquid
(@)
Distributor:
Ant-Zen
Rated:
New and third release for the Greek Spectraliquid label, but a drastically change of the previous release format. "Mutant Dubstep Vol. 1" is the take-off of a series of CD-EP's presenting a sound outfit moving forward to some IDM/Dub-Step/Electronica music, far, far away from the cinematic trip of BLACKFILM for instance. EBOLA is internationally renowned, based in UK, so an EP – as far as labels can still afford to release this format – makes in some way sense. 4 tracks are featured, two original compositions with "Painkillers" and "Teledildonics" plus two remixes on these both tracks provided by END.USER and SHITMAT. Especially the original version of the main track "Painkillers" comes out quite satisfying, while the remix of END.USER offers the audience a lecture in "how-to-install-Down-Tempo-Breakbeats" in a straight constructed original. Quite enjoyable to listen to, although I miss a bit more ambience. Guess I can't get it all...


Experimental / Avantgarde / Weird & Wired / Glitch / Noise / Field Recording
Edit (4681)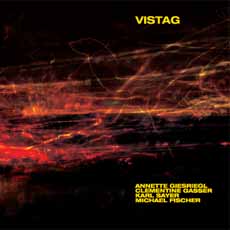 Artist:
GIESRIEGL, GASSER, SAYER, FISCHER
Title:
vist ag
Format:
CD
Label:
Creative Sources
(@)
Rated:
This cd too that opens with a misleading initial track, infact the first impression is that what we have here is the ordinary improvising group of the roster, but be patient for a couple of tracks and you'll find the situation changes and considerably since despite the same title for every track, this' a collection of impros and not a concept-work. When this band, consisting of Vienna improvising string trio plus Annette Giersiegel, crosses the electro-acoustic zone is good but is when they follow their natural propension for intense atmospheres that they go deeper and deeper reminding me some string works of bands such as like Civil War or Polwechsel. Iin these episodes where they surrender to introspection their music becomes inspired, the blend mixes some traditional and contemporary influences an here and there it also reminds of composer Toru Takemitsu, who anyway is much more sober but the Asiatic fascination is still there to stay. Despite the fact they've a violin they choose for many low registers, there's no soloist and when using the vocals they give you the impression it's a sort of Meredith Monk alike approach, but on this performance vocals have been drifted ashore by the current



Experimental / Avantgarde / Weird & Wired / Glitch / Noise / Field Recording
Edit (4680)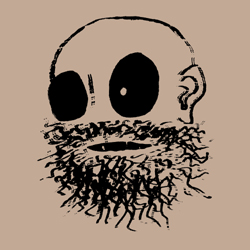 Artist:
GAMMA GOAT
Title:
Beard of Sound, Beard of Sand
Format:
CD
Label:
Eh?
(@)
Rated:
This probably one of the most weird releases on Eh?/Public Eyesore label, this band hailing from Lincoln is hardly comparable to this or that band, but in some way could be filed under: "lo-fi, strars and stripes answer to Japanese own early Boredoms". Wait a minute, we're talking about two really distant areas of the world and probably the bands themselves are really dissimilar for what concerns approach, impact, sound and many other things, but the level of freakiness is the same and above all consider also these U.S. guys share with Yamatsuka and friends that same taste for "apparently" demented vocals a la "back to primitivism!". Don't judge Gamma Goat too quickly since the tracks offer a big range of solutions and they also reminded me back in the days Skin Graft used to be such a safe place for weird combos like this...hey probably that's where Japan and Us meet! (I'm talking about the glorious Skin Graft catalogue). I think the majority of this material comes of from live takes, anyhow the lo-fi resolution fits really perfectly with most of the material, above all when they go for primordial industrial beats which could also revive the odd spirit of Blixa and friends when Einsturzende were deeply into drugs and into making a "hell ov a noise!!!. Sometimes they're bluesy but it's blues from the cave men (Mighty big boots), sometimes it's post-no wave, sometimes it's more experimental (killing ducks with nunchuk) but everything is done in a really naïve way so find your conclusions. A weird cd.


Artist:
Famine
(@)
Title:
Every Mirror Turns Black
Format:
CD
Label:
Bugs Crawling Out Of People
(@)
Distributor:
Ant-Zen
Rated:
What has started several years before with the promising Dark Electro act CRYOGENE offering a sound somewhere between X MARKS THE PEDWALK and DECODED FEEDBACK, went unfortunately completely down under before a first debut album for this act could see the light of the day. After some short musically interruptions with FRACTURED, the solo project FAMINE was born, but far away from the usual Electro/EBM formula. FAMINE creates a nervous sound outfit, which mixes Trip-Hop, Breakbeat, Clicks n' Dub, Noise or even some wild pounding Black/Death Metal styles to a special and unforeseeable cocktail. Especially those drastically and speedy Metal tunes with deep growling vocals are storming violent the scenario and quite unexpected ("Blood Sacrifice"). But also attacking IDM/D'n'B-inspired teutonic pieces like "Hands" don't take any prisoners. "Every Mirror Turns Black" fulfills the demand of an diverse and Experimental-oriented album, also and because it doesn't forget to offer enough Dark Ambient in between the adrenaline-pumping smashers. Not an album in the expected line, rather more a new experience. Now it comes to grow and develop a more matured sound – the talent is immense, as this album proves it well.