Experimental / Avantgarde / Weird & Wired / Glitch / Noise / Field Recording
Edit (5081)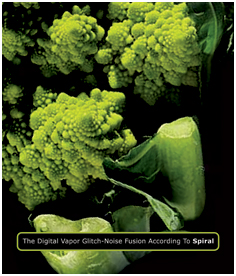 Artist:
SPIRAL
Title:
The Digital Vapor Glitch-Noise Fusion According to Spiral
Format:
CD
Label:
Lunhare
(@)
Distributor:
info@aferecords.com
Rated:
I think you may have noticed it, anyhow Andrea Marutti during the last years beside getting involved in a good number of collaborations has kept putting out solo releases (or he simply augmented his hyperactivity). Spiral is not exactly what Amon or Never Known fans may dig, but at the same time I'm sure if you're a diehard follower of Marutti and you've tasted his materials in different salsas I'm quite fond of the fact you'll find spores of his other projects in this release too. Eight track for almost one hour of "music", let's say it's mainly reworked synth material which has a little bit of ambient attitude for what concerns the structure but that reminded me much more of some post-industrial-experimental projects. Some years ago this work could have come out on labels such as Invisible, Possible records or Sentrax Corporation, I've found reminiscences of Coil, Mika Vainio, ELpH, a simplified Asmus Tietchens and who know what else. The title says a lot, but this' not a loud release and it's also far from being brute or whatever, here are featured a good amount of high and low frequencies and an intentional propension for simple song structures with simple or hidden melodies. I can't say this' one of those releases the majority of you will file under easy listening but betraying the impression given by the album title this' not Marutti in his "heavier than life"-mode so the electronic pussy like you and me won't complain like "nnooo... he's depressed me once too much!!!". Under a certain perspective this' an unusual release with a really experimental and ludique extravaganza but at the same time if you exclude a couple of really difficult tracks, I think this' something definite worth of a try.
Experimental / Avantgarde / Weird & Wired / Glitch / Noise / Field Recording
Edit (5078)
Artist:
Heroin And Your Veins
Title:
Nausea
Format:
CDS (CD Single)
Label:
Verdura Records
(@)
Rated:

When you listen to a lot of music and educate yourself on different genres, I find that it's somewhat easy to get jadded on occasion, and feel like you've heard all there is to hear in such a such type of music. And whenever I start feeling that way, I end up stumbling upon a band with a unique sound that slaps my assumptions straight out of my head. Finnish project Heroin and your Veins is one such band.

"Nausea" is the second album from Heroin and your Veins, their debut album being released back in 2007. Both records are awesome, but I hear alot of growth between the two records, with this newest release being the better of the two.

It's a bit hard to accurately describe the music that this band makes, but obviously I intend to try. Imagine a surf band from Hell, or an experimental lounge band with a really bad hangover. All of the music is instrumental, and sounds very much like the perfect soundtrack for a really weird film noir, or moreso a David Lynch movie... Actually it kind of has some of the elements of
Angelo Badalamenti's work with Lynch, they both share a great usage of space and mood, and a certain jazzy influence, though Heroin in your Veins bring way more of a surf element to the table than the former. It's part post-rock, part experimental, but all very slow, dark, brooding and original as hell...

Every single one of the 10 songs on this album rule, and I recommend you check out this project if you're in the mood for something new and interesting...
Experimental / Avantgarde / Weird & Wired / Glitch / Noise / Field Recording
Edit (5070)
image not
available
anymore
Artist:
THE SHIPWRECK BAG SHOW
(@)
Title:
il tempo... tra le nostre mani, scoppiaaaaa!
Format:
CD
Label:
Wallace
(@)
Rated:
I was really looking forward to giving a listen to this new Shipwreck release since after repeated listenings to their debut 3" mcd I've to admit it gradually grew on me, I liked it from the very first play, but I've to confess after many heavy rotations it brought me to think it was a great debut. This new effort by the dynamic duo featuring Xabier Iriondo on guitar, mahai metak, taisho koto, bandonion, banjolino, field-recordings, electronics and Roberto Bertacchini on a minimal quasi-skeletal drum kit plus vocals, has been nothing but misleading, while the music in someway reflects deeply the perfect combination of Iriondo's string-style plus Bertacchini's Starfuckers/Sinistri alike drumming, on the other hand the vocal add some new unexpected elements. Looking at the pictures and listening to the music it's hard to stay away from the idea Bertacchini has probably seen the light and Iriondo is helping a visionary to ascend thus we can say he's part in the process has been that of a shaman while Bertacchini is the holy spirit. Here and there you'll have the chance o catch some blues, American-music splinters, some deviant free-rock/free-folk/free-whatever extravaganza and some experimental field-recording, documentary/home-recording sort of combinations. Bertacchini's vocals are even freaker than his crippled epileptic drumming, how to describe the outcome?!...hhhmmm... imagine Captain Beefheart and Dave Moss (ok, shame on you if you think I've mentioned him just cause he's both a drummer and a weird as fuck singer!) and maybe a little bit of Massimo Volume's Emidio Clementi diminished of his theatrical emphasis. Don't expect it to be a release full of songs, all you're gonna have are tracks, mostly skeletal, crippled tracks with that characteristical beat style on which Iriondo seems to move comfortably with his post-kraut-bluesy-rock-folk rifforama. Sometimes this music sounds vintage, sometimes it just sounds crippled and out of time, post-bomb rural crippled free rock from somebody who's seen the light?...you can bet it.
image not
available
anymore
Artist:
KAA ANTILOPE
Title:
VPRO RadioNome April 2 1982
Format:
12"
Label:
Enfant Terrible
(@)
Rated:
Recorded live for the RadioNome radioshow, broadcasted by the Dutch radio and television broadcaster VPRO, VPRO RADIONOME APRIL 2 1982 is the fist and maybe last chance to know a particular band called Kaa Antilope. They produced a sort of experimental/pop mix where melancholic melodies were coupled by analog sounds creating a particular atmospheres. Since the first listening I found the ten songs of the MLP perfect as a post catastrophe soundtrack, for example. The apparent fragile musical structures are toughened by the various synth noises that create a sort of theatrical approach. Check "Red bushes" and "Rise up helicopter, like a bird" excerpts at the label's website and you'll get a good picture of their sound. The 12" is limited to 500 copies and will have also liner notes written by band's friends.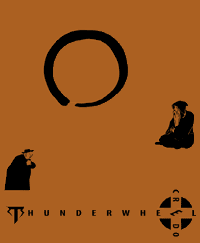 Artist:
THUNDERWHEEL
Title:
Credo
Format:
CD
Label:
The Eastern Front
(@)
Rated:
Created by Vadim Gusis, already known for Chaos As Shelter and member of Agnivolok, Thunderwheel is a particular musical project. Helped out on some tracks by Igor Krutogolov (Kruzenstern & Parohod, Agnivolok, Igor Krutogolov's Carate Band) and Slava Smelovsky (Grundik + Slava, Crossfishes), Vadim created the eight tracks of CREDO having in mind Zen philosophy and, I think, the particular structure of Japanese/oriental music. The result is a sort of surreal soundtrack where dissonant melodies, whispered vocals, percussive sounds and theremin create an oneiric world made of slow rhythms and strident sounds. Like a nightmarish orchestra Thunderwheel painted their personal picture and it's all to be discovered...