Experimental / Avantgarde / Weird & Wired / Glitch / Noise / Field Recording
Edit (5218)
Danville by Mark Snyder is one of those albums that triggered images and memories for me almost immediately. Although 99 percent of the album is little more than tones, drones, and layered synthesizers, it becomes much more that the sum of its parts. Danville feels like the soundtrack to a Kurosawa-esque battle scene, where after the fighting starts, the sound effects and dialogue are no longer heard over the score. However, instead of Kurosawa samurai battles, there are interstellar battles with space ships, robots, androids who no longer respond to emotions (whether or not they technically still have them), space stations with synthetic food processors, and computers who plan strategic battles with the effectiveness of the program traders of 1987's Black Monday.

There are only three tracks which do not fit this mold to a T. The first being America 1958, which sounds like an early Dosh song minus the drums and the other songs being Leary and 1217071 which feature Holmes Ives. America 1958 is my favorite track on the album and has made it as an interlude on my last few synth pop play lists. Leary and 1217071 are the only songs I do not like but this is not because they are not good. It is because I am Jealous of Holmes Ives and wish I was the one to add percussion and vocals.

Alluvium is a visual accompaniment of some of Danville's songs. The majority of the visuals are pictures progressively changing and overlapping one another, which fits the music's overlapping tone type. Once again, America 1958 is the stand out track because it features stock videos from what appears to be commercials from products circa 1958.

What is great about Mark Snyder and his work is that he brings a much needed feel of musicality to the tone-and-drone set. Instead of similar musicians who are doing the most they can with softsynths and the little musical training they possess, Mark Snyder's music is the soundtrack of someone who is using a wealth of musical experience to make perfectly simple music.
Experimental / Avantgarde / Weird & Wired / Glitch / Noise / Field Recording
Edit (5217)
Calling Yximalloo (aka Naofumi Ishimaru) a Japanese Harry Partch may be saying too much, but there's no doubt that he lives in his own sonic world. And what a world it is too! Yximalloo could be classified as avant-garde but that label would be doing him a disservice. His unpop sensibilities are the result of the externally imposed limitations of lack of training, poverty and the wish to express himself as he is without the limitations of labels. In this time of over-produced radio swill this blows open the ears and counters our expectations. Yximalloo is not avant-garde, it's avant-avant-garde, the expressions of a new life form that needs to be studied to be understood. But since this is also music it needs to be listened to as well. Can we truly understand someone without learning their language first? I don't think so. Intensely original and not a little frightening in its courage. 24 tracks.
Experimental / Avantgarde / Weird & Wired / Glitch / Noise / Field Recording
Edit (5212)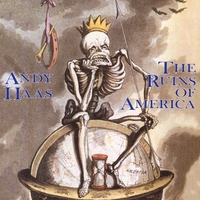 Artist:
Andy Haas
Title:
The Ruins of America
Format:
CDS (CD Single)
Distributor:
CDBaby
Rated:
Andy Haas, past sax player for Toronto band Martha and the Muffins, and afterward avant-garde NY artist regales us with 15 tracks of processed sax, fife, electronics and prepared loops centered around the theme of a ruined America using the hymn "Materna" as a foundation. It all sounds a bit spooky and sad which probably gives us insight to his political leanings. Lament and mourning are all well and good but sooner or later you have to get over it and start making things better. I see this as part of the mourning process. Regardless of all the talk this is a highly imaginative sonic journey using all kinds of recording tricks to create a specific sound bed for each track.
Experimental / Avantgarde / Weird & Wired / Glitch / Noise / Field Recording
Edit (5211)
Artist:
Flesh For Frank
(@)
Title:
RAW
Format:
CD
Label:
Brown Coffee Records
(@)
Rated:
Ten tracks from noise, cut-up artist Francois Marceau from Montreal. Armed with a laptop, some free computer programs and a crappy microphone he bewails the chaotic state of the universe with ditties like "Gimme a beer and shuddup," "Paranoid malfunction," and "noise under construction." Not just wall to wall screeching, but actual sound manipulation, just on the distorted, shredded side of things. It doesn't hurt that he has a Frank Zappa sense of humor going for him as well. If that kind of thing interests you, go for it.
Experimental / Avantgarde / Weird & Wired / Glitch / Noise / Field Recording
Edit (5209)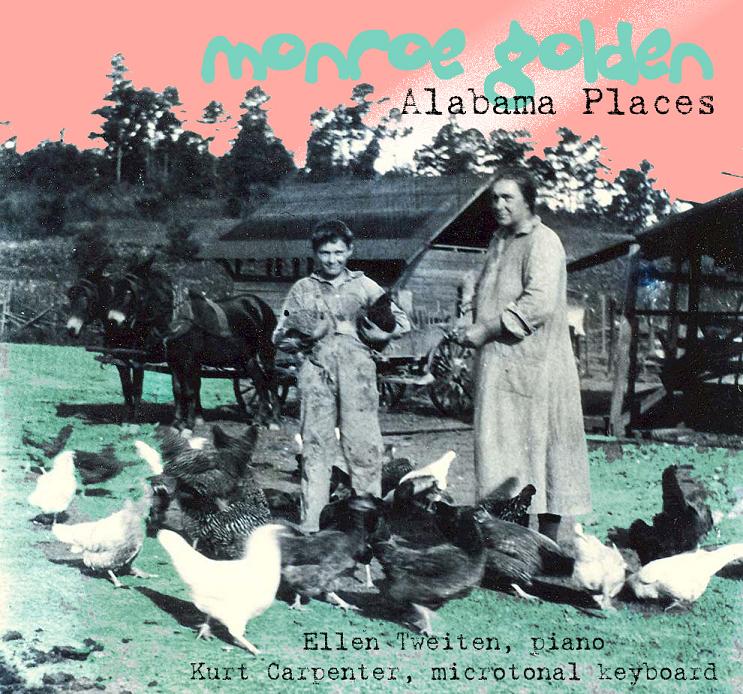 Artist:
Monroe Golden
Title:
Alabama Places
Format:
CD
Label:
Innova
(@)
Rated:
Duo of Ellen Tweiten on piano and Kurt Carpenter on microtonal keyboard. As you would expect there are some glaring sonic collisions when putting the equal tempered piano together with a microtonal keyboard. Considering the mention of geographic locations it seems to me that the musicians might be trying to express the juxtaposition of past and present? The past represented by the thin microtonal keyboard, sounds reminiscent of the supposed music of dead cultures using whatever was at hand, dramatic when compared to the full sound of the regularly tuned piano. An interesting experiment but is it worthy of 16 tracks (17 if you count the mp3 bonus track)? The sound can really grate on the nerves after a while. I even had to quit listening to music for a while to get my calm back and give my irritated eardrums a rest.