Experimental / Avantgarde / Weird & Wired / Glitch / Noise / Field Recording
Edit (5027)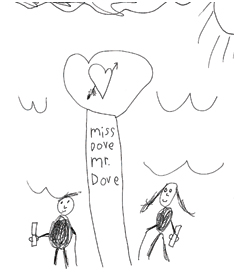 Artist:
JOHN HUDAK
Title:
miss dove, mr. dove
Format:
CD
Label:
Afe
(@)
Rated:
I'm sure John Hudak is without one of those artists many of you should have heard mentioned here and there if you're into experimental music and/or in sound art. This guy from Massachusetts has some interesting works on several labels like Alluvial Recordings, and/OAR, Korm Plastics, Aesova, Intransitive Recordings, Digital Narcis, Presto!? and many others. Despite the fact I just own his cd on and/or, I've had the chance to listen to a couple of his past recordings and if you're urgently looking for a label to identify his music let's begin by saying most of his works for many of you/us may sound abstract whatever it means. According to my own opinion his personal style is basically oriented toward a sort of "tiny" sounds-minimalism (ok I swear I'll never write such a bullshit again, so please forgive me!). This effort is based on a field-recording of birds made in Czech Republic during the summer of 2007, and later manipulated and reshaped via software in order to create a coherent composition. Suggestion of the liner notes or not, after having read the sound-source are birds it all made more sense but I write it just for those of you who wonna know hows and whys of a weird cd, infact if I had to base the review just on the music I'd write this and interesting, abstract soft piece of pointillist-minimalism. I suggest you to do a field-recording of birds yourself, you'll be amazed by the discovery those tiny animals emit sounds in a really rhythmical manner, add Hudak recorded it all from an adjacent building to that from which the sound of the birds where coming that means he has to deal with a great amount of echo. This American sound artist sticks to the minimalist dogma of reducing the music to a really small number of sounds thus if you're looking for hyper-sophisticated releases I guess that's not exactly suitable with your taste, but if you're in the ranks of those who are able to sit down patiently and listen to the developing of a minimal composition, I think this' definitely worth of a shot.

In a scene mostly crowded of male artists, Abby Helasdottir shows the basic idea that dark ambient/experimental music is exclusively male oriented is a bullshit and this release also demonstrates the concept female musicians may have this or that characteristics is false. As we've already said this musician from New Zeland deals with dark ambient from the music to the layout and if you're looking for some supplementary hints I'd say this doesn't belong to the category of "I'll scare the shit out of you" dark-ambient releases, it's an heave trip for sure but it's a psychedelic crepuscular trip that presents some really melodic interventions that change the whole atmosphere of the two long tracks here included. It looks like some sound source of this release comes from some old tape experiment she did during the late nineties and someway the global feel of the most obscure passages could suggest it, but if that puts forward the equation: "old sounds equals retro music"... forget it. The interesting game of heavy passages and melancholic quasi-sacral movements is mainteined also in the second track of this work, here you've more outspoken keyboards sounds that twist the shape of the scenario but the style is really similar to the music of the opening suite. I know you may not agree with me but I think Gydia's music fits really well with definitions such as like "ecstatic", yes, "dark and esthetic" and considering she's far from those mono-drone ercordings where you feel like bored to death after a few minutes, I'm sure you'll appreciate the way she maintained her composition dynamical by moving different elements and atmospheres during the length of every track.
Artist:
THE FUNGUS MOTH (@)
Title:
Dispersal Procedures
Format:
CD
I was doubtful if reviewing this or not but the honesty of Andy Duncan convinced me to spend some words about his work. Active in the 80's with different monikers but taking mainly his musical activity as personal amusement, Andy did during the years about 20 releases. He describes himself as home brew industrialist and DISPERSAL PROCEDURES is a live recording (a mono crowd recording) of his participation at the 2008 Venn Festival in Bristol. The twelve tracks of the CD are a sort or reworked compilation of his past works and actually they sound as a mixture of Mark E. Smith (of The Fall) on acid while hitting on his guitar and noisy tape cut-ups. Some tracks sound interesting but the poor recording doesn't help me understanding Andy's industrial spoken word. If you are English, you like originality and you ain't afraid of sane craziness, write him a mail...
Experimental / Avantgarde / Weird & Wired / Glitch / Noise / Field Recording
Edit (5018)
Artist:
John Zorn
Title:
FilmworksXIII: El General
Format:
CDS (CD Single)
Label:
Tzadik
Rated:
Has anyone been on a such an amazing roll as John Zorn has been these past few years? The Gift, The Rain Horse, The Dreamer's, Moonchild, Lucifer: Book of Angels Vol. 10, The Crucible, and now he takes another brilliant left turn with Filmworks XIII: El General.
The liner notes to "El General" explain the long and uncertain journey of this album. Zorn was reluctant to work on this music because, as he explains, the soundtrack medium is becoming a bit worn for him, and also because he just didn't think he was right for the project. The filmmaker was persistent however (thanks filmmaker!), but in the end gave Zorn short shrift by only placing three of the pieces in the film and hiring another composer to score the remainder (naughty filmmaker). For all this, "El General" does not suffer one bit. The music has a completely fresh, and (to my ears) original sound. I can't say that I've heard music like this before from anyone. There's definitely Mexican influence (the film is about the Mexican dictator Plutarco Elias Calles), most evident in the use of accordion. But there's very little reference to traditional Mexican sounds, scales, and arrangements. Marc Ribot's electric guitar-work features prominently, as does Kenny Wolleson's vibraphone. This is an easy-going album, and light-hearted for the most part, but there are also moments and even entire songs which have a somber mood. The pace of the album is fairly steady throughout, which is not something found in most of the Zorn catalog. Once again Zorn relies on the incredible talents of Marc Urselli to both capture the performance of these songs and also do the mixing, in order to make sure they come across to the listener as intended. Urselli has now recorded and mixed most of my favorite (and what I believe are the best and most subtle) Zorn albums. So it would seem that Marc is on just as much of a roll as Zorn himself. Mr. Urselli has an amazing ability to remove all obstacles between the performance and the listener. He's able to give the recording such an immediacy and presence that the recording medium itself seems to not exist, as though the performance is happening anew for the listener each time.
Scott Hull gets the call for mastering duties and does not disappoint. It must be an extreme pleasure to polish these gems. I've listened to the Zorn albums mastered by Hull in countless different situations on systems of widely varying quality - the power, the nuance always comes across. Keep it up gentlemen!
Experimental / Avantgarde / Weird & Wired / Glitch / Noise / Field Recording
Edit (4988)
Artist:
Hopen
(@)
Title:
Their Quasi-Homes are Real Holes
Format:
CD
Label:
Everest Records
(@)
Rated:
There isn't a whole lot on the label's website about Hopen but it seems to be a project comprised of Childe Grangier and Bruno Gillet. The label describes the album thus: "This album is a black cloud, it is about lesbians, sick father, noises and passages... Dark horses invading at the same time houses, holes, stages and lives. My darkest theater... " True, if you want a nice rant about being a lesbian, Hopen has you covered in their track "Vorrh," which is actually quite interesting. First off, let's talk comparisons. The ones that come to mind immediately include Hafler Trio's cut up stuff and Zoviet France's Loh Land. What Hopen brings to the mix is a kind of whimsy. This is the sound of a toy store after dark when all of the humans have left and the toys come alive to create their own orchestra. Now take the soundtrack made by that orchestra and run it though processing, slowing it down at times and speeding it up, then cutting it into pieces and randomly reassembling it. That is about the best way I have to describe this. And it is done rather well. If you like your music to be more incidentals than melody, you need this. This disc weighs in at about 46 minutes.