image not
available
anymore
Artist:
THE DIELECTRIC
(@)
Title:
Rapid-Eye Vol. 3
Format:
CD EP
Label:
Urbcom
(@)
Distributor:
Rough Trade
Rated:
Third part of this ongoing trilogy series for THE DIELECTRIC, J. Hookens' follow-up project after JERICO ONE. This third EP continues with the already discovered path, which he has presented with the predecessor "Flicker Of An Eye". Musically offering a wide-ranging style by integrating extracts out of Electro, Industrial, Ambient and modern IDM/Electronica, he impresses once again with the choice of multiple guest musicians. Each of the presented 5 tracks has its own story behind, be additional help on the production, or be it recorded at different places. The opener "Corridors" pleases with extra-ordinary percussion inserts and German voice samples thrown in the mix. For the tracks "Flight" and "Directiv" J. Hookens has added the Swedish singer Ann-Mari Thim (ARCANA) to perform the female counterpart. The Belarussian Avantgardist Vladislav Buben has provided some additional instruments and has co-written the tracks "Exteria" and "Lucid". Especially the all instrumental tune "Exteria" convinces with some noisy synth lines, it seems that V. Buben's hand-writing shimmers through. Compared to the above named predecessor, this third chapter of the "Rapid-Eye Assemblage" series seems to be more upbeating, while the percussion work of Hookens is still the outstanding factor in the production process of THE DIELECTRIC. What astonishes me a bit, is the fact, that this release comes out in different formats. There's also available a strictly limited 7" vinyl single, which can be purchased only and directly from THE DIELECTRIC website – if it hasn't been sold out yet.
Experimental / Avantgarde / Weird & Wired / Glitch / Noise / Field Recording
Edit (5460)
Artist:
Frank Rothkamm
(@)
Title:
Ghost of New York
Format:
CD
Label:
Flux Records
(@)
Distributor:
Flux Records
Rated:
Frank Rothkamm's Ghost of New York' is the first installment of his 3 CD+1 DVD "Tetralogy". Elsewhere, Ghost of New York' has been hailed as "a brilliant work of sonic alchemy," and "a masterpiece". I'm afraid I can't jump on that bandwagon. Maybe it's because I have been listening to experimental electronic music since the late 1960's, or because my first synthesizer was an ARP 2600 back in the 1970's. So the awe and wonder of the analog waveforms has worn a bit thin over the years, especially in light of so many technological advances in electronic equipment.

Treading the well-trodden terrain of early electronic music experimenters such as Varese, Stockhausen, Subotnick, Beaver & Krause, La Monte Young, The Barrons ("Forbidden Planet") and so many others, the sonic collages on Ghost of New York' are a bit clichéd. These synth oscillator modulations and white noise burblings have been done so often before they don't offer much new. I have listened to this CD a half-dozen times (it is only 33 ½ minutes) just to make sure I wasn't missing anything. I don't believe I was. It all sounded a bit too sterile. It might work with a visual display or art installation but it left me rather cold as an audial experience. The reason for this is explained in the CD liner notes, and while rational (yet somewhat esoteric), it did not improve my listening experience. On the positive side, the graphics on the CD are intriguing.

I didn't get any impressions of ghosts, spirits, apparitions, or poltergeists either. Then again, I don't believe in spooks, so you can take my skepticism for what it's worth. On his website, there is a detailed explanation of Rothkamm's "aesthetic of supermodernism," the psycho-cybernetic philosophy he employs as a basis for his musical vision having to do with the randomness of man and machine. Although some valid points were raised, I found it a bit pretentious. I cannot see the means justifying the end result here.

Too bad about this CD too; I had high hopes when I saw the promo picture postcard showing Frank in a chair from the back hard at work laboring with his equipment eerie lit by a pair of halogen lamps done in sepia tone similar to the CD cover. I thought, "hmm, interesting. Maybe this has possibilities." Guess I was wrong, at least for me.

This is a limited release of 333 copies. Not easy to find unless you go to his website. Maybe I might like next installment better. I know he has dozens of releases going all the way back to the early 90's. I have never heard any of them so there is no basis of comparison. He's worked with the Hardkiss Bros, Peter Scherer, Elliott Sharp, DJ Spooky and a slew of other people. Perhaps if you're craving an experimental, purely electronic work just for the sake of hearing something new, you might want to check this out. But if you're not familiar with the classics, you should really check them out first.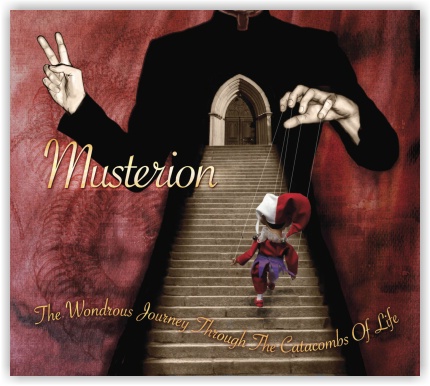 Artist:
Musterion
(@)
Title:
The Wondrous Journey Through the Catacombs of Life
Format:
CD
Label:
Horus CyclicDaemon
Rated:
Swedish-born composer Simon Kölle has been touted as one of the most significant Scandinavian musicians of his generation and genre. Mostly known for his work with Za Frûmi but he also did a fantastic solo album under the name Musterion. That was 2005 and the album titled "The Black Lodge". Now Simon is back with his second album with Musterion.

The first thing to praise with this album is the outstanding artwork laid out as great work of art on a multi panel Digipack. The artwork is truly clever and honestly I cannot think about any artist in the genre of dark ambient that released an album as beautiful as this.

The story, which is laid out in a deep and impressive booklet, is wonderful and reminds me of masters such as Devil Doll, Pink Floyd, David Lynch and Lovecraft. The music is so unique and cinematic I nominate it to be the best dark ambient album this year for sure. From the opening moments of the first piece "Elevator Down" it becomes evident that Musterion possesses a special demeanor via his ferocious line of attack, spiced with verve and a robust tone. Coupled with fluent lines and a few technical nods to the psychedelic years of the 60s, the artist snags your
attention, and sails through these largely, original pieces with equal doses of fire and grace!
Only great poetry can describe the music on "The Wondrous Journey through the Catacombs of Life" and Horus CyclicDaemon, the Czech label, has outdone themselves with this diamond release.

There is a slight Eastern European accent to the underlying rhythms and their instrumentation but also hints and pieces of the puzzle that breath art music as much as dark ambient.

The most remarkable aspect of the album is its ability to tell the story with the help of the music, text and art. The album takes you on the wondrous journey with masterful precision, embodying the heart-wrenching emotions and memories of the man we inhabit while listening. He makes a discovery and finally a downfall with strange circus themes and marvelous sound elements never restrained. In terms of the actual music, not much is different from Musterion's previous album, though a significant role is given to the violin and to the very fact that specific keys offers dual representation of both the innocence of the main character and the dark setting of the catacombs, lending a music-box style to the album that accentuates the bedtime storytelling ambience. The Piano is important but not as much as with the "The Black Lodge".

When I listen to a song like "The Dollmaker" I get so into the music I get back from a trip when it ends. I cannot even describe half of everything what is happening but I feel a lot. First I thought that maybe some songs would be overly stuffed with great ideas but not really creating a red thread. Oh, I was so wrong. The thread is there and the songs are not stuffed with other than greatness.

I love this album.


There's an almost "romantic" aesthetic purpose surrounding the eruptive and destructive disassembly of the Norwish project Golden Serenades, made up of the tympanic membrane torturer John Hegre and Jørgen Træen (both of them involved in the renowned prolific Jazzkammer, a noise/electronic famous experimental project also propelled by the quick wit by Lasse Marhaug), wonderfully summarized by the rose-coloured rocks of the majestic Horninsdal mountains, whose imposing appearance seems to tower above the homonymous lake and the obscure template drawn by the conifer woods laying on its banks. They've gained a certain notoriety in the obscure and controversial art of the so-called instrument bashing, i.e. that sadistic divertssment in recording and filtering an instrument during its destruction and dismantle, the typical dish they served (rigorously hot... ) in their past productions including a plenty of tapes, CD-Rs and CDs, showing such a cutthroath cruelty in fragmenting instruments that the most furious noise experiments by legendary saboteur such as Psychic TV, Einsturzende Neubaten or Merzbow and even the irritating noise produced by your mother while hovering (!) could appear as chilly and enchanting melodies indeed! It's quite easy to find on Youtube one of their performance in 2007 during which they destroyed a 5000$ priced guitar (net nanny-like warning: if you're a guitarist, don't look for it... explicit contents could rise you angry as well... !); on Hammond Pops, the chosen victim is an Hammond organ, completely disintegrated with the tacit consent (excuse this word-trickery expression... ) of the organist and sound-carver Sigbjørn Apeland.


A 40-minute non-stop lasting agony full of piercing noises and shrill cries of the instrument which is going to bleed your ears, but with an unexpected narcotic power that will induce you to keep on listen this atrocious but funny experiment till the end, a crushed drone and an aesthetic brave immoderacy which are astonishingly able to bewitch the listener. People with trained pavilions and a taste for extreme sound morphing will be surely delighted by Golden Serenades crimes! Tremendously subversive and totally estranged from conventional forms, delighting even our bleeding eardrums...


PS: don't be scared as the Hammond organ's not totally clinically died and started intensive rehabilitative treatment!!!

Experimental / Avantgarde / Weird & Wired / Glitch / Noise / Field Recording
Edit (5445)
Artist:
Nina Walsh
(@)
Title:
Bright Lights & Filthy Nights
Format:
CDS (CD Single)
Label:
Malicious Damage Records Ltd
(@)
Distributor:
Malicious Damage Records Ltd
Rated:
This is the kind of album we don't usually get around here; a folky, predominantly acoustic little number more likely to found reviewed in the glossy pages of Alternative Press or Spin than the cold, grey post-apocalyptic landscape of Chain D.L.K. However this release is deserving of attention because it IS different in a quirky, oddball sort of way. It is the arrangements more than the songs or singer that makes it unusual; although Ms. Walsh's vocal characteristics are notable for their dichotomy of innocence and world-weariness.
The same is true with the CD cover- a girl looking like Heidi, Rebecca of Sunnybrook Farm (or an older version of the Sunbeam Bread girl) and the title, "Bright Lights & Filthy Nights," a contrived but charming contradiction. And so it goes with the music- simple and guileless in song structure most of the time, yet employing subtle (and some not so subtle) production techniques and instrumental touches lift it out of the banal. You don't hear much theremin and synth burbles and atmospheres backing most folky artists, but you'll hear it here.

The result is what you might get if you were a folk singer/songwriter and your album was produced by John Cale, Brian Eno AND Edward Ka-Spel. There is a bittersweet aura to the songs as Nina's voice is soaked in Melanie's "Leftover Wine" and the embers and ash of Marianne Faithfull's last cigarette before she started singing in Broken English. Echoes of Hope Sandoval and pre-Marble Index' Nico (sans the Teutonic drama)
haunt the halls Walsh's musical manse. I also hear a bit of Lida Husik and Claudine Longet. Not only has Nina well absorbed some of these nostalgic influences, but has wrapped them in an appealing modern eclectic package.

Perhaps that's due to her musical resume. She did a vocal track for Primal Scream. She created and co-managed two record techno labels (Sabres of Paradise' and Sabrettes') with Andrew Weathererall. She was involved in SLAB with Lol Hammond and co-wrote two track on The Orb's Cydonia' album with Alex Patterson. I'm compressing here; there's a lot more that she's done, including running her own experimental underground label, CPIJ Records. But now you know she's not just some chick with a pleasant voice and an acoustic guitar who happened to get lucky with an inspired bedroom recording.

There are some interesting diversions on Bright Lights' too. Her vocal compatriot, Gareth Thomas, conjures a less emotive and gentler Martyn Bates (Murder Ballads', Eyeless in Gaza) on "Storms". "Love Leech" is straight out of Danielle Dax's playbook of playful weirdness. And the wonderfully atmospheric track "Industrial Folk" could easily have been done by Bjork. In certain respects, I'm reminded of the SPELL collaboration with Boyd Rice and Rose McDowall by the overall feel of the album.

As good as the songs are individually, there is one standout track, appropriately titled "Strong". It's anthemic with a killer chorus hook. This song has a lot of potential in the college radio market. While I don't think Bright Lights & Filthy Nights' is perfect, it comes damn close to being a classic. Audrey Riley's fine cello playing also deserves some mention as it enhances the melancholy mood of many of the tracks. Bravo, Ms. Walsh for putting out a fine album. I think it might just be remarkable enough to pique some curiosity amongst the jaded.