Experimental / Avantgarde / Weird & Wired / Glitch / Noise / Field Recording
Edit (5212)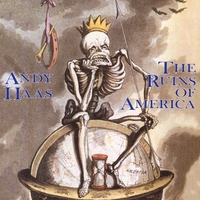 Artist:
Andy Haas
Title:
The Ruins of America
Format:
CDS (CD Single)
Distributor:
CDBaby
Rated:
Andy Haas, past sax player for Toronto band Martha and the Muffins, and afterward avant-garde NY artist regales us with 15 tracks of processed sax, fife, electronics and prepared loops centered around the theme of a ruined America using the hymn "Materna" as a foundation. It all sounds a bit spooky and sad which probably gives us insight to his political leanings. Lament and mourning are all well and good but sooner or later you have to get over it and start making things better. I see this as part of the mourning process. Regardless of all the talk this is a highly imaginative sonic journey using all kinds of recording tricks to create a specific sound bed for each track.
Experimental / Avantgarde / Weird & Wired / Glitch / Noise / Field Recording
Edit (5211)
Artist:
Flesh For Frank
(@)
Title:
RAW
Format:
CD
Label:
Brown Coffee Records
(@)
Rated:
Ten tracks from noise, cut-up artist Francois Marceau from Montreal. Armed with a laptop, some free computer programs and a crappy microphone he bewails the chaotic state of the universe with ditties like "Gimme a beer and shuddup," "Paranoid malfunction," and "noise under construction." Not just wall to wall screeching, but actual sound manipulation, just on the distorted, shredded side of things. It doesn't hurt that he has a Frank Zappa sense of humor going for him as well. If that kind of thing interests you, go for it.
Experimental / Avantgarde / Weird & Wired / Glitch / Noise / Field Recording
Edit (5209)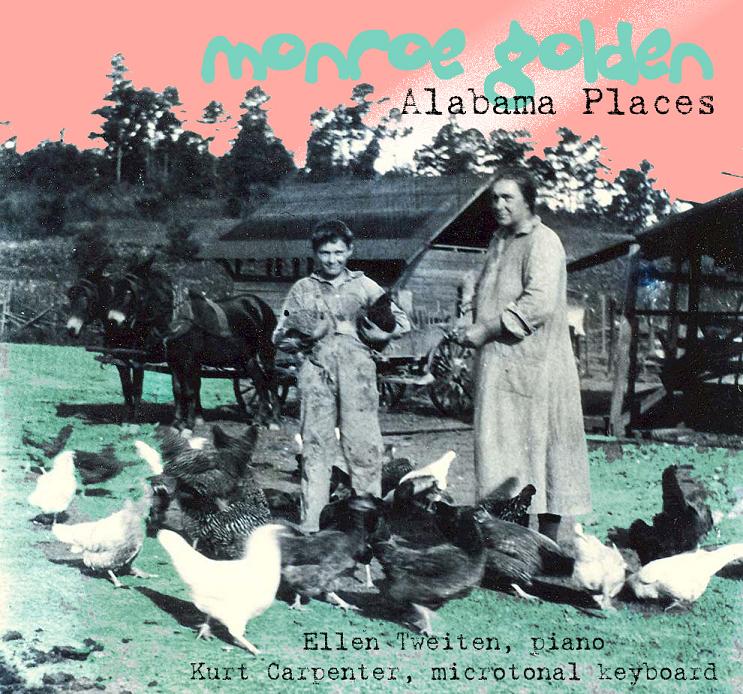 Artist:
Monroe Golden
Title:
Alabama Places
Format:
CD
Label:
Innova
(@)
Rated:
Duo of Ellen Tweiten on piano and Kurt Carpenter on microtonal keyboard. As you would expect there are some glaring sonic collisions when putting the equal tempered piano together with a microtonal keyboard. Considering the mention of geographic locations it seems to me that the musicians might be trying to express the juxtaposition of past and present? The past represented by the thin microtonal keyboard, sounds reminiscent of the supposed music of dead cultures using whatever was at hand, dramatic when compared to the full sound of the regularly tuned piano. An interesting experiment but is it worthy of 16 tracks (17 if you count the mp3 bonus track)? The sound can really grate on the nerves after a while. I even had to quit listening to music for a while to get my calm back and give my irritated eardrums a rest.
Experimental / Avantgarde / Weird & Wired / Glitch / Noise / Field Recording
Edit (5200)
image not
available
anymore
Artist:
OGOGO
Title:
lunar surphase
Format:
CD
Label:
III Records
(@)
Rated:
This Is my third round with Igor Ogogo's music and I'm starting to recognize the sound of his guitar/music in a split second, I think that itself means this guy has a personality as a musician. According to my personal taste this' the best of the lot of releases he's sent me, it's the most heterogeneous, the melodies and the song structures are crazy but really catchy and somehow I find the songs have become really expressive. Expressivity is a focal point in the economy of the release, infact he hasn't left his bizarre taste back home but the narrative plot in most of the tracks is easier to be followed despite the several tempo changes. I've probably mentioned before the eighties-experimental-music aftertaste of Ogogo and the fact he reminded me some materials of Elliott Sharp's Carbon Orchestra but as I've already said this' not a copycat of some old Sharp's recording. On this recording Igor's guitars have been enriched by some guest appearences of Rod Oakes on trombone and Andrei Solovyov on trumpet and flute, with intruments like these I'm sure som of you may have thought to some weird jazz musician, but I hear more no wave-avant jazz-contemporary classic-funk-rock elements in the soup, that brings "lunar phase" far from what you may consider jazz, the only parallel I can think of is Isotope 217. As suggested by the title the "outer space" element is quite explicit above all if you think to the fact the majority of the melodies have that stoned psychedelic feel that makes you feel there's a bad trip going on inside your head. Usually I'm not the biggest fan of analogue-synth sounds and this recording is so full of reshaped guitar, synthetic bass-lines, weird keyboard and electronic drum-lines a la 808-drum-machine, but on this recording nothing looks out of place. I think I've to add despite the strong personality of the musicians, there's something ironic in most of the songs that makes it even ore interesting. Ogogo confirms to be a weird and bizarre musician a psychiatric answer to George Clinton but, please, don't take me literally.
image not
available
anymore
Artist:
Zu
(@)
Title:
Carboniferous
Format:
CD
Label:
Ipecac recordings
(@)
Rated:
Zu is one of the most interesting bands to come out of Italy in a long long time. A baritone saxophone player, a bass player and a drummer who also does electronics and Mellotron, is the Rome-based personnel who fuel the fire that burns within Zu, with a flame so high that even even Mr. Bungle/Fantomas' Mike Patton and Melvins' King Buzzo have taken notice and lend their talents and abilities to "Carboniferous" (along with a bunch of other local collaborators). Zu has also previously collaborated with Damo Suzuki, Thurston Moore, Mats Gustafsson, Guy Picciotto, Jim O'Rourke, Eugene Chadbourne, No Means No, Karate and many more, so obviously they understand the importance of exposure and cross-pollination, which is something their music thrives on, is full of and is based on. "Carboniferous" (released on Patton's label Ipecac) is equal parts heavy metal, avantgarde jazz, industrial experimental music. The sheer fury and sonic assault of the rhythm section reminds of Neurosis, Zorn's Moonchild/Crucible, Melvins or even Sepultura at times but the addition of the deeply resonating bari really takes this to a place where no one has (or very few have) gone before. Obviously when the sax whales and screams incessantly it's hard not to think of Zorn's amazing playing, but then when it blends in as part of the overall mood or of the percussive patterns it almost sounds a little bit like Lou Reed's latest incarnation of the Metal Machine Trio. Needless to say the pieces where Patton lends his voice are incredibly powerful and anthemic (in the first of the two he screams Moonchild/Crucible style but in the closing piece of the CD he growls and regurgitates and even manages to sound like a cross between a didgeridoo and a tuvan throat singer).
Overall I love this record. It is different from what's out there, diverse within, powerful and aggressive but innovative and interesting at the same time. Highly recommended if you like extreme stuff that's out there and yet lets you do some head banging!