image not
available
anymore
Artist:
PIETRO RIPARBELLI / K11
Title:
Metamorphic Portrait 1230 A. D.
Format:
CD
Label:
Actual Noise
Rated:
During the last year I've been reviewing at least three Ripabelli's releases and I've seen him once live, funny since despite the fact I happened to hear and read his name mentioned several times I didn't know how he sounded like or anything else about him and all of a sudden one listening after the other. This italian artist is quite well known for his activities in the dark ambient-post-industrial esoteric scene and I'm sure you will agree it emerges also by the musical aesthetic of his works. The positive thing about is works is that he's an incredible taste and he's far from the flashy of the genre, another great quality of his solo releases his the great sound quality of his productions so please don't mix him with many lo-quality sci-fi esoteric new-jacks dealing with power-noise or with the dark ambient thing. "Metamorphic Portrait" has been released with sound sources recorded in the lower Nasilica of Assisi and take for granted the esoteric factor of the whole cd is high on top, but as the artist himself writes in the line note of the release that's part of his personal research and explains the enormous religious feel of which this work is imbued. Despite some characteristic dark ambient sound and distortion I will somehow recognize in other works with the moniker K11, this cd is characterized by a large use of delays and echoes and by many vocal sound, gregorian chants, vocal singing and ancient ritual singing like that, but don't think it may resemble Rison D'Etre, everything is less clean, the original shape of the vocals drifts ashore and in some traces they've been submerged by some power distorsions that after a while live space to what sounds like an organ. The cocktail ends sounding really esthetic which is something that definitely lacks to many releases like that, plus you have to consider Ripabelli really knows how to build an emphatic and interesting structure fo tracks like those contained in this cd. If you've never gave him a listen maybe it's time to check how he sounds like.
Artist:
BACHI DA PIETRA
Title:
insect tracks
Format:
CD + DVD
Label:
Wallace
(@)
Rated:
I'm sure many of you non Italian readers don't know that much about Bachi da Pietra for the simple fact except for the music they sing, think, breath in Italian or at the least the way Italian should be, but I'll explain it later, said that they've been featured with a track in the soundtrack of the tv series "Son Of Anarchy" with Henry Rollins therefore power to them!. This project involved mainly the band, a sound engineer Francesco Donadello and a video maker Luigi Conte. For what concern the live vinyl and the audio exhibit of the project it's recorded in analog in a theater and sounds damn good, if you don't know the band, despite the live sound profile the characteristic skeletal-acoustic blues, post-eighties noise rock, theatrical reading mixture comes out vividly. If you need names to get a picture of if you put together Rowland S. Howard, Nick Cave, Massimo Volume, Thalia Zadek's Come and why not a little bit of Jeffrey Lee Pierce, some depression and the game is done. As I've said the live vinyl is great but I still think the most interesting part of the project is the live video since it freezes in time the whole atmosphere and the basic idea of the concept. The confidential feel of the live performance, the "back to analog" profile of the recording and the "making of" that lays behind this double format release come out more clearly than a thousand review could illustrate. The fourth album of the band is about to be released and we're talking about one of the most well known duos of the italian undergound scene featuring former ex singer of Madrigali Magri and Bruno Dorella who's the man behind Bar La Muerte and current member of Ovo and Ronin.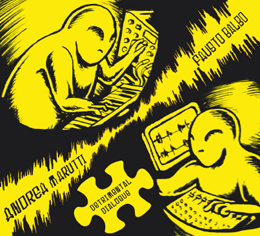 Artist:
ANDREA MARUTTI, FAUSTO BALBO
Title:
Detrimental dialogue
Format:
CD
Label:
Boring Machine, Fratto 9 Under the Sky
(@)
Rated:
This collaborative effort puts together ambient, dark ambient, electronic hero and Afe records head-chief Andrea Marutti and Fausto Balbo that maybe some of you remember for having played in a hardcore band called Jesus Went to Jerusalem and later in the electronic-metal duo Der Tod. During the last years Balbo has produced and played some electronic music made out of synths, samples, incredible self made kalimbas and a full load of great taste, so no surprise he musically tied the know with Marutti. Even if the length of the tracks may suggest an heavy influence of the ambient musician, I think many of the sounds crossing the scene will show how this collaboration is the result of a mutual work. The first synth driven suite start as an ambient piece to leave room to some unexpressive white noises and sounds and to se resurface a simple fragmented keyboard melody, as the rest of the music the track is hyper arranged and not so immediate. The second episode offers the same kind of cocktail you will sip for the whole length of the cd, but beside the ambient frameworks coming in and going and together with these sharp and/or fragmented electronic noises the used some bass lines, sometimes the impression is they put together some old IDM, Pan Sonic and cold experimental electronics, also thanks to its structure this track is my personal favorite. With the closing tracks the atmosphere of the release becomes more rarefied and abstract, bringing in the "space is the place" element to the music, so if you're into that "we're floating in the universe" feel you love these closing chapters, above all the last one where this dynamic duo hypnotizes and scares the shit out of the listener, avoiding dark or gothic influences which it's a result itself. An electronic post-ambient, post-kraut, cold but yet analog-sounding release...can you imagine that?! A listen may help above all If you consider this' definitely interesting and not a conventional output.



image not
available
anymore
Artist:
Sutekh
Title:
On Bach
Format:
CD
Label:
Creaked Records
Rated:
Active since the late 90s with the Sutekh moniker, Seth Horvitz has many releases at his active on a lot of record labels such as Leaf (UK), Soul Jazz, Force Inc./Mille Plateaux, M_nus and his own Context Free Media. ON BACH is his fourth album and it is a follow up to the work he presented in February of 2009 at the historic Théâtre du Châtelet in Paris, where Sutekh was invited to perform at a special event entitled "Bach to the Moon". Sutekh were the only electronic act in the program, which included an incredible roster of classical musicians. Having the freedom to chose how to inspire his compositions having as reference the music composed by Bach, Seth opted for a complex web of pulsating sounds which in balance from experimental intuitions, rhythmical and melodic references to the original scores which surface here and there, create a particular mood. It's surprising how mixing minimal techno, experimental ambient and chaotic moments, Sutekh have been able to honor a classical music composer without making the open minded listener shouting "what is this stuff?", but this is what happened. You can preview the album at this page http://soundcloud.com/cloudcreaked/sets/sutekh-on-bach
Experimental / Avantgarde / Weird & Wired / Glitch / Noise / Field Recording
Edit (6011)
image not
available
anymore
Be it the fact the use of the voice is not absolutely secondary or the fact this duo hails from Swiss I couldn't but avoid thinking to Stimmhorn for those who know this incredible swiss musician. Honestly, despite some small and barely forgettable similarities despite the unconventional use of the vocals and the fact the both are coming from the land of the cheese with holes the don't have nothing to share. Isa Wiss quite often uses her voices giving you the idea your experiencing to some strangulated Meredith Monk meets chocking David Moss working in a electro-acoustic context. Unternahrer saxophone instead sometimes obviously deals with half pronounced segmented notes and works for mouth and saliva, but at the same time ventures ??? in ?? playing some real phrases. Tracks like "Cyn" and "Drisp" show what I think is the real potential of the duo when going for a post-jazz dialogue, as I've said I think the most interesting episodes are those where the dynamic duo don't recede into some sort of autistic electro-acoustic solipsism but where they put together what looks like a track, "Gringlion" could be a good example. A dry, simple and good recording help developing a good sound profile thanks to which you can taste the real essence of this pair.