Artist:
Talbot & Deru
(@)
Title:
Genus
Format:
CD
Label:
Dear Oh Dear Records/Ant-Zen
(@)
Distributor:
Ant-Zen
Rated:
This breathtaking electro-acoustic record, coming from a prolific collaboration between the talented British composer Joby Talbot ' member of the creative team that produced the ballet 'Chroma' for the Royal Ballet, whose curriculum twinkles for a plenty of awarded works, such as his first major orchestral opera 'Luminescence', premiered by the BBC Philarmonic, boasting an enviable profile as a film and Tv composer as well ' and the quick wit by Benjamin Wynn aka Deru - an electronic musician and sound designer from Los Angeles, counting many releases labeled by Delikatessen Records, Neo Ouija, Ghostly International, Mush, Merck, whose passion for art and architecture seems to live in concord with his high interest in music technology innovations and his talent in carving marvelous synthetic symphonies -, was intended to act as the score for Wayne McGregor's ballet Genus, based on Charles Darwin's theories and discoveries of evolution, being a really topical matter aroused by media due to the increasing interest in genetic research. I'll skip the subject of Darwinism ' you'll find a huge amount of stuff about this matter -, but it's impossible to pass over the impressive charm of the evoked atmosphere in this release as well as its narrative homogeneity, doing its part side by side the documentary inflection of this opus (there are some excerpts taken from Darwin's notes, among which the scientist's ones describing the exact moment of the discovery of evolution, hieratically beginning with the words 'I think..' forestalling his famous diagram as well as many other quotations), so as the whole atmosphere of Genus seems a musical adaptation of the evolutionary graph, translated into a fable-like musical language.

The first four tracks, grouped into just one title, Transmutation, sound more austere and tenser: the initial crackling fading into slightly delayed modulated voices which seem coming from distant places, before they begin flowing around the sound sphere and finally amalgamating into undulating choirs, is going to carry your imagination to the very first evolutionary phases and smelling the scent of that primordial soup Darwin speaks about. The somewhat-liturgical atmosphere, maybe influenced by the location where it was recorded I the end of July 2007 ' St-Michael's Church at Highgate in London - is partially broken by the mechanical sound-clicks by Deru dropped into the gloomy smoky soup in the second track, partially reminding to my mind that kind of sound sculptures Ryuichi Sakamoto and Alva Noto usually mould together. The Transmutations follow an ascending whirl-like movement with many dramatic and sometimes obscure moments (that's maybe cause their project has sometimes been compared to the one by the esteemed Mexican composer Murcof'¦ even if Talbot & Deru's sound is not so dim) till the erupting togetherness of all sounding elements reach a critical point. After that moment, according to the words by Joby Talbot, the music 'fractures and collapses into the ambient sounds of the storm that raged outside the church where we recording', a magical moment you could breathe in the second (and more idylliac) part of Genus, featuring a touching performance as solo violinist by Louisa Fuller and the choral one by The Duke Quartet ' it seems that at the end of the recording of the suite Genus, flood waters begun cascading through the building's interiors! -.

The final movement, The Great Tree of Life, shows the perfect amalgamation between classical music elements and the buzz of minimal electronics and it definitively depicts in a lovingly magnificent way the final revelation of the English naturalist, i.e. the discovery of the mechanism by which life has covered the surface of the earth 'with its ever-branching and beautiful ramifications'. Available in a deluxe edition (strictly limited to 100 copies) with hardcover sleeve and a 20-page booklet, Genus contains also two intriguing video-clips and a sort of documentary on the matter. Hauntingly sublime workout!
Experimental / Avantgarde / Weird & Wired / Glitch / Noise / Field Recording
Edit (5856)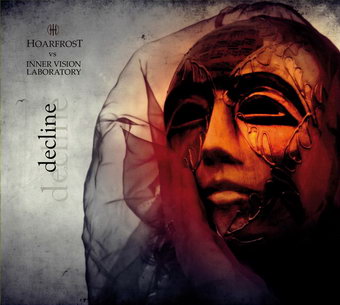 Artist:
Hoarfrost & Inner Vision Laboratory
(@)
Title:
Decline
Format:
CD
Label:
Zoharum
(@)
Rated:
The collaboration between the two industrial/dark ambient polish projects is a mesmerizing production of sorrow. The album is inspired by two poems: 'Madman' and 'Modern Icarus', aiming to tale the descending into the pits of madness of a man. However the result is not so strongly conceptual and linear and, honestly, sounds more like the descending into despair and the self-consciousness of it; but the technical level of the production is amazing and the album sounds good.
The album starts with "mind infinite" and his bass drone and some noise coloring the darkness. "Do you see them too" begins to show the structure of the work: there's a dark ambient drone and some field recordings inserts that create the atmosphere. The result could well stay in a movie due to the cinematic effect. "last waltz" is a love song for dead people with his romantic line of piano. Then the voices: "It's a suicide ... a complicated situation" in the track "boundless oblivion", this track is the peak of the album: bells samples, noise, field recordings tell the story of someone trying to understands what happens in someone else mind. "A clear fuse" close the album with some sort of irony with the carillon like line of piano.
The album sounds well and show that it's conceived as a concept, this is not a innovative release, the composition is full of all the typical trademarks of the genre, but is a record of substance and really well produced.
Experimental / Avantgarde / Weird & Wired / Glitch / Noise / Field Recording
Edit (5850)
Artist:
Gary DiBenedetto
(@)
Title:
Twin Towers
Format:
CD
Label:
Electroshock Records
(@)
Distributor:
Electronic Music Foudation/CDeMusic
Rated:
Gary DiBenedetto is an electro-acoustic composer and kinetic sculptor from New Jersey, who specializes in interactive installations. He has an impressive international resume going all the way back to the early 1970s, and Twin Towers is his latest audio work. While most Electroshock Records artist are European (with a high concentration of Russian) artists, Gary is not, but his music is no less avant garde. As you might expect from an electro-acoustic installation artist, the music is abstract, resembling more a sound-sculpture than any traditional musical format. I have read the intellectual explanations of the pieces on 'Twin Towers' on Gary's website (and also on the CD liner notes), but I won't be rehashing them to any great degree in this review. The nine pieces on this CD are intended to represent different things, and only the final title track refers to the 9/11 tragedy.

The opener (no pun intended) 'Knock and the Door Shall Be Opened,' is based on the sound of the men's room door at the State Library Complex in Berlin. It doesn't get any more obscure than that I suppose. There are some electronics, and mechanical sounds that must be the men's room door. An interesting sound-sculpture for sure. At one point, it sounds like somebody's having a little trouble negotiating said door. 'Walden Pond' is both liquidy and creaky with random sample and hold electronics, buzzes and burbles. 'A Question of Principle' (in 3 Movements) begins with some bellish tones and seemingly randomly played synthetic strings and other sporadic percussion for the First Movement. Not my cup of tea at all. It's those artificial synth strings that really leave me cold. Perhaps if more realistic strings were employed it might have come off better, but it just sounds cheesy. Second Movement dispenses with the obnoxious string ensemble and concentrates more on a clatter of electro-acoustic effects. Not bad, pretty interesting. The Third Movement brings back the obnoxious string ensemble again, much to my chagrin. The other elements of this track are engaging enough, but I can't get past those ersatz strings. This piece is supposed to have some political-religious implications regarding Nicaragua and El Salvador, but it is a stretch to glean that from just listening without reading the text of the artist's vision.

'Oh You're So Adollorable' employs some squinky electronic sounds and rumbles with an occasional repetitive vocal sample stating the obvious ('one dollah') in the background. The temporarily electronics morph into a surreal Star Spangled Banner melody. There is another repeated vocal sample by what sounds like a chorus of Third World children upping the ante to 'three dollah'. The piece sort of reminds me of Joe Byrd's (Field Hippies) music, perhaps an obscure reference that only 'old heads' are likely to get.

'Petroleum Complex' is a brief but interesting piece with perhaps the most currently relevant title, but it doesn't sound very oily to me. Its juxtaposition of high, bright tonality with random percussion elements and low ominous tones seems perfectly in balance. This is classic avant-garde electronic composition. 'Self Portrait ' employs a number of squiggly-wiggly sounds, and further into the piece, processed voice. I am thinking now, that from a strictly audial standpoint, the theme of this CD could just as well be about a colony of alien insects as its intended subject matter. The final track, 'Twin Towers' (the longest track at 10:46) begins with the solo recitation of poems by Meena Alexander that lasts for the first 3:40 of the piece. After that DiBenedetto simulates the flights and explosions of the planes crashing into the World Trade center. What follows is a surreal aftermath, occasionally punctuated by manipulated kettledrum samples (played by high school students). The piece is supposed to condense the 101 minute tragedy into 1/20th of its time frame. It makes me thankful that Gary didn't do it in real time.

As a whole, 'Twin Towers' is an interesting, if somewhat perplexing listen. There are parts that I liked a lot, and some things I didn't care for at all. So it goes with the avant-garde. If you love abstract electronics, especially on an intellectual level, you will probably enjoy this, and even if you don't like all of it, there are elements that make it worthwhile.


image not
available
anymore
Artist:
Kabutogani
Title:
Bektop
Format:
CD
Label:
Mille Plateaux
(@)
Distributor:
Intergroove
Rated:
Glitch music can be structured ' I guess, that this is the most important result, a listener of this special kind of Electronica music can extract out of this release. To release it via the label Mille Plateaux, part of the Vertical label group, fits well, since this label has taken a leading role to offer this experimental form of Electronica music since years. By completely trusting into the abilities to transform all rhythmical ingredients into that Glitch/Clicks 'n' Cuts genre, the accompanying music rather consists of minimal field recordings, noisy soundscapes and at times obscure frequency manipulations. This is a very own form of Avantgarde/Electronica, although very minimal operated. Not useable for Chill-Out sessions, as I guess, that the overall cold sound environment would rather scare the audience. No stuff for the dancefloors either, as this music turns too far into the experimental genre. Rather music especially dedicated to fans of Glitch and IDM, who aren't afraid of to check out a more dark and drowning fx-modulated sound design under a good pair of headphones.
image not
available
anymore
Artist:
I/DEX
Title:
Layers
Format:
CD
Label:
Lagunamuch Records
(@)
Distributor:
Ant-Zen
Rated:
A new production of the Russian underground Electronica-scene brought to us by Lagunamuch Records. I/DEX seems to be a one-man project, consisting of the Belarusian Electronica-musician Vitaly Harmash. Under his pseudonym I/DEX, Vitaly was able to come out with three previous releases, mostly all available as downloads via the Ukrainian Nexsound and the French Cold Room netlabels. 'Layers' comes out in a beautiful digipack-artwork, created once again by Artur Berent (ABSTRACT AVENUE) ' not his first graphical work, but one of his finest so far. 'Layers' is an aptly chosen title for this album full of atmospheric and in parts hypnotic soundscapes, which at least transforms this album to be a much more experimental-minded outfit than any of the previous discovered releases of this fine Moscow-based label. This sound environmental reminds in parts a bit on MEWARK, also out on Lagunamuch, and similar featured experiments under the Reason software area. But against to MEWARK or FLEXKIKS, 'Layers' leaves out nearly all rhythmically attitudes ' which makes it at least a bit challenging, to follow all tracks on album length, if you're in a rush. This music isn't designed to spin it as a simple background noise, it rather needs attention. More experimental-minded stuff than expected, this release offers beauty, but also fragility synth sound environments. Worth to spend some time for a listen.