Experimental / Avantgarde / Weird & Wired / Glitch / Noise / Field Recording
Edit (9799)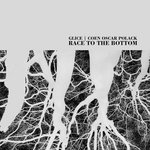 Artist:
Glice | Coen Oscar Polack
(@)
Title:
Race To The Bottom
Format:
Tape
Label:
Narrominded
(@)
Rated:
After the release of Fleisch, Glice returns with another release on Narrominded that is a collaboration with Coen Oscar Polack which has a reputation made out of releases based on subtler equilibrium in respect to the Glice's thick mass of sound. However, Glice has an idea of noise much more multifaceted than the usual barrage of sound which is the usual expectation of the listener when he approaches a release classified under the noise genre.
So the first minutes of this release, as even a sax enters in the audio framework, seems to have more in common with free jazz than noise as the complex audio spectrum associated with this genre hasn't a physical impact but instead is a sort of ever changing figure where all sounds, even if they are dissonant, have a relation with each other so there's a sort of crescendo until all sound generate a sort of drone and a voice stops all this mass and engage a sort of dialectic with the noises that generates a rhythmic structure which creates the path for the final cathartic part based on noises ending in silence as all components are silenced in an exercise of deconstruction.
With a greater dynamics than an average noise release, this work could be even classified as experimental as they are evidently much more concerned with a musical development than an dull exercise of musical impact. Truly recommended for all fans of experimental music.
Artist:
Y. G. Hanedan
(@)
Title:
The Voyage
Format:
Download Only (MP3 + Lossless)
Label:
self-released
Distributor:
CDbaby
Rated:
The voyage to which this album's title refers is, its description elaborates, "an imaginary post-modern vehicle journey". Its ten stages are clearly titled as references to various stages on this adventure. For instance, 'The Dark Forest', 'Barren, Damp Hilltops' and 'Stopped to See a Distant Storm' conjure images of tangible landmarks, while 'Faint Images of the Past' or 'Curtain Flap over Anxiety' seem to tell more of the emotional state of the traveller. The tinge of noir is enhanced by the cover image: the lights of a solitary vehicle (difficult to make out, but I reckon it's a metro train) vanishing into darkness.

Hanedan's palette of sounds is highly consistent thoughout The Voyage; from many instances of similar effects to the recurrence of the same melodies and loops over multiple pieces, it all feels tightly woven together from the same fabric. Slow and somewhat aimless, each piece is simply structured but texturally dense and, occasionally, very peculiar. The first six tracks are all buffeted by similar layers of thick, rapid shudders. On 'Curtain Flap over Anxiety', these are mixed with a high-pitch beeping that filters in and out of range, a lonesome guitar section, an occasional synth wail and several other textures. These unrelated elements produce a disorientating narrative; at once sophisticated, naive, atmospheric, elegant and awkward.

That the ten pieces are self-contained rather that mixed, and that each has an ambient structure rather than conveying much movement, seem to be obstructions to the notion of the album overall as a journey. But seen as vignettes, as moments languished at the stations or bus stops punctuating the journey, as well as on long, unchanging roads protracted by tedium, by exhaustion and by the night; watching passers-by and overhearing conversations - then they begin to make sense. If it were possible to make field recordings of someone's subjective experience of a half-remembered night of noisy, gritty transportation and gloomy reverie, they might very well sound like the remarkable chapters of this album.
Experimental / Avantgarde / Weird & Wired / Glitch / Noise / Field Recording
Edit (9790)
Artist:
Ragnar Grippe
Title:
Sand
Format:
LP
Label:
Dais Records
This is the first time after its original release back in 1977 that Ragnar Grippe's "Sand" has been reissued. Available in 300 black and 200 blu vinyl copies, "Sand" is divided in two parts that are forming a 50' long minimal percussive/synth suite. It's useful always to put things in context and the label's bio is helping a lot. Grippe was asked to compose a piece that was to be played during the Sand painting exhibition and was then to be released on Shandar in 1977. This release would be the first official album that would start Grippe's career as a modern avant-garde composer and electronic musician. Originally trained as a classical cellist, Grippe had relocated to Paris in the early 70's to study at the famous Groupe de Recherches Musicales (more commonly known as GRM and if you read French, there's a great book written by Evelyne Gayou, one of the member of the group, titled "Le GRM groupe de recherches musicales : Cinquante ans d'histoire") founded by musique concrete pioneers Pierre Schaeffer, Pierre Henry and Jacques Poullin. Think that also Jean-Michel Jarre joined the group in 1969 fascinated by their theories about sound. Grippe became close friend with French avant-garde minimalist Luc Ferrari. and it was under his direction and guidance that the young Grippe started to build a shared experimental music studio, named l'Atelier de la Liberation Musicale (ALM), in which Ferrari shared his knowledge and instrumental supplies, thus forging Grippe's implementation of harmonic tone within the confines of musique concrete. After a brief stint of electronic music study at McGill University in Montreal, Grippe returned to Paris in 1976 to compose with Ferrari at the now fully-realized ALM studio. One of the visiting artists passing through the creative epicenter of the Cite Internationale des Arts during this time was the painter Viswanadhan Velu. Velu's recent works consisted of various Sand paintings which were to be exhibited at the Galerie Shandar, the avant-garde art gallery and home to the Shandar record label which was the home to minimalist composers Terry Riley, La Monte Young, Cecil Taylor and Charlemagne Palestine. As I was initially saying, the piece is divided into two parts: the first one has layers of delayed hit objects (wooden and metal ones) are mixed with simple synth melodies which are almost sounding casual, while the second one starts with a similar rhythmic approach but on the background the synth lines are more ambient like. Here and there sax or clarinet notes come and go as well as guitar ones. Little by little improvised synth arpeggios appear reaching the main place in the sound palette just to stop abruptly at nine minutes from the end where we're back at the initial approach of delayed percussion with synth drones. The track fades out slowly leaving you still "stoned". If you are into minimal and experimental music, you should definitely try this one.
Experimental / Avantgarde / Weird & Wired / Glitch / Noise / Field Recording
Edit (9721)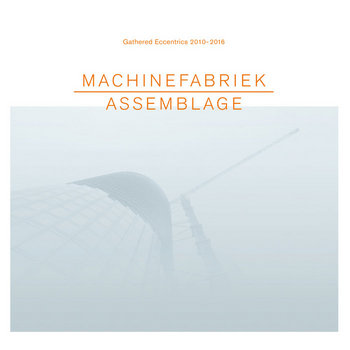 Artist:
Machinefabriek
(@)
Title:
Assemblage
Format:
CD
Label:
Zoharum
(@)
Distributor:
Alchembria
Rated:
Rather than the proper new release from Machinefabriek, this is the second part of "Dubbeltjes" and it's another collection of tracks dispersed during the the period of 2010-2016. The core of this release is the "Nerf" EP, the tracks for the book "Things That A Mutant Needs To Know" by Reinaldo Laddaga which collected short text and short tunes from various authors, and three soundtracks of whom two for a short movie and one for a video installation; the other track are from other compilations.
The guitar of "Nerf" opens this release introducing the listener into a quiet environment where all sounds are placed with precision. "Love Conquers Everything" is a crescendo based on drones. While it starting with a drone and the the saxophone of Colin Webser, "WinterWende" evolves using noises with a sense of cinematic description. "Solo for Voice 51" is an interpretation of a score by John Cage where the voice is used as an instrument rather than as a way to convey words. "The Harmed Harp" seems constructed upon this instruments's sound exploring his metallic timbres. Upon a soundscape, a voice spell colors in the first part of "Kleurenrivier" and is shut by the rising of a noisy drone only to return after his end. "Ivory Ghosts" is based on notes played using pizzicato underlying their resonances. Similar techniques are used also in "Sluimer" where the guitar notes are drowned in an almost complete silence, so all notes are in a dialectic relation with their release while in "News Variations" it's noise that is used in a relationship with silence. "Selfish Soundtrack" is a short miniature for noises while "A Mythical Story" uses the sustain of a bell as a landscape for small noises to evolve. "The Desolate Delay" is a minimalist track for quiet drones while "Since the Dawn of Time" seems developed upon extended techniques applied to wind instruments and field recordings. "Meltdown" is an abrasive track for noises and "Vowls" closes this release with the return of words spoken as in "Kleurenrivier".
While it's a compilation, the playlist creates a sense of coherence which makes this release less dispersive than expected. For fans of Rutger Zuydervelt's project this a release not to miss and probably it's enjoyable even for all fans of experimental music.
Experimental / Avantgarde / Weird & Wired / Glitch / Noise / Field Recording
Edit (9716)
Artist:
Luca Forcucci
Title:
The Waste Land
Format:
Tape
Label:
Crónica
The title track of "The Waste Land" is an unusual example of soundwalking- strolling about gathering atmospheric found sounds and ambiences. While the process often leads to broad and relaxing soundscapes, this is a willful inversion, heavily processed, twisted and alienating. Strong gusty winds and heavy industrial noises of unknown origins lead to a scene that's almost post-apocalyptic in its atmosphere. At times it sounds insular, almost claustrophobic, with noises akin to deep breathing noises recorded from underneath a coat. Over the fifteen minutes of the title track the sounds evolve fairly rapidly- at points there's just a single layer, then before too long there are four or five competing noises.

"Voices From The Coal Mine" is an exploration of reverberation in a gigantic enclosed space- sporadic metal hits and scrapes fade into the distance with incredibly long echo tails which begin to layer and form their own, wall-and-material-born hum.

"My Extra Personal Space" is initially a slightly more typical and familar soundwalk- village sounds of gates, passing cars, church bells and birdsong- but as it progresses, further metallic hums and tubular resonance begins to cut through, as though something very sinister is afoot in the previously peaceful town. It all gets a bit "Village Of The Damned" in soundscape form. As it evolves further we move from Normandy to Paris, with more urban noises, metro announcements and suchlike, as though we've travelled more in time than in space.

"The Waste Land" is an unusual hybrid of found sounds and treatments, infused with a lot of energy. It covers a lot of ground in 37 minutes and is certainly an interesting, if not always comfortable, journey.