Experimental / Avantgarde / Weird & Wired / Glitch / Noise / Field Recording
Edit (10300)
Artist:
TriAngular Bent
(@)
Title:
s/t
Format:
CD
Label:
self-released
Rated:
TriAngular Bent is a trio composed of Don Preston on piano, computer, electronics and gong; Jeff Boynton on cello and custom bent circuit instruments; and Philip Mantione on computer, custom software, electronics and guitar. With this list of instruments, we get some sense of what we are in for. My attention was immediately piqued when I realized that Don Preston had worked with Frank Zappa and the Mothers of Invention, so I had high hopes for this disc. Thankfully, TriAngular Bent delivered. "Set 1" opens it off, and sounds like soundtrack music that goes off the rails, with peaceful drone mixed with high pitched noises and the occasional gong hit. This is the music of a hallucination that hasn't decided if it's going to be a good trip or a bad trip. Next up, we have rapid fire bass and bears that keep "Set 2" aggressive from the start. Analog noises filter in and out, giving it the feel of a 1950s sci-fi film. "Don and Jeff" switches gears, opening with a melancholy cello, but then dominated by piano and snippets of strings. "Set 1B" takes a kitchen sink approach, with a lot going on. Take some cello, loops of someone yelling about jealousy, random bleeps and bloops, a malfunctioning drum machine, and put it all over a bed of circuit bent electronics. Fun stuff. "Guitar and Other Stuff," is like an incredibly long guitar solo over the 60-cycle hum of an overdriven amp.Partway through, we get some appegiated analog sounds. This is what it would sound like if Zoviet France suddenly decided in the middle of an album to invite Def Leppard to do a solo. "Don and the Voyager" is probably the low point on the album, and pretty much consists of Preston noodling around on a Moog. Not terribly interesting. "Set 7" is more minimal than the other "sets." If a video game company commissioned Oval to write a funk soundtrack to an 8-bit game, I imagine that it would sound something like this. "Piano Solo" closes it off with a jazzy piano solo. Overall, this is a lot of fun, and well worth picking up. This album weighs in at around 60 minutes.
Experimental / Avantgarde / Weird & Wired / Glitch / Noise / Field Recording
Edit (10298)
Artist:
Eleonore Oppenheim
Title:
Home
Format:
CD
Label:
Innova
(@)
Rated:
Bassist Eleonore Oppenheim has already worked with a variety of artists and groups, including the Philip Glass Ensemble, Norah Jones, Bryce Dessner of the National, Jeff Mangum of Neutral Milk Hotel, Steve Reich, and Jonny Greenwood of Radiohead. This is her debut solo album, and the label describes this disc as "a musical core sample in which each track represents a different approach to the double bass as a modern solo instrument, and to the ways in which it can interact with electronic media. By turns glitchy and pure, gritty and shimmering, Home releases the bass from its traditional obligations and takes the listener on a surprising, unfettered journey through several strata of sound which explore the breadth of the instrument's emotional and physical range." Sounds promising, so let's delve into the music. "La Isla Mágica" opens the disc with staccato strings mixed with quick runs down the keyboard, which then shifts to slow pulls on the strings. There is a lot going on here, and this is complex with a whimsical quality to it. Next up, "Crocodile" mixes strings and female spoken word (in French?) along with incidental noises that makes it sound like you are overhearing a conversation at someone's kitchen table. Later on, it shifts to a bass line with clapping sounds, before returning to the spoken word and field recording. "Heavy Beating" lives up to its name, as it begins with pounding and occasional strings. As a percussionist, I enjoyed this track immensely. Although the track is a bit more minimal, the rhythms are interesting and there is a skillful use of silence. The composition eventually descends into feedback and strings. "Home" is a slow-moving piece with a lot of tension and good use of dynamics. This slowly accelerates like a train under load, as the strings become increasingly frantic, with the musicians sawing away on the strings. Well done. Finally, we have "Home (Lorna Dune Remix)," which is like night and day from the previous incarnation. If "Home" chronicles the perilous journey, this is the joyful reunion of friends and family. Although this is the album of a bassist, this is not merely for those who appreciate the low end of sound. These are excellent compositions that would appeal to most who like finely crafted music. There is just enough dissonance and harshness to keep the Chain DLK crowd happy as well. This album weighs in at around 37 minutes.
Experimental / Avantgarde / Weird & Wired / Glitch / Noise / Field Recording
Edit (10297)
Artist:
Jonas Kocher
(@)
Title:
Jonas Kocher Plays Christian Kesten and Stefan Thut
Format:
CD
Label:
Bruit
(@)
Rated:
I grew up with my mom playing the accordion often, so I was interested to hear a new take on the instrument for experimental music beyond what I had heard from Miss Murgatroid. The disc opens up with Christian Kesten's Untitled (Solo for Accordion), which is pretty minimalist. We don't even hear anything until about 30 seconds in, and then it is mainly high-pitched tones. The skill is evident as Kocher manages to keep the pitches warbling over one another, but there is not much to this track. This seems more an exploration of the accordion; as Kocher explains in the liner notes, "In the highest register of the right hand, the last few buttons don't play the expected tones. The pitches are simply too high. The necessary reeds would be too small and fragile to produce them. These buttons transpose the tones an octave down. The buttons in the neighbouring octave do play the expected tones. One might assume that the two octave registers would actually play the same pitches. But as they play them on different reeds, there is a slight microtonal difference." This is pretty interesting as a concept, but for me it just didn't translate over to an engaging listening experience. That said, if you like it really minimalist, this might be up your alley. Next up, we have Stefan Thut's eine/r 1-6. This one starts off with some low bass and some field recording that actually made me stop and go back to see if it was coming from outside or if it was part of the track. Muffled voices and someone pounding on a door then gives way to low bass drone, then silence interspersed with field recordings. This is also pretty minimal, sparsely alternating between high and low pitched drones, but in a different, more interesting way. The use of silence brings you in and makes the drone that much more engaging. Overall, this is a mixed bag for me. "eine/r 1-6" was great, and it is interesting to hear someone really push the limits of their instrument. If you are a fan of the accordion, this is one to check out. This album weighs in at around 55 minutes.
Experimental / Avantgarde / Weird & Wired / Glitch / Noise / Field Recording
Edit (10296)
Artist:
Crystal Mooncone
(@)
Title:
Listening Beam Five
Format:
CD
Label:
Innova
(@)
Rated:
I was unfamiliar with this trio comprised of Stephen Rush, Chris Peck, and Jon Moniaci. Looking at the liner notes, however, gives some sense of what we are in for, with instruments like Whoopee Whistle, Moan Recorder, Aunt Lucile's Turkish Bells, and Goose Call to name only a few. Sounds like a good time, so let's get into the music itself. "Fossil Tears" opens the disc and at first sounds like one of those "pure relaxation" discs that you find at Target. Thankfully, it gets a bit more interesting as we hear grinding buzzing and digital noises emerge from the vibraphone-like drone and a newfound emphasis on bass. This illustrates the general concept of the album, which is bringing together disparate elements. This approach ended up being kind of hit and miss for me. When they are on, they are solid, but some tracks just weren't that engaging. For example, "Homage" highlights the flute, with occasional Rhodes piano, but this composition felt a bit random (but not in an interesting way). "Leeward Side" likewise brings in high-pitched warbling and droning flute, but doesn't really seem to go anywhere. A few tracks were not really my thing, but I could appreciate the skill in their creation, as in the case of "Perth Airport," with its chanting/singing over accordion drone and bits of percussive elements. But most of the tracks were solid and engaging. For example, the percussion, jangling metal and bells, and piano of "Imaginary Azimuths" makes for an interesting composition. "Rocky's Landscape" begins with dark and foreboding drone, with a simple synth line running through it, eventually bringing in the flute, for a nice exercise in musical tension. The best composition on the disc was the final track, "Light Tunnel." Cicada-like noise greets the listener, becoming increasingly intense, with rumbling bass and piano peeking through at times. As the noise settles down, we hear singing that sounds like it is taking place in a tunnel, before ending with flute and heavy drone. All of this was recorded live, and I can't help but think that seeing this live would have been a much more engaging experience, as if something just didn't translate over into the recordings. Still, this was an interesting disc overall, and quite accessible as far as experimental music goes. This album weighs in at around 54 minutes.
Experimental / Avantgarde / Weird & Wired / Glitch / Noise / Field Recording
Edit (10288)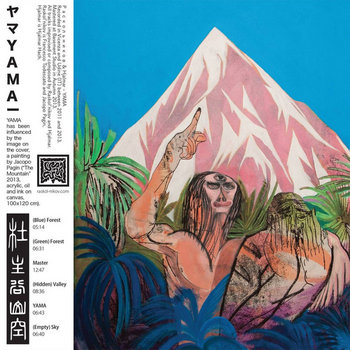 Artist:
Raskol\'nikov & Hjalmar
(@)
Title:
Yama
Format:
CD
Label:
Zoharum
(@)
Distributor:
Alchembria
Rated:
While Raskol'nikov is a project active from 2010 and with a reasonable discography, this is the first time I heard about their work. This is a collaboration completed in 2013 waiting evidently from the right occasion to be released. Their music is a sort of low fi experimental where they exploited the evocative properties of sounds tied to '60s and '70s and, instead of being a tortuous tour-de-force, they use reasonably simple structures to their song.
The album starts with "(Blue) Forest" which, after a little noisy introduction, evolves in a strange glitch pop without words as catchy as unconventional. Even in his rather identifiable influences, "(Green) Forest" maintains a framework where the experimental aims are tied to melody. "Master" is perhaps a little bit too long but the use of filtered voices triggers a certain number of cultural references. "(Hidden) Valley" is almost funny with his use of childish sounds while "YAMA" is almost meditative in his crescendo of long and reverberated notes. "(Empty) Sky" closes this release juxtaposing droning sounds.
Neither a masterpiece nor a boring release, this is those kind of weird release that could please fans of unusual and experimental music if they are not so genre oriented to not appreciate a small bit of irony. It's worth a listen.