Experimental / Avantgarde / Weird & Wired / Glitch / Noise / Field Recording
Edit (10004)
Artist:
Yasunao Tone
Title:
AI Deviation #1, #2
Format:
CD + Download
Label:
Editions Mego
It could be described as quite brave as a musician to help create computer software capable of analysing your previous musical work and using neural networks to 'compose' a new piece of music in your style automatically. It could open you up to accusations of predictability or being monotonous. It could even make you redundant. But that's what well-established Japanese multimedia artist Yasunao Tone has done here, with the help of some New York State Council grants and Prof. Tony Myatt from Surrey University in the UK, who arguably deserves equal credit on this release. The results are, well, inconclusive.

The result is two "AI Deviation" pieces, each over half an hour long, which are exercises in unpredictable electronic pattern synthesis. It's immersively noisy- glitches, white noise patches, squeals, risers, rumbles, squelches, Radiophonic Workshop-style analogue laser-style electronic effects and general mess pervades. Quieter patches are few and far between. Traditional tonality is defenestrated and the listener's ear is tantalised with pitch layering that occasionally, almost accidentally, drifts into complementary pitches before skitting away quickly into discord and unhinged screeching. Some extreme stereo separation adds to the sense of alienation between parts.

Something so abrasive, arrhythmic and superficially random is perhaps one of the easiest musical styles to auto-generate (somebody with a more middle-of-the-road taste might refute whether this is music at all), but save for the press release, you could happily believe that this music was written by a human- albeit a tense, attitude-heavy human in a grumpy mood and with a love for very awkward noise.

So if I can script a computer program to write these reviews for me, then the circle will be complete.
Experimental / Avantgarde / Weird & Wired / Glitch / Noise / Field Recording
Edit (9992)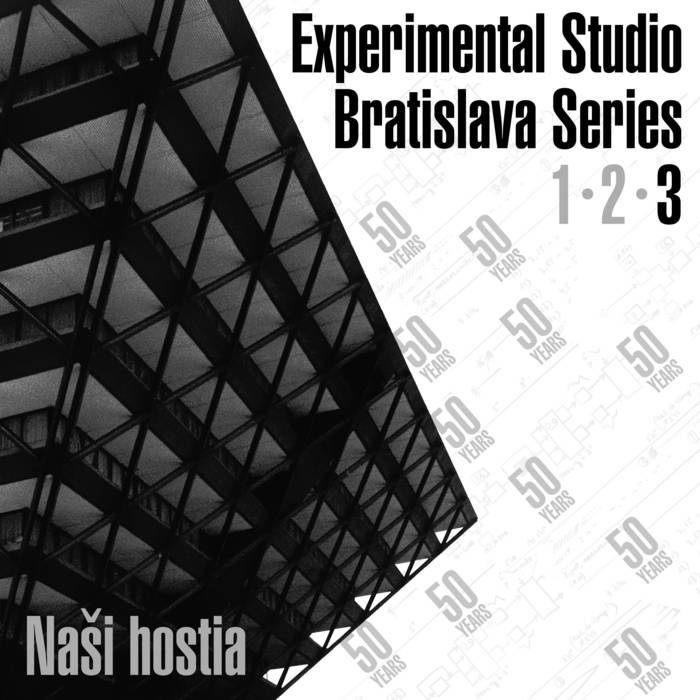 Artist:
VV.AA.
Title:
Naši Hostia: Experimental Studio Bratislava Series 3
Format:
CD & Vinyl
Label:
4mg Records
Rated:
Born to celebrate the 50th anniversary of the Experimental Studio Bratislava, Slovakia, the "Experimental Studio Bratislava Series" arrived at its third and final volume. The first volume was focused on the pioneers of the Slovakian scene, people like R. Berger, P. Šimai, I. Zeljenka, Ivan Hrušovský, Jozef Malovec, Peter Kolman, etc.
The second volume was focused on the newcomers, with tracks recorded mainly in the 80s by people like Milan Adamiak, Martin Burlas, Robert Rudolf, Svetozár Straina, etc. The tracks on the first volume have been composed and recorded with self-made studio equipment and electronic devices, thing that was the norm for recordings made in the 60's and 70's in Bratislava. On the second volume, we can see the increasing of the use of Western equipment like the Studer 907 with console, etc.. This technical development has allowed the developing of the techniques and ideas in sync with avant-garde composers who were living the other side of the iron curtain like: Karlheinz Stockhausen, György Ligeti, Pietro Grossi etc. The third volume is focused on the guests who visited the Experimental Studio Bratislava. Composers like György Ligeti, Lothar VoigtlÄnder, Liviu Dandara etc. participated at the annual International Seminars on New Music in Smolenice, Slovakia. The first Seminar held in 1968 was opened and attended by Karlheinz Stockhausen – playing his "Hymnen" for the first time abroad – for the Slovak composers an ear opener and a learning process on how "to make" this kind of "music"… In the following years New Music personalities like Ligeti, Mauricio Kagel, Lutoslawski, Gorecki, Sofia Gubajdulina etc. attended the Smolenice Seminars. On this volume we have seven tracks: "Poème Symphonique for 100 Metronomes" by György Ligeti, performed and recorded in Smolenice Seminars, 1969. Liviu Dandara, a Romanian composer, with his electro acoustic composition "Affectus Memoria" that shows his artistic development after his studies in Darmstadt. Milan Slavický, born in Prague and deceased in the same city in 2009, studied musicology at the Faculty Of Philosophy in Prague and composition at the Janacek Academy in Brno, recorded in 1982 "Variace Na Laserový Paprsek". Georg Katzer studied piano and composition in Prague and East Berlin. In 1982 he founded the Studio For Electroacoustic Music where he was the artistic director until 2005. He recorded in 1976 "Rondo". Lothar Voigtlaender studied at the Leipziger Musikochschule and in 1984 joined Georg Katzer to form the Society for Electroacoustic Music in Berlin. "Meditation Sur Le Temps" is his track here and it has been recorded in 1975. Zoltán Pongrácz was an Hungarian composer who taught in different parts of Europe (also in Cologne with Stockhausen, Pousseur, Ferrari and Jaap Spel. He's here with "Mariphonie", a track recorded in 1972. Alois Pios is the last composer of this compilation and was a Czech composer and music pedagogue. He studied at the conservatory and the Janacek Academy of Brno.He tought in Prague, kept master classes, gave lectures and conferences across Europe. In the 60s he promoted avant garde music in Czechoslovakia and for this reason he has been persecuted for twenty years, from 1969 to 1989 having all his work banned. "Speleofonie" has been recorded during this time, in 1976. As for the other volumes, 4Mg Records is presenting this opus in a vinyl plus CD format, where the latter contains the whole tracks, while the LP has the excerpts for format reasons. Be sure to check this fundamental document of the Slovakian electro acoustic music. Take a listen here https://4mgrecords.bandcamp.com/album/na-i-hostia-experimental-studio-bratislava-series-3
Experimental / Avantgarde / Weird & Wired / Glitch / Noise / Field Recording
Edit (9988)
The four-piece behind "Fracture Mechanics" compare their musical processes to an alchemy where base elements are woven into sonic gold. With a mixture of conventional instruments- saxophone, zither, flute- alongside more ambiguous credited instrumentation including iPod, "objects" and "air from another planet contained in terrestrial glassware", it's clearly a unique blend of elements, does it achieve chrysopoeia?

After the brief conversational ambience of "Transubstantion", proceedings start in earnest with 25-minute-long "Pebble Snatch". Soft electronic interference, buzzes and hums meander in and out. Slowly bowed harsh string tones and gentler bell-like notes plink away with a rhythm that's extremely slow but definitely present. Metallic scratches become slowly more apparent, as does Paul Vogel's glassware contributions which give things an extremely faint, strangely Aboriginal-sounding distant blown percussive flavour.

"Pendentive" is a touch more abrasive, with high-pitched squeals and tinnitus-like modulations more sharply juxtaposed with the guttural tubular elements sourced from deep sax notes and single drum hits. Throughout all the pieces there's a respectful abundance of space and the whole thing is fundamentally quiet, drawing your attention into the sonic details and allowing an interaction with any other sounds that may be present with the user.

This arrangement continues into final, half-hour-long piece "Transmogrification", which pushes back drops the lower register tones in favour of just the difficult squeals, at times leaving just the high resonance that's so close to the edge of perception that you begin to question your own ears.

This is a work that's on the difficult side of avantgarde, lengthy, awkward, and revelling in frequencies that can't be described as comfortable. It's a bold work, and while I don't think the result has an atomic number of 79, fans of extremely fractured, nails-gently-down-a-blackboard-style experimental music will definitely appreciate it.
Experimental / Avantgarde / Weird & Wired / Glitch / Noise / Field Recording
Edit (9984)
Artist:
Lucio Morandi
(@)
Title:
Academy Of Secrets
Format:
Download Only (MP3 + Lossless)
Label:
Humanhood Recordings
(@)
Rated:
Lucio Morandi sounds like a new name in the experimental music genre but this recording was made in 1991 as an alias of a prolific sound artist more commonly known as Minóy. Stanley Keith Bowsza passed in 2010, before this, in his time releasing material he released many tapes under his own label Minóy Cassetteworks and many other well-known labels of the late 80's and early 90's.

After his death, a lot of the material that was unreleased was handed over to Phillip Klingler, who may be better known as the recording artist PBK. The material from this digital release was found in one of the boxes and remastered by PBK in 2017.

The release is titled Academy Of Secrets and is broken down into the following parts.

Tracks 1-4 History Is Constructed Through Reproduction. What Is Unreproducible Is Unknown:

This part of the release contains what could be a soundtrack to a Horror or Sci-fi film or TV show from the late 80's or early 90's. Orchestral sounds with some digital effects and some excellent dreamy ambient interludes. This music could easily have been used in more recent shows like Stranger Things or some of the recent 80's inspired movies like The Void.

Tracks 5-9 Giovanni Della Porta And The Hidden Laws Of Nature (Independent Of The Laws Of God).

On this part of the release, a similar but much more menacing noisy theme is apparent through out tracks 5 through 7. Track 8 begins noisy and ends in much more chill ambient / orchestral environment. Track 9 continues where 8 left off and finishes up the release nicely.

Minóy is one of those artists who has a large catalog and was very well established as an excellent musician in the field. With the project Lucio Morandi he has shifted things a little bit into a more orchestral approach. This release is an excellent introduction to the project and I hope that PBK has more releases hidden in his box of tricks.
Experimental / Avantgarde / Weird & Wired / Glitch / Noise / Field Recording
Edit (9983)
Artist:
15 Degrees Below Zero
(@)
Title:
Our Urgency
Format:
3" MiniCD
Label:
Inner Demons Records
Rated:
15 Degrees Below Zero is the work of Michael Addison Mersereau, Daniel Blomquist, and Mark Wilson (who also records under the name of Conure). This band grew out of the ashes of Imperial Floral Assault Unit, so this group has been performing together since 2000, and as 15DBZ since 2004. This shows in the finely crafted music that they have created on this disc. "Our Urgency" is a track of processed guitar and synth drone, which becomes more and more unstable over time. But this is not chaos; rather, it is the illusion of chaos, as they build a maelstrom of sound to a beautiful conclusion of noise, static, and feedback. In some ways it reminds me of Terry Riley's minimalist work "In C," where things shift ever so slightly to become something entirely different. "attempt_3" is a short track of noisy bass drone and peaceful synthesized bells/chimes. It's like listening to a roughly running truck engine in front of your grandmother's house on a windy day as her windchimes randomly hit the notes. "attempt_1" is longer, at 7 minutes, and sounds little like the previous "attempt." There is a heavy, low end rumble that sounds like the earth's tectonic plates have worked their way into the composition, with bits of metallic grinding. This then gives way to a much more sedate droning ambiance, as a keyboard plays out quarter notes over the endless drone. It's like listening to someone play the piano in your dreams. Everything is foggy and you can barely remember it when you wake up, but you know that something happened there. This is well worth picking up. Hurry, because it is limited to only 42 copies.