Artist:
Ale Hop
Title:
Apophenia
Format:
12" vinyl + Download
Label:
Buh Records
Across the 33 minutes of "Apophenia", Peruvian-born but Germany-based artist Ale Hop offers up an interpretation of her memories and impressions of Peru. It's presented as a landscape, but constructed from a diverse set of sonic sources- heavily processed or miniscule field recordings, electronic glitches, sombre stretched guitar tones, and gritty textures create landscapes that, like the artwork, are portraits thick with emotive interpretation rather than anything literal.

Across eight tracks, there's a broad range of approaches. Some are predominantly ambient, such as the thick claustrophobic texture of the title track, or drone-based like the brooding "Onomatopoeia". "El beso" adopts a subtle rhythm pattern to give a soft temporary backbone, that contrasts against the thick lo-fi drum rumbles of "Marches". The plucky guitar sounds of "Punales" make it sound positively folky.

Longest track "Lima" is the most complex, a self-contained seven minute minidrama that starts off with soporific, melodic calm and gradually builds through tension into a warlike percussive barrage. My interpretation of its meaning isn't subtle or complex, but emotionally these tracks certainly carry some deliberate weight.

Overall I would suggest that this sounds more like an interpretation of Berlin than it does like Peru, not least thanks to the English-language, German-accented spoken word elements in tracks like "Side Effects", and the prevalence of glitchy electronica and some borderline EDM elements.
Experimental / Avantgarde / Weird & Wired / Glitch / Noise / Field Recording
Edit (11062)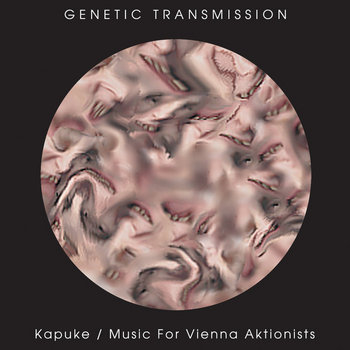 Artist:
Genetic Transmission
(@)
Title:
Kapuke / Music For Vienna Aktionists
Format:
CD
Label:
Zoharum
(@)
Distributor:
Alchembria
Rated:
This new step in the reissue of the music by Genetic Transmission started by Zoharum is made out of two releases: "Kapuke" originally credited to Twardawa and Jankowski and Music For Vienna Aktionists which is a proper Genetic Transmission CDr. Both releases are tied by the fact that are based on recorded performances.
"Kapuke" is a long track based on three improvisation session, made by Tomasz Twardawa and Piotr Jankowski, which were recorded and later prepared by Tardawa. The result is an almost surrealist collage where the relation between voices (notably there's also Barbara as a guest), noises and sounds generates a sort of narrative as it was the sound track of a movie.
"Music for Vienna Aktionists" is an attempt to create a soundtrack for the Kurt Kren's movies whose source materials were the performances of Otto Muehl and Gunther Brus. As the movies, all eight track are relatively short, and are arguably harsher to match the provocative situation which was devised by the Aktionists.
This album shows how the music of Tomasz Twardawa was able to evoke images to the listener using noise in its relation to everyday sounds rather to a way to have physical confrontation to the listener. Cinema for the ears.
Artist:
VV.AA.
Title:
Interactions: A Guide to Swiss Underground Experimental Music
Format:
2 x 12" vinyl
Label:
Buh Records
This is a sampler, in the proper sense, a sonic buffet providing 27 short works or snippets, all under five minutes long, the vast majority under four minutes long. It's a palette wetter, giving you brief, but largely radio-unfriendly, nuggets that will hopefully launch you into wanting to know more.

There are a variety of styles at play- noise, industrial, ambient, drone, and more constructed and melodic offerings as well.

The more accessible tracks include "Nozomi" by Papiro & Yanik Soland, which is a quirky bit of ethno-electro-pop, and Julian Sartorius' bouncy "Ziggli". The out-of-breath panting sounds of Martina Lussi's "Pool" are attention-grabbing in an obvious but still successful way, while Serote's "Niton" is string-heavy, soundtrack-like melancholia with a gritty twist. Joke Lanz's "Dutschke" feels like a throwback to the weirder side of early-naughties sample-hop, and the distinctive groove of Tout Bleu's "Souviens-toi" makes you want it on repeat play.

Electronica and more production-centric works get a showing with pieces like the sci-fi-trailer tones of Therminal C's "Sputnik Crash". Manuel Troller's "Hologram", acoustic instruments bathed in rapid retriggering and looping, has a fascinating purity about it that's rather endearing. Souharce's "Assurance Maladie" is a glitchy lo-fi affair of pulses and melodic deformation, and Gilles Aubry's "And who Ears the Desert" [sic] applies a similar scratchy digital logic to untraceable but vaguely Eastern-sounding ethnic found sounds and traditional music, for a form of broken reportage, while the excerpt from Purpura's "Cruel" puts foghorn-like low bass notes on a turbulent sea of white noises.

Darker and more avantgarde offerings are included too, for example of "Tod am Bach" by Rudolf Ed.er, a shifting noise and drone pattern which at such short length becomes a prelude. Christian Müller's "London Study #2" is a characterful assembly of found percussion that flows well into Flo Stoffner's plucky stop-start and increasingly chaotic "Carmensac", while Christian Kobi's "I" is a curious set of blowing noises that seem to be both pneumatic and asthmatic at times. Denis Rollet's "sW#1" is a curious and cathartic selection of twisted noise of various colours.

Not everything was to my taste, understandably. Erb/Loriot/Morishige's "Ice", with its nails-down-a-blackboard toned violin screeching, was just the wrong side of painful for my ears and made me actively wish for less capable headphones, while Jason Khan's agonised sing-wailing on "Nearly You" was somehow just the wrong kind of emotional mess for me.

As an 89-minute listening experience in its own right, it's only moderately satisfying- like trying to structure an entire dinner out of small snack bites- but the track sequencing is reasonably well balanced and keeps you interested. But with such a broad selection on offer, there will definitely be at least something to pique your interest here, and something you can't be bothered with- the true sign of a good sampler compilation. It's a sign of a very healthy underground scene in Switzerland, for sure.

Artist:
François Bonnet & Stephen O'Malley
Title:
Cylene
Format:
12" vinyl + Download
Label:
Editions Mego
Stephen O'Malley's guitar work here is very recognisable from his work in Sunn O)))- long, cavernous, reverb-and-effect laden sustains describing a series of cavernous, hollow, barren yet somehow darkly peaceful environments. Francois J. Bonnet is the studio re-worker, the producer, but despite having his name credited first, it does like Bonnet has adopted a very subtle, less-is-more approach to the studio post-manipulation, allowing the plaintive guitar work acres of respect and calm. Synth pad and environmental elements are subtle, and have a very strong synergy to the guitar work that makes them sometimes border on the unnoticeable.

Bluntly, for most of this work it feels like there is more variation in the track lengths than there is in the tracks themselves. Lengthy and mesmerisingly simple pieces like thirteen-minute "Pahoehoe" have the same sonic quality as the shorter sketches like three-minute "Premiere noire", but simply for more time, dim though that may sound. And while that may sound like a criticism, if you want to approach this album to enjoy the value of its soporific stillness, it becomes a virtue.

It would be unfair to say there's no variation, of course. For example "Tephras"'s wind tones add an extra haunting element, while the reverb dips a little deeper into the realm of an alien foghorn, and this flows fluidly into the more atmosphere-led "Dernieres teintes noires" where the guitar itself is less distinct and the after-effects of it explored further. The opening of fifteen-minute final piece "Des pas dans les cendres" is the album's softest section, the soft pads sounding almost synth-choral, before unfolding into the warmest and most velvety of conclusions.

It's reliable and deeply atmospheric guitar-drone that will certainly appeal to existing Sunn O))) fans, but which shouldn't really feel like it has travelled anywhere new.
Experimental / Avantgarde / Weird & Wired / Glitch / Noise / Field Recording
Edit (11057)
Artist:
Hadas Pe'ery
Title:
The Secret Lives Of Electromagnetic Transducers
Format:
Download Only (MP3 + Lossless)
Label:
Elli
Despite being recorded live in 2017, the theory behind this work from Tel Aviv-based composer and sound artist Pe'ery seems to hark back to the boom days of the electronic avantgarde, around the 1960's, give or take. The time when every expression seemed new, and every theatrical or obtuse idea seemed valid, and the acoustic was the norm and the electronic was the new.

Five performers of 'real' instruments (flute, trumpet, piano, guitar, and double bass) were surrounded by electro-magnetic transducers and speaker components, routed in obscure ways so that one output feeds into another, some transferring between instruments, and even with some speakers being worn around the necks of audience members. The players are then driven by impulse, focussed on varying levels of urgency rather than melody, for a stop-start six-part play of audio textures. It's a sprightly conceit, that feels quite entertaining.

However the 40-minute sonic result, in six parts, does suffer a little from the sense of "you had to be there". The recording quality is perfectly decent, but many of the sounds seem distant and any sense of intimacy has been lost. There's a sense that a greater number of microphones recording the event might have aided this as a sonic product.

The playfulness is still rather endearing though. Part II feels especially melodramatic, as though it yearns to be loaned to the world of interpretative dance. The sporadic string work in Part III is somehow quite nostalgic, while Part V forefronts the electronics to increase the sci-fi factor, melding the electric buzz with the acoustic drone to strong effect, before embarking on a fast-cut series of international vocal sounds that forms the work's most modern-sounding zone.

The most intriguing part, as well as the best sampler of the whole, is the spoken-word driven Part IV. Unprocessed and processed dialogue, described as "improvised text", in a language I must apologise for not confidently recognising in full but which has the tonality of French, brings forward the sense of theatre that is then followed up by rapid-fire plucking and tweaking that best showcases the unorthodox staging of the instruments.

It's avantgarde that's old-fashioned, if that's not a contradiction in terms, but there's more than enough innovation within that context to make it worth checking out if that's your bag.