Experimental / Avantgarde / Weird & Wired / Glitch / Noise / Field Recording
Edit (10894)
Artist:
Régis Renouard Larivière
Title:
Contrée
Format:
12" vinyl + Download
Label:
Recollection GRM
This LP collects together three of Régis Renouard Larivière's electroacoustic works, with the A side dedicated to the 2013 title track, and the B side featuring two slightly older works.

Despite being relatively recent, "Contrée" feels like it has fallen out of the 1960's and the boom in sound experimentation, electronic abstraction and radiophonic workshoppery. Twisting and turning source sounds that initially sound like rattling cutlery, though other elements appear later, there are pitch and tone shifts that feel akin to analogue tape playfulness, and particularly to begin with there's a simplicity and lack of overdubbing that also recalls a simpler, more mechanical sonic time.

The main piece "Contrée" is supposedly the middle part of an electroacoustic triptych when joined with two pieces not included here- 2011's "Sables" and 2017's "Nil"- but it makes a happy companion for the other two works that you do get here. As its name implies, "Allegeance volatile" is a punchier affair, with the sonic elements bearing similarities to the first piece, but with the more impulsive and dynamic feeling of movement, driven by some 'wake up!' percussive hits. "Esquive", by contrast, plays much more in the higher register, with some very squeaky sounds (sometimes gratingly so) meandering over the ever-present electroacoustic pulses.

An expression of "the void of sound", it's an insistent set of works with a texture that's harsh at times, yet not abrasive. It sounds older than it actually is, but it will appeal to appreciators of electronic and acoustic experimental sound design that's a touch more 'in your face' than the average.
Experimental / Avantgarde / Weird & Wired / Glitch / Noise / Field Recording
Edit (10883)
Gintas Kraptaviius is a Lithuanian composer whose opus stands along the path of certain experimental music whose macro-category is microsound. Rather than being based on samples or loops, his music is based on small sounds which seems generated by tone or noise generators and their duration is usually small enough to be perceived as an isolated sound cell as a note.
This release collects two pieces: "M", in six sections, from 2012 and "Mimicry", from 2017, is in eleven sections. "M" starts with a long first section which with his almost eighteen minutes is more than half of the total length, which oscillates between complex noisy parts without any intention to create and quieter ones based on carefully crafted tones. Even when, as in the second or in the last section, fragments of melody appears, this is balanced by the other section where the shaping of sound and the overall architecture of sound events is prevalent. "Mimicry" is a more fragmented track as even rhythmic patterns appear, as in the third section, or drone, as in the fourth one, and pure silence as background, as in the ninth; the use of computer's possibility to create sounds is matched by a concept of structure where event seems more important than path.
The overall result is a complex auditory experience where the listener is called to a effort of comprehension towards something whose form is apparently chaotic and distant from the comforting cliché of the genre. It's not for everyone but it's a rewarding listening.
Experimental / Avantgarde / Weird & Wired / Glitch / Noise / Field Recording
Edit (10874)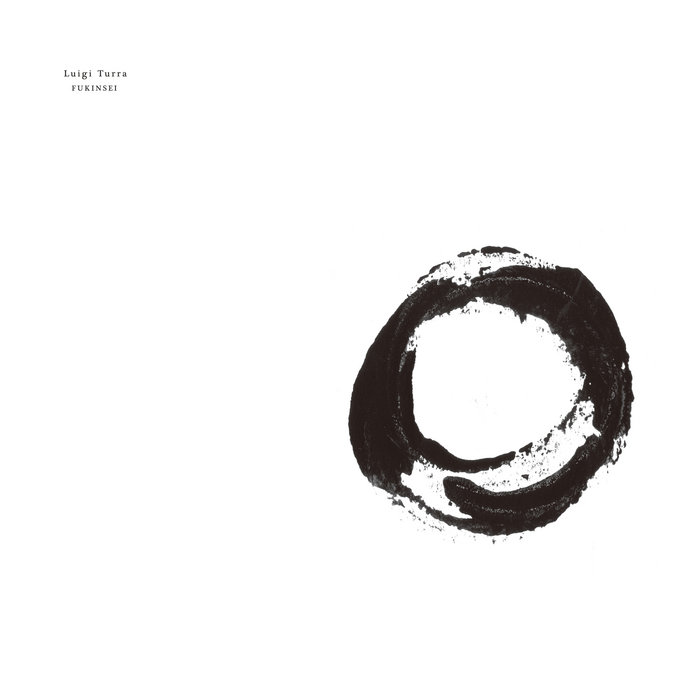 Artist:
Luigi Turra
Title:
Fukinsei
Format:
12"
Label:
Matter
Rated:

The works by Luigi Turra are somehow based on zen concepts and this one is no exception. "Fukinsei", which means roughly 'asymmetry', is one of the seven principles of zen aesthetics and is tied to the idea of an art based on a structure based on the form of the subject rather than on the intellect based concept of proportionality. So balance is something emerging from the act of working the matter rather than from the will of the artist.
This album is divided in three parts: "Imperfection", in two sections, where isolated acoustic sound events are interleaved by episodic electronic ones in a background silence which requires a certain concentration to the listener to understand the criterion behind the sound disposition in time. "Asymetrie", in two sections", proceeds from silence to sound by accumulation until some seconds of silence introduces another iteration of this process. "Abrasivité", in five sections, could be a little misleading in the name as the title doesn't refer, intuitively, to noise but to the disruption of a quiet, and compact, music form, as the continuous tone, using isolated sound events as notes or voices.
This release sounds far more meditated, and polished, than its title, and premises, could suggests, at least for my understanding of zen aesthetic, and results in a remarkable example of lowercase music that bring back sound to its status of sign rather than a percept. Listen with care.
Artist:
Cluster Lizard
(@)
Title:
Prophecy
Format:
CD
Label:
Prostir
Rated:
The focus on the fact that Cluster Lizard, the bicephalous project by Kvitnu boss and skilled sound forger Dmytro Fedorenko and the brilliant audio and visual artist Kateryna Zavoloka (the mind between the cover artworks of Kvitnu releases and author of the simple, but elegant one for this output in the guise of Cluster Lizard), haven't released anything under Kvitnu, as their debut came under the mark of French label Le Cabanon Records and this second album is the release number one for a newly founded imprint, they called Prostir, isn't a really relevant aspect of this ... I think that the fact it has the same name of the national electronic payment system, developed by Central Bank in Ukraine in 2016, their native land, is not a casual choice. Similarly, the choice of the title for their album, "Prophecy", is not casual at all. Would it refer to a prophecy for their country or something that could be spread to all our planet? Maybe the answer is in the middle, due to the choice of the quoted lines in the title of each track, grouping different examples of visionary and somehow prophetic writers, poets (including Lesya Ukrainka, one of the key figure of modern Ukrainian history - besides her fascinating poems, she became known for getting arrested by zarists due to its strong activism in the Marxist movement... hers is the first Ukrainian translation of Communist Manifesto) and even sci-fi movie makers (the title for the third track is nothing but an English transcription of the Brunnen-G fight chant, taken from Lexx, a Canadian-German sci-fi series, also known as Tales from a Parallel Universe). The conceptual framework is surely interesting, but it wouldn't eclipse the skills of these guys in translating into sounds and masterfully grasped noises of the ideas and images they arise with their prophetic visions, as it's clear since the very first track. Quoting a line by Blake, that the visionary English poet himself used for the frontispiece of a print on the origins of man, the ambivalence within a line like "The Sun's Light When He Unfolds It Depends On The Organ That he Beholds It" gets fully mirrored by the sounds of Cluster Lizard, where the same sound evokes different images on the basis of the organ sound by which they wrap it! The other tracks follow similar strategies and paths, along which this consolidated duo fills those lines by electro-industrial gizmos, awesome sonic engraving and wise usage of filters, that reaches really high peaks (not so far from the art of masters like Autechre) on "Come From Forever, And You Will Go Everywhere" (quoting Rimbaud) and the last "This Happened Before and It Will Happen Again".
Experimental / Avantgarde / Weird & Wired / Glitch / Noise / Field Recording
Edit (10851)
Artist:
Dafna Naphtali / Gordon Beeferman
(@)
Title:
Pulsing Dot
Format:
CD
Label:
Clang
(@)
Rated:
According to the press release, "Gordon Beeferman and Dafna Naphtali perform duet pieces and improvisations for piano and voice with kinetic sound processing, fractal rhythms, and general polyphonic/kaleidophonic disturbances." Now let's see what this sounds like. With Beeferman on the piano and Napthali credited with voice, live sound processing, and electronics, I had hopes that this would not be another classical recording masquerading as experimental music, and thankfully I was not disappointed. The disc opens with heavily processed vocals and sparse piano in "Transmission." Analogue noise bursts break through as the piano takes center stage, becoming increasingly more animated as the voice is reduced to pure tone, which then becomes more grist for the processing mill. Although this began rather minimal it ended up being quite interesting in the end. Next up, we have "Surface Disturbances." Animated piano, warbling analogue filter buzz, and theremin-like sweeps, mixed with snippets of voice give this the feel of a mashup of Looney Tunes incidental music and 1950s sci-fi movie sound effects. In other words, it was a fun listen. "Ozone Tongues" has a much more improvised feel to it, with the first part seeming somewhat disjointed. In some ways this segment is reminiscent of Bob Ostertag's "Attention Span." The second half brings in voice and rapid-fire piano. At 5:32, "Elegy for Bones" is the shortest track on the album. Here, voice comes to the forefront, and the piano is much more subdued, with sparse playing that is then processed and looped. In contrast, the voice is left virtually untouched, as Napthali sings in tones like an avant-garde scat singer. The disc concludes with "Orbiter," bringing insistent, frantic piano to the forefront. Overall, this was a good listen, but at times the vocals were completely overshadowed by the piano. For me, this was fine, because I enjoyed the piano more than the vocals (this is just my personal preference, and your mileage may vary, of course). This album weighs in at around 52 minutes.