Artist:
Steven Severin
(@)
Title:
Blood of a Poet - Le Sang d'un Poète
Format:
CD
Label:
Cold Spring
(@)
Rated:
Leaving Cocteau's esthetics and way of thinking our of consideration while reviewing this catching soundtrack for his first movie, Blood of a Poet, proposed by Steven Severin, bass player and co-founder of the legendary and seminal band Siouxsie & The Banshees, could be unfair in my opinion. It's known that the Frenck artist was an admirer of the underestimated Erik Satie, inspiring the so-called Les Six, a group of six musicians claiming the musical inheritance di Satie as well and supported from the conceptual framework Cocteau erected in the aphoristic essay Le Coq et L'Arlequin. Cocteau's admiration for Satie could be explained by referring to the intent to go beyond the dicotomy between a style featuring a certain unaffected plainness so that it could appear close to the daily dimension of everyday life and the intricacy of the Absolute, an intent whose paradoxicalness was solved by the simple structures of Satie's compositions and its constant tension towards a mystical and somewhat cabaret dimension and its non-sense titles could tightly fit and undo this knot. ''All good music resembles something. Good music stirs by its mysterious resemblance to the objects and feelings which motivated it.'', Cocteau stated in that essay.

After this premise and after listening to his issue - I warmly reccomend to listen to it while watching Le Sang d'un Poète as Steven is trying to do during his live performances all over different stages in USA, Canda and UK -, I could say that Mr.Severin has ideally joined this groups of eclectic French musicians in their favorite bar, La gaya in the heart of Montparnasse, for some absynthe sips. Not a rookie with this genre of issue, having already composed other imaginary soundtracks for movies such as The Cabinet of Dr.Caligari and The Seashell and The Clergyman or real scores, among which the superb one for London Voodoo, Steven manages to underscore the dramatic tension and the powerful symbolism of that film through a sort of alchemical synaeresis leading to an entrancing distillate of suspended melodies, immersive atmospheres, thinned organs, crambled keyboards, reversed carillon-like sounds, hypnotical pitched tones and some delicious tensive crescendo, all truly inspired and wedging in each sequence of the movie exalting the symbolic cloud of Cocteau's vision; in this magnetic magma of cinematic thrills I mostly appreciated the frightening suspense of L'Hotel des Folies-Dramatiques, evoking the nightmares of the poet after he accepted the invite to enter into the mirror - maybe the most famous scene of Le Sang d'un Poète, a recurrant and highly meaningful theme in Cocteau's Orpheus as well - coming from the statue, awaken after the poet himself tried to free himself from his own mouth, impressed on the palm of his hand like a wound, as well as the pathos seeping out of the tones of tracks such as Glory Forever or The Desecration Of The Host or the evoked cheating transhumanation during the card game against his muse, his glory and his destiny during which the poet acts as a swindler taking from his childhoos what it's expcted to grab from his insight in the track entitled The Card Sharp & The Angel and the final redeemed self-condemnation inside the fatal ennui for the eternity in the closing track The Lyre. Moving stuff also for philosophical journeys of the mind!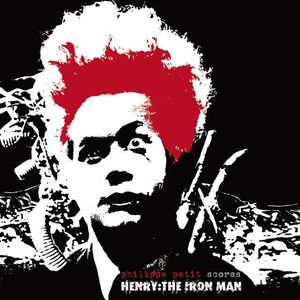 Artist:
PHILIPPE PETIT
Title:
Philippe Petit Scores Henry: The Iron Man
Format:
CD & Vinyl
Label:
Aagoo / Beta Lacta Ring
Rated:
This the repress of what I think is the unavoidable recording of Petit on Beta Lactam Ring is a sort of rework/reinterpretation of the Eraserhead soundtrack which I'm sure you know it's a cult movie but above all a real must a real must for my "alternative generation". The basic idea is not that far from many works Petit has done later therefore if you're fans of the French artist I'm sure you know what I'm speaking about and above all you know some of his early materials you also know they were basically drone based. I prefer it way more if compared to other works by this French dj/label owner/musician has put out, this' considerably different from his releases with String of Consciousness this cd/ (now)lp has that same dark feel you can hear in his collaboration with Pietro Riparbelli and with some of his other darkest recordings. Sure, we're dealing mostly with dark sounds, but to define it a drone-based release wouldn't be correct since it features some rhythmic quasi-industrial beats, some electronic sounds and the average atmosphere of this work is oniric and somehow melancholic. With these last words I just wanted to say if you're looking for the average dark ambient recording you're probably out of place but if drone based music with a high evocative feel and with a electronic feel it's your cup of tea, this will probably kill you for good. This cd features several long tracks that flow like a stream of consciousness (ah,ah...c'mon what an obvious joke!!!..;-), they pass from long and dense parts to quasi-ambient movements where you hear a piano, maybe horns and some feedbacks well melted in a nocturnal but yet gloomy magma. This repress is worth the price of the ticket, one of the best Petit's releases from his early days.
Artist:
CHAPTER 24 & PHILIPPE PETIT
Title:
the red giant meets the white dwarf
Format:
CD
Label:
Boring Machines
(@)
Rated:
An old American commercial said "another fine product brought to you by" and in this review we can go on writing: "'¦by Philippe Petit!", that in this recording is joining the Greek post-rock psychedelic trio Chapter 24. If you happened to read an old interview to String of Consciousness we did for Chaindlk you probably remember the French musician was already talking about this recording and and now It's finally out on Boring Machine. Differently from other collaborative efforts in which Petit collaborates with some friends, here he becomes a sort of fourth member of the band, this thing brings forth the obvious conclusion Chapter 24 have a big importance in the final result of this work. Should we talk about psychedelia or kraut music?...who cares anyway, the only important thing according to my humble opinion is that this cd is oniric, sometimes almost dreamy, nightly but it's not one of those third rate answers to GY!BE, Mogway or Mono. By some means we can dare to say it has some post rock reminiscences this could be close to Tarentel when after the first (wonderful) records they started getting more and more drone-driven and experimental. The comparison can draw us close to Pink Floyd and believe it or not that's not completely wrong, let's say Faust when working similarly to their inspirators. If the album title suggests a story plot we can also imagine this' an ideal soundtrack and that's also another proper definition. While the first songs of this cd have an introductive role this work grows track after track, I've been listening several times to this "the red giant meets the white dwarf " while relaxing on my sofa and the impulse to lay down and close my eyes was always there. Vintage and really "set the controls for the heart of the sun" if you get what I mean: have a nice trip.
Artist:
NITRO MAHALIA
(@)
Title:
Nitro Mahalia
Format:
12"
Label:
Interstellar Records
(@)
Rated:
Formed in 2004 in Vienna, Nitro Mahalia are a particular band. Mixing noise, film music, punk and jazz, the four people of the band used all these years to prepare their first album. Released on vinyl by Interstellar Records the Nitro Mahalia self named album is bringing you eleven blasts where bass distortions, hard beats, noise, catchy brass solos and organ cries are the main core. Take for example "Acid D.C.", it starts with a distorted bass and drum beating like a double heart beat, then brasses arrive. The chaotic/melodic wall of sound finds its nirvana thanks to the Chris Janka (one of the four guests on this album) distorted guitar inserts which now are noisy and then powerful. Another track that catch my attention immediately was "Intro" (which isn't the first of the album, it's the seventh/the second of side B): it starts with drone organ loops and then when the tension is at the top, it changes, turning into a fast melancholic tune. This album is a pleasant surprise and if you are into 90s guitarism with a bit of experimentation or you love Naked City, Slint and a bit of jazz, Nitro Mahalia is a band to check!
Artist:
Merzbow/Z'ev
(@)
Title:
Spiral Right/Spiral Left
Format:
CD
Label:
Cold Spring
(@)
Rated:
After 20 years of rumors of a forthcoming collaboration, recantations, postponements, these two blazoned masters of noise, who don't actually need any introduction having both of them an enviable curriculum and a remarkably tried experience in their field, have finally co-signed a collaborative release, even if the two long-lasting cochlear corrosions, tympanic drillings or, if you prefer, spirals are mutual mixing and shaping of each sonic code. A mission accomplished by Cold Spring's appreciated label manager Justin Mitchell.

If I exclude the inevitable sonic rampage for a while and their skills in making typhoons acting more as sorcerers than as callow blunderers from mastered or digital noises, an art whose secrets are deeply known by Masami Akita aka Merzbow, and from percussions often obtained from scraps, whose craftsman is the American (even if actually living in Peckham, UK, with Barbara Steveni, where he also mixed Merzbow's code on 20th August 2008, the first track of this emisymmetrical issue, whose first 13 minutes are really going to let your ears bleed) artist, musician and trusted pioneer of industrial music Stefan Joel Weisser aka Z'ev, one of the first aspect which has stricken me is the substantial stylistical homogeneity of both rehashes. The above mentioned first spiral is maybe the most difficult to listen for untrained ears especially for its tremendously harsh first part, where the blast of noises could sound more irritating than an imaginary suite for a quartet of hoovers, supported by a food grinder, a jackhammer and a jet engine, while the second spiral featuring some guitar modulations is definitively more bearable and enriched with urban field recordings, but it's practically impossible to appreciate it without considering the ritual core of this issue, putting it up as a soundtrack for an imaginary metropolitan hell, whose cyclic chants sounds as frightening as seducing. Even if not intended for the masses, this experimental release, whose package features graphic arts by Abby Helasdottir, is really stunning.