Experimental / Avantgarde / Weird & Wired / Glitch / Noise / Field Recording
Edit (6069)
According to the press sheet that came with the disc, this disc was inspired by the grand motorway bridge Ponte 25 de Abril in Lissabon. To come up with this, the M+M Chor, consisting of 36 individuals were each 'recorded separately without a guide track, which resulted in a gradual detuning of the voices that a choir could never produce as a whole. . . . The resulting layers of overtones sometimes makes one think of an angel's choir appearing in the background, and out of the monochrome emerges a thing of high complexity.' Now let's get to the music. As far as comparisons go, the one that comes to mind is Arcane Device and his experiments with feedback. However, this is a much more soothing endeavor, resulting in a kind of low hum not unlike listening to a bee's nest or the freeway to which this piece alludes. The main problem with this album is that for most people a track of 5-10 minutes would suffice. It is interesting, but it moves at a glacial pace, making it far too subtle for my taste. That said, it is nice to hear an experimental album that really is experimental every once in a while! This disc weighs in at about 46 minutes.

Experimental / Avantgarde / Weird & Wired / Glitch / Noise / Field Recording
Edit (6068)
Artist:
Sparkle in Grey & Tex La Homa
(@)
Title:
Whale Heart, Whale Heart
Format:
12"
Label:
Grey Sparkle
(@)
Rated:
I have previously reviewed Sparkle in Grey's 'A Quiet Place,' so I had some idea what I was in for. That said, Tex La Homa certainly brought in an element of chance. I had never heard of this artist, who is one Matthew Shaw. The album is split between the two projects.

Sparkle in Grey supplies the first two tracks, totaling almost 21 minutes. 'These Nightmares are Ending' is an interesting mix of the peaceful guitar and strings that I am used to, but with a more glitchy vibe to it. There are clicks and noises mixed into it, making it a bit more engaging. 'L'Innocence du Sommeil' (with Andrea Ferraris) opens with the sounds of a child speaking and becomes a soothing track similar in style to the first, but without the glitchiness. If you need a calming track to put on for when you make your move in the late evening with that special someone, Sparkle in Grey have you covered. The only issue I have here is that the tracks seem too similar.

Next up, we have Tex La Homa who also lays down some mellowness for you. 'Becoming' actually sounds like it begins with whale songs. This short piano and synth piece is punctuated by what sounds like distorted yelling. This gives way to 'Dorchester Sunrise,' a slow moving synth piece, which reminds me of Vidna Obmana's 'The River of Appearance' album. 'To Home' changes the pace with a percussive piece that features harmonica. 'Born on a Friday' is a simple acoustic guitar track with vocals that consist of using the voice as instrument with nothing more than 'la la la.'

Overall this doesn't really break much new ground, but it's a pleasant listen. If you are interested in either of these bands, this is a good start. This album weighs in at around 40 minutes.
Experimental / Avantgarde / Weird & Wired / Glitch / Noise / Field Recording
Edit (6065)
Artist:
Chris Connelly
Title:
How This Ends
Format:
CD
Label:
Lens Records
(@)
Rated:
I have to admit that I have not thought about Chris Connelly for a while. I have a fair amount of material with which he has been connected. If you were interested in industrial music in the late 80s and 90s it was hard to avoid him. In my collection alone, I have Acid Horse, PTP, Ministry, Murder Inc., Pigface, and he's been involved with other acts ranging from Revolting Cocks to Whitehouse. The musicians that assist in this effort are likewise diverse: Izi Coonagh (Sugar Bullet), Tania Bowers (Via Tania), James Marlon Magas (Magas, Lake of Dracula), Gordon Sharp (Cindytalk), Zak Boerger (These Wonderful Evils), Bill Rieflin (R.E.M., Ministry, Swans), Brent Gutzeit (TV Pow), Sanford Parker (Minsk, The High Confessions), David Levine (Mucca Pazza).

Musically, the closest comparison I can come up with right now is Current 93's amazing 'I Have a Special Plan for This World' or 'In a Foreign Town in a Foreign Land,' with their mix of spoken word and weird ambient atmosphere. I suppose this is somewhat fitting since Connelly dedicates the album to David Tibet and Gordon Sharp. According to the press sheet that came with the album, this is more a long poem performed by Connelly and collaborators than it is traditional songs. This is also not exactly feel-good kind of music. The press sheet notes that 'How This Ends is about death, genocide, homicide by corrupt powers upon innocents. It's about the people who didn't make it, the ones who either tried, or were taken by surprise.' The opening lyrics give an idea of what you are in for: 'The bloodflow moves like jagged ants in the strobe of the conflicted sunset.'

There are two tracks on this album, simply titled 'How This Ends (Part One)' and 'How This Ends (Part Two).' Part one is all over the place, with female spoken word that reminds me of the vocalist on Coil's 'The Angelic Conversation' alternating with male vocals (Connelly) at others. We have freakout John Zorn-like saxophone mixed with pulsating industrial soundscapes and analogue sounds. Add to this a lilting piano theme that runs throughout. If this sounds a bit disjointed, it only seems so. This hangs together well and pulls you in until it clubs you over the head with screaming and noise at an increased volume, which then gives way to the piano and calming spoken word. Part Two is much more traditional for the most part, sounding more like murder ballads with acoustic guitar. Overall, this is quite enjoyable, and makes me interested to hear more of his recent output. This album weighs in at 51.36.

Experimental / Avantgarde / Weird & Wired / Glitch / Noise / Field Recording
Edit (6054)
image not
available
anymore
Artist:
RODRIGUEZ, SANTOS, KUCHEN, RODRIGUES
Title:
vinter
Format:
CD
Label:
Creative Sources
(@)
Rated:
When a cd is out on Creative Sources and it involves the Rodrigues you mostly know how it sounds like I don't wonna say it's predictable, in someway that can be true, but they have a distinct sound nobody can deny that. Even if the presence of Martin Kuchen and Carlos Santos adds a saxophone and electronics to the strings of the two portuguese players, the opening track would confirm the idea of predictability but never judge a book by the cover bros!. It's with the second track they throw in what sounds like the body of a melody, thumbs up for me since the cocktail goes really close to many contemporary electronic composition: sharp digital computer sounds, mute saxophone playing and just some odd bowed squeaks. The closing and longest composition of the whole lot sounds much more like many other works in which I've heard these players: unplayed dissonant notes, long pauses and similar tricks. The last track offers a classic contemporary sound, above all when they leave unplayed unsounding jamming for crippled or laud playing, a strange interaction, but still really good.
Experimental / Avantgarde / Weird & Wired / Glitch / Noise / Field Recording
Edit (6053)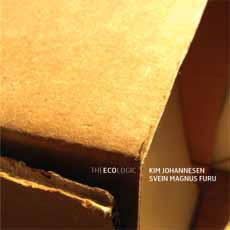 Artist:
KIM JOHANNESEN, SVEIN MAGNUS FURU
(@)
Title:
the ECOlogic
Format:
CD
Label:
Creative Sources
(@)
Rated:
Another guitar plus saxophone duo, just a while ago I've reviewed Rocco-Coxhill and now this nordic pair, beyond the remote possibly also this nordic couple has an avant jazz background I can't see any other similarity. Infact Johannesen and Furu are more contemporary classic oriented in their way of playing and these compositions somehow can be classified that way. The first track opens with what effectively sounds as a long circular drone crossed by some electro-acoustic sounds, a simple idea you may think, but in terms of length they bring this track to a point where they start disgregatin' everything before the end. If one may think that's another ordinary drone driven release the second episode presents a dissonant post Bailey-an impro with a strong intensity and the same idea is repeated here and there in several tracks before the end (tip of hat!). Despite some electro acoustic sketches that's not exactly their cup of tea, therefore when they go for a duo in unison you can bet the proceed shoulder to shoulder. They close the whole narration by returning to a long uniform sound droning even if slightly if compared to the first track, and I think thaat's a wise decision to cerate an interesting tracklist. What I've really appreciated about this cd is the fact differently from many scandinavian improvisers they avoid that repetitive unsound-playing going firmly from pointillism to well played angular notes. Interesting work.