Experimental / Avantgarde / Weird & Wired / Glitch / Noise / Field Recording
Edit (7020)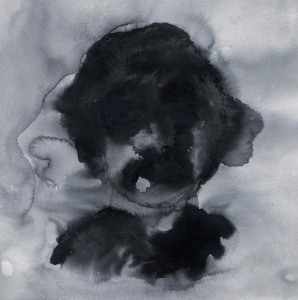 Artist:
M TABE
Title:
solo acoustic guitar
Format:
CD
Label:
self-released
Rated:
Instead of older and bolder I've become older and slower, shame on me, infact I received this work a while ago, right after I've seen this guy playing live before and together with Manuel Mota. The only thing I can say is that in the meanwhile I've been listening to this collection of guitar works repeatedly and considering who many solo recordings I've stumbled into during the last decade the fact itself would help you to figure out this one can't be filed in the "hell boring" category. More than far from boredom, this young guitarist has assembled a series of compositions and improvisations that without indulging in technics and in self complacency brought in some fresh inspiration. M Tabe style, despite his young age is quite mature, hey if you're into Derek Bailey and if you think this' another petty clone of that improvisational hero you're wrong, the style of this italian musician is more classic guitar oriented. These guitar works are soft, warm and quiet...another possible definition could be meditative, whatever this may suggest. The fact is despite its asperity this release has an all-italian taste for melody, don't think we're dealing with some napolitan oriented guitar or whatever, but I dare you to say the music has no mediterranean aftertaste.
Artist:
UGGERI, GIANNICO, MAURI
Title:
Pagetos
Format:
CD
Label:
Boring Machines
(@)
Rated:
This another chapter of the personal saga started a while ago by Matteo Uggeri, but stylistically this work brings the italian musician in what I think is his favorite musical habitat: a nowhere land where melancholy ties the knot with field recordings and melody. Melancholy could be the subtitle of the whole recording, infact Giannico (you probably know for some interesting solo releases) went for some minimal piano playing perfectly arranged by some more than inspired interventions by Luca Mauri (I/O, Luminance Ratio) and by some elegant cello harmonies by Andrea Serrapiglio (Carla Bozulich, Paramount Style). The high emotional impact and the overdose of melody of the cd makes me wonder if instead of ambient music or field recordings, we're simply in front of a minimalist, quasi pop, cinematic series of compositions. Do you really think I'm just exaggerating? So tell me if some of these litanies wouldn't be suitable for some romantic movie? In a way we've something that brings forth that language that some of these post-post-post meets camera music combos on Constellation have been recording during the last ten years and in my book that means elegance plus quality. This' one of those releases so mellow and so catchy that could be dug by a big range of listeners, not exactly a sunny release, I can't say why but it makes me think to autumn's leaves and to the end of the summer. Can you remember that Tears for Fears' line that says "Advice for the young at heart soon we will be older", it kept buzzing into my head for the whole length of the recording.
Experimental / Avantgarde / Weird & Wired / Glitch / Noise / Field Recording
Edit (7018)
Artist:
TIZIANO MILANI
Title:
touch
Format:
CD
Label:
Setola di Maiale
(@)
Rated:
Some years ago I've been introduced to the music of Tiziano Milani thanks to the fact in the wonderful homage to Alvin Lucier, Claudio Parodi put out on Extreme records, the musical fragment used as sound source was sampled from Milani. From then on, this italian electronic composer has collected several works under his belt and the most of them have been released on Setola di Maiale (an experimental, avant jazz, uncenventional music label I can't but suggest to taste). Funny, but the title itself could suggest one of the labels suitable for a kind of recording like that, infact due to the compositions and for the amount of concrete-electronic sounds used, it brought to my mind some of the most intense and intriguing composers on Touch label. The framework is a classy collage-patchwork of music performed by several jazzy, classic, contemporary musicians, infact the line up of this recording includes: Koji Nishio on piano, Hiromi Makaino on electronic percussion and rhythms, Lars Musiikki on double bass and guitar, Cristian Corsi on Tenor sax and Lynn Westemberg on viola. After having listened to several of his releases I can say Tiziano Milani's style is clearly distinguishable, infact his magmatic-nightly soup has its own identity. Differently from his previous recordings, Touch has a more contemporary heart and some of the instruments tend to surface from the collage with their own characteristic sounds above all the piano and that's what may confer a conservatory aura to the whole work. An interesting composer/laptop musician with an identity.
Experimental / Avantgarde / Weird & Wired / Glitch / Noise / Field Recording
Edit (7016)
Artist:
Lucio Capece
Title:
Zero Plus Zero
Format:
CD
Label:
Potlatch
(@)
Distributor:
Metamkine
Rated:
"If two quantum channels each have a transmission capacity of zero, they may still have a nonzero capacity when used together". Such a scientific observation, taken from an article issued on scientific web-zine PHYSorg about a study about so-called superactivation which is going to pave way for new interesting developments in communication sciences and schematized in the diagram used as a cover, emphasize the concept at the basis of this release by Lucio Capece, Berlin-based Argentinean musician having a fad for tone-colour sonic experiments and prepared instruments as well as for music with no underlying narration (zero premises, zero lyrics, zero plots, zero praecepts don't imply something should be considered nonsensical). After the entrancing opening track "Some move upward uncertainly", dedicated to Harley Gaber (our collaborator Steve Mecca recently spoke about him while reviewing "In Memoriam 22010", issued two weeks before his suicide) where he just plays the Indian Sruti box, a sort of harmonium whose ascending and hypnotic sound is getting quite popular between Western musicians, listeners can appreciate Capece's skills in preparing instrument since the following title track where he extracts some nice effects from his soprano saxophone after preparation with different objects, which could persuade some saxophone players to look for hidden pop-corn machines or little metal shredder inside your saxophone, whilein the three parts of "Inside the outside", it seems that Lucio's focused on breath, which has been musically observed and overstressed not only for its wide performative range relkated to time stretching (like in the first part, where there's a wise alternation of silence in between chords before he switch ring modulator on), but it seems he's also interested in catching snapshots of his elemental monads, so that cardboard tubes he uses for the recording of the second and third (as well as my favorite one) part could be thought as a musical surrogate of a tubular particle accelerator. In this release, he also included a track, "Spectrum of One", inspired by the 50th anniversary of the first photograph of our planet taken from the deep space, based just on single sine waves, which looks like transmissionary signals, launched over the cosmic void.
Experimental / Avantgarde / Weird & Wired / Glitch / Noise / Field Recording
Edit (7015)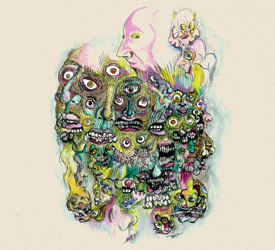 Until the day I heard this record, I considered myself quite far out in the musical world. But that was then - Now I know I have a long way to go, if I want to see just the horizon of where musical projects can bring you. On this record, Philip Gayle has put together compositions in the same overdubbing way as on his guitar based records, slicing up sounds and merging them together to form interesting combinations of new structures and textures. But one thing differs a lot from his past records: The guitars and string instruments are replaced by body sounds, gibberish speech, burps, snoring, sneezing and sounds on the fringe of what you can recall as vocals. All from his own body.

Gayle has recorded body sounds for eight years, from 2000 till 2008, and put them together in both interesting and challenging ways, leaving most of the material in it's original form without processing, or any doubt about how the sounds are made or where they come from. Because the concrete sounds are so familiar to us as listeners, this record is a bit more challenging than other pieces of concrete music. It makes it harder to listen to the songs in a pure musical way, since your'e always reminded of the origin of the sound. That challenge is also why I like this record, it's a perfect test in so called acousmatic listening: Trying to listen to the acoustic parameters of the sound itself, and reject the associations we get to the source. I think John Cage and Pierre Schaeffer would appreciate this record, as it both challenge and extend their thoughts on what can be considered as musical elements or not.
I'm not sure if Gayle think of this record as an attempt to widen the conception of what we can call musical sounds or not, but I needed to concentrate to hear the sounds itself, and not the sources. (A good example of that is the song merkin identity crisis, where the question appears: Is he jogging now, or is that the sound of an intercourse?).

When it comes to the musical content, the record has a wide range of compositions and sound material, from deep growling drones and static darth vader breathing to chaotic, high pitched ''donald duck'' performances and heavily panned gibberish cacophonies. You don't feel anything is repeated unnecessary, or just placed there without a reason, it's just the content itself that makes everything, eh.. something else.

This record is by far the weirdest record I've ever heard, and I'm glad to see that musical boundaries still can be moved, challenged and even broken, in a postmodern time we tend to think that nothing can surprise us anymore. This is pure madness, in it's most creative and inventive way. But I should still warn you - it is far, far out.