Experimental / Avantgarde / Weird & Wired / Glitch / Noise / Field Recording
Edit (6566)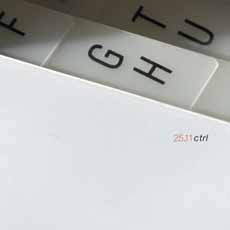 Artist:
CTTRL
Title:
25.11
Format:
CD
Label:
Creative Sources
(@)
Rated:
Even if during the last year Creative Sources has exponentially augmented the number of its electronic oriented releases it's still a label mostly renowned for its electro-acoustic/improvisative rooster. This cd is exactly located there in the free republic of improvisers: piano guitar, double bass a pair of flutes involved into the creation of nine sketches of extemporary composition. This ensemble from Vienna works in a quite traditional way even thought the ability of the players demonstrates they're really able to work together. Considering the kind of ensemble and the way the play together it also reminded me of Civil War. If you imagine one of those recording where you have an over abundance of silence you're on the wrong lane, they cross the field of improvisation with no hesitation and that without wasting time in notes and extreme loudness, Interesting.

Experimental / Avantgarde / Weird & Wired / Glitch / Noise / Field Recording
Edit (6565)
Artist:
Alex Nowitz (@)
Title:
Homo Ludens
Format:
CD
Label:
self-released
Rated:
A STEIM resident Alex Nowitz is an exciting European composer who is sure to become a major figure in new music. For the first release on his new imprint, Nowitz Records, he presents three major electroacoustic works on "Homo Ludens". Composed between 2003 and 2009 the music heard here focuses mainly on the composer's vocal acrobats and how he uses them to interface with live electronics. The result is an exciting blend of electroacustic madness that brings to mind Iancu Dumitrescu and some of Mike Patton's mid 90s vocal explorations (most notably "Adult Themes for Voice").

The first piece, "Sirenjentranen und Seelentone", is a tense and intense journey where overdubbed clarinets, bass clarinets, pianos, vocals and synthesizers takes turns in long sustained sections of brutal uneasiness. Shifting between pulsing & bubbling sounds and layered vocals "Sirenjentranen und Seelentone" moves perfectly to the next piece, "Musik fur einen Sanger mit Live-Elektronik und Zuspiel fur zehn Lautsprescher" which begins with truly psychotic and inspiring manipulated vocals that are utterly captivating. This piece also features extreme dramatic shifts in dynamics, a feat which Nowitz pulls off masterfully. By the time the strings and percussion begin to interact wit the live electronics Nowitz has created a sound world that is as exciting and terrifying as anything ever done by Iannis Xenakis.

The final piece on "Homo Ludens" is entitled Angelus Novus, Nr.2, which brings the attention back to the composer's voice. An explosion of color Nowitz once again utilizes overdubbing and live electronics to exploit and showcase his entire vocal range. From percussive pops to throat singing, screeches to low drones Nowitz creates a rich sound environment that will leave the listener scratching their head and smiling at the same time.

Like his fellow STEIM resident, DJ SNiff, Nowitz is at his best when creating fully immersive music that makes the listener's head swirl. With "Homo Ludens" he's done just that.
Experimental / Avantgarde / Weird & Wired / Glitch / Noise / Field Recording
Edit (6564)
This one took me a while to review partly because what we have here is almost 6 hours of music recorded at two live performances. Unlike other sets, this one had visuals, so I couldn't engage in my typical review process listening to them on my commute into work or doing other work. After all, who has three hour blocks of uninterrupted time these days? Anyway, on to the music. First off, I'll let you know how the press release describes this set: 'this in-home installation is the ultimate video aquarium for the acid-minded. Baker's thrum-scapes lay back and patiently coo mantras something akin to mid-period Nocturnal Emissions or Vidna Obmana, while spectacular visions wend and squirm from the absolutely abstract to hi-def nature photography, all to blissful affect. Some footage oozes out and away, like Cocteau Twins albums come to life, while other footage juxtaposes layers of treated imagery ala Derek Jarman experimental films, or early Cabaret Voltaire Doublevision videos. The pieces are so beautifully mixed, often taking field footage and slowly tweaking colours, definitions, focii into indefinable splashes and spectrums. Smoke, fire, clouds, oil, water, glass, humanity and its relation to light and movement are manipulated in a million wondrous ways, matching Baker's epic garden music drone for drone; loop for loop; god for god.'

For the Aidan Baker disc, the imagery does mesh well with the music. The drones are soft and slowly evolving. This is one of the benefits to having something like a DVD of the music rather than a standard 80 minute CD. One of the chapters on this disc (yes, it is mercifully broken up into chapters) would consume an entire disc on its own. What many seem to like about drone music (myself included) is the ability to really immerse oneself into a track. The music is wonderful, but with Baker at the controls, did we really think that it would be otherwise? Visually, however, it becomes a bit less engaging. Perhaps part of it is in the way we are wired, but slowly evolving music is considerably more engaging than slowly evolving visuals. Watching what seems like rain falling onto a window makes it hard to maintain one's interest. There were some interesting elements, such as a segment where everything began to be filtered into a kaleidoscope, with increasing levels of abstraction. Some chapters seem to tell a story, while others simply focus on textures and light. For example, the view from a plane over frozen forests was nice, but eventually it began to feel like I was just looking out of a plane window on a flight. Perhaps this could be used for a much cooler Baby Einstein kind of thing ' Baby Drone, perhaps ' because the music is soothing and the visuals are likewise peaceful. My 3 month old liked it.

Musically, the Nadja disc takes a slightly different track from the Aidan Baker disc, with a bit more dissonance and a bit noisier. The imagery is also a bit different, with a bit more realism to it rather than completely abstract. Once again, the images work well with the music. For example, you get the sense that you're in the subway as the train rumbles by. Still, everything is processed into a hazy, dreamlike vision. Then again, so is the music, so it all works out. This one is a bit different in that we actually do occasionally see the artists mixed in with the visuals, making this more akin to the traditional concert footage. There are interesting video segments, such as the person beating a pig to serve at a wedding (according to the liner notes), but some fall pretty flat. For example, the last 25 minutes is simply a clock counting down the time to the end. Good thing that the music was pure Nadja awesomeness.

In short, if you are getting it for the music, you will be quite happy. After all, you are getting the equivalent of 4-6 albums worth of music for an excellent price. If you were hoping for an actual live performance where you see the artist, you will not get that here. The visuals were nice, but it is difficult to make 6 hours of abstract imagery engaging. I often found my mind wandering or looking elsewhere, but then again, maybe that's the point. I have to mention that the method of depicting chapters was pretty cool, with a slice of the imagery used to depict the tracks. This set weighs in at almost 6 hours. Did I mention the 6 hours of music?
Experimental / Avantgarde / Weird & Wired / Glitch / Noise / Field Recording
Edit (6563)
Artist:
ANNI HOGAN
Title:
Mountain
Format:
CD + DVD
Label:
Cold Spring
(@)
Rated:
MOUNTAIN is the newest Anni Hogan album and it gives us the chance to check some of her new music after the 2009 double CD reissue 'Kickabye'. MOUNTAIN is a particular project that sees Anni collaborating musically with Robert Strachan and Itchy Ear. What is its peculiarity? Well, musically Anni performed on her piano some tunes which Itchy Ear manipulated on pre-production and then Robert Strachan re-imagined and remixed. The final result is that the thirteen piano pieces now sound expanded and reinvented. Let me try to explain: you can hear that the main instrument is a piano, but under the main chords and melodies you hear many other sounds that create a spacey ambient and a sidereal effect. These sounds have been created manipulating the piano tracks created by Anni and they are able to bring you on a trip to the top of the Everest. Tracks like 'Sunburst' will make you feel the skin ice burned while the following 'Altitude' will make you tremble because of the wind like noises. Now that musically you have an idea of how it sounds, let me explain what there is behind this project, because this isn't only a musical disc, it is an hybrid CD/DVD disc that on the DVD side has a documentary by film maker Bob Wass and filmed by mountaineer Cathy O'Dowd during her Everest expedition. She also performed a spoken word comment on the track 'Deathzone', describing what she felt during that experience: fear, struggle and despair are there in front of you, bare naked. That track is the only one to have also a sort of rhythmic pattern and it ends into a dramatic crescendo. Five out of thirteen tracks have been used as soundtrack to the thirty minutes documentary and I have to tell you that the musicians (whom have composed the music taking inspiration from the O'Dowd visual material and from Rene Daumal's 'Mount Analogue') did a great job and now you won't imagine a better way to support those shootings. You'll see the majesty of Himalayan Mountains as well as the nature's power during the footage of the snow covering the tents while the wind blows'¦ it was always blowing, helping the sun to burn the noses even more. Fascinating'¦
Artist:
Falko Brocksieper
(@)
Title:
Alkem Nukem EP
Format:
CD EP
Label:
False Industries
(@)
Distributor:
i-tunes
Rated:
False Industries' folks are keeping their promise to the listeners about stocking their catalogue to a line of action inspired by the purpose of upkeeping the highest qualitative levels they can reach and this 4th release, signed by Falko Brocksieper, one of the father of the so-called sound of Cologne and founder of Sub Static (together with Mia Grobelny) and Karloff - two important brands in electronic music nowadays - bragging about a plenty of releases for renowned labels such as Resopal, Tongut, Tribstoff, Tuning Spork, Dumb Unit, whose style based on the hybridization of minimal techno with analog sound with an immediate hypnotical hook - I could reccomend to listen to his second album Heavy Day on Sub Static to have an idea of his sound -, which many other notorious producers (Sid Le Rock, Akufen, Gabriel Ananda, Benjamin Fehr, just to name a few) who asked remixes to him, corroborates such a noble purpose. In order to pursue the label's intent, Falko didn't assemble any techno tune, but leant towards some sonic solutions between computational textures and broken ambient paracentesis (the astonishingly cinematic wet catharsis of Westfalia with his powerful ultra-low frequencies and the hypnotical clicking of the beat-blemished Mellica - my favorite track - are great examples of this crossbreed) as well as an experimental approach, where he mixed together in an intriguing way different sonic elements such as in the title-track, Alkem Nukem (it's eloquent the fact Falko choosed the names of two German companies, who build atomic reactors, to give a name to this issue), where he inserted dripping bleeps and padded pulses inside the sulphuric cloud evaporating from a sort of processed white noise, and The Boy Who Turned Yellow, where he assembled a sort of orchestra from miniaturized and "muted" sounds including a "dirty" snare drum, some vocal syllabic samples - turned into percussive elements - and woods, a kind of musical cryonics who reminded to me some past tracks by Riou Tomita. This EP also includes two remixes of Westfalia - the former by NY-based Morgan Packard (Anticipate) where the original track sounds desiccated before injected in the chilling micro-dub groove, while in the latter Mark Van Hoen aka Locust (my favorite remix) manages to tighten the strings through a downbeat stepping on highly tense analog sequences - and two remixes of Mellica - a delicious arctic dubbed silent riding by the Canadian brothers Thibideau aka Repair and a sort of weird and nightmarish childplay by Benjamin Fehr and Lenique -.