Artist:
Jeff Carey
Title:
Interrupt-Decay
Format:
CD
Label:
CWnil
(@)
Rated:
One of the best digital noise album which has recently been spilled from my headphones is this sort of debut release by Jeff Carey. It's not so proper to speak about a debut as Jeff is not a newbie at all, as he mainly poured his sonic art in many acclaimed projects - the most known is maybe Skif++, an eclectic abstract sonic and visual project, co-signed by Robert van Heumen and Bas Van Koolwijk, which has been propelled by Jeff's talent and passion on SuperCollider, an open-source dynamic programming language for real-time audio synthesis and Jeff's fad! - and is one of the key musician of Amsterdam-based N-Collective, a pool of musicians which focuses on electronic compositions and improv acoustics, considered as the new frontier of musical research. I'd say the listening of "Interrupt/Decay" is more fascinating as trained listeners will recognise Jeff applies compositional techniques to noises he wisely patterns. The fact there's a placement of noises (and silences as well...it's really fun alternation of noises and silence on the fourth track "Struct") which is not so dissimilar from the placement of punctuation and tones on staff, doesn't mean there are not any sonic spurs for more or less raving mental fancies: the initial "Lag" is quite close to the noise you could hear on a train compartment with wide-open window when it runs under a tunnel, the sounds of the following track "Chop" let me imagine Jeff while preparing a cocktail with an assortment of molten metals and the lucky taster sucking in with a special straw due to some sonic similaraties with the noise you can hear when drawing from an almost empty juice box and other tracks have sounds who reminded some vintage home computers' sounds - some of you could imagine the overhaul of Atari or Commodore F1 car after a road accident while listening to "Step" and its troublesome test on "1F" -, a fancy which could be injected after I read Mr.Carey composed "Interrupt/Decay" by using a gaming keypad and joystick to control his laptop (!)...if you think my associations could validate an admission to mental hospital, I cannot imagine how you are going to label those ones by a friend who occasionally entered into my room while listening to this release, who thought about the attempt at chewing meatballs stuffed with pins by some unlucky person or at immortalizing the wedding between two storm catchers in love by a camera from inside an hurricane. Joking aside, Jeff's precision in cutting frequencies and place them on the pattern is really remarkable. Have a listen.
Experimental / Avantgarde / Weird & Wired / Glitch / Noise / Field Recording
Edit (7169)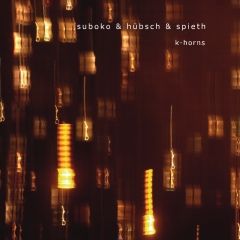 Artist:
Suboko & hubsch & spieth
Title:
k-horns
Format:
CD
Label:
Schraum
(@)
Distributor:
Staalplaat
Rated:
One of the coolest aspects of avant-garde classical music joining forces with experimental music and improvised noise is the way that the various instruments are taken out of context, forced to expand their sonic vocabulary and discovering new nuances and techniques along the way. On 'K-Horns,' Suboko, a trio of French percussionists, are joined by Carl Ludwig Hubsch on tuba and Roland Spieth on trumpet, to create five tracks of rumbling metal, hissing breath, and obscure sci-fi textures from God Knows Where. The overall effect is of listening to some mutant jazz festival in an old warehouse, while rain beats down on the corrugated tin roof, and a flying saucer smoothly descends into the vacant lot next door. Oh yeah, there are mechanical rodents running around in the walls, broadcasting slowed down Hitler speeches through tiny tinny loudspeakers, also. Sounds surreal? It is.

59 minutes of improvised symphonic textures may not be to everybody's liking. There's nary a melody or rhythm to be had. Instead, the players are intent on exploring the lengths and depths of their instruments: Hubsch's tuba blatts border on bass wobble, while Spieth settles on more of a trad jazz freak trumpet flavor, whose conventiality makes the proceedings seem more bizarre. The strength and adventurous spirit of these five musicians makes it seem like they are actually breaking new ground, instead of recycling hashed-over micro-genres, and what we're left with is a mixture of free-jazz fire sermon with a San Fransisco Tape Music Center backing band, or a mariachi quintet covering Lustmord. Its unlike anything you've ever heard; they will ignite odd movies in yr mind, if you give them the time of day.

The production is superb, giving equal time and temperament to both the higher and lower registers, making for a full, lush recording. You are practically transported to the small wooden rooms these recordings were inevitably made in. The blurry light photographs by Axel Haller on the cover are also quite lovely, and set you in the mood to travel to these Teatros Grottesco. If ever you were looking to sneak a peak at what improvised electro-acoustic could sound like, or if yr a classical or jazz buff and you'd like to hear what else yr beloved brass instruments are capable of, look no further. Highly recommended.
Artist:
Roberto Fega (@)
Title:
Daily Visions
Format:
CD
Label:
Creative Sources
(@)
Rated:
Roberto Fega's "Daily Visions" cannot be considered an easy listening both for the technique he uses to agglutinate a number of sketches and reprises and for the hints within his record, which looks like an attempt of saving from oblivion by "punching" ordinary dimension with political statements and urgent cultural battles, so that it seems that "Daily Visions" sounds like a plot whose unwinding runs parallel to momentuous events, inserted by means of what he defines "audio interludes" (voices from Occupy Wall Street, immigrants in Lampedusa, recordings and reports taken from Greek riots and Manchester turmoils, passages taken from an interview to Zygmunt Bauman and movie "Nowegian Wood" based on Murakami's book), and a gradual and sore consciousness rising, partially enfranchised just within intimate (still free) spaces like the ones evoked by the initial "Apnee d'amore/Breath-hold loving" and the final track "Ricordi mai sopiti/Unburied memories", the one I liked most for the daydreaming interaction of palpitating reversed liquid sounds by Fega with the entrancing sound of Francesco Lo Cascio's vibraphone. Whereas his style seems to be fenced by electro-acoustic improvisational music, sonic collagism (close to some cinematic stuff coming from Japanese scene, based on bizarre and somewhat disquieting sonic "hyphenations" - I particularly enjoyed the ones in "Per un finale diverso/For a different ending" and "In Exion", a track based on the reading of a poem by Jennifer Scappettone -, or small interesting labels such as Raabenstein's Nonine) and some jazz standards for trumpets - wisely turned into something mindblowing by talented trumpet player Ersilia Prosperi -, the conceptual framework could be summarized by Roberto's dedications (including the ones to Robert Wyatt, Berlin, Joe Strummer's "The Future Is Unwritten" and all political, cultural and artistic antagonisms of this world), which seal this sort of musical ekphrasis of something which has not happened yet overall.
Artist:
Murmer
(@)
Title:
What Are The Roots That Clutch
Format:
CD
Label:
The Helen Scarsdale Agency
(@)
Rated:
A certain alternance of natural sounds and silence characterizes the hallucinated and enigmatic poem The Waste Land by T.S.Eliot, which has been quoted not only through the title (whereas the talented English satirist Evelyn Waugh opted for the last line to entitle one of his best novel "A Handful Of Dust", this American sound artist chose the first line, "What are the roots that clutch..." of the same stanza ending the first section of the poem "The Burial Of The Dead"), but also by the structure of this interesting sonic collage of field recordings, divided into five parts (just like Eliot's poem), and its tesseras, which remind some moments of one of the most favorite reading of many brainiacs, so that this sensorial interpretation by Patrick McGinley aka Murmer cast upon the multitude of interpretations and essays, which had been written about that writing. For instance the shuffle of steps over brushwood, the disorienting croaks of frogs, the rusting of leaves, the crackling of burning firewood as well as the underlying buzzing tone, which could remind "that sound high in the air/Murmur of maternal lamentation" mentioned in "What The Thunder Said", the last section of the poem (the definitive proof of its good make could be the slap I gave to the right headphone when a mosquito "appeared" in the sonic space...), in the first part evoke the feeling of confusion of the first part of the poem as well as some notorious references to Dante Alighieri, one of the known source of inspiration for Eliot, likewise the sonic collage of the fifth track which remind many words of the above-mentioned fifth section before the speaking of the thunder - "There is the empty chapel, only the wind's home./It has no windows, and the door swings,/Dry bones can harm no one./Only a cock stood on the rooftree/Co co rico co co rico/In a flash of lightning. Then a damp gust/Bringing rain" - and according to a bizarre alchemy, some words from the second part "A Game Of Chess" ("'What is that noise?' The wind under the door. 'What is that noise now? What is the wind doing?'") seems to refer by sheer coincidence to some biographical lines which deeply influenced the sonic research of this globetrotter, who started his collection of sounds all over the world - there are many found sounds, live room feedbacks and field recordings mainly grabbed while hiking out in wild places of Northern Normandy, Estonia and Finland - after listening to a cavernous tone broadcasting from a ventilator duct in Paris.
Experimental / Avantgarde / Weird & Wired / Glitch / Noise / Field Recording
Edit (7163)
Artist:
Harry Pussy
(@)
Title:
Lets Build A Pussy
Format:
2 x 12" vinyl
Label:
Mego
(@)
Rated:
In spite of their short life on the musical stage, Miami-based band Harry Pussy was really influential and left their mark on the noise scene through an aesthatics which was totally irriverent not only to the so-called bourgeios respectability and the vapidity of pop culture, but also to the musical structures of punk song itself: most of their tracks were untitled and sometimes they got fun with other aspects of typical musical publishing "receptacles" such as they did by "Please, Don't Come Back From The Moon / Nazi USA", issued by Blackjack Records in 1994, where they splitted tracks into two halves, a half a side, instead of putting a single track on each side, while their style was focused on headlong dashes over furious, violent and explicit songs and even the interaction between the band and the audience reflected their eruptive elan, mainly propelled by shrill high notes and fast drumming by Adris Hoyos and guitar rapes by Bill Orcutt. The reissue of their "posthumous" and very rare release "Let's Build A Pussy" seems to be related to the retrospective issue of "One Plus One", a double LP issued by Orcutt's label Palilalaia including the 'Vigilance' cassette, the Planet & 2nd Esync singles. When it was released, most of reviewers tended to interpret this release based on the yell by Adris (it "clearly" appears for 2-3 seconds in the first track), which had been computer-processed, thinned and stretched out by Bill over four 15-minutes lasting tracks, which are not so different from audio tracks for those funny toys known as brain machines as the sensation of "giddiness" for your ears is going to be similar to the one you could experience after a "program" on those toys or software wehich works in a similar way like i-Doser, as a certificate of death, but I think that Harry Pussy's last act could have not only a funereal worthiness. The hint at feminine shape in the title could be linked to the association between the curvy feminine body and the sweet undulations of the sonic waves built by Orcutt, but I'd say another possible key for the interpretation of "Lets Build A Pussy" where the initial scream which seems to say "dance" or "death" preceding this mindblowing bunch of frequencies, could be related to the foreseeable direction of musical research (it was issued in 1998), seemingly close to the research of cognitive science, focused on the representation and the induction of artifical emotional states throughout sonic stimulations, the real artistic crime after previous acts of patronage and submission where music gets immolated to the needs of a demanding mass or alternatively of a meekness-demanding elite...