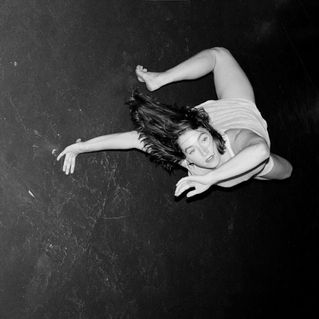 Artist:
Raime
Title:
Quarter Turns Over A Living Line
Format:
CD
Label:
Blackest Ever Black
(@)
Rated:
Imagine rain-slicked back alleys; haunted warehouses; a wooded clearing at night. These are some of the locales that Tom Halstead and Joe Andrews, collectively known as Raime, will guide you through, when immersing yrself in the blasted, decayed landscape of 'Quarter Turns Over A Living Line.'

Where lesser producers and weak imitators are content to pretend that the history of dance music is a logical, linear progression and work to perfect the perfect sugar-tweaked bass wobble, Raime draw lateral assocations across three decades of steely electronics, downtuned guitars, and horror-movie scores to create an inner nighttime world that is both menacing and optimistic. Owing as much to Earth and Sunn O)) as Regis and Burial, Raime (as one of the flagship bands of the impressive Blackest Ever Black label) have extracted viral DNA from a number of obscure sub-genres, such as Drone Metal and Doom Jazz, and combined them with the receptive and adaptable Industrial and Drum 'n Bass genes to form a dusty, lurching Golem of stately Techno. What could have ended up as another genre-splicing mishmash mess has ended up, instead, as an innovative album, full of impressive sound-design, finesse, and even some slow grooves.

'Passed Over Trails' kicks things off with some growling bass textures, before coalescing into a jazz-noir opium revery; it is plain from the start that this is not just another 'bass music' record. The closest corollary is Bong-Ra's amazing Mount Fuji Doomjazz Corporation project, that sounds like being followed down a lonely sidestreet by a car with tinted windows. Recognizable elements gradually dissolve, like reflections on oily water, to be replaced by the mummified Drum 'n Bass of 'The Last Foundry,' which wouldn't sound out of place in an afterhours set at a club, and the leaden bassdrop is one of 2012's finest moments on record. 'Soil And Colts' is a lumbering Techno track, crawling along at half-speed. Like some iron giant, complete with creaks, groans, and ominous shrieks, with an aurora of beauty surrounding and containing the scene; then seamlessly connecting with 'Exist In The Repeat Of Practice,' more skeletal d'n'b and '80s plasticine horror synth. By the time 'The Walker In Blast And Bottle' arrives, a model is nearly in place: start off with a minimal beat, then creep in ambiance and subtle sound design, which is like watching an image solidifying the air around you. Raime make mental movies, sure, but not the kind you'd see on a screen. 'Quarter Turn Over A Living Line' is more like a dreamstate that you get to explore for an hour, a direct connection to the superconscious of a couple of Scottish blokes.

The devil is in the details, when it comes to Raime. They're certainly not the first to make slow, crawling techno with surreal flourishes (again Regis, Monolake) but the way that they combine their post-Industrial electronica with doom metal, jazz, and other acoustic sounds, point a way forward for themselves, as well as the totality of dance music. With the machines that are at our fingers, we have control of songs and sounds to the almost molecular level, and we are beginning to see a race of sonic wizards that are constructing basalt mountain ranges of sound, out of thin air, just to see what they'd look and sound like. The way that Raime fills out their sound with the thickest, darkest dub echoes, like on 'Passed Over Trails' reveal 4 well-tuned ears, as well as some of the finest production and mastering money can buy. Everything is in place, and they never mis-step, 'QTOALL' gets more engrossing with each listen. This is Raime's first full-length, as well as the first LP of original material for Blackest Ever Black, so it should be interesting to see what this assemblage shall come up with in time, provided we're not all sucked into some galactic whirlpool, first.
Experimental / Avantgarde / Weird & Wired / Glitch / Noise / Field Recording
Edit (7340)
Artist:
Magda Mayas & Christine Abdelnour
(@)
Title:
Myriad
Format:
CD
Label:
Unsounds
(@)
Rated:
Do you have any doubts about massive popularity of birds yet? Besides the recent haven of the Pope on Twitter - an authentic slog for moderators to restrain ironic anathemas he's receiving... -, many musicians and sound artists look like very interested in their language, which could boast about many attempts of emulation. Such a tendency in contemporary music seems to be poured into the gorgeous sonic explorations by Berlin-based pianist Magda Mayas, who wisely replaced piano tonal extent with the width of expressive possibilities deriving from the consideration of that instrument as a sonorous tangle of wood and wire, and French-Lebanese alto-saxophonist Christine Abdelnour, whose interesting and somewhat offbeat extended techniques and intricate tonal patterns, focused on high-pitched tones and microtonal properties of her instrument, have already been commended on this zine. Recorded live by Radio France on the occasion of Meteo Festival in Mulhouse, "Myriad" starts with a sort of tuning phase where Magda pluck and stretch piano strings and Christine rises nervous strain with puffs and trembling of lips which could let you think about whir of a bird, before their adventurous sonic birdcage begins to animate amidst buzzes, tolls, sonic warbles, squeaks, rusty playstands and broken ladders and swing on the first long-lasting (almost half an hour of mood swings and funny resounding tricks) track "Hybrid". The sudden plucking which starts "Cyanide" could let you imagine the impulsive breaking of that birdcage's bars, the flight of its inhabitants, which keep on tweet at a short distance while the instruments, which used to echo and mimic their song, get gradually poisoned...
Experimental / Avantgarde / Weird & Wired / Glitch / Noise / Field Recording
Edit (7339)
image not
available
anymore
Artist:
Machinist
(@)
Title:
Convergence
Format:
CD
Label:
Narrominded
(@)
Rated:
Machinist is the alias of Zeno van den Broek, an artist working both in the field of the audio and the visual field. The challenge of this kind of art is the convergence of distinct field as the spatial one (visual) and the temporal one (audio) in a quiet coherent vision. The path chosen is an audio construction that resemble the open, and dark, spaces created in his visual output.
This piece start with a quiet drone, created with piano recordings, that lasts until the modulated waves begin to create a dreamy atmosphere that last until the pure sine waves set the canvas for the return of the piano and the introduction of the field recordings that lasts until a piano, or quiet sinewaves, gently take the listener to the end of the piece.
This release is an enjoyable one and is truly recommanded to all fans of adventurous music.
Experimental / Avantgarde / Weird & Wired / Glitch / Noise / Field Recording
Edit (7338)
Artist:
Piotr Kolecki & Molok Mun
(@)
Title:
The Spices
Format:
12" vinyl + CD
Label:
Noisen Records
(@)
Rated:
This release is the result, almost apparently, of the collaboration between Piotr Kolechi, a well known name in the polish experimental scene, and Molok Mun, another polish experimental project. Unfortunately the album linear notes, written in polish language, aren't comprehensible, at least for the writer of this review, but the important thing is the musical result.
"The Spice" opens this release with spoken words above a sparse sounds made by the instruments aiming to create the atmosphere for the text. "Salt" is based on long notes and resonances until the trumpet of Robert Zelewski take the scene. "Pepper" is based on guitar lines above the small noises made by the extended techniques used by the other members of the band. "Chili" is a solar interlude that color the atmospheres depicted by the previous tracks. "Curry" is a rather short interlude to "Rosemary" that is a quiet soundscape with an oriental flavor while "Curcuma" is an uptempo interlude to "Thyme", the longest track of this release, based on a long drone colored by sparse sounds made by the various instruments used by the band. "No sugar, no meat" is a short clear drone that close this album.
This album is enjoyable as is, in a certain sense, a classic and well played album, as this could be concept of experimental music. Nice for everyone.
Artist:
Roedelius + Chaplin
Title:
King of Hearts
Format:
CD
Label:
Sub Rosa
(@)
Rated:
I'm getting into the habit of blindly listening upcoming releases by playing them without worrying about the author or the label: it happened during this kind of random listening that when my eardrum met the first track of this release "Comme Ãça", some scenes from Charlie Chaplin's "City Lights" and the moving poetry behind his tender awkwardness and his touching care in the love affair with a blind flower girl, in the attempt of collecting money for an expensive sight-saving operation, have been immediately rendered into my mind. You can just imagine my surprise when I discovered that one of the co-signers of this graceful release is no less than Christopher Chaplin, the youngest son of Charlie Chaplin, who remixed a live piano set by another musical living legend as it is the German avantgarde composer and krautrock pioneer Hans-Joachim Roedelius for Fiona Talkington's "Late Junction Session" on BBC Radio 3. When Roedelius was invited to choose a musician to remix his live set, he opted for Chaplin, whom he first met at the "Gugginger Irritationem 2", a festival in Wien, focused on Art Brut. I've not read anything about source for inspiration and themes behind "King Of Hearts", but the title could let you imagine the tale about a dethroned noble-minded and big-hearted king, who decides to return to his previous kingdom in order to restore justice and peace after hearing and ascertain his previous beloved subjects in despair. The first part of the album seems to evoke a grim reality where oppression and covetousness muted poeple's souls, whose gravity resounds with the sad piano arpeggios and anxious bells on "Autrement", the menacing atmosphere evoked by "Mais oui", the solitary remembrance, which seems to be activated by electronic chirping birds, on "Tout à fait", the aching emotional outbursts on the catchy tangle of a torn and disquiet piano melody, an afflicted violin in "Parce que", which precedes the consciousness raising, the recovered temperament and the declaration of intent by this imaginary king, whose heartbeat and voice first appear on the amazing "Evidemment", whereas the slow slapping on lead guitar and the organ on "Bien Sur" evokes a cogitation about a strategy. The delicate cover of notorious "By This River", the song Roedelius co-wrote with Brian Eno and Moebius, on "Aussi Bien", the regal portamento of jazzy "N'est-ce pas", the sliding joint between a distorted guitar and faltering piano melody on "Tant mieux" and the amazing final track "Voici", a sort of crossbreeding between improvisational jazz techniques and suffused lights Roedelius applies on sounds, are going to let you imagine how the story could end. A somewhat unorthodox piece of good contemporary classical music.