Experimental / Avantgarde / Weird & Wired / Glitch / Noise / Field Recording
Edit (7355)
image not
available
anymore
his release is a compilation of remixes from the first album of this polish band that, according to the linear notes, stand "firmly in the industrial stylistics with hints of dark ambient and noise" but is not the band to be reviewed but his remixers.
Starting with the dark ambient oriented remix made by Wolfram of "Illuminacja W CiÄgarni" and ending with the quiet almost lowercase Tomasz Krakowiak's treatment of "Sill Weave" the card played by this kind of release is variety and, so, there's remixers that emphasize the industrial aspect as GEttNER's remix of "Opór Materii" or the noise one as VilgoÄ's remix of "Pater Noster" or, even, the field recordings aspect as the remix operated by Tyko Ching.
In my opinion this is an enjoyable release but this kind of release are material for djs rather than objects for fans as they suffer the lack of an unifying tract for all the tracks. Nice but, musically speaking, only for collectors.
image not
available
anymore
Artist:
Sarth
(@)
Title:
The Book of Sarth
Format:
Download Only (MP3 only)
Label:
The Gralbum Collective
Distributor:
Apple iTunes
Rated:
Brooklyn-based electronic musician/composer/improviser Sarth Calhoun a.k.a. Sarth has spent the last few months working on what at first sight looks like just any other iPhone/iPad app but actually has a lot more to it than that: it's a book, it's a story, it's an illustration, it's an album, it's a graphical album (hence the name "The Gralbum Collective")... and it might even, potentially, be a new way of distributing music all together!

The book is an easy 10-15 minute read of one-liners distributed across 8 short chaptes. It tells the tale of two children who find a device that generates transmissions which create mass hallucinations that the government wants to suppress. The story flows easily and is well augmented by the visuals. I have to say I am not sure I liked the ending though, which felt a bit inconclusive and open-ended (unless of course Sarth is setting it up for a sequel).

Graphic novels and comics are not my strong suit so I won't be commenting much on the visuals but I can tell you that there are several styles interacting to tell this story, almost as if it they came from different pens. You start with the Pixar-style cartoon type images with soft colors and round edges (think Toy Story) and you get to the more stylized, straight-lined and vectorial asian-inspired comics that in the app get filled with colors in stages and get various other photoshop-filter treatments. Reality then shifts once again and takes the shape of black and white pictures that have been treated to look like drawings. Then the black and white gets slowly colored in and eventually, by the Epilogue, you have pixellated, vectorized and almost art deco new modernist minimalistic paintings. The cool thing about all of this is that you can interact with these images by tapping, zooming, swiping and thus re-ordering the 80+ page animated novel with your touch.

Musically speaking, "The Book of Sarth" is an interesting album of experimental electronic music which draws from a number of inspirations... At times it sounds like Clock DVA, at times like Brian Eno, at times it reminded me of some '80s avantgarde electronica and kraut. The album is instrumental for the most part, but there are several tunes where vocals are pretty front and center... Sarth has a beautiful voice, especially when he does spoken word stuff in the lower register, and my only criticism is that having spoken word parts on top of music that is playing while you are reading a book that is also a graphic novel can be a bit distracting... Inevitably, when the words of the songs came in, my mind started listening to those and forgetting the words my eyes were reading... Unless Sarth is trying to create some kind of state of confusion on purpose, or unless the words in the music are supposed to somehow interact with the words on the screen (which, if they were, wasn't clear to me), I would have opted for some entirely instrumental music to go with this kind of release.

Design wise the app doesn't feel as polished as it could be (at least not when it comes to controls, buttons, scrolling etc)... As much as I am a fan of small text, I have to say I felt the text is a bit hard to read, especially when the unfortunate choice of colors makes it even harder (think light green font on light yellow background... seriously!?!?!). A black Sans-serif font instead of a colored Serif font would have way easier on the eyes, or even increasing the font size a little bit would help on the iPhone version (it almost feels like the app was programmed on/for iPad and then just downsized for the iPhone).
In my opinion, navigating the app is not very intuitive and could be re-designed a bit better, with function in mind. The good thing is that you can navigate the images and the story separately from the music. The bad thing is that if you want to listen to the music again after having read the book (which I found myself wanting to do) there is no way to do that with the app running in the background (if you quit the app or switch to another app, or even if you lock your screen, the music stops). Also the stop/play/skip/rewind button on my headphones (which by the way is highly recommend you wear to enjoy "The Book of Sarth") as well as on the Apple earbuds doesn't work with this app, which is a pity. Allegedly it's possible to download/extract the tracks from the app into iTunes so that you can listen to them while doing something else, however it is not sufficiently clear how that is supposed to be done and that too should be made more obvious/functional. Other than that the app works pretty well and except for one crash while swiping quickly to skip ahead it's been stable for me.

Aside from the fact that the title sounds a bit pompous and pretentious, I think calling it "The Book of Sarth" is almost a bit misleading, since I'd argue that it is more of an album and/or a graphical novel than it is a book. What I think is the most impressive and admirable part of this whole thing is that by delivering his music and his ideas in this way, Sarth has handed us (the general public) and the music industry at large an exciting and potentially lucrative new way of distributing words, music and images. With the music industry in a deep state of crisis, the publishing industry in an even deeper financial black hole and the creative industry always looking for new ways of being creative and deploying and distributing creativity on a large scale, the Gralbum could really be an amazing and entirely new way for artists to make a living. We've seen some isolated instances of artists releasing apps that contain their music or their videos, but the Gralbum, could be a platform for everyone to release albums with liner notes, lyrics, cover art work and so much more!! The Gralbum could be the album of the 22nd century! As a hardcore music fan who is deeply concerned for the future of music and unhappy with the current state of things, that is truly very exciting to me! My hat goes off to Sarth for having come up with this brilliant idea!

At $7.99 it might be seen as expensive when compared to the rest of the apps in the Apple ecosystem, but the price is right when you consider that you spend at least $9.99 for a new album from the iTunes store, which will be just music and no graphic content.

I give it 4 stars because I think the implementation deserves 3 stars, the content deserves 4 stars and the vision behind this entire project deserves 5 stars!
Experimental / Avantgarde / Weird & Wired / Glitch / Noise / Field Recording
Edit (7347)
image not
available
anymore
Artist:
Ubik
(@)
Title:
Circadian Rhythm, Sleep Disorder
Format:
CD
Label:
FARMACIA901
(@)
Rated:
This new release from Farmacia901 is, according to the press release, dedicated to "sleeping disorders. ['¦] Insomnia is the most common among the most known and clinically studied disorders. ['¦] It consists in awakening only with the mind, while for some time the body remains asleep". Musically speaking this is resolved with heavily processed guitar aiming to reach almost ethereal atmospheres.
The longest track "Irregular Sleep Wake (Tryptophan)" opens this release in a quiet way until the guitar take the scene with his delay above a glitchy beat. "Delayed Sleep Phase (Melatonin)" use sparse notes and carefully chosen effects while "Periodic Limb Movement Disorder (Light Therapy)" uses, instead, reverbs and resonances to depict the dreamy atmosphere of this album. "Hypnic Jerk (Zeitgeber)" is based on almost irregular rhythms while "Suprachiamastic Nucleus (Barbiturates)" is a drone acting as a canvas for the guitar to color. "Sleep Paralysis (Amitriptyline)" feature an hypnotic guitar loop below the small noises and the guitar notes. "Bruxism (Biofeedback) close this release in a fully restructured mode as guitar and effects are in a fully dialectical mode.
Instead of being a mere window dressing, the linear notes are a way to enter into the complex musical offer of this artist. In my opinion, this is one of the albums of the year. Recommanded.

p.s.: all the track are denoted with this scheme: Disorder (name of the therapy)
Artist:
Slow Listener
(@)
Title:
The Long Rain
Format:
Tape
Label:
Exotic Pylon Records
(@)
Rated:
An unaccostumed declension of darkest ambient comes from Robin Dickinson under his moniker Slow Listener on Exotic Pylon, the appreciated and quite eccentric label by Jonny Mugwump, whose unconvenionality for contemporary times is clear since its format: "The Long Rain" has not only been recorded entirely on tape, but the sound is so dirty and crackling that you could surmise the tape he used was overdubbed many times before getting so murky and was found in the forgotten archives of some abandoned loony bin. Sinister squeaks, pitched drones of claustrophobic extended bells, occasional field recordings, a disquieting mechanical meddling with metallic utensils on a sobbing engine and a job lot of other sonic incrustations playing over the somewhat obscure and periodic repetition of the expression "the light" (or was he meant to say "delight"?) by a male of voice before the deep breath of a sleeper on the first suite "And Nor Was He Mistaken" and the more abrasive and scraped drones, the "constipated" corrosions, the recording of a rain shower and unremittingly lo-fi loops and layering before the bizarre monologue on the second part of "Ondras Rising" depict a certain feeling of "enlighted" seclusion and alienation, which partially remind those cut-up stuff by various "esoteric" and majick-oriented industrial transmissions such as Coil's "How To Destroy Angels", Throbbing Gristle's "Hamburger Lady" or more recent dark ritual-ambient Psychick Warriors Ov Gaia's "Dust (At The Crossroads)". The association between the sound of "The Long Rain" and the weird atmospheres of William Hope Hodgson's "The Night Land" - a classic novel which traces the existence of survivors on a dystopian Planet Earth, living inside a huge metal pyramid after the Sun powered off and the only lights on Earth got produced by the glow of some active volcanoes - is quite guessed.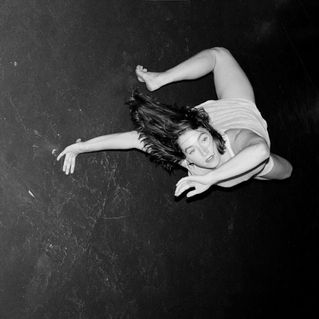 Artist:
Raime
Title:
Quarter Turns Over A Living Line
Format:
CD
Label:
Blackest Ever Black
(@)
Rated:
Imagine rain-slicked back alleys; haunted warehouses; a wooded clearing at night. These are some of the locales that Tom Halstead and Joe Andrews, collectively known as Raime, will guide you through, when immersing yrself in the blasted, decayed landscape of 'Quarter Turns Over A Living Line.'

Where lesser producers and weak imitators are content to pretend that the history of dance music is a logical, linear progression and work to perfect the perfect sugar-tweaked bass wobble, Raime draw lateral assocations across three decades of steely electronics, downtuned guitars, and horror-movie scores to create an inner nighttime world that is both menacing and optimistic. Owing as much to Earth and Sunn O)) as Regis and Burial, Raime (as one of the flagship bands of the impressive Blackest Ever Black label) have extracted viral DNA from a number of obscure sub-genres, such as Drone Metal and Doom Jazz, and combined them with the receptive and adaptable Industrial and Drum 'n Bass genes to form a dusty, lurching Golem of stately Techno. What could have ended up as another genre-splicing mishmash mess has ended up, instead, as an innovative album, full of impressive sound-design, finesse, and even some slow grooves.

'Passed Over Trails' kicks things off with some growling bass textures, before coalescing into a jazz-noir opium revery; it is plain from the start that this is not just another 'bass music' record. The closest corollary is Bong-Ra's amazing Mount Fuji Doomjazz Corporation project, that sounds like being followed down a lonely sidestreet by a car with tinted windows. Recognizable elements gradually dissolve, like reflections on oily water, to be replaced by the mummified Drum 'n Bass of 'The Last Foundry,' which wouldn't sound out of place in an afterhours set at a club, and the leaden bassdrop is one of 2012's finest moments on record. 'Soil And Colts' is a lumbering Techno track, crawling along at half-speed. Like some iron giant, complete with creaks, groans, and ominous shrieks, with an aurora of beauty surrounding and containing the scene; then seamlessly connecting with 'Exist In The Repeat Of Practice,' more skeletal d'n'b and '80s plasticine horror synth. By the time 'The Walker In Blast And Bottle' arrives, a model is nearly in place: start off with a minimal beat, then creep in ambiance and subtle sound design, which is like watching an image solidifying the air around you. Raime make mental movies, sure, but not the kind you'd see on a screen. 'Quarter Turn Over A Living Line' is more like a dreamstate that you get to explore for an hour, a direct connection to the superconscious of a couple of Scottish blokes.

The devil is in the details, when it comes to Raime. They're certainly not the first to make slow, crawling techno with surreal flourishes (again Regis, Monolake) but the way that they combine their post-Industrial electronica with doom metal, jazz, and other acoustic sounds, point a way forward for themselves, as well as the totality of dance music. With the machines that are at our fingers, we have control of songs and sounds to the almost molecular level, and we are beginning to see a race of sonic wizards that are constructing basalt mountain ranges of sound, out of thin air, just to see what they'd look and sound like. The way that Raime fills out their sound with the thickest, darkest dub echoes, like on 'Passed Over Trails' reveal 4 well-tuned ears, as well as some of the finest production and mastering money can buy. Everything is in place, and they never mis-step, 'QTOALL' gets more engrossing with each listen. This is Raime's first full-length, as well as the first LP of original material for Blackest Ever Black, so it should be interesting to see what this assemblage shall come up with in time, provided we're not all sucked into some galactic whirlpool, first.