Artist:
Steven Naylor
Title:
Lieux Imaginaires
Format:
DVD
Label:
empreintes DIGITALes
(@)
Rated:
The filter Steven Naylor interjects to a series of field recordings on this release is mainly emotional memory. He makes such a cognitive and creative operation in a way which could be associated to the sight of a director of a movie or an essayist on a plot, so that there's always an emotional transmission which interferes with the somehow cinematic palette of field recordings: the mechanical and electromechanical creaking and squeaking of gearwheels which enliven automatons of Devon-based designer-maker Tony Mann subtends an astounded and sometimes frightened wonder in front of the complexity of an "artifical life", the emotional wires which permeates the fragment "I wish" taken from plaintive song "Home" by Rita Rankin seem to be stretched by longings, fears and imperilments related to wishes, a certain daunted and confused upheavel emerges from "Irrashaimase", an immersive track, named after the typical form of greeting that some Japanese shop keepers shout to invite new customers inside their shops, which depicts urban Japan with its inner contrasts between robotic and elegant, chaotic and musical, a dumbfounded contemplation arises from the wonderful sonic painting of Chiang Mai night market in northern Thailand where Steven kept the noises of motorcycles and other occasinal intrusions in his ethnomusicological documentary and a certain estrangement comes out on "kune kune", a track based on the oinks by these rare hairy pigs living in New Zealand and recorded nearby Bath. The final long-lasting "The Thermal Properties of Concrete", based on the fictitious narrator-character of a woman, wondrously performed by Jody Stevens, and a couple of senior staff members of the Planning Department of the City of Halifax. emphasizes the cinematic hooks of Naylor's skills.
Death throes and suffocated laments, which then sound like burgeoning so that you could think about tragedy and pain related to non-communication as one of the most eminent generative sparking of art, seem to permeate "The Human Condition", the very first track of this new release by whimsical East-German musician, sound-artist and poetess Antye Greie-Ripatti, popularly known as AGF and living in Hailuoto (Finland) together with her husband Sasu Ripatti (Vladislav Delay), who focused on voice, regarded as the human instrument par excellence, distinctive characteristic and even political device of each person, for this occasion, as you can easily grasp from the title "Source Voice". The icy Finnish environment she daily experiences resonates all over the record, whereas AGF arranges her voice into the surrounding context till it seems to coalesce with whiffs and severe weather conditions in "Breathing In Lines" and transmuting into a singing ice crystal while shimmering in the middle of a blizzard and gradually turning into a more human breath after a reprieve in the gorgeous "Digital Yoik", which reveals one of the sources for inspiration for this recording, the ancient, mostly wordless form of singing/vocalization by the Sami tribe of Northern Scandinavia. The somewhat spooky vocal deformations on "Hum Pitch Play", the barbed electrical saturation points on "Voice Count" and the entrancing moans of "Kaamos", the only track where voice has not been digitally processed, are likewise mindblowing. The exclusive digital bonus available only through the shop of Chartier's label, "Feed Back", a collaboration with label owner, sounds like the defrosting of a singing nymph of the woods with organic sounds grabbed by means of hydrophones placed on the waterline of some frozen pond.
Artist:
Kristoff K.Roll
(@)
Title:
A l'ombre des ondes
Format:
CD
Label:
empreintes DIGITALes
(@)
Rated:
Headphones become an entrance ticket for a sort of representation within representation by means of this bizarre release by Kristoff J-Camps and Carole Rieussec, who focused on so-called dream narrative, not properly on dreams themselves. Their weaving of really immersive field recordings and inoculated frequencies lies on the perceptive threshold between outer happenings (hoo-ha or voices which sounds like coming from wide halls of consciousness before blackout and random dream assemblage, interferences of television broadcasting, traffic noises, chirping birds, barking dogs and so on are so perfectly rendered that listeners are going to experience a really immersive listening) and inner transfiguration which characterizes the half-sleep and dream states during occasional naps from the viewpoint of a napper, so that auditory stimulations get deliberately warped while each napper reports its own dream as a tagline and preface (in French) to the following sonic probing over the three long lasting tracks. Dreams or it's better to say the deforming lens of dreams look like the real source of sounds, which awakens speechless archetypes, which inhabit inner depths of napper's mind and resurface from the creases of senses while dozing under the perogla of frequencies. The final result is really interesting and the duo is so aware of it, that Carole and Kristoff are planning to buld a proper library of dram narrative by inviting listeners to record their own dream reports and some audio files to request a personal recording session to them. Just check "A l'ombre des ondes" and submit your file into this bizarre library in case you got intrigued by their odd sound concept.
Experimental / Avantgarde / Weird & Wired / Glitch / Noise / Field Recording
Edit (7515)
image not
available
anymore
Artist:
Éric Normand
Title:
Data (Lo-Fi Duets)
Format:
CD
Label:
MonotypeRec.
(@)
Rated:
This may be a first for me. The release I'm reviewing, 'Data (Lo-Fi Duets)' by Eric Normand is somehow very hard to describe despite being a very simple, very raw (I don't mean quality-wise) record. It is a series of 7 completely improvised duets with 4 people that Eric has come across. Christine Sehnaoui Abdelnour graces two tracks providing alto sax treatments; Martin Tetreault provides 'pick-up, surfaces and rhythm'n sound for guitar' on two pieces; Sebastien Cirotteau contributes amplified trumpet to one piece and 'mic in the mouth' to another; and finally Mario Gauthier makes an appearance on the final track with 'analogic synth & objects.' And of course Eric utilizes homemade 'and domestic' electronics, electric bass and 'mics on fingers' throughout the disc. I really wasn't sure what to expect after reading the credits and the description that is actually part of the cover art, but I was excited to give it a spin nonetheless being a huge fan of improvisation, especially from such basic setups. I wasn't let down in the least. From start to finish 'Data' is a fine record, and a fine example of improve noise. It evolves through feedback and input crackling dancing fleetingly with that alto sax (that Abdelnour manages to somehow, at points make sound like a flute); to almost turntable like noises; to squealing rodent-esque sounds (undoubtedly from that 'mic in the mouth'); back to sax notes that parade around like noisy violins with Normand's echo-y and verbed out bass treatments providing and excellent space for them to cry and scream. The final piece is kind of beyond definition. It may be the most interesting, and probably my favorite of the lot. I failed to come up with a logical description of it, but I managed to scribble just three adjectives down on my notepad while I listened: static-y, blistering, perfect.
Experimental / Avantgarde / Weird & Wired / Glitch / Noise / Field Recording
Edit (7513)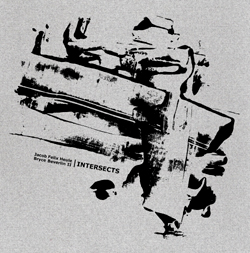 Artist:
Jacob Felix Heule & Bryce Beverlin II
(@)
Title:
Intersects
Format:
CD
Label:
Eh?
(@)
Rated:
This was an interesting one. At first I was concerned about what I was hearing. 'Intersects,' a collaboration between Jacob Felix Heule and Bryce Beverlin II, is a live recording of 2 longform improvisation pieces which begins with sporadic drums and percussion that seem to have little rhyme or reason, which had me reminiscing of a certain scene from 'Joe's Apartment' where Joe makes a less than spectacular drumming debut in a band called 'SHIT.' However, the rocky start is not the only thing this release has to offer. It slowly builds, the percussion tightening and falling in line with Beverlin's random, yet focused arrangement of noises. There is a point where the audio drops to almost complete silence, at which point some electronics are introduced, allowing some droning bass tones to set a backdrop for a little ambient horror, and it's quite wonderful. As time elapses, the noise creeps back in, this time somehow a much more relevant context. The second performance opens with what sounds like a growling bear and an input jack static loop. It grows and grows to a huge monstrosity (using the term in the most endearing of ways I assure you) that fills the senses with waves that bring about a very primal feeling to the core. I think this piece is far stronger than it's counterpoint; at the same time it's also noisier, grimier. It does have its point where it slowly becomes more ambient, and those parts are just as good as the louder movements, however, throughout both pieces, in several spots over the duration of the record, it seems as though volume drops have been employed to suggest a quieter, more ambient atmosphere than perhaps was naturally occurring. I'm not sure if this was on purpose or the fault of a heavy handed compression at mastering, but it can be a bit distracting. That and the intro aside, 'Intersects' is a fine example of longform improve (which I am a huge fan of) that at its peaks doesn't disappoint.