Experimental / Avantgarde / Weird & Wired / Glitch / Noise / Field Recording
Edit (7515)
image not
available
anymore
Artist:
Éric Normand
Title:
Data (Lo-Fi Duets)
Format:
CD
Label:
MonotypeRec.
(@)
Rated:
This may be a first for me. The release I'm reviewing, 'Data (Lo-Fi Duets)' by Eric Normand is somehow very hard to describe despite being a very simple, very raw (I don't mean quality-wise) record. It is a series of 7 completely improvised duets with 4 people that Eric has come across. Christine Sehnaoui Abdelnour graces two tracks providing alto sax treatments; Martin Tetreault provides 'pick-up, surfaces and rhythm'n sound for guitar' on two pieces; Sebastien Cirotteau contributes amplified trumpet to one piece and 'mic in the mouth' to another; and finally Mario Gauthier makes an appearance on the final track with 'analogic synth & objects.' And of course Eric utilizes homemade 'and domestic' electronics, electric bass and 'mics on fingers' throughout the disc. I really wasn't sure what to expect after reading the credits and the description that is actually part of the cover art, but I was excited to give it a spin nonetheless being a huge fan of improvisation, especially from such basic setups. I wasn't let down in the least. From start to finish 'Data' is a fine record, and a fine example of improve noise. It evolves through feedback and input crackling dancing fleetingly with that alto sax (that Abdelnour manages to somehow, at points make sound like a flute); to almost turntable like noises; to squealing rodent-esque sounds (undoubtedly from that 'mic in the mouth'); back to sax notes that parade around like noisy violins with Normand's echo-y and verbed out bass treatments providing and excellent space for them to cry and scream. The final piece is kind of beyond definition. It may be the most interesting, and probably my favorite of the lot. I failed to come up with a logical description of it, but I managed to scribble just three adjectives down on my notepad while I listened: static-y, blistering, perfect.
Experimental / Avantgarde / Weird & Wired / Glitch / Noise / Field Recording
Edit (7513)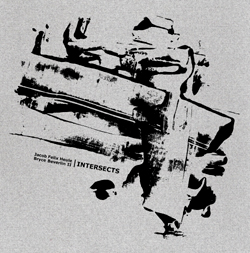 Artist:
Jacob Felix Heule & Bryce Beverlin II
(@)
Title:
Intersects
Format:
CD
Label:
Eh?
(@)
Rated:
This was an interesting one. At first I was concerned about what I was hearing. 'Intersects,' a collaboration between Jacob Felix Heule and Bryce Beverlin II, is a live recording of 2 longform improvisation pieces which begins with sporadic drums and percussion that seem to have little rhyme or reason, which had me reminiscing of a certain scene from 'Joe's Apartment' where Joe makes a less than spectacular drumming debut in a band called 'SHIT.' However, the rocky start is not the only thing this release has to offer. It slowly builds, the percussion tightening and falling in line with Beverlin's random, yet focused arrangement of noises. There is a point where the audio drops to almost complete silence, at which point some electronics are introduced, allowing some droning bass tones to set a backdrop for a little ambient horror, and it's quite wonderful. As time elapses, the noise creeps back in, this time somehow a much more relevant context. The second performance opens with what sounds like a growling bear and an input jack static loop. It grows and grows to a huge monstrosity (using the term in the most endearing of ways I assure you) that fills the senses with waves that bring about a very primal feeling to the core. I think this piece is far stronger than it's counterpoint; at the same time it's also noisier, grimier. It does have its point where it slowly becomes more ambient, and those parts are just as good as the louder movements, however, throughout both pieces, in several spots over the duration of the record, it seems as though volume drops have been employed to suggest a quieter, more ambient atmosphere than perhaps was naturally occurring. I'm not sure if this was on purpose or the fault of a heavy handed compression at mastering, but it can be a bit distracting. That and the intro aside, 'Intersects' is a fine example of longform improve (which I am a huge fan of) that at its peaks doesn't disappoint.
Artist:
RMEDL | K11
(@)
Title:
Chthonian Music
Format:
CD
Label:
Cold Spring
(@)
Rated:
This striking conceptual album and the related sound installation, based on the sound spacialization system I.M.E.A.S.Y. and performed in an ancient Etruscan hypogeum in the archeological park of Cecina, a little town close to Leghorn (Italy), during the spring solstice within the programmatic-conceptual event "Metasound ' Independent Curatorial Experiences in Contemporary Art: from the object up to the event: sound art, multimedia and practice of the art of listening", was initially limited to 50 private copies. Three years later, Cold Spring decided to reissue it in order to avoid the this remarkable sonic artefact could sink into the oblivion of the underworld the involved artists ideally climbed down. The Roman consul Albino Cecina, which gave the name to the above-mentioned town, ordered the construction of a villa, whose ruins can still be visited. The cavity of its cistern and its mysteric tunnels became the perfect location for Chtonian Music project by Italian philosopher, composer and sound artist Pietro Riparbelli aka K11 and Sandro Gronchi, head of Radical Matters, who involved an impressive number of sound artists and musicians from different but somewhat contiguous stylistical ground (Philippe Petit, Seth Cluett, Gianluca Becuzzi, Francisco Lopez, Aderlating, Andrea Marutti, Burial Hex, Christina Kubisch, Deadwood, Francesco Brasini, L'Acephale, Luciano Maggiore, Massimo Bartolini, Nordvargr, Utarm, Y.E.R.M.O) emphasized the sacral function of that ancient place with a sonic performance which sounds like a contemporary devotional rite to the Goddess Demeter/Persephone, the queen of hell and bride of Plouton/Hades and the symbolic representation of "the awakening of the soul and its cyclical path of death and transfiguration" behind her myth, who inspired the religion of the Mysteries, imported by the Etruscans in Italy. After the initial "Mvndvs", where Francismo Lopez immediately catches listener's attention by rendering natural amplified sounds on deep ultra-low frequencies by Seth Cluett and unexpected distorted rumbles which lacerates the apparent stillness like heavy thunders, the five following parts of "Katabasis" sonically describes the descent in the underworld by means of remarkable performative peaks such as the mindblowing raving ascension of Part II with the catchy vocals by L'Acephale and the heady drones by Utarm, the entrancing piano by Burial Hex on the magmatic fog by Andrea Marutti and Pietro Riparbelli in the third part ("Epopteia"), named after the final initiation rite in the Eleusinian Mysteries, the dusky electrical excitement of the first part, the grazing guitars by Francesco Brasini on the immersive virtual underworld moulded by Becuzzi and Bartolini on the narcotic organ and unearthly shouts by Riparbelli, the metallic rolling balls and the resounding crack on the ground which ushers listeners to the end of the obscure journey in the fifth part, before the final representation of "Nuktelia", a sort of supreme demonaltry when wizards with snkes twisted on their arms, moved at flickering light of torches in long orgiastic processions. Due to the high number of guests, under the stylistical viewpoint, "Chthonian Music" harvest from a wide range of styles: dark ambient, doom metal, dark-folk, field recordings, art rock, drone, classical music, musique concrete, ritual ambient flocked to celebrate the mysteries.
Artist:
Matthew Collings
(@)
Title:
Splintered Instruments
Format:
CD
Label:
Fluid Audio
(@)
Rated:
Idiophones (match-boxes or supposed maracas) and frenzied strokes on piano single-note played by Australian composer Ben Frost on the initial "Vasilia" starts the engine of the unsettled and catchy sonic storm by Matthew Collings, who seems to cast the net of emotional blankets over electronics and instruments in order to render the shattering eruption of emotion over compositional schemes. All tracks mirror this more or less explicit intent and it's quite interesting how this dynamic energy Matthew tries to steer into his songs finally manages to damage and corrode the sound of each instruments and melodic structure as if it resurfaces like an emotional burst, which got sedated and unspoken for long. Even though I think his arguments against electronics, which he uses just as he needed to cobble all different parts of his songs, is quite anachronistic, an opinion which maybe comes from the fascinating places he lived (Iceland and Edinburgh), its approach results into very good tracks (I particularly enjoyed the cinematic rise on "Paris Is Burning", the entrancing sonic honey-pot of "The Meet On The Subway" and the absorbing grip of underlying symphonies on "Crows"). I don't really think that a possible use of electronics could spike it, if I think about musicians or bands who explored adjacent stylistical and "poetical" territories such as Efterklang, Digitonal or Galaktlan (even if they are bands). Anyway I cannot but recommend to have a listen to sonic whirlwinds and flames, which is going to persuade many listeners about Matthew's remarkable skills.
Artist:
United Bible Studies
(@)
Title:
Spoicke
Format:
Download Only (MP3 + Lossless)
Label:
Fluid Audio
(@)
Rated:
The strictly limited edition of 77 physical copies, which included handmade Larch Elder Futhark rune with burnt symbols of Three Principles, Four Elements, planets and metals, finished with natural bees' wax, fire resin incense, fine drawing represented the life and the death of a magician, double sided luxury postcards, black envelope and mini cards into homemade sewn fabric pouch, is already sold out, but the last release by experimental and improvisational folk Irish band United Bible Studies, recorded on the occasion 2009 VPRO festival in Amsterdam, is still digitally available. Their contemplative self-building musical discourse on stillness continues over the four sonic chisellings, which evolve by themselves on the basis of an ideal medley between dark-tinged gloomy folk, stylistical hints at Scarborough-Fair minstrelsy, acoustic purism and occasional electronic flurries, where the dialogues between Richard Moult's piano, Aine O'Dwyer's harp and acoustic guitars, lap steel guitars and electronics by Gavin Prior and David Colohan on the initial "Black Matthew 1" and delicate moody ballad of "Hazlehurst Requiem", which manages to combine ballad form with celtic and Indian folk music particles, seem to be the real highlights of the recording. The vocal interpretation and the briny celtic glows of "The Shore That Fears The Sea" is also a very evocative peak from the beginning to the final repetetion of the verse "something comes quietly", which pours the listeners into the above-mentioned "Hazlehurst Requiem".