Artist:
Haq
(@)
Title:
Nocturnals
Format:
Download Only (MP3 + Lossless)
Label:
Bearsuit Records
(@)
Rated:
On this gorgeous debut of the collaborative album Haq between Tokyo-based dynamic duo N-qia by adorable singer Nozomi and programmer Takma and Edinburgh-based multifarious musician Harold Nono (guitars, keyboard and programming), who previously signed an interesting collaborative project Taub with renowned Berlin sound-artist Me Raabenstein (Nonine), it seems the involved artist play an infinite air-jockey match with a remarkably wide set of samples. Each sample could be imagined as a puck that changes of pace, tone and color every time it gets shooted by mallets of opposite players against the sides of the table: percussive skips and popping slide on electrically excited pad-puffed sonic surfaces together with electro-folk, J-pop, glitch, ambient and dubstep sonorities, while Nozomi's graceful bel canto, which sometimes resembles infant wailing and utterly sleepy daydreaming murmurs, creep into the sonic tangle Takama and Harold Nono make during continuous passes of percussions and sounds, whose heterogeneity is so evident that it's not easy to make full-scale comparisons with similar artists. I can grossly envisage their heavily layered music by a succulent meat pie of well-selected cattle from the most exquisite electronic music and IDM pasturage, sometimes mottled by exotic spices and amazing fancies: I could mention Nobukazu Takemura (particularly for tracks such as the digitally jagged childish refrain of "That's Just Like The Same" or the naive trepidation of "Learning How To Fall", even if its audio montage could resemble many other musicians), Cibo Matto, Venetian Snares, Mike Paradinas, Squarepusher, Apparat (echoing together with some stuff by Four Tet on a couple of my favorite tracks, "Are You The Elephant Factory?" and "Jikan Ga Nai"), Jaga Jazzist (listener can enjoy a jazzy declension of their sound in some of their most refined tracks such as "Lifted", "Retrospect" or "Sleeper", maybe their master stroke amidst these "nocturnals"), Sketch Show and other freaks by Haruomi Hosono, Arovane or Yasume, but the way they stir broken melodies, sampledelia, electronic doodads, toytronics and splashing rhythmical patterns, is somehow original and highly enjoable. Have a listen!
Artist:
Betacicadae
Title:
Mouna
Format:
12"
Label:
Elegua Records
(@)
Rated:
A piercing sine wave tunes listener's mind on the charming listening experience offered by multi-instrumentalist and photographer Kevin Scott Davis aka Betacicadae, who squeezes a couple of years of spiritual vicissitudes and rebirth as well as some field recordings he grabbed in a rainforest in Hawaii (the initial track "Pahoa" seems to be a reference to this location), in a farm in Sheridan, Oregon, and in other urban centers before they got layered with an remarkably wide array of acoustic and electronic sounds coming from guitars, harp, violin, vibraphone, percussion, wood flute, effects pedals, synthesizers and digital processing, on his debut release "Mouna" (a spiritual practice whose name derives from Sanskrit word "mun", meaning "measure" or "silence"). Its pace sometimes resembles some affiliations between exotic ambient, therapeutic music and post-rock due to the occasional grafts of some instrumental jets, eruptions and strokes, but in spite of the abrupt interruptions of each track which sometimes occur when they begin to emit dreamlike scents, the narrative trend "Mouna" manages to render into headphones makes it really engaging without recurring to hypnagogic evennness of drone-ambient or other unuseful melodic-related gimmicks and curlicues. After the above-mentioned tuning sine wave, nocturnal insects and other field recordings, almost imperceptibly trembling hi-hats spout on a luminescent choral orchestra, which surrounds listener by an entrancing dead calm mayhem, on "Pahoa", one of the most catchiest track of the entire album, which precedes the cameo "Small Interlude", a sort a nap, as suggested by the initial snoring, where wind chimes, radio waves, interferences and other voices sound like transient interceptions of dreamer's mental activity, which goes ahead over cosmic fugues on the following "Seti", where delicate jazzy tolls on vibraphone and cymbal glisten with chirping birds, who greet listener on the mellow web of radio frequencies, lethargic guitars and languid static noises of the enthralling "Gold Country". The last track of A side, "Jjjjj", is another highlight of the album: the eerie introduction by a soft buzzing drone, waterfalls and opaque tuning of an electric guitar gets flattened by a deeply lukewarm organ, which is going to leave a sediment on listener's soul. The opening track of B side, "Pirene", crawls towards New Age sonorities: gurgling waters and distant frogs open the gate of dreams, which sound less veiled on the following "Creakaboo" and the beautiful 12-minutes lasting final soundscape "Telerehabilitation", where somehow colliding sonic elements gradually erect an altar for voice of Helen Funston, who gracefully towers over thin layers of jitters, muffled guitars, hissing church organs.
Artist:
Marc Behrens
(@)
Title:
Queendom Maybe Rise
Format:
CD
Label:
Crónica
(@)
Rated:
The nocturnal drone, which gradually creeps in listener's eardrum by arousing all sensory particles, in the initial somehow bipolar long-lasting suite "Maybe Rise", derived from sonic material grabbed in the coastal rainforest, table lands and outback of Tropical North Queensland, Australia, in July 2011, and cobbled in Spring 2012, makes a move of this mindblowing and well-forged release by talented German electronic musician Marc Behrens: after it saturates the sonic sphere by tossing the listener onto a softly metaphysical dimension, the eerie electronic carpet Marc intertwines with cries of distant monkeys and chirping birds seems to be suddenly silenced and suctioned by a suction pump so that the animal cries distinctly debouch from the initial electric haze before they coalesce again with menacing preternatural throbs, mesmerizing trembling and spooky puffs. A clap of thunder on the 26th minute breaks the spell and the unstable silence as well as the calmness of some ducks (!) which at first enveloped everything got broken and some piercing sounds which look like rising from mental inlands mainline a certain anxiety into an environment in a flutter. The whole listening experience is somehow adventorous for its amazing changes of scene. The following track, the shorter "Queendom", was recorded and produced for the inauguration of a consulate for the digital realm of KREV (Royal Kingdoms of Elgaland-Vargaland) in Karben (Germany), comes from various manipulations of Yoko Hogashi's entrancing voice, whose worming contortions and electronic captivating tailspins could open the gate of unimaginable perceptional gardens.
Alf Terje Hana is back with the ninth release of his project Athana. "Paviljon" is the title of the newest album which is available as a 2LP+CD edition and sees Alf collaborating with Stewart Copeland (they shared the stage for the Stavanger Symfoniorkester 8th as the Athana Symthponic Experience), Astrid Loster, Chistian Hovda, Tor Yttredal, Simen Kiil Halvorsen, Edgar Hansen, Werner Cee, Bergmund Waal Skaslien and Ove Haehre. Each time that I approach to a new Athana release, talking about music, I don't really know what I have to expect, as experimentation, jazz and industrial influences are frequent elements of their music. The main characteristic of this album is that we have eight tracks, half of them focused on ambient/experimetal sounds and the other half, focused on guitar virtuosism/sound manipulation. As I wrote different times, Alf Terje Hana's style recalls to me Fripp and I don't mean it as a bad thing. I feel that while he plays his guitar he feels it like his extention... He plays with it by caressing it, holding it tight while he hit its strings. Check "GG Blender" or "Last Call" (this is the one where Copeland plays), they are bleeding energy at every second as the musicians change intensity and change suddenly the melodic theme. I can't say that at the end I can remember what I listened, but I know I liked and I would do it again. On the ambient/experimental side we have "Pipes Of John", where manipulated guitar distortions are added to a texture made of organ sounds or "Prophet's Mill", a track that starts with guitar strings picking and then slowly turns into a mayhem of thousands of raging guitars just to find some quiet after a while. It's more like an experience than a record and both of them are enjoyable.
Experimental / Avantgarde / Weird & Wired / Glitch / Noise / Field Recording
Edit (7551)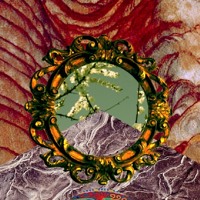 Artist:
Metzengerstein
(@)
Title:
Albero specchio
Format:
Tape
Label:
Sonic Meditations
(@)
Rated:
Metzengerstein is a jam band aiming to develop a form of improvised experimental rock based of the ritual form developed by kraut rock in the '70 with juxtaposed the research for sonic details derived from electronic music. The result of this blend could be immature at some point but has some ideas of undoubted interest.
The side A of this cassette is opened by "1", the longest track of this release, and his almost quiet guitar drone colored by voices and metallic percussions and the sparse drums and what is seems a saxophone gives a quiet ritual flavor to the whole musical structure until, in the second part, it develops in jazz jam and it ends with a ritual guided by drums. "2" starts with a gentle guitar arpeggio and drums and some distant voices until a synth loop introduce the listener to the final noisy part. The side B is opened by "3" that is based on an oriental mood being driven from a sitar until the guitar drive the track in psychedelic fields. "4" is quiet static and meditative track whose first part is based on the juxtapositon of the drones made by the various instruments and the second features the drum trying to develop the piece in more rock-oriented form. "5" close this cassette with the drums above some guitar noises and a flute loop quickly developed by a flute line and ending quietly in an almost free ritual form and ending with a guitar drone.
The repetitiveness of the musical form, typical of this ritual oriented music, is balanced by a careful choice of musical timbres trying to balance the fact that some track seems longer than necessary. However, as is a debut release, it reveals quality that ask the attention of all fans of this genre. It really worths a listen.