Experimental / Avantgarde / Weird & Wired / Glitch / Noise / Field Recording
Edit (10654)

Artist:
Simon Šerc
Title:
Bora Scura
Format:
CD
Label:
Pharmafabrik
(@)
Rated:
Simon Šerc is an artist active in the field of experimental music and video since 1990 and this can immediately be heard as the quality of his field recordings is truly remarkable. Bora Scura is developed upon field recordings made in Slovenia in an area, Ajdovšina, which is exposed to the high speed wind named Bora.
As "Action I" starts the listener is immersed in an environment where all recognizable elements of the landscape seems at the mercy of the wind so only when its speed diminishes other sounds of everyday life can rise. In "Action II" can be heard the high pitch of the wind in an almost absolute silence. In "Action IV" can be heard high pitch and lower frequencies of the wind while in "Action V" the water flowing is used as a relative anchor for the listener to orientate himself in the sound masses. In "Action VIII" can be heard wooden masses bended by the wind and in "Action IX" rolling metallic pieces. "Action X" closes this release with a slow calm down of the wind.
Obviously it's a release for fans of the genre which are exposed to a release centered upon the impact on everyday lives of natural forces that cannot be controlled and from which it's necessary to be protected. So, it's not a mere exercise of recording techniques but a conceptual release. It's really worth a listen.
Experimental / Avantgarde / Weird & Wired / Glitch / Noise / Field Recording
Edit (10652)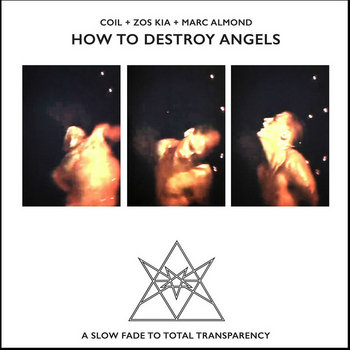 Artist:
Coil + Zos Kia + Marc Almond
Title:
How To Destroy Angels
Format:
CD
Label:
Cold Spring
(@)
Rated:
This reissue is centered about 'A Slow Fade To Total Transparency' which is recording of a complete performance recorded 24th August 1983 in London. The historical importance of this release arise from the fact that is the complete form of "How To Destroy Angels", the Coil's debut that would be released the following year. While the audio quality is nothing more than acceptable, as it was perhaps poorly recorded, it's historical importance is undeniable as it documents the first steps of the band and underlines their connection with performance art.
The main elements which distinguishes "A Slow Fade To Total Transparency" from "How To Destroy Angels" apart from the length is the presence of the spoken words by Marc Almond which is the central elements of this performance as the musical part, roughly "How To Destroy Angels" as it's known, acts as a background. The overall result is astonishing in its ability to generate a subtle inquietude in the listener mostly thanks to the ductility of Almond's voice. The remix by John Gosling of "How To Destroy Angels" is almost danceable in the first part while the second one homages the meditate mood of the original. An unreleased recording of "Baptism of Fire" completes this release.
While it's mostly an hidden gem for fans and collectors, it could be a little bit irksome to those approaching Coil for the first time. Recommended only for fans.
Artist:
VV.AA.
Title:
Notes from the Underground. Experimental Sounds Behind the Iron Curtain, 1968–1989
Format:
2 x 12" vinyl
Label:
Edition Iron Curtain Radio
Experimentation and progress doesn't happen in a vacuum and it would be wrong to assume- as we maybe have- that while the West were experiencing an explosion of experimental composition, particularly electronic composition, that 'behind the iron curtain' remained a cut-off world still stuck in accordions, oompah brass bands and folk dancing. Of course nothing could be further from the truth, as this 2LP collection, consolidating no fewer than four different collation projects gathering together experimental music from the USSR, Czechoslovakia, Hungary, Poland, Yugoslavia and East Germany demonstrates.

There's a broad variety of styles here, all with electronic elements but sometimes only serving as bit players in more traditional band set-ups. There's raw wave music with angry shouted vocals, courtesy of Der Demokratische Konsum. The track from Vágtázó Halottkémek has more than a shade of prog rock about it, while the catchy vocal proto-pop hook in A. E. Bizottság's "Pek-Pek" is a proper earworm. Kilhet's "Extract Of Concert Number 4" has the abstract soundworking, splicing and tape effect energy that sits it nicely alongside 60's Radiophonic Workshop-style performance sonic mangling, while the short-but-sweet "Live in Petfi Csarnok" from Vágtázó Halottkémek is a bold and theatrical percussive workshop.

But the overriding mood for most of the tracks seems to be frustration, bubbling into genuine anger. In keeping with the underground, subversive nature of the music in its context, a lot of it feels decidedly punky in its make-up (though the notable exception of AG. Geige's weird-kids-TV-music "Elektrische Banane" has to be mentioned).

Perhaps fittingly then, some of the sound quality is understandably lo-fi. "Krebs ohne Stuhl" and "Untitled" are examples of tracks with a decidedly tape-sourced sonic quality that no amount of high-quality mastering will completely remove.

Other tracks worth making a note of include the deep and sinister rumbling flows of Ziemia Mindel Würm's "Untitled" (the one track were sound quality really is a hindrance to overall effect). The industrial-pop of New Composers' "Max-Industry" stands up well as one of the brighter moments, as does the quite forward-thinking (if oddly named) final track, Ornament & Verbrechen's "Der lÄchelnde Chinese".

To be fair, it's not without its weak moments too- Praffdata's "Live in Remont, Warsaw" being an example of a track that perhaps didn't warrant being exhumed.

It's a fascinating collection and a great insight- more than a glimpse, a positive 86 minute extravaganza- into experimental sounds with strong connections yet also profound differences to what we Westerners might think of as a experimental music history.
Experimental / Avantgarde / Weird & Wired / Glitch / Noise / Field Recording
Edit (10642)
Artist:
Rimarimba
Title:
The Rimarimba Collection
Format:
LP
Label:
Freedom To Spend
Reissuing three albums from 1983 to 1985, and adding an unreleased 1988 album (but only in the boxset, not available individually), this pack is a way of jumping your Rimarimba collection from zero to completist in one simple step- with a canvas carrier thrown in for good measure.

In chronological order, "Below The Horizon" is first up. The first half is a collection of shorter experimental numbers with quite a Radiophonic Workshop-ish attitude to sound layering coupled with a prog rock attitude, and quite a playful tone at times, that shines through in tracks like the excellent "Gone To Hell In A Small Bucket". The second half is devoted to 21-minute work "Bebag", a mesmeric and really well-rounded fusion of lo-fi synth and acoustic noises- including, as you'd hope from the artist title, a marimba- into something greater than the sum of its parts that brings to mind the idea of Steve Reich playing with a stylophone, but in a good way.

1984's "On Dry Land" adds tape elements as its new key ingredient, maintaining the marimba and plucky endearing and off-kilter bedroom instrumentation but throwing in snippets of spoken word dialogue, presumably TV or radio extracts, to add variety. It's full of energy and surprisingly fun- check out "On The Range" as a prime example. The irreverence turns dark occasionally- "Cacoughanation" and the discordant "Beyond Pain" are examples- but never truly sinister. Again the final track is by far the longest, "Not Enough Time" charting across long indulgent experimental territory to give the release further breadth.

"In The Woods" from 1985 is a slight evolution rather than a substantial change. The sound quality is notably improved, particularly in the guitar work, and there's a slightly more earnest approach here, from the mesmeric and Tangerine Dream-esque opener "Spafft Moutafft Seeall + California" to the melodic synth drone of "Gone To Hell In An Even Smaller Bucket". Tracks like "xit" exhibit more melodic confidence. There's still spoken word samples, but fewer of them and more sincere, more akin to Negativland.

The 1988 album "Light Metabolism Number Prague", previously unreleased for 30 years for undisclosed reasons, may even be the stongest of the pack. From the opening music-box-meets-Philip-Glass-meets-early-Orbital loops of opening track "Glass Abattoir" it's a more matured and balanced sound, almost proto-techno in parts and very accomplished. With "Egg Foo Young" it's aware, perhaps too aware, of the Asian-sounding results that are being generated by the stepping arpeggio patterns. But the sense of fun hasn't completely evaporated either, as "Tom & Jerry" and bizarre vocal track "Why Do You Squeak?" both show in a way that will appeal to fans of They Might Be Giants' early stuff.

This re-issue of Robert Cox's work as Remarimba is a good move, and while it might not result in Cox's retrospective addition to the experimental hall of fame (were such a thing to exist), it's an enjoyable bit of mostly-lo-fi 80's experimental that deserves to be dusted off for a new audience. And it is rather fun.
Experimental / Avantgarde / Weird & Wired / Glitch / Noise / Field Recording
Edit (10640)
Artist: Downtrend Shapes Renewal
Title: Dissonance
Format: Tape
Label: Ferric:Flux

The first release on Andy Backhouse's Ferric:Flux label is anti-pop, of a form. A generally lo-fi collection of guitar riffs, screams and drones, muffled synth arpeggios, lightweight drum machine sounds, barely audible vocals and low-bitrate twists and glitches, it's a sometimes indulgent and temperamental musical deconstruction with a point to make.

Tracks like "A Buzzword In The Hype Cycle" are bordering on anti-synthpop, heavy on the plinky sounds, but perhaps not the true "anti X-Factor" political statement that the unironic hype accompanying this release would have suggested.

It's cathartic and it's a bold opening statement for a new label, but unfortunately the production at times, rather than being boldly anti-establishment, ends up sounding like a poorly mastered bedroom demo, most notably on "Sifting For Compliments Instead Of Seeing". The attitude does work in its favour in the more sound-design moments like the short closing piece "Garden Siren".