Experimental / Avantgarde / Weird & Wired / Odd / Field Recording
Edit (3883)
image not
available
anymore
Artist:
ANLA COURTIS/KOUHEI MATSUNAGA
Title:
s/t
Format:
CD
Label:
Prele
Rated:
This collaborative work by former Reynols guitarist and concrete composer Anla Courtis and Japanese laptopper Kouhei Matsunaga manages to stay cohesive while exploring all sorts of crossings and swappings: solo pieces, long distance remixes, live collaborations, and my favourite tecnique of all, a "telepathic collaboration" (!) recorded in 2004. As underlined by the opening solos, Courtis seems use analogue means (tapes and guitars I guess; possibly a blank tape, Reynols-style, in "Amnesia of Amenesia"), while Matsunaga opts for a colder digital processing, mainly working with high-end frequencies and harmonics; both ways, as I've said, match very well together, creating a rich and detailed album even when a truly minimal sound palette is employed - which is especially true in the telepathic duo (a case for parapsychology?). The two live sessions (one of which features added audio scum by Rudolf Eb.er) are, predictably, the weirdo/free side of the cd, with a more varied, but less structured and refined flow of sounds, and while interesting they dilute the tension of the previous pieces. That said, this remains a truly worthwhile example of audio infection.
Experimental / Avantgarde / Weird & Wired / Odd / Field Recording
Edit (3882)
Artist:
KRAIG GRADY
Title:
Beyond the Windows Perhaps among the Podcorn
Format:
CD
Label:
Transparency
Distributor:
Cobraside (US), Sonic Rendezvous (Europe)
Rated:
Out of the blue, and with a quite anonymous cover, comes this one-piece, 55-minute cd from just intonation composer Kraig Grady, as executed by Jessica Catron (cello), Elizabeth Schenck (sax), Sara Schoenbeck (bassoon), Kris Tiner (trumpet), and Tara Tavi (ex-Amps for Christ, Auto da Fe) and Plug Research recording artist Mia Doi Todd at vocals. The recording has apparently undergone no overdubbing or processing, which is almost incredible when you listen to it. For the record, Grady has composed according to a tuning created by Erv Wilson, called "Meta-Meantone". Whatever that implies, the result is gorgeous: the piece is a huge drone ebbing and flowing with a variety of tones and nuances, from open and ecstatic to shady, relying on sustained sounds only. Think of Phill Niblock's tecniques, and you'll get close to the picture; and by the way, this cd would have been perfect on XI Records.
Experimental / Avantgarde / Weird & Wired / Odd / Field Recording
Edit (3881)
Melbourne soundmaker Eamon Sprod debuted with the album "Surfacedrift" on the Australian label Naturestrip in 2005, and this second full-length quickly establishes him as one of the best field recording-based composers around. Tarab, adopting as a monicker an Arabic word for the "ecstatic surrender one can experience when listening to music", is allegedly interested in the falling apart of modern world, through the sonic exploration of its junk and debris; however, his flowing and emotional soundscapes seem to find a new sense of beauty, rather than depicting a miserable sight. Sprod weaves microscopic close-ups of wind, water, glass, earth and whatever contributes to a rich texture, and skilfully alternates moments of serene contemplation with bursts of turmoil, as in the storm of "Away" which closes the album. Tarab is surely working along well-established lines, and I'm not the first to mention Tsunoda, La Casa, Toy Bizarre or Watson as possible references; but this rather inevitable element doesn't detract from the absolute excellence of the listening experience.
Experimental / Avantgarde / Weird & Wired / Odd / Field Recording
Edit (3873)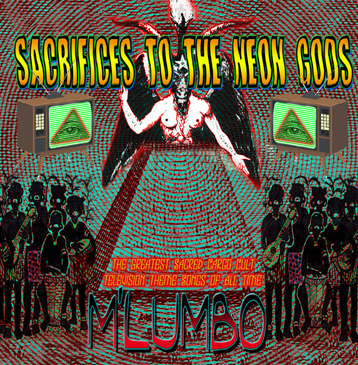 Artist:
M'lumbo
(@)
Title:
Sacrifices to the Neon Gods
Format:
CD
Label:
Mulatta records
Distributor:
City Hall records
Rated:
If you are in the mood for some crazy-ass music, then M'Lumbo is the band to turn to. This six piece NY based collective of musicians (who travels with two filmmakers and a sound guy) is renown for playing some of the most "out there" music out there, and they keep doing so since the late 80es.
Exotic, psychedelic, post-modern, avantgarde, esoteric, experimental and so on and so forth are all adjectives that only do half justice to the orgy of sound, visions and moods that M'Lumbo stirs up with their records and their live performances (which needless to say, you should try to make whenever they happen).

"Sacrifices to the Neon God" is their 6th full length CD release (which follow three tapes in the earlier days) and is basically a live-performance-mash-up of TV/cinema themes (performed by the band, not triggered from a sample library) from every era, studio or network, captured on the stages of The Knitting Factory, St. Ann's Cathedral and a studio. M'Lumbo could potentially appeal to fans of John Zorn and half of the records he puts out on his label Tzadik, Negativland, Le Forbici di Manitu', Miles Davis' craziest works, Tom Waits and many many more... It's practically impossible to define M'Lumbo by virtue of comparison or to file them under one category or music. Their style is a combination of so many things and they do it encompassing everything from weird and unusual to pop culture, from plagiarism to improvisational, from free-form jazz to rock and funk, from world music to pop music and everything in between. I dare you to listen to them and find the definitive label.

Artist:
PURE H
Title:
Signia
Format:
CD
Label:
Pharmafabrik
(@)
Rated:
Active since early '90s, PureH gathers members who during the last 15 years played into many musical projects as Inertia, KSVLKSV, Xarq, etc. Their latest album has been released in 2005 and was titled "Anadonia" (reviewed on Chain D.L.K. by Andrea Ferraris). This new CD isn't properly PureH new album, it is a collection of remixes of "Signia", the track which opened that album. I'm always picky with remix albums and this one has both the good and the bad sides of an operation like this could have. First of all, unfortunately, only one track has been reworked and this is a limit to audience who don't live out of bread and dub. The good point is that the label (or the band) chose the top notch of genre's artists to remix that track. Eraldo Bernocchi (you should know him for his work with Sigillum S, Bill Laswell, etc), P.C.M., South African Chris Wood, KK Null, Dj Surgeon, Wodan, Richard Dunlap, Burp, Mo Shang and Psychedelic Desert expanded, liquefied, raped the original track turning it into an ambient, industrial, dub, guitar i.d.m., experimental electronica, jazzy ambient track. On some versions you could still recognize the original tune which surfaces from layers of sounds. My preferred ones are the opening Eraldo Bernocchi "Vision rising" version, P.C.M.'s "Blue waters turn black" and Richard Dunlap's "East lands silent".