Artist:
Robert Normandeau
(@)
Title:
Palimpsestes
Format:
CD
Label:
empreintes DIGITALes
(@)
Rated:
Many followers of electroacoustic music and fans of one of the most renowned imprint, the Canadian label empreintes DIGITALes, were asking themselves about this skilled performer Robert Normandeau, who already signed a plenty of "movies" for the ears according to the way many reviewers described his art, but after listening to his long-awaited album - his last release on the label was "Puzzles", which came on the unlucky DVD-Audio format -, I could say it's worth the wait. The initial title-track "Palimpsestes" is an amazing collage of hubbubs, gargles, sniggers, grumbles, soughs, wheezes, snorts, pants and other bizarre expression of human voice, whose opening "disorganization" seems to get gradually organized so that they looks like staging a sort of gargantuan machine in the second part of the track, while the following "Murmures" is an interesting acousmatic sample, where Robert seems to amplify metallic, plastic and gummy noises in order to render a certain sense of perceived mechanical degradation, whose incessant sinister swarming sounds constantly transposed from urban to natural settings. On "Jeu De Langues", he manages to render flushed and flustered sides of the nocturnal hot dreams he grabs and the subtle flutes he added vividly depict the worming of wantonness and tempting reveries which silently sneak into a bed. The following track "Anadliad" - the one I like most - has been named after a Gaelic word, which means breath and inspiration, and the great work he made by combining the sound of a bagpipe and a pigborn, a Welsh wind instrument, and the strong winds and intense storms of that lovely place of the planet could let you feel like a particle, which get pushed out of the drones to meet the violent electric energy of thunders outside before getting inhaled again into bagpipe's bag, a listening experience which anticipates the final "Palindrome", a mesmerizing track, where various sonic elements seems to overwhelm listeners after wrapping them up by a series of eruptions which feed a persisting mental strain.
Artist:
Locrian & Christoph Heemann
(@)
Title:
s/t
Format:
12"
Label:
Handmade Birds
(@)
Rated:
This is one of the few releases I luckily managed to save from the hard disk of my old laptop (summer's hot temperature and bad architecture of different parts almost melted condensers and motherboard so that it was turned into a fused silica filled sandwitch which could cause over excitement to a Luddite!). I have to say this salvage was a good thing: even if releases coming from artists and musicians who fed or keep on feeding the mass migration from metal-related stylistical grounds to electronic or more cinematic stuff usually sound disappointing to me as most of them cannot totally detach some compositional schemes, this collaboration between appreciated Chicago-based post-metal band Locrian and Christoph Heemann, an hyperactive sound artist, whose remarkable hidden "militancy" within the 80ies industrial and noise scene (collaborations with Current 93, John Duncan, Organum, Merzbow and many others) facilitates the interconnection with above-mentioned resettling migrants, give rise to a really visionary release. On this occasion both drums and guitars play a different role than in previous releases by Locrian: Steven Hess' drumming and Foisy's guitars just emerge in the first visionary track "Hecatomb", an impressive clotting of fatal visions and hypnotical post-industrial drones, which could evoke baleful and disastrous allegorical scenes and a sense of forthcoming collapse, highlighted by low piano keys, which mark the rhythm in the guise of a death toll, the ventricular fibrillation of fluffy tapping on drums and the threatening bustle's buzz, which sound like swallowed by the following track "Loathe The Light", where drums move towards fringe side of the drone in order to build the scenery and guitars weave a net of low-frequencies which emphasizes the hefty sonic setting, disrupted by the crummy cries by a Terence Hannum in deep grief, the highest peak of metal-imported brutality. The physical consistency that sinister guitar-driven low frequencies sounds more noticeable in the following "Edgeless City", where Locrian and Heemann vividly render the feeling of angst related to disquieting desolate and abandoned places, the artistic habitat of this band, before the prostrate chant of the grey and dusty final track "The Drowned Forest", where the drone sounds like singed in accordance with the general clouded atmosphere of the track.

Artist:
VV.AA.
(@)
Title:
Gravity's Drop Out
Format:
CD
Label:
Alrealon Musique
(@)
Rated:
'It's hard to explain with words. Some explanations should be left to experience. The meanings of life are not verbal, they are felt. To express deep meaning I must communicate with visuals and sound without language. I must make a film. Colours and audio vibration, to entrap the viewer in mood, in feeling. The viewer exits after experiencing the screen with understanding and not with words. If words are used they are abstractedly used for their vibrations of sound adding to the experience of art, of presentation. I leave to you 'me,' in vision and in sound. I leave to you a film of my soul. Alan Watts once mentioned that people once experienced things and then made words to describe them, now they make words before experiencing them. Let's avoid words, let's have pure experience of sound and vision.' - Robert L. Pepper (PAS), from the liner notes

Its a daunting proposition, reviewing the second in the series of PAS-curated compilations for Alrealon Musique, after reading such an admonition. It also strikes an icy dagger in the postmodern heart of criticism: what is the role of a critic, at this juncture? We are all starless voyagers, navigating a seamless sea of technology. We are all curious investigators, who need to understand an endless array of non-Pop musicks, to make any sense of what our ears are hearing. On 'Gravity's Drop Out', Robert Pepper introduces us to Thorsten Saltau who acts as Virgil to the jewelled underworld of his own label, m.m record. This record is an excellent microcosm of contemporary experimental music. Sound collage meets loopy free-jazz, while mingling with 20th century difficult-listening classical music.

PAS opens the show with 'To Understand Colour': a 7-minute wash of gelatinous soundscapes of questionable origins. It embraces you, like an acid washed paisley blanket, wrapping yr ears in hypnotic stereo effects, as reverberations of mangled samples pop up like snippets of last night's dreams. 'To Understand Colour' is like walking through a Mark Rothko exhibit, if that particular gallery happened to extend 4 miles, and you were lost, hungry, and afraid for 3 weeks.

Margitt Holzt's contribution, 'Bears Head', is the lengthiest offering, and a most perplexing movie, indeed. Its a ten-minute voyage from relatively unprocessed academic jazz, an incoherent music box alarm clock that will not let you sleep, which is then pulled into deep space; abyss of radio voices and solar winds. Transmissions from 1954, rapidly approaching the Andromeda galaxy, eagerly devoured by alien ears. The atonal, non-repetitive nature of the sound sources make 'Bears Head' rather abrasive at first, the juxtaposition of squeaky avant-jazz a harsh contrast to the soothing somnolence of PAS' chapter, but it is a rewarding journey that can expand yr sonic palette. Don't stop here! Don't turn back!

'The Drig Bift Transition' by Herr Penschuck is the subtlest construction. Miniature machine hums, like a laundromat late at night, are split by distant foghorns, while sleepy voices murmur in the hallway. This one is a travelogue, for sure; it sounds like going for a stroll in a galactic shopping mall, while you are waiting for your dry cleaning. You come upon an organ grinder, who tears yr heart with his nostalgic reminiscence, before stepping out to a dark and lonely cab stand, beside the turquoise sea, to catch some air and a quick smoke.

Ebinger's ethnographic, radiophonic jazz is the most easily accessible track, probably because it has a beat. Scratchy middle-eastern fiddle meets mechanical Table; this is yr grandfather's Klezmer, remixed. Those that have enjoyed the plunderphonics of Oh No or S3cond Class Citizen, add this to yr walking around playlist. The beats are flawless and masterfully executed, and the antiquated grit of the samples sound lovely, meshed with the modern dance.

'Jousan' by Nika Son, bears the most striking resemblance to classic tape music. It's subtle and evolving, with rainbow-like quaver tones \ occasionally interrupted by disembodied knocks and snippets of song. It utilizes, to brilliant effect, the ability of sound collage to simulate the patterns of thought. The narrative \ebbs and flows, \unexpectedly disintegrated by invading Daleks, before returning you to Earth, in the middle of a pedestrian mall. Delightfully contradictory, but only for those that can handle the shock.

The final chapter in this edition of the PAS-curated series is a collaboration between Herr Penschuck and Thorsten Soltau, 'Screening: Delfter Blau Simultan & Urmutter/Hohlspiegelgondolier'. It bears the strongest resemblance to 20th century classicists like Messiaen, Stockhausen, or Xenakis, the ones who were integrating electronics and pre-recorded tape into the established canon. Here, P & S integrate strings and percussion with layers of vocal samples, speaking auf deutsch, and electronic squawks, echoes, and feedback. It sounds like the soundtrack to a decrepit Soviet science fiction film, an existential narrative over sharp black-and-white celluloid. 'Screening' gives a sense of tradition and classical mastery to end this dream.

Alrealon Musique is allowing listeners an overview of the many prismatic hues of modern experimental/electronic music, and a context for them to understand. Many avant-garde movements gestated in a broiling melting pot of visual artists, writers, and musicians of every conceivable style. Punk bands opened up for country/rockabilly-sequined acts, but we lost that wide-angle diversity, over the last 30 years. Now that everybody hears everything, we are all together. And that is why it is so special for people like Robert Pepper, and the folks at Alrealon Musique, to make interesting documents like 'Gravity's Drop Out', to introduce people to new sounds, to help ease familiarity, and to help us acclimate to the global ears we now find ourselves sporting.
Experimental / Avantgarde / Weird & Wired / Glitch / Noise / Field Recording
Edit (7390)
Artist:
Goyvaerts/Morgan/Van Buggenhout
Title:
White Smoke
Format:
CD
Label:
Creative Sources
(@)
Rated:
Their easygoing aspect and relaxed smiles istinctively instil that kind of friendly trust that you'd like to befriend them as the best pals for a pint and some chats, but besides the surmised sociability, this trio manages to uplift the mood as well as listener's imagination by amazing and somewhat weird improvisations. Mike Goyvaerts on percussions, objects and toys, Jeffrey Morgan on soprano and tenor saxophones, Willy Van Buggenhout on legendary EMS Synthi stage nine funny interactions whose strong sense of humour and sonic daring contortionism don't eclipse their remarkable technical skills. The interplay of the three performers sound quite influenced by the role played by freaks coming out from Willy's knowbs and oscillators: for instance the initial "Fire Jumpers!" loos like the last ditch by Jeffrey's saxophones from the corrosive acid bath, which gushes from Willy's synth; the dolloping low-frequency buzzes on "Burial Grounds" gradually imbibes phrasing on saxophone as if it's echoing its death throes while Mike plays disquieting giggles by means of his toys; "A Treasure of Sulphur Clouds" looks like a sonic simulation of the painful transplant of a radio antenna and a draft tube on the metallic shell of Jeffrey's instruments, which sometimes sound like mention Rimsky-Korsakov's "Flight of the Bumblebee" before the bumblebee gets netted by spider's web, whose drool in front of his succulent prey seems to be reflected by crazy computational spins by Willy; the funny dizzy improvisations on tracks like "Wild Boar Hunting" and "The Silver Gates of the Moon" seems to be counterbalanced by the hangover evoked by tracks like "The Dawn and the Dream" or "Eagle's Dance" as well as the joy this trio experienced while playing it could be counterbalanced by the amusement listeners can perceive.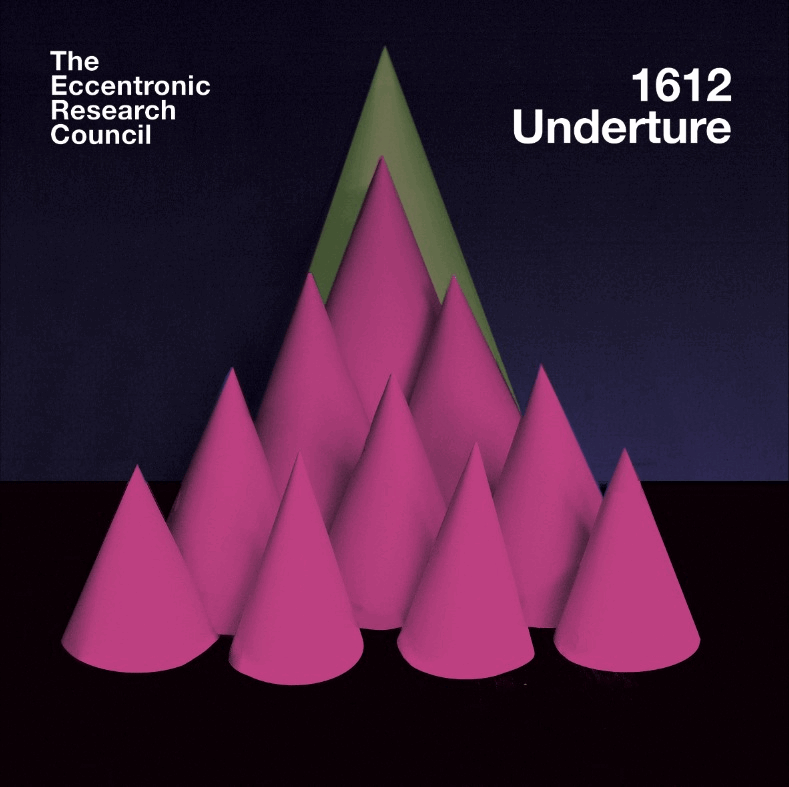 Artist:
The Eccentronic Research Council
Title:
1612 Underture
Format:
CD
Label:
Bird Records
(@)
Distributor:
Finders Keepers
Rated:
1612 Underture, the auspicious debut of The Eccentronic Research Council, is a psychogeographic road trip through Northwestern England. Primarily focused on the borough of Pendle, made famous by its infamous witch trials in 1612, from which this album derives its name and black beating heart. The main audiophonic alchemists, Adrian Flanagan and Dean Honer, are joined by the actess Maxine Peake, who acts as tour guide through the history and buried socio-economic prejudices of the region, in a hilarious and often moving flat Mancunain drawl. The music ranges from Radiophonic synth explorations, like some excerpt from the Quatermass Experiment, to driving krautrock, to drifitng pastoralism. Its an unlikely combination, and used to deadly effect.

We set off on our adventure with 'Autobahn 666 (Travelogue #1)', with its teutonic sequencers and the sound of car engines. It calls upon krautrock's unique ability to simulate the sensation of being in a moving vehicle, to tell the tale of route 666, the so-called Devil's Highway, as the Narrator begins her hilariously droll diatribe against the powers of patriarchy and government. 'This Is The North (travelogue #2)' is a jaunty library tune, like a message from a sardonic city council, describing the local flora and fauna, if the script writer were having a particularly hard opiate withdrawal. The underlying menace becomes apparent with 'Wicked Sister Chant', full of Goblin whispers and de-tuned, atonal electronics, smoothly segueing into tense minor 2nds (think Jaws) accompanying a text by feminist poet Anne Sexton, and witchly shrieking. 'Malkin Cat Trapped Behind A Wall' uses a dystopian aimless tone generator to create an ominous atmosphere of claustrophobic dread, complete with moaning black winds. Its like a castle scene from a '60s Hammer film, grainy grimy and mildewed.

'Curious Morbids (Travelogue #3)' comes in with some unexpected carnivalesque organ and funky Salvation Army breakbeat, while Maxine Peake tells us of the quaint charms of Pendle. It seems that the witch hunts have become big business, and the ten victims continue to fatten the wallets of the reputable denizens of Pendle. The carnival continues with '1612 Underture,' the wheezing organ accompanied by some tasty lo-fi drum machines, then launching into the burning accusation of 'Trial By Jiggery Pokery', the manifesto of the record. 'Unfortunately, for people like us, there has never been a happy ending.' The trio illustrate, with word sound and deed, the underlying prejudice of the status quo, that those with money and the popular perception of life and the world, will always seem more respectable, understandable, relatable. The music of the Eccentronic Research Council goes against this grain, forsaking the rigid, predictable structure of Top 40 techno, in favor of sparking, boot sale keyboards and drum machines. Choosing the unpredictable, analog heart of homemade funkiness, over Apollonian logic and formula.

Its a denouement, from this point forward. The musket has been discharged, the killing blow delivered. We have been affected, infected by the plight of those unfortunates, hung by the necks 401 years ago. 'From The Graves to the Freshcos' sounds like a eulogy, with the most traditional 'music' or at least instrumentation on the record, mournful violin and violin, while the Narrator sits beside the grave of Alice Nutter, petting a dog.

'(i). Pendle Wind (ii). No Hackney Cab to Gallows Hill (iii)Hangman's Song' is an imaginative sonic journey, emulating the last moments of the victims, on the way to have their necks stretched. This track would work well to add ambiance to some antiquated role playing game. 'Device Kids Find A Box Of Chattox Melody' suggests that some local children have dug up Anne Whittle's, aka Chattox, music box, and the ancient magick is unleashed. The sarcastically awesome and surprisingly industrial take on the traditional 'Another Witch Is Dead' shows that while they could kill the dispossessed, the unpopular and eccentric, and grind their bones to dust, the spirit remains undaunted, and it is rising. The final track, 'Ghost Of Old Lizzy Southern Returns', comes on like a promise, like the first ray of sunrise, and is the British equivalent of William Burroughs' scathing 'A Thanksgiving Prayer', as the ghost of Lizzy Southern curses everything foul and tacky of the 20th century.

Here in 2013, we are resurrecting the ancient ways. Wisdom, magick, and intuition will be essential to the healing of our planet, our minds and souls, and our many disparate cultures. The rise of awareness, with electronic bands like Demdike Stare, Pendle Coven, and The Haxan Cloak, drawing their names directly from the Witch Trials, and labels like the magnificent Devon Folklore Tapes assigning innovative modern musicians to explore the local folklore of various regions and locales, the topic is being raised and rife for discussion. Major Props to The Eccentronic Research Council for bringing about the debate in a truly inspired and innovative way, and managing to sound brilliant, all the while.