Experimental / Avantgarde / Weird & Wired / Odd / Field Recording
Edit (4256)
It may help to know some of the back story on this collaboration. The press release states that "Saralunden and Kyrre Björkås met 2002 in Riga when Sara was performing at an art exhibition. There was no sound engineer at the show but Kyrre, who was there working as an assistant to an artist from Norway, helped her out. A few hours later they were lovers." It goes on to state that the pair eventually broke up but still wanted to work together. This is one of those discs that defies categorization. This is stripped down duets accompanied by sparse instrumentation. But this is not duets like you would expect. They are duets only in the sense that you have two people singing together. The male and female vocals seem more spoken than sung and weave together nicely. However, it's so sparse that it doesn't really seem to go anywhere. The tracks remain in a state of stasis. For me, the best track is "Murder," which has a nice almost monotone delivery over a samba beat. The disc comes in a slipcase that refuses to yield the disc. This disc weighs in at just 16 minutes.

Experimental / Avantgarde / Weird & Wired / Odd / Field Recording
Edit (4255)
At times, the background music is similar to Saralunden.Björkås.Mjös "Dubious," (which is also reviewed here) only not so sparse. "Come With Me" has a nice chant-like quality to it. "Oh So Blue" showcases Lunden's melodic voice. The overall feeling is like having someone sing to you in your living room. "Don't You Remember" adds a layer of processing to the voice and burbling electronics in the background that make it sound like something that Hafler Trio would do. "Take Your Chance When You Have It" brings in acoustic guitar, making it sound like something you'd hear at a campfire. There is something in the background that sounds like a cartoon cat being strangled though. It wasn't quite as engaging as the previous tracks. "Erotic Dreams" is almost jazzy with a syncopated synth line through it. About halfway through it breaks into drums and electronic whirs and bleeps that seem to be at a slightly different tempo than the singer. "Tonight" brings back the acoustic guitar, but it gets a bit repetitive toward the end. For me, the standout tracks here are "Oh So Blue" and "Don't You Remember." This disc weighs in at 24 minutes.

Experimental / Avantgarde / Weird & Wired / Odd / Field Recording
Edit (4254)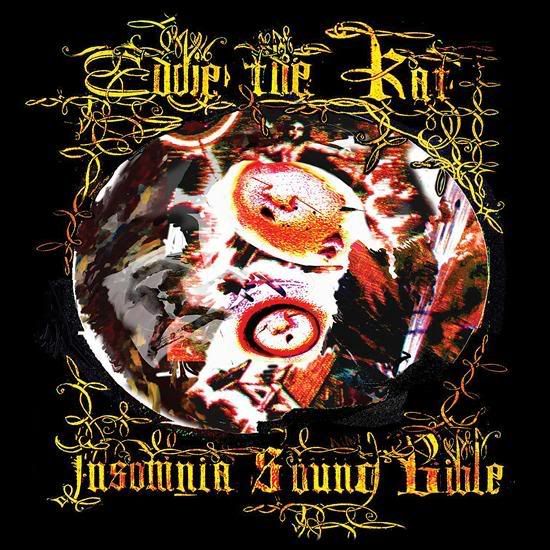 Artist:
Eddie The Rat
(@)
Title:
Insomnia Sound Bible
Format:
CD
Label:
Edgetone Records
(@)
Distributor:
Independent Online Distribution Alliance
Rated:
Multi-instrumentalist and composer Peter Martin started Eddie the Rat as a solo experimental project in 2000 as an outlet for electro-acoustic composition. Over the next year, the project grew into a performing ensemble, usually consisting of a dozen or more musicians at any given time, many from other bands in the San Francisco area. "Insomnia Sound Bible" provides a picture of these collaborations. This is a soundtrack for the somnambulist – sixteen selections prescribed in a single dose – designed to guide the sleepwalker through his restless ordeal. There are very few moments when some sonic vision is not tormenting the senses. The instrumentation is fascinating. Electronic sounds mingle with trumpets, clarinets, violins, cellos, varied drums and percussion instruments – even a triangle! There are certain moments that are extremely dense, in songs such as "Freak Out & Die," and "Lip-synching at Zero Gravity" which sound like an experimental symphony of sorts with a multitude of instruments providing a veritable smorgasbord of sound. Some passages are sparser, such as the three "Ronnie Camaro" tracks and the even more desolate "Where Do You Bleed?" The sound is never muddy, though, and engineer Jon Meyer deserves some serious credit for managing to corral all of these sounds so effectively. True to its name, this collection of songs really does evoke the feeling of wandering about within one's own psyche, the fleeting glimpses of so many disorganized thoughts playing tantalizingly across the mind's eye in a dream-like state from which one cannot escape. Blissfully bizarre!
image not
available
anymore
Extreme records gives a morsel for every artist of its present roster in this free sampler you can download here: (http://www.archive.org/details/XLTD-010/), it's a great idea since you can taste the heterogeneity of their catalogue that goes from electronic music to free jazz, from power-noise to quasi ambient music. As you can guess by reading the interview featured on this site a label sampler in the case of Extreme, Tzadik or Ipecac is really useful for the simple fact while having their own identity they follow blindly the idea of open-mindedness regardless of genre compartimentation. You think I'm exaggerating? The sampler opens with a boombastic masterpiece of Terminal Sound System (who's last cd was probably one of the best electronic release I've heard the last year), and remains electronic-music oriented with Mr Geoffrey and JD Franzke then you have this sort of post "Elliott Sharp-Carbon Orchestra" meets David Shea in gangster salsa of Ether that's been a real surprise. You have a bunch of avant-jazzists that go from my personal favorite Robert Vincs to uncompromissory "soloist" Scott Tinkler, from jazz/contemporary/avant pianist Mark Hannaford to the Antripoden Collective who's free jazz essence is more than explicit. You have this bunch of new artists that recently joined the label like visionary Claudio Parodi that this time, beside using electronics plays his own turkish-clarinet, post-ambiental, post-Eno elegant Luca Formentini and Dario Buccino here frozen with a weird harsh-noise vs ambient track (my expectations for the forthcoming dvd of this guy are really high since from what I've read his work should be really unconventional). In this free sampler I've found a couple of great surprises since it's the first time I happen to hear their music: Maju coming from Japan plays a top notch and classy japenese-ambient-electronics you can expect to be realized on labels like Spekk or Flop so if you're into Yoshihiro Hanno, Minamo, Fourcolors or in the likes put their name in your agendas. The other surprise arrives from the collaboration between John Rodgers and Ken Edie that I could describe as a contemporary cocktail of unordinary classic violin vs a concrete performing the reminded me of mighty Michel Chion.



Experimental / Avantgarde / Weird & Wired / Odd / Field Recording
Edit (4251)
Hard not to mention the fascinating birth of this third album by Olhon (Zairo/Where and Massimo Magrini/Bad Sector), as illustrated by the liner notes: "This work is based on special recordings taken underwater (-40 m.), 10 km. south of Livorno (Ita) during late 2006. These recordings were made attaching a sealed contact microphone to an abandoned telephone cable which mostly runs laid on the sea bottom for most of its path, and only sometimes is suspended between rocks for a few meters". The recordings were then treated, if I got it right, in pitch and frequencies "by statistic quasi-random modulators", to avoid human aesthetics, and later sequenced. The album is quite short, and besides two brief tracks ("Entrance" and "Exit") is made of the two parts of "Underwater Calls". While the members' solo projects and the label itself could make you expect a (quality) dark ambient album, the result is as detached and "human free" as the notes suggest: the two compositions are exclusively made of floating high frequencies, gurgles and throbs, and eerie undercurrents that in the II part sound remotely melodic. Made me remember why I have a primitive fear of the sea and deep waters in particular... Though I presume somebody could find this soothing, it speaks of total isolation and claustrophobia to my body. Whew. Oddly enough, as we move to another element, I was reminded of Stephen Mc Greevy's recordings of the magnetosphere and aurora borealis phenomena.