Artist:
Pierre Alexandre Tremblay
(@)
Title:
La marée
Format:
2 x CD (double CD)
Label:
empreintes DIGITALes
(@)
Rated:
According to the words by Professor Pierre Alexandre Tremblay, "La maree" could be considered as a sort of collection of challenges between five different soloists and their antagonist, the loudspeaker, which trascends its possible reciprocity: "this uneven relationship is reminiscent of the fragility of sandcastles and other human constructions with their daily facing of the patience of the elements. Are these ephemeral joys many revenges over the ineluctable?". Right after you will have listened to the impressive dynamics of this "dialogues" between instrument and loudspeaker, you'll think Tremblay's one is just a rethorical question as the perpetual metamorphosis within each track could easily mirror the impetuosity of any kind of event, both "spiritual" or emotional and physical or natural, where the flair for real-time processing by Tremblay, who manages to move heaven and earth by quick and sometimes unpredictable sequences of dissonances and consonances, stillness and excitement, chaos and order, makes each composition really intense. The bass clarinet (played by Heather Roche) on "La Rupture Ineluctable", the opening track of the first of the two cds, let me think about some stuff by Colin Stetson, Wade Matthews or Joao Pedro Viegas before the strife against loudspeakers gradually escalates over awesome electric interferences and resonant discharges, and some similaraties with other electroacoustic experiments can be perceived in the last piece of the second cd, "Un Clou, Son Marteau, Et Le Beton', where piano tones got mingled with electric glops for an intense emotional soup by moving from vertiginous tumbles to suspenseful stagnations. The engaging soprano voice by Peyee Chen on the funny "Still, Again", which performs many great stunts and a sort of artistic manifesto about the controversial concept of "okeyness" amidst bouncing balls, plastique-like noises, malleable piano tones, electronic strokes and noise interferences, could be mirrored by some precedent in the wide field of experimental music, but Tremblay's explosive creativity culminates on the other two tracks where he also test two invented instruments: the most fascinating integration is maybe Baschet-Malbos piano, which was extensively used on the occasion of a number of celebrative performances for John Cage centennial in 2012. This fascinating instrument and its flower-like head of stainless steel and polycarbonate cones has been played by Sarah Nicolls on the highly cinematic "Le Tombeau Des Fondeurs", while Jean-Francois Laporte's Babel table elicits the labyrinthine vibrations on the tidal waves of "Mono No Aware".
Artist:
Nicolas Bernier
Title:
frequencies (a / fragments)
Format:
CD
Label:
Line
(@)
Rated:
Those strange objects on the cover artwork are not an artistic installation of spigots for an imaginary starship, even though they look like spigots, but those mysterious things spill frequencies. It's a sound generating system where a series of tuning forks got activated by computer-controlled solenoids that inventive Canadian sound-artist Nicolas Bernier built for a performance of sounds and lights which was awarded the 2013 Ars Electronica Golden Nica for Digital Music and Sound Art. The entrancing audible part of this installation, which could be considered as a bridge between science and electronic music as well as between primeordial stage of musique concrete and contemporary electronics, is the sonic pasture for this release. The initial likeness with faucets is not apocryphal as you'll have the impression that Bernier let drip frequencies on the first minutes of this 34-minutes lasting recording before the rivulets of pure musical tones which come from those two-pronged U-shaped forks sprinkle and drown the entire sonic sphere by a series of variations, dilutions and swelling, which gradually drives filaments of icy electron beams towards the lukewarm thermal state of a genuinely embryonic melody.
Artist:
ARK
(@)
Title:
Verwandlung
Format:
CD
Label:
Creative Sources
(@)
Rated:
"Verwandlung", that is "transformation", is the first release on Creative Sources by ARK, an awesome collaborative distaff project by Swiss musicians Coralie Lonfat, whose classical and jazz studies got integrated by an educational path within electronic and experimental woods with good guides such as laptop virtuosos Dafna Naphtali and Ikue Mori, and Nathalie Huber, who focused on sound design, field recordings and experimental music after studying piano at the Academy of Fribourg with Veronique Piller and graduating in Composition and Arrangment at the School of Jazz in Lausanne. These skilled girls go through many interesting sonic strategies in order to let their delicate hybridizations infiltrate beyond listener's sensibility and render their own continual musical metamorphosis - from noise to harmony, from single tone to melodies, from resounding objects to meaning, from inorganic to organic - since the opening track "Trajectoire", where the crystalline delicacy of the first moments got stinged by piano tonal twangs, which add plumbean shades to ARK's vibe. A sequence of spectral sonic apparitions, pealing fissures, anxious melodic flashes, wind-up hatchets and cleaving noisy entities on three untitled tracks plow the soil for the tonal cloudiness of "Contrepoint", the icily mesmerizing sonic chrysalis of "Arctiidae", while the electroacoustic crackling discharges of the seventh untitled track sound like having been canalized in the beautiful "Conductivite'". They allow a break for knitting on "Socken stricken mit silberner Wolle" (German for "Socks knit with silver wool") before the quick-frozen electroacoustic assay of "Vereiste Gluhbirne", whose brilliance seems to reverberate on the delicately spellbinding stroking of the eleventh closing untitled track.
Experimental / Avantgarde / Weird & Wired / Glitch / Noise / Field Recording
Edit (8133)
Artist:
Stine Janvin Motland
Title:
OK, Wow
Format:
CD
Label:
+3db
(@)
Distributor:
Musikkoperatørene
Rated:
The very first time I listened this amazing Norwegian vocal performer occurred almost by accident as while I was looking something odd in a small music shop in Berlin, I wrongly thought "VC/DC", a release she made with other three outlandish musicians from her hometown Stavanger, was a sort of a "thrash" parody of something that could be somehow considered as "thrash" as well. I could consider it as a proper lucky mistake, which makes me savour this solo release by vocalist Stine Janvin Motland, who recorded this funny realease in a couple of days in a wooden church outside Bergen. The most interesting aspect of her vocal performances is the way she manages to combine an impressive range of vocal techniques and a certain sense of humour, which shines through many tracks of this recording: for instance, the initial one clearly refers to Mongolian throating that she seems to adapt in a funnily histrionic manner by a sort of suffocated sinewy syllabication, sudden neighs and possible vocal emulations of Mongolian instruments, the high pitched scream on "Herz", which could smash glasses to smithereens, the gradual burn-out of "Alt det overflodige renner ut" (Norwegian for "all the excess runs out"), the meaningful alternation of afflicted weeping and stillness on "Fanfare", the transfiguration on "Monk", where you can sometimes imagine a Buddhist monk in the act of learning Tyrolese yodel (!). You can imagine that Kroken could be some back-country village nearby polar circle where you could die for frostbite while taking a nap after listening to the congealing snore by Motland or have pity on anyone who could experience Motland's disdain after undeservedly claiming to be a talented soprano while listening to the final "Nicht Jeder Kann Ein Dramatischer Koloratursopran Sein" or you could repeat the album title "Ok, wow" while commenting upon deeply emotional moments like "I" or "II".
Experimental / Avantgarde / Weird & Wired / Glitch / Noise / Field Recording
Edit (8127)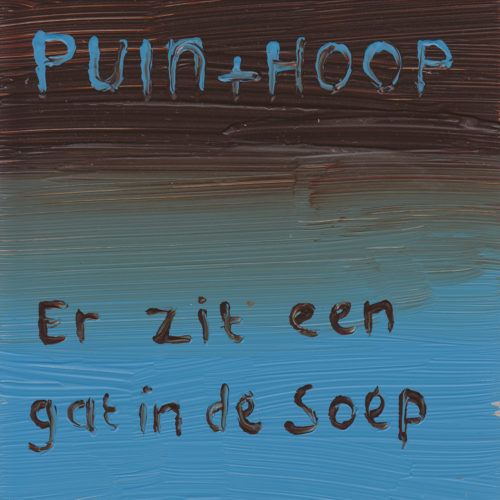 Artist:
Puin + Hoop
(@)
Title:
Er zit een gat in de soep
Format:
CD
Label:
Narrominded
(@)
Rated:
According to the linear notes this album starts as a live album that would explore a new live recording setup for a concert in Amersfoort. As the recording of the gig failed, the band remained with the recording of the test takes that is the content of this release. The musical result is a sort of EAI (electroacoustic improvisation) that, rather than showing his roots in free jazz, has his most evident influence in the meditative leafs of krautrock.
The drone of 'er zit' opens this release suddenly developing in a quiet noise and finally juxtaposing the two poles of this track: the bright drone and the dark noise. After an impressive first part where the layers of sound start to overwhelm the listener, gentle notes of synth takes 'een gat' in territories where a unstable, as the rhythm moves slowly, mood of meditation is the gravity center evolving in the last track 'in de soep' that closes this album juxtaposing drones and noises creating a mesmerizing mass of sounds.
This album, rather to search new grounds, evolves the genre in a new form juxtaposing elements with a clear view of the overall result escaping the void meditation of drone and the dull unilateral dimension of noise to reach a form that always change remaining the same. One of the records of the year.